UGA's Alumni Association announced the seven recipients of the 2022 Alumni Awards at an event held on Friday, April 22. The annual Alumni Awards Luncheon, which dates back to 1936, recognizes individuals and organizations who demonstrate a commitment to UGA. The 2022 honorees were:
"The devotion of this year's award recipients to the University of Georgia is making a positive difference in the lives of countless individuals on this campus, throughout the state, and around the world," said UGA President Jere W. Morehead. "They have made the University of Georgia stronger and have made all of us very proud."
2022 Alumni Merit Awards
The UGA Alumni Association's oldest and highest honor, the Alumni Merit Award, is presented to individuals whose outstanding community leadership and service to the university reflect UGA's highest values.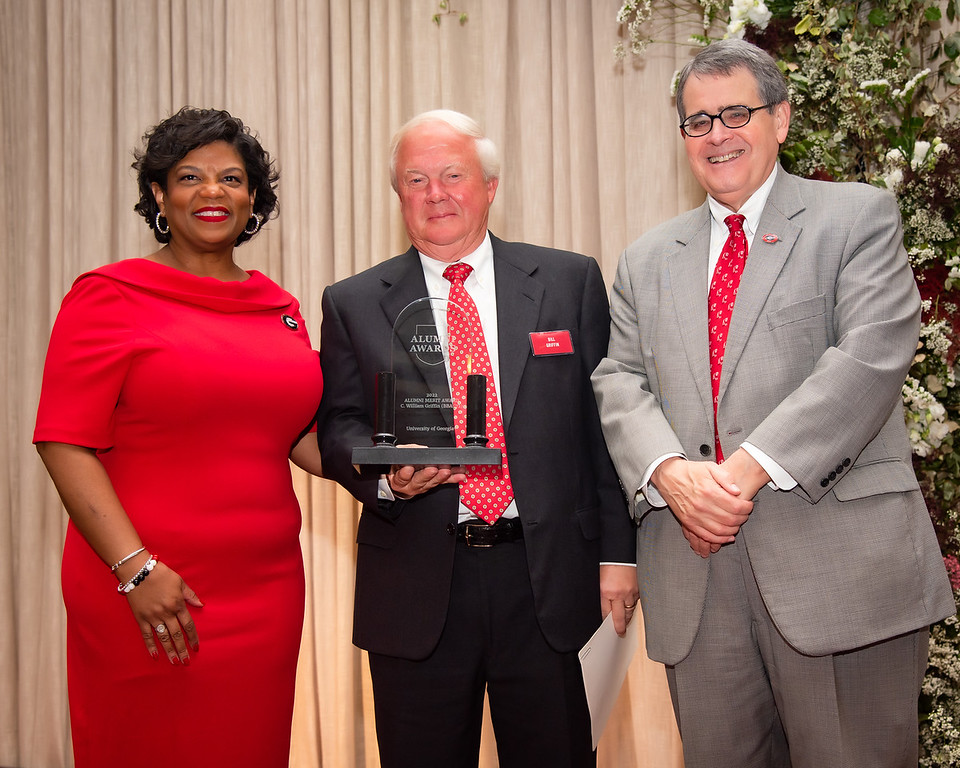 Bill Griffin is the executive chairman of ServiceMac, the nation's fastest-growing subservicing company providing mortgage servicing support to lenders and investors across the country. He co-founded the company and recently facilitated its sale to First American Financial, a Fortune 500 financial services firm. Griffin has demonstrated a lifelong commitment to UGA. He served on the UGA Foundation board of trustees from 2007 to 2017 and now chairs a group that focuses on maintaining strong relationships between emeritus trustees and the university. Griffin led the fundraising effort that raised $11.5 million to name the William Porter Payne and Porter Otis Payne Indoor Athletic Facility for legendary alumni Billy Payne and his late father, Porter. He served on the Building Terry Campaign Cabinet, which raised more than $125 million in private funding for new facilities, and recently co-chaired the fundraising campaign to name the Jere W. Morehead Honors College.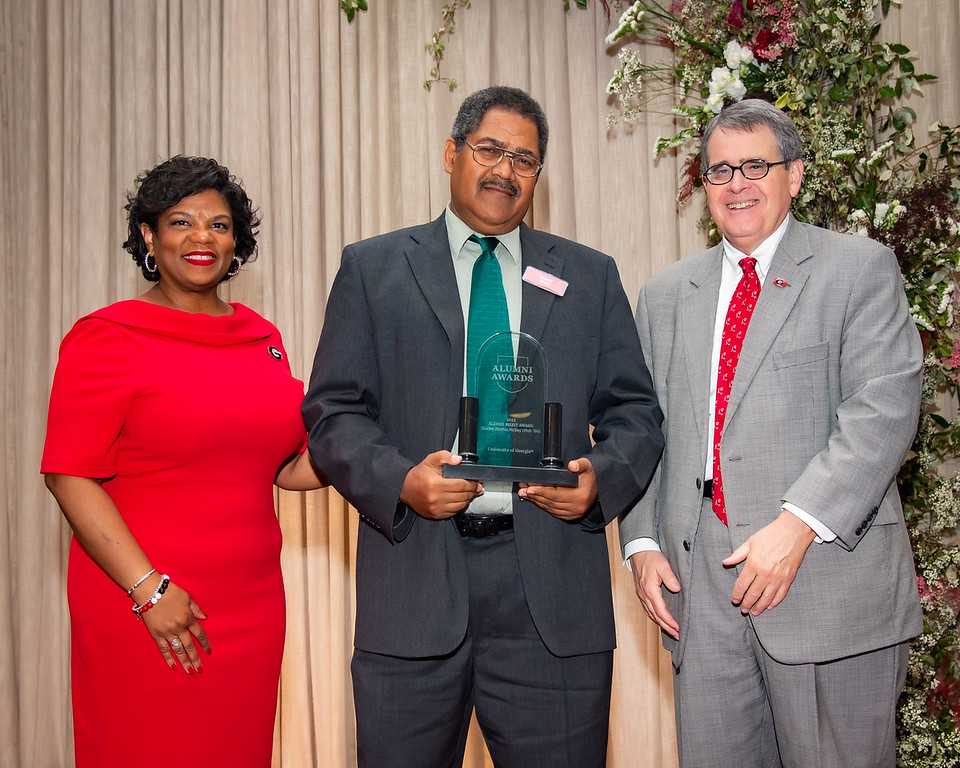 Shirley Mathis McBay was UGA's first Black doctoral graduate and the first woman to earn a doctoral degree in mathematics from the university. McBay graduated five years after the university was desegregated in 1961 and dedicated the rest of her life to improving education for underrepresented students. McBay made her immense impact on education, science and society through her work as a faculty member and administrator at Spelman College, dean for student affairs at the Massachusetts Institute of Technology (MIT), program manager and director in the Science Education Directorate of the National Science Foundation, and founder and president of the Quality Education for Minorities (QEM) Network. McBay died in November 2021 at the age of 86. Her award was accepted posthumously by her son Ron McBay.
2022 Faculty Service Awards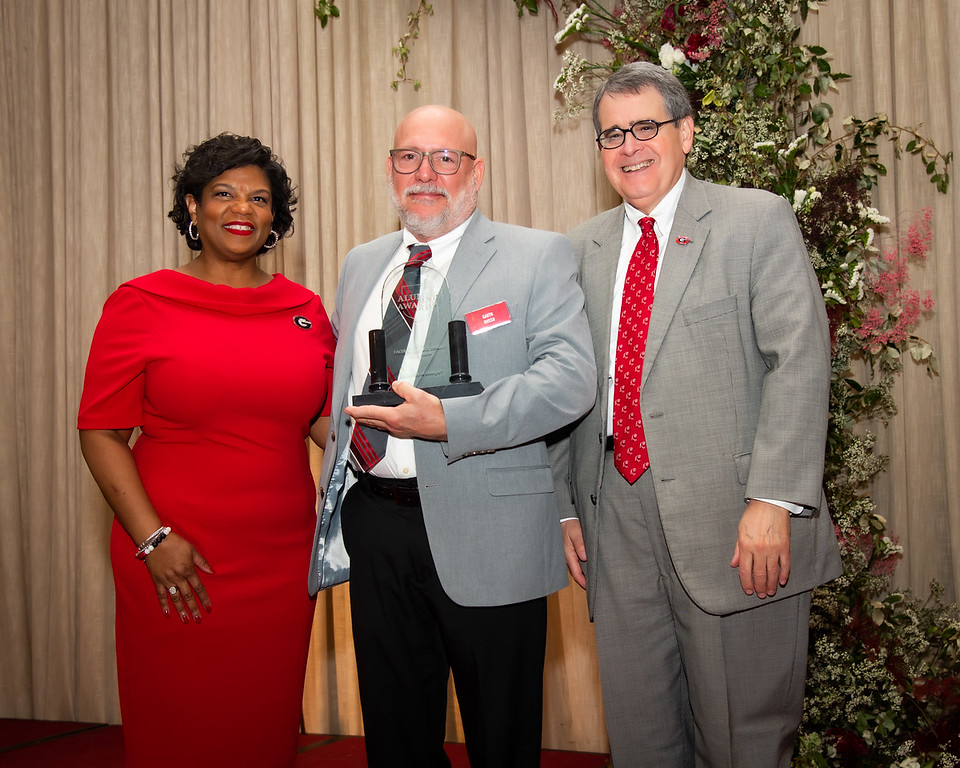 Dr. Garth Russo received a 2022 Faculty Service Award, which is presented to a faculty or staff member who has shown remarkable leadership in higher education. Russo, who retired as executive director of the University Health Center in July 2021, helped UGA navigate the COVID-19 pandemic — one of its most trying periods to date. He began his career as a staff physician in 1991. In January 2018, he became the senior medical director of UHC. Russo became the interim executive director in February 2018 upon Dr. Jean Chin's retirement and assumed the role permanently in August of that year. Beyond his service as a physician, Russo also improved processes, systems and the organizational structure of the UHC.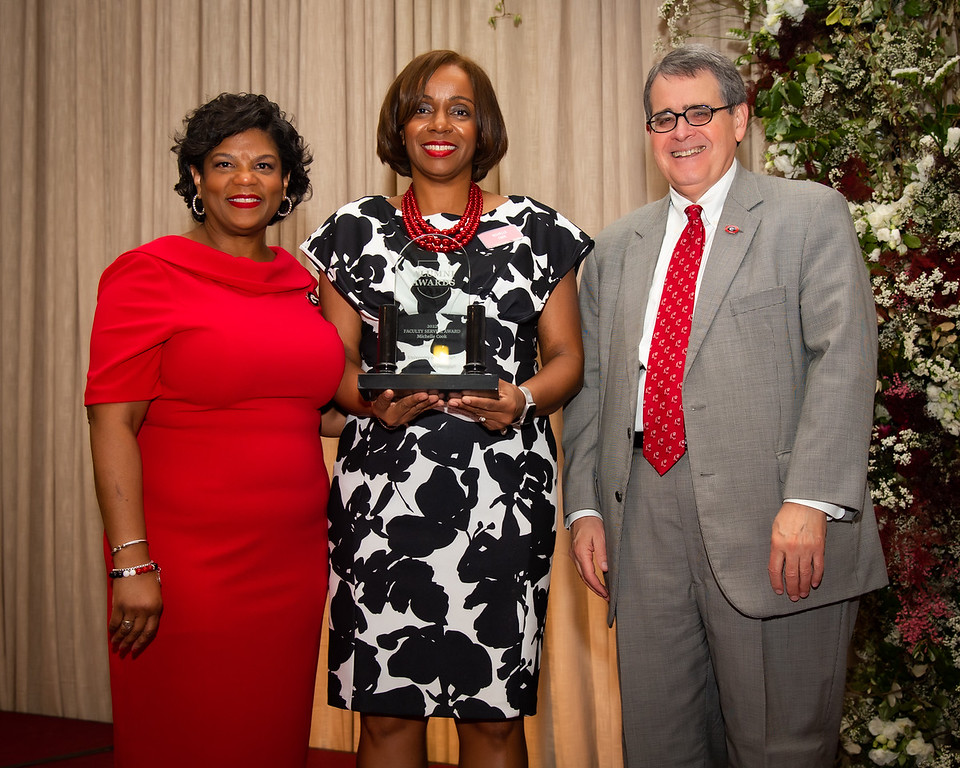 Michelle Cook, the second recipient of the 2022 Faculty Service Award, is UGA's senior vice provost for diversity and inclusion and strategic university initiatives. Her dedication to UGA's mission is unmatched. She recently co-chaired the Diversity and Inclusive Excellence Planning Committee, which developed a five-year plan to provide an integrated and strategic approach to UGA's diversity and inclusion efforts. A veteran administrator in the Provost's Office and the Franklin College of Arts and Sciences, Cook has a long record of success in leading campus-wide programs and garnering external funding to advance institutional priorities. She plays a vital role in elevating the recruitment, retention and success of underrepresented and underserved students, faculty and staff on campus. 
2022 Friend of UGA Award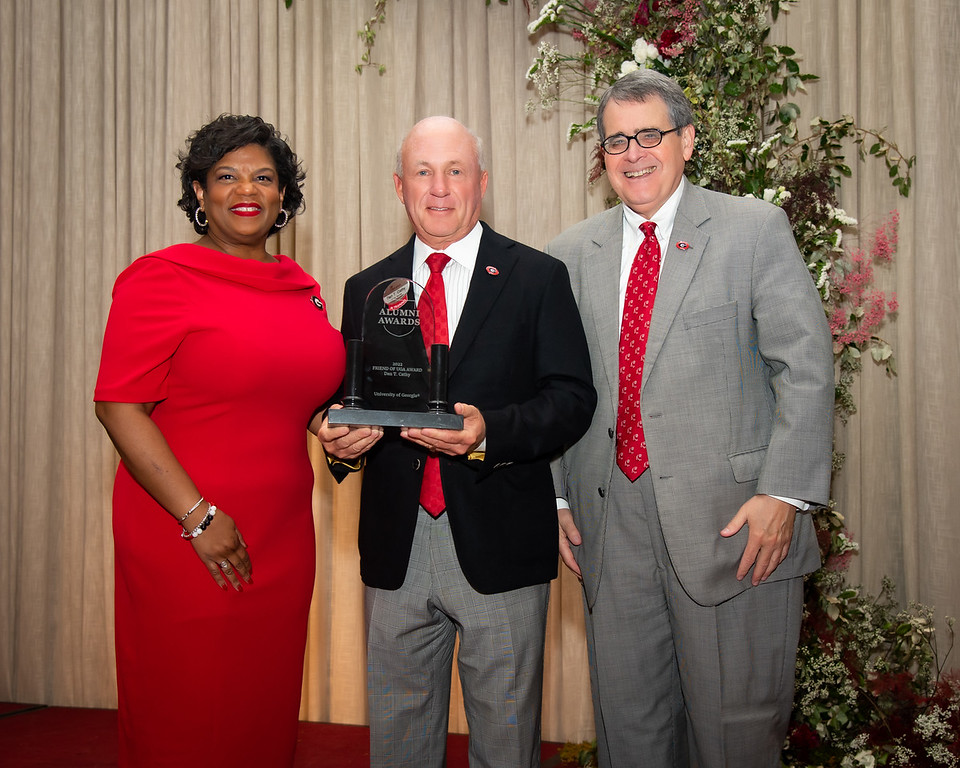 Dan T. Cathy received the Friend of UGA Award, which is presented to a non-alumnus or organization that has devoted themselves to the greater good of UGA. Cathy is chairman of Chick-fil-A Inc., a fast-food restaurant chain headquartered in Atlanta, and is a highly engaged and generous member of the UGA community. Last fall, Chick-fil-A made a $10 million pledge to expand and enhance the Institute for Leadership Advancement, which works with students across campus to develop values-based, impact-driven leadership. The ILA program is housed in the S. Truett Cathy Leadership Suite within the Terry College's Business Learning Community. Cathy also has partnered with UGA to support the Master of Fine Arts in Film, Television and Digital Media program. In the second year of the MFA program, students move to Trilith Studios in Fayetteville, Georgia, and study in residence with working professionals at the Georgia Film Academy. Trilith Studios, owned by Cathy, is famously where Marvel's Avengers: Endgame, DC's The Suicide Squad and a host of other blockbusters have been filmed.
2022 Family of the Year Award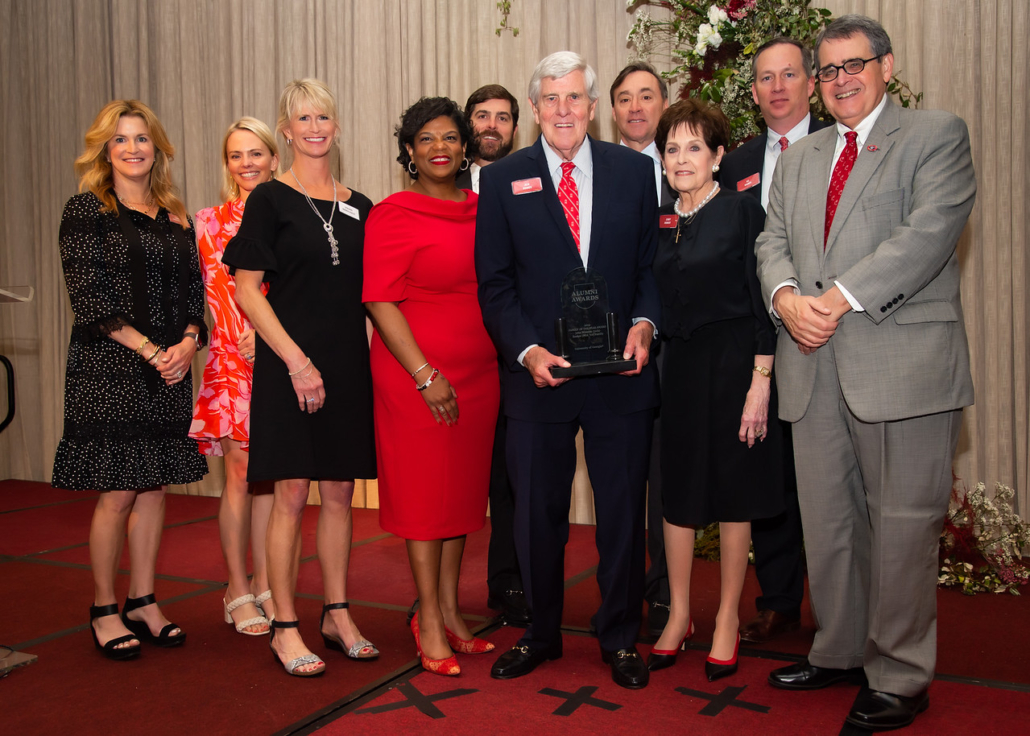 The John Winston "Jack" Rooker family received the Family of the Year Award. The Rooker family history is deeply embedded in Athens and UGA. In 1907, A. P. Winston, the grandfather of Jack Rooker, came to UGA from the University of Virginia to manage the new agricultural college on campus. Over the next three generations, the Rooker family would boast a total of 10 family members graduating from UGA. Their impact on the university is boundless. Jack Rooker started serving on the UGA Foundation board of trustees in 1996, and he served as the founding chair of the UGA Real Estate Foundation. In 2005, John W. Rooker Hall and the Cindy Rooker Fireside Lounge were dedicated in the university's East Campus Village in gratitude for Jack and Cindy's years of alumni leadership and support. In 2014, the Rooker Family Need-Based Scholarship Fund was established. One of their most recent commitments was the opening of the Rooker Family Equine Receiving Barn at the UGA Veterinary Medical Learning Center in 2015. In 2017, Moore-Rooker Hall opened in the Terry College's Business Learning Community thanks to significant financial support from the Rooker family and their longtime friend Dudley Moore.
2022 Young Alumni Award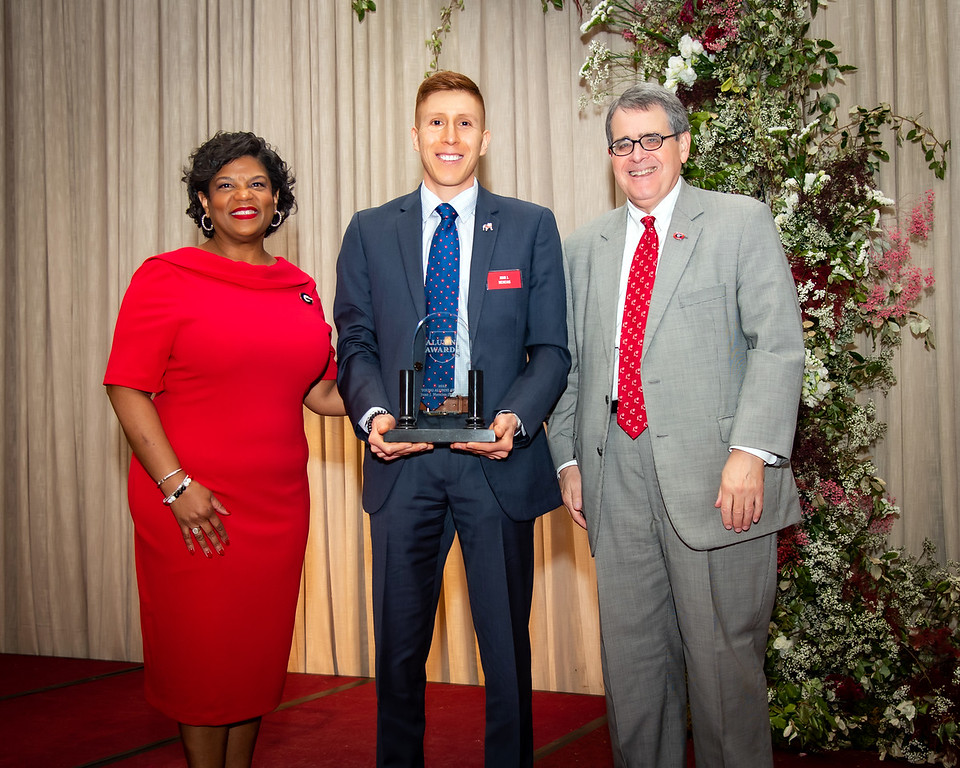 Juan Mencias was this year's recipient of the Young Alumni Award, which is presented to an individual who brings recognition and honor to UGA through outstanding leadership and service to the university, the community and his or her profession. He currently serves as chief financial officer for Georgia Diamond Corporation and its affiliate Ascot Diamonds in Atlanta. Mencias earned his Bachelor of Business Administration in finance in 2015 from the Terry College of Business and graduated cum laude from the Morehead Honors College. While at UGA, he served as president of the Goizueta Ambassador Program and promoted the importance of higher education and diversity. Mencias founded the UGA Latino Alumni Council in 2017 and currently serves as its president. The UGA Latino Alumni Council is the first and only alumni group for Latino graduates of UGA. It works to promote networking, collaboration and further development for all UGA undergraduate and graduate alumni who identify themselves as being of Latino descent (including Hispanic, Latin American/Latino and Spanish ancestry).
"This year's recipients are campus, community and business leaders whose outstanding loyalty and support serve as an inspiration to us all," said Meredith Gurley Johnson, executive director of the Alumni Association. "They embody the best of UGA, and it is our honor to recognize them today."
---
https://alumni.uga.edu/wp-content/uploads/Feat-Img-AlumniAwards2022.jpg
423
1220
Danielle Bezila
https://alumni.uga.edu/wp-content/uploads/uga-alumni-nba-1.png
Danielle Bezila
2022-04-26 10:37:52
2022-04-26 10:37:52
Outstanding alumni, staff and friends recognized by UGA Alumni Association