Leveling the playing field
In honor of Autism Acceptance Month, the UGA Mentor Program is focusing on what it means to be neurodivergent and is emphasizing how asking for accommodations is not seeking an unfair advantage—it is simply gaining equal footing.
Meet Scott Frasard (BBA '03, MED '06, PHD '11)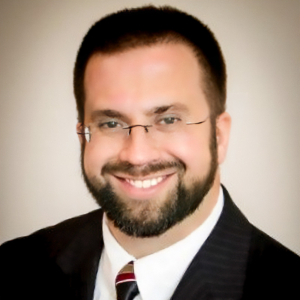 Scott's higher education journey was atypical, even before he realized he was neurodivergent. He didn't enroll in college until 12 years after graduating from high school–first working as an EMT and then paramedic. Even then, he went to school part time while continuing to work full time, eventually becoming a member of the first graduating class from UGA's Gwinnett Campus. His college experience piqued an interest in adult education, so he continued to commute to the Gwinnett campus in pursuit of a Master of Education. He then moved to Athens to take courses on UGA's main campus, eventually earning a Ph.D. in adult education.
It wasn't until two years ago that he learned of his autism. The formal identification sent him on a journey of discovery.
"It was definitely a learning curve for me," said Scott. "I had to become comfortable with my autism first, before sharing with others." Scott turned to the internet. Reframing Autism, a website for an Australian nonprofit organization, has proven helpful. So has the Autism Self Advocacy Network website.
Even though he comes from a medical background, Scott found he was more comfortable with the identity-first descriptors for his autism versus the traditional medical point of view, preferring a statement like "We are autistic" to "We have autism."
Scott says, "Autism is my identity. You can't separate me from my autism. Saying 'We have autism' implies illness and disability, and that there is something wrong with us. We are not less; we are simply wired differently."
Leveling the playing field
Learning he was autistic after nearly 30 years of teaching prompted Scott to reevaluate his teaching practices and make changes to be inclusive of neurodivergent learners. This includes creating a safe space in his classroom—an environment that is welcoming to all. He encourages students to talk about what they need up front before it becomes a problem. He shares things about himself to make students more comfortable to talk about themselves.
"I prepare others to expect 'stimming' or self-soothing behaviors they might see me do to help regulate my emotions," explains Scott. He alerts people to his bluntness and explains that they should not perceive it as rudeness; he is simply getting straight to the point. Scott notes that because he interprets language extremely literally, he has learned to ask lots of clarifying questions. These advanced explanations help stem frustration on both sides of his interactions with others. Scott has learned to have these conversations not only with his students, but with his co-workers as well.
"In the hiring process for my last job, I was up front with HR and the hiring managers," said Scott. "It helped them understand why I asked for what I needed and why these were reasonable accommodations."
Scott is extremely sensitive to external stimuli. Sounds and movements easily distract him. They grab attention away from what he wants to focus on and create anxiety. For instance, fluorescent lights that flicker and buzz—something neurotypical people ignore or don't even notice—are quite disruptive. So, Scott works remotely from his home. Like many autistic people, Scott is an introvert. His co-workers understand his need to block out time in his calendar to prepare for and/or decompress from meetings.
Bringing his experience to the Mentor Program
As a mentor in the UGA Mentor Program, Scott uses his experience to help students navigate their UGA journeys. He wants to empower students to ask for what they need from the start.
"Professors understand that to truly measure what someone has learned, they have to remove the barriers that disrupt the measurement," Scott said. "If students need more time to process test questions and need a quiet environment in which to concentrate, these are not bonuses. They are not asking for extra; they're seeking equal opportunity to perform at their best."
---
Your uniqueness is valuable.
Your experiences may help a student on their UGA journey. Discover how fulfilling being a mentor can be.
---
Learn more.
Find out what it means to be neurodivergent and how you can be an ally to the autistic community. UGA Mentor Program Ambassador Cassie Turner, Class of 2022, sat down for a discussion with Scott in an episode of RealTalk, the UGA Mentor Program's podcast.
---
Know a student struggling at UGA?
Scott is just one amazing professional available to serve as a mentor. In fact, the Mentor Program platform makes it easy for students to search through thousands of experienced faculty, staff and alumni mentors to find someone who matches their interests and background and can relate to their strengths and challenges.
https://alumni.uga.edu/wp-content/uploads/Header-1220x423px-2022-Mentor-v1.jpg
423
1220
Emily Munnell
https://alumni.uga.edu/wp-content/uploads/uga-alumni-nba-1.png
Emily Munnell
2022-04-19 08:52:58
2022-04-21 10:11:27
Leveling the playing field