When Bulldog alumni arrive in Athens for Alumni Weekend (March 26-28), campus will look a lot different than it did during their glory days.  
It's been a while since our last campus update, so we thought alumni would enjoy a peek at some must-see campus upgrades, just in time for a return visit to the Classic City … 
Studio 225

UGA's commitment to innovation and entrepreneurship is changing the face of campus. In 2019, Studio 225 opened to house the Student Center for Entrepreneurship. The building, located off West Broad Street where campus meets downtown, was completed as part of phase one of the Innovation District, an initiative to promote entrepreneurship, research commercialization and industry partnerships at UGA.  
The Delta Air Lines Foundation recently pledged a $5 million gift to UGA, half of which will support the renovation of UGA's Spring Street Building. The renovated space, part of the District's phase 2, will provide flexible workspace, conference rooms and presentation areas to support faculty startups and enable greater collaboration among students and industry partners. It will be completed by January 2021.  
Where to find it: Studio 225 | 225 West Broad Street 
Lake Herrick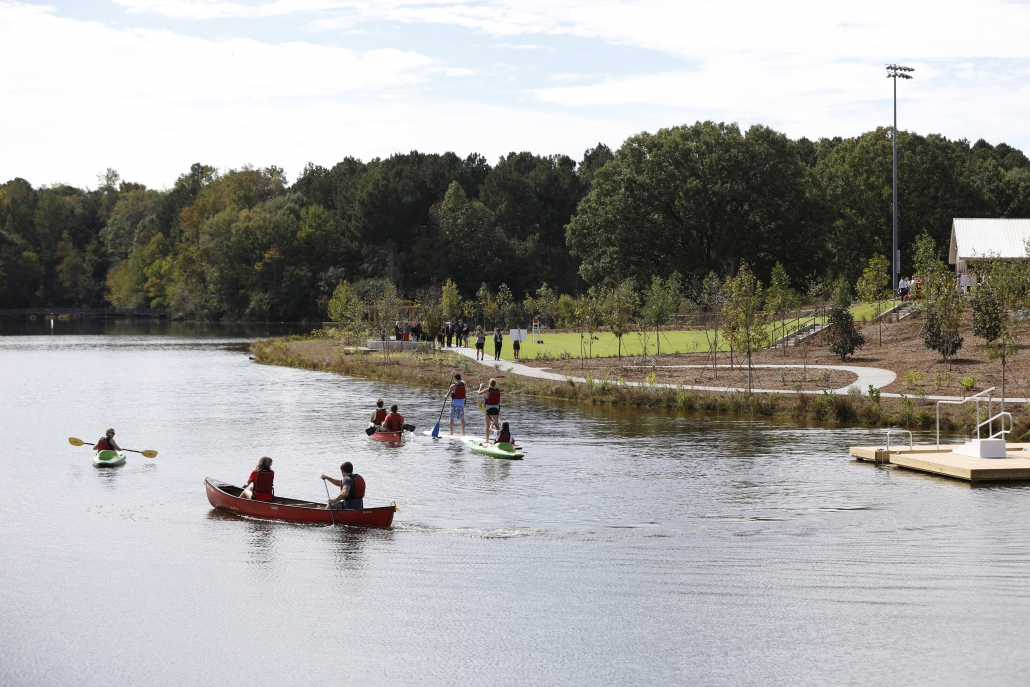 Lake Herrick, nestled between Oconee Forest Park and the Intramural Fields, closed in 2002 due to water quality concerns. Thanks to a partnership between UGA, the Georgia Power Foundation and the Riverview Foundation, Lake Herrick is once again open to the public.    
The Lake Herrick Watershed Restoration Project created a healthier ecosystem, an improved shoreline and a new dock and pavilion. If the weather's nice, Lake Herrick is definitely worth a visit.  
Where to find it: Lake Herrick | 111 Lake Herrick Drive 
Business Learning Community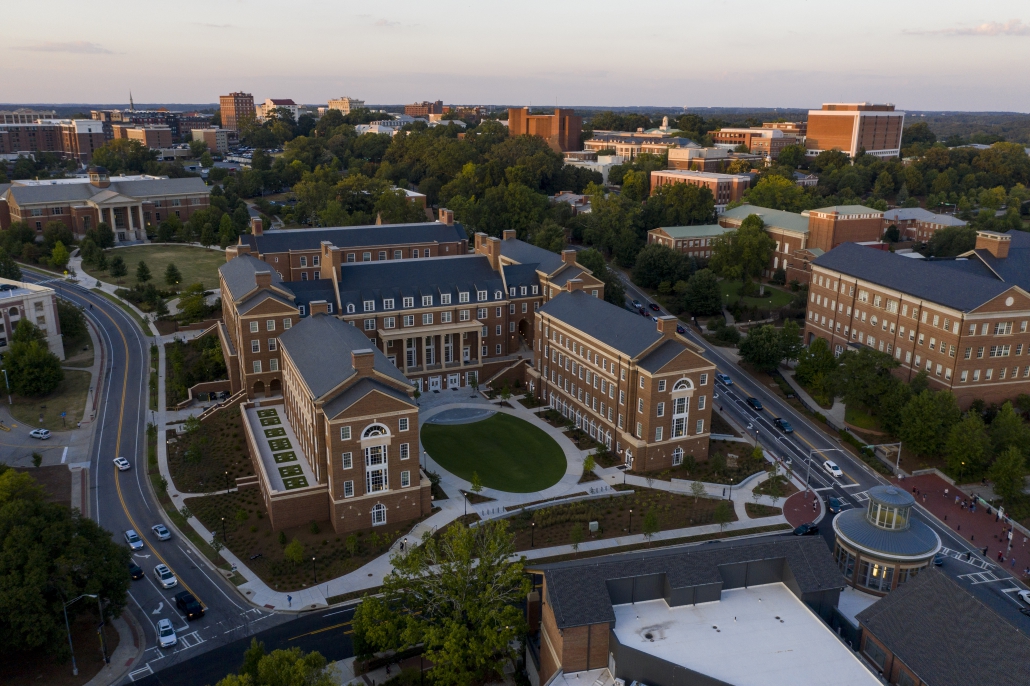 The Terry College of Business completed its Business Learning Community last year with the dedication of the final two buildings: Sanford and Barbara Orkin Hall and M. Douglas Ivester Hall. The Business Learning Community was one of the largest capital projects in UGA's history and included three phases over six years. Private support funded half of the $140 million project total.  
Where to find it: At the corner of Baxter Street and South Lumpkin Street 
Russell Hall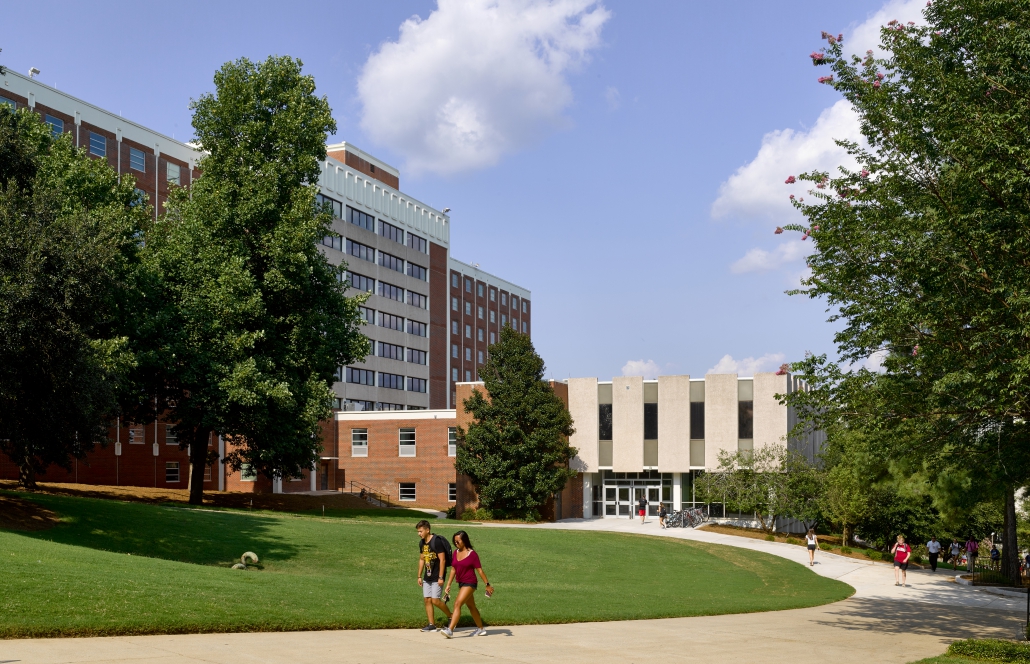 In 2018, UGA completed a 15-month renovation of Russell Hall, which originally opened in 1967. The project modernized the dorm's climate control, plumbing and electrical systems, updated furnishings, improved bathroom privacy and renovated lounges to foster group interaction and collaboration.  
The project received an award for Excellence in Sustainable Preservation from the Georgia Trust for Historic Preservation and an Outstanding Rehabilitation award from the Athens-Clarke County Heritage Foundation, now Historic Athens. 
Next up for renovation is Brumby Hall, which will reopen in fall 2020.  
Where to find it: Russell Hall | 515 Baxter Street  
I-STEM Research Facility

At the corner where Cedar Street meets East Campus Road, a major construction project is ongoing to build the new Interdisciplinary Science, Technology, Engineering and Math (I-STEM) Research Building. The project broke ground in late 2018 and will open in summer 2021.  
The I-STEM Research Building will provide space for faculty and graduate students in chemistry and engineering and represents UGA's commitment to the 1-in-5 students who graduate each year with a STEM degree.  
Where to find it: The corner of East Campus Road and Cedar Street (but we don't recommend entering a construction site) 
Sanford Stadium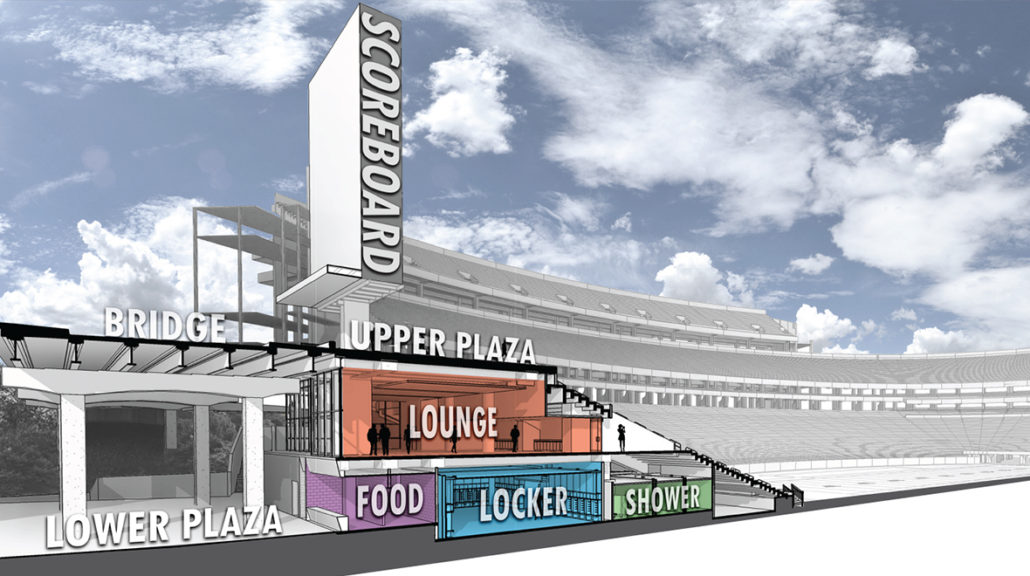 The new and improved West End Zone of Sanford Stadium was unveiled in August 2018. The $63 million project, largely funded by private donors, included a host of improvements that created or updated 120,000 square feet, including: 
New locker room nearly twice the size of the previous one, complete with shower facilities 

 

Hospitality lounge to host prospective student-athletes and their guests on gamedays

 

Video board 33% larger than the previous one

 

Enhanced upper and lower plazas for fans

 
A little over a year later, on Sept. 7, 2019, another major change occurred: players stormed out of the West End Zone tunnel and set foot onto the newly named Dooley Field for the first time. The field dedication took place in a pre-game ceremony and honored former Bulldog head coach and athletic director Vince Dooley. 
Want to take a stroll down Gillis Bridge and see it for yourself? Well then we'll see you at Alumni Weekend!
https://alumni.uga.edu/wp-content/uploads/Feature-Cropped.jpg
423
1220
Loran Posey
https://alumni.uga.edu/wp-content/uploads/uga-alumni-nba-1.png
Loran Posey
2020-02-24 06:00:53
2020-02-24 08:14:11
UGA's must-see campus upgrades: 2020 edition