Fueling Up: Student and Staff Recommendations for a Caffeine Fix
As most University of Georgia students, faculty or staff members know: caffeine is a vital ingredient to keep things moving around Athens. In a college town, though, there are endless options to achieve your java fix. Here are some recommendations from the experts: UGA staff and students.
Ironworks at The Foundry
295 Dougherty Street
"Although I only get coffee there sometimes, Ironworks is my go-to study spot in Athens because of the unique interior décor (I need to be inspired by my atmosphere for my creative projects!) and I always run into people I know." – Courtney Rutledge, Class of 2020, Graphic Design major
"Ironworks has comfy seating and a cozy atmosphere." – Lindsey McSwigan, Class of 2020, Marketing and International Business major
Sips Espresso Cafe
1390 Prince Avenue
"Sips is one of my favorite places to get coffee in Athens because it has huge windows that are usually open, so you feel like you're outside. Plus, the lattes and baked goods are delicious." – Hayley Cox, Development Coordinator, UGA Graduate School
Walker's Coffee & Pub
128 College Avenue
"Walker's is the best because it's so cozy and the chai tea lattes are the perfect motivation." – Ashleigh Burroughs, Class of 2021, Public Relations major
Starbucks in Tate Student Center
831 S. Lumpkin Street
"I usually go to the Starbucks at Tate on campus to get coffee and study because I have a lot of gift cards to Starbucks! I like that it's in its own private area, but since it's on campus, I still feel like I'm among lots of people." – Meg Pruitt, Class of 2020, Graphic Design major
Jittery Joe's (Downtown Location)
297 E. Broad Street
"Jittery Joe's is roasted by a grad just around the corner from my house, so I have a special affinity for it. The downtown location is convenient for students, but also for faculty and staff. Have a meeting there, grab it to go en route to campus, or grab a bag of their Attack the Day beans to make at home. You won't regret it." – Elizabeth Elmore, Communications Director, UGA Division of Development and Alumni Relations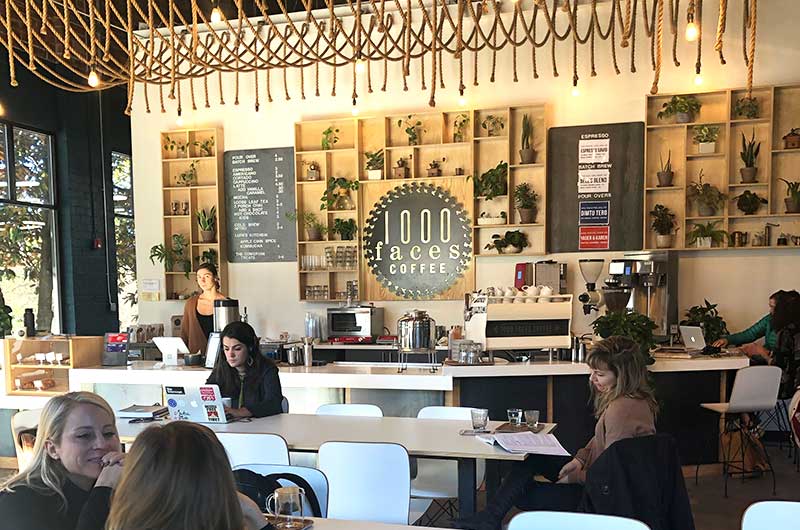 1000 Faces
510 N. Thomas Street
"1000 Faces is a great place to grab coffee – the space is beautiful, they roast their own beans and it is conveniently located in downtown Athens!" – Megan Powell, Development Associate, UGA Office of Gift & Estate Planning
Jittery Joe's (Roaster)
425 Barber Street
"I'm a loyal Jittery Joe's drinker, and the Roaster is the most convenient for purchasing a latte or beans. It's not crowded like campus and shopping center locations, and they have treats for your pup!" – Melissa Lee, Donor Impact Coordinator, UGA Office of Donor Relations and Stewardship
Buvez
585 Barber Street
"Buvez is my new favorite coffee shop because of its unique feel and secret location. Located along the train tracks and filled with vintage furniture, the renovated roaster building feels cozy. I love grabbing a 1000 Faces cold brew and relaxing on their indoor bench swing or letting my kids color all over the toddler-height chalkboard in their family-friendly nook." – Laura Bayne, Communications Associate, UGA Division of Development and Alumni Relations
Hendershot's
237 Prince Avenue
"I love Hendershot's because they have live music and empanadas are available next door [at Viva Argentina]." – Tarleton Woodson, Class of 2020, MIS major
Alumni Weekend is the perfect opportunity to return to campus and feel like a student again … and what makes you feel like a student more than a little coffee to kickstart your day? We hope you enjoyed these recommendations!
https://alumni.uga.edu/wp-content/uploads/FeatureCoffeestudents.jpg
580
720
Elizabeth Elmore
https://alumni.uga.edu/wp-content/uploads/uga-alumni-nba-1.png
Elizabeth Elmore
2018-12-18 15:26:24
2019-07-02 13:10:54
Fueling Up: Student and Staff Recommendations for a Caffeine Fix