2019 Alumni Weekend earned an A+
The 2019 Alumni Weekend earned an A+ in my book. I might be slightly biased since I helped plan the event, but I think this video will prove my point:
If you weren't able to attend, I'm happy to provide you with a quick "report" on how things went … ultimately to create a little FOMO so you'll be sure to mark your calendar for next year (hint-hint: March 26-28, 2020).
THURSDAY
100+ alumni and friends gathered in the Stelling Family Study in Moore-Rooker Hall, one of the newest buildings in the Terry College Business Learning Community. It's a beautiful space, made even lovelier by the UGA Alumni Association events team (and yes, the tables were named for places on campus):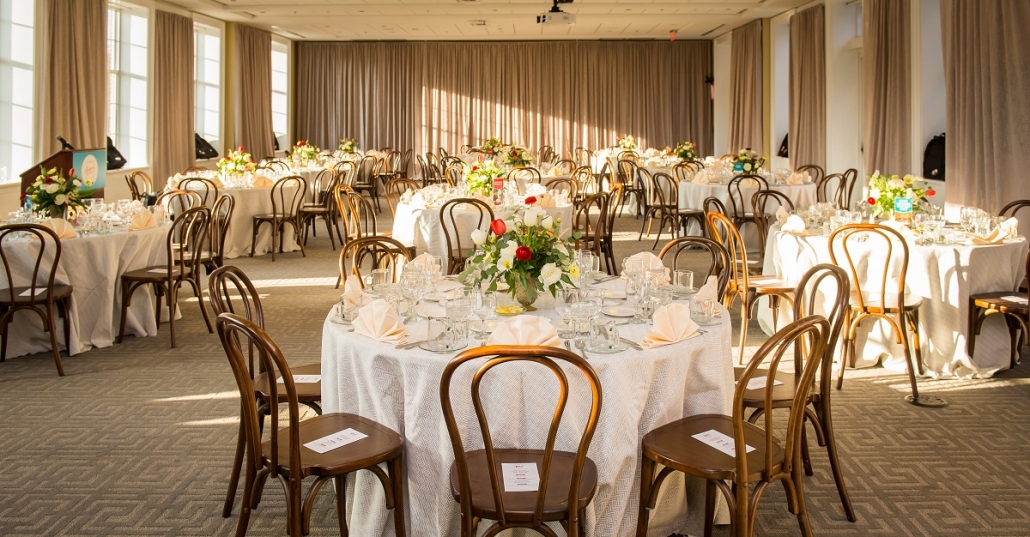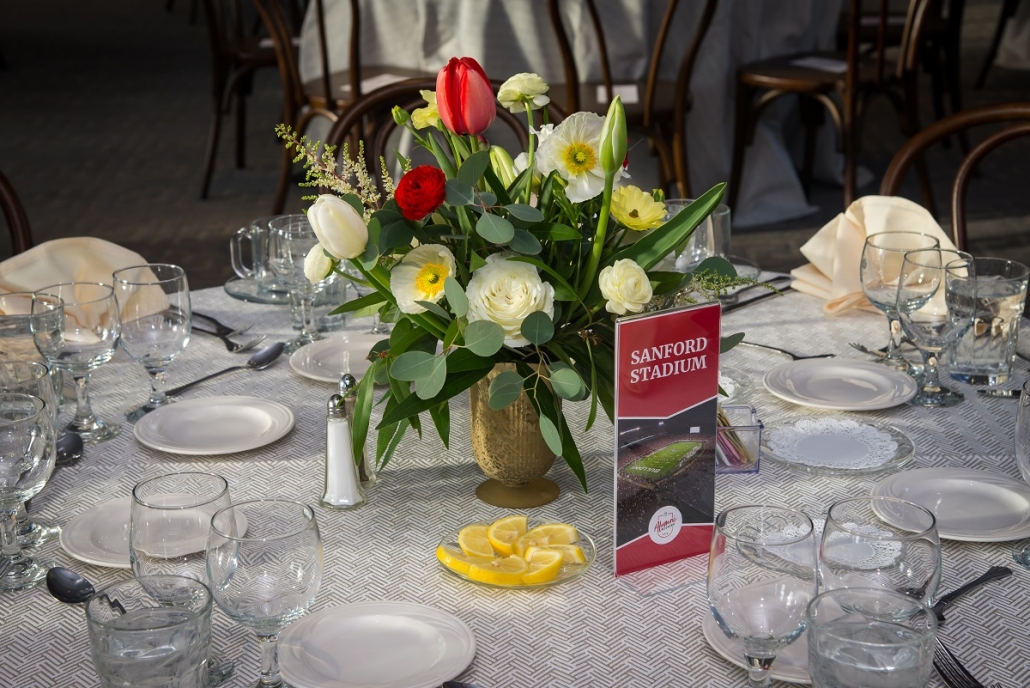 Folks grabbed their swag backpacks and a T-shirt (shown here on a few of the staffers who made Alumni Weekend come to life):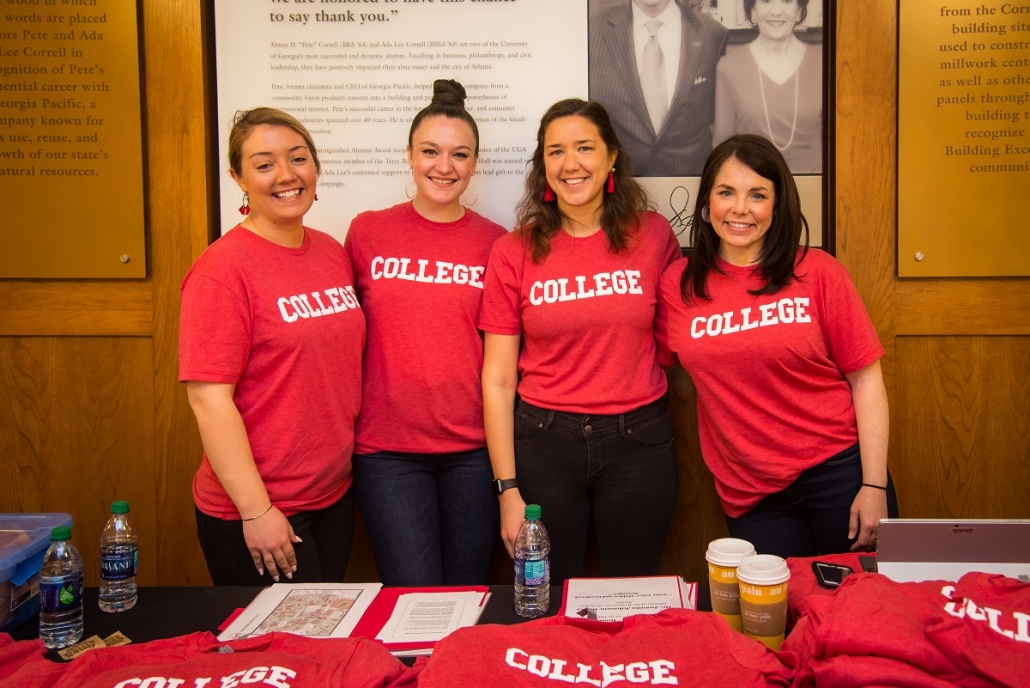 Look at all those goodies packed inside that backpack!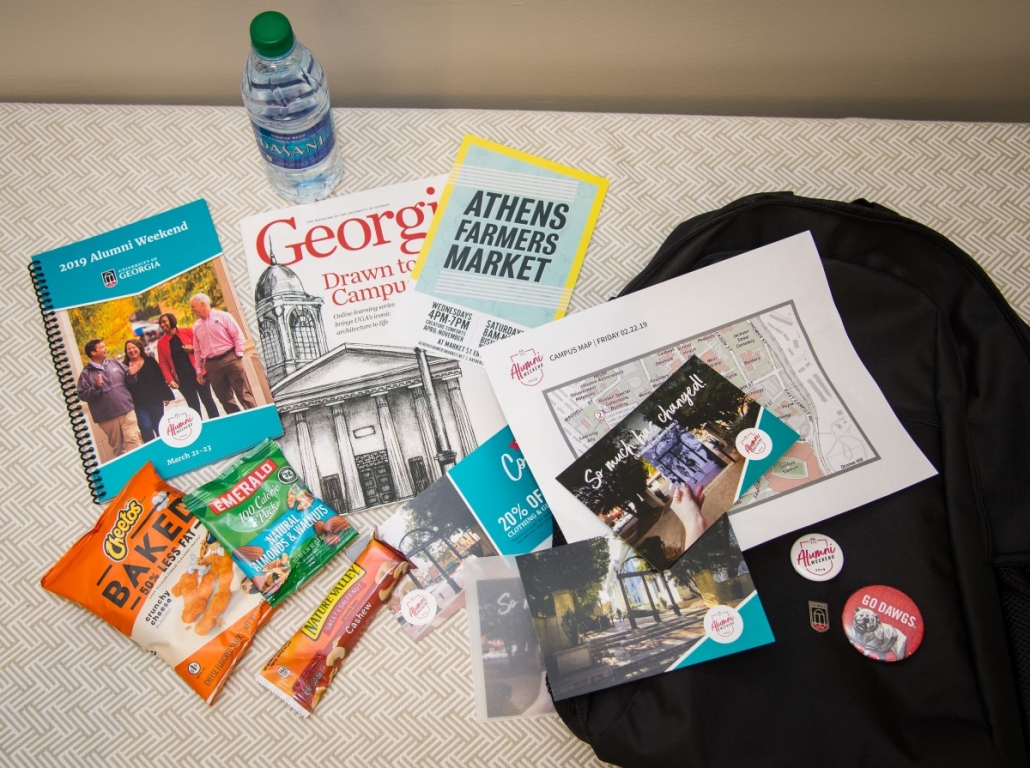 During dinner, we heard from UGA President Jere W. Morehead (JD '80):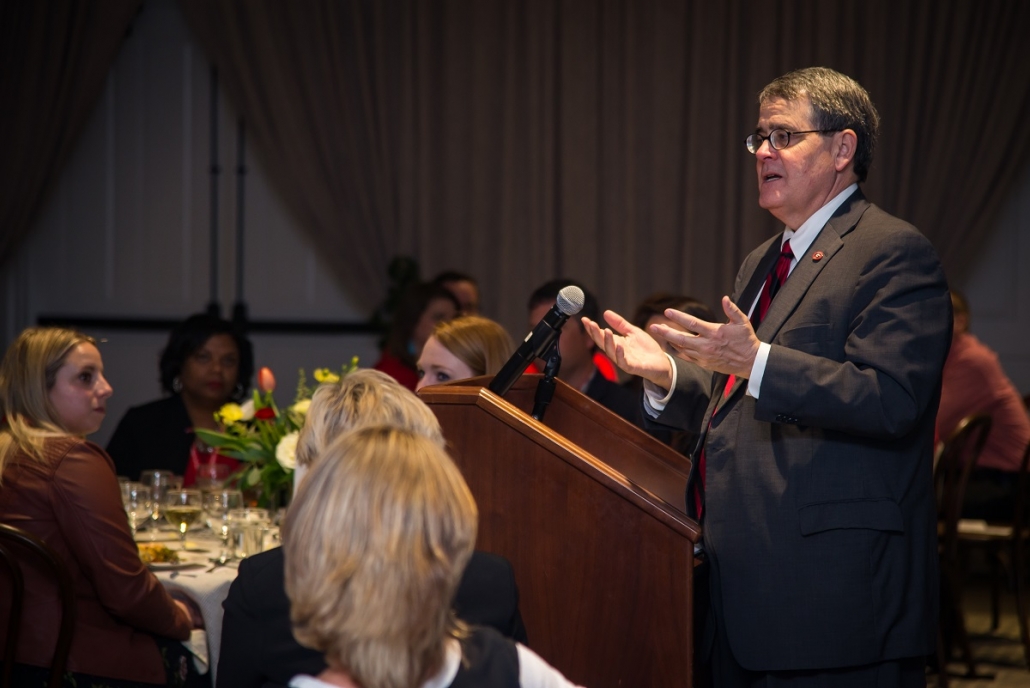 We had the opportunity to ask him a few questions, like "What are you most proud of since you became president?" and "What is your favorite movie?" I think he enjoyed that last one: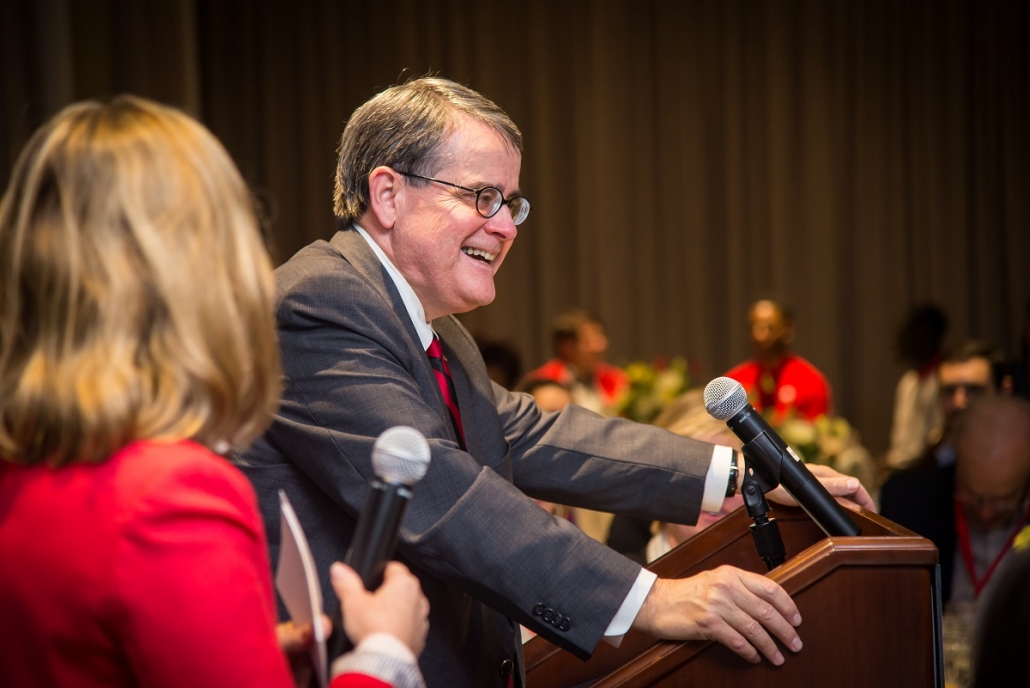 People were enthralled and impressed by how much is happening at UGA these days …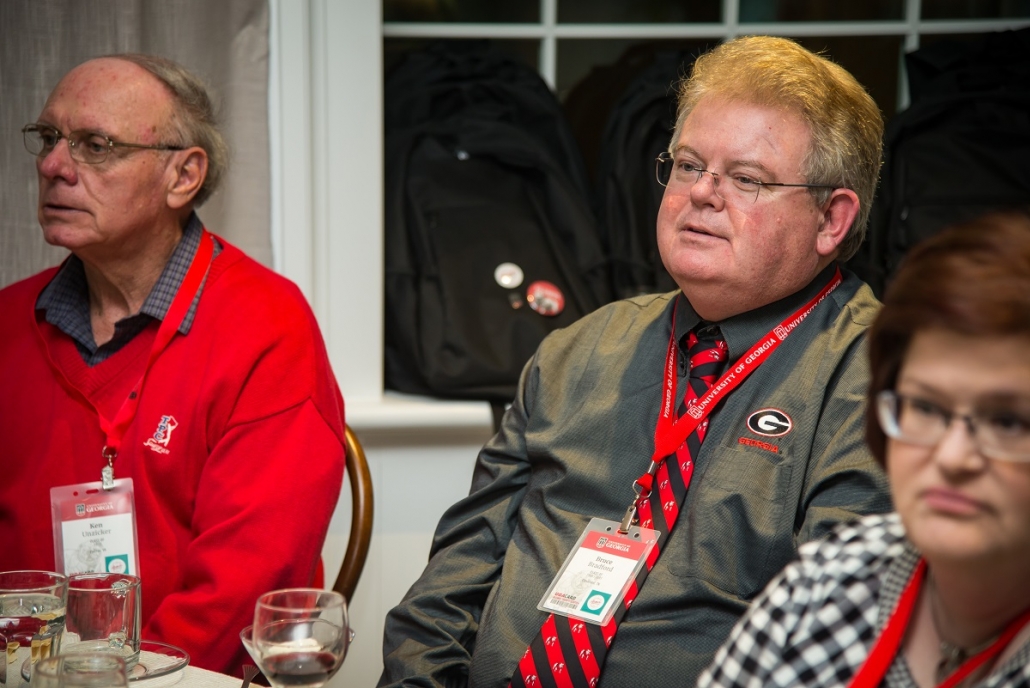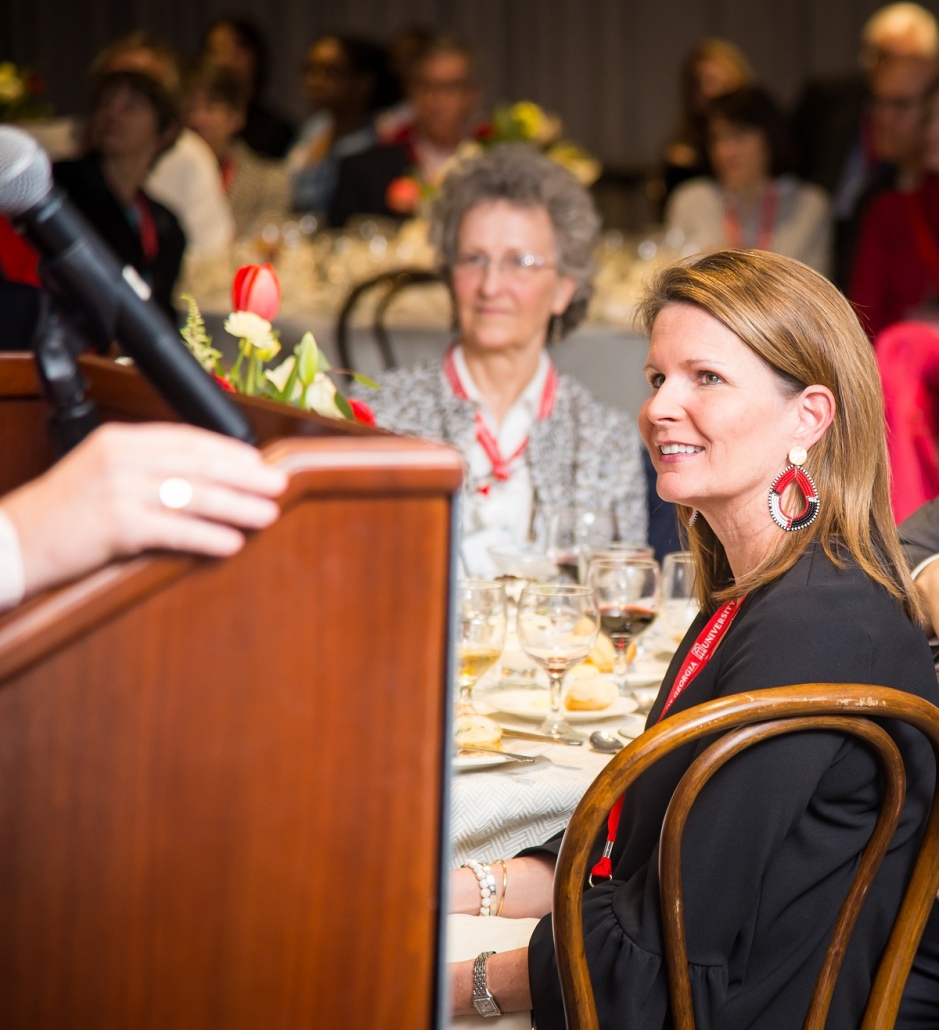 Including Matthew Auer, dean of the School of Public and International Affairs: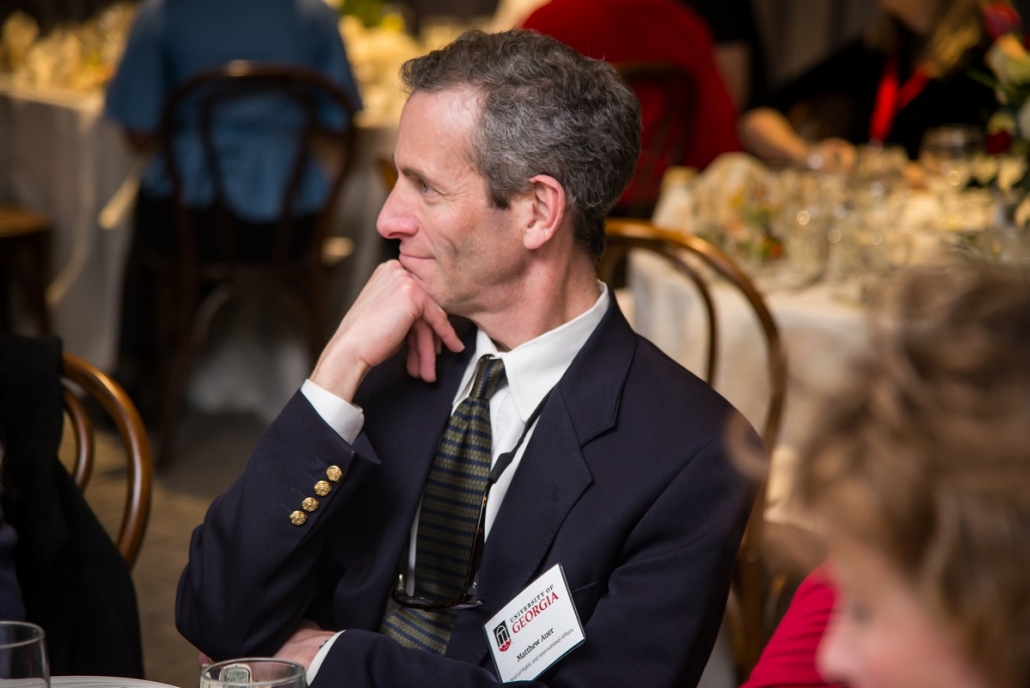 Yes, even yours truly: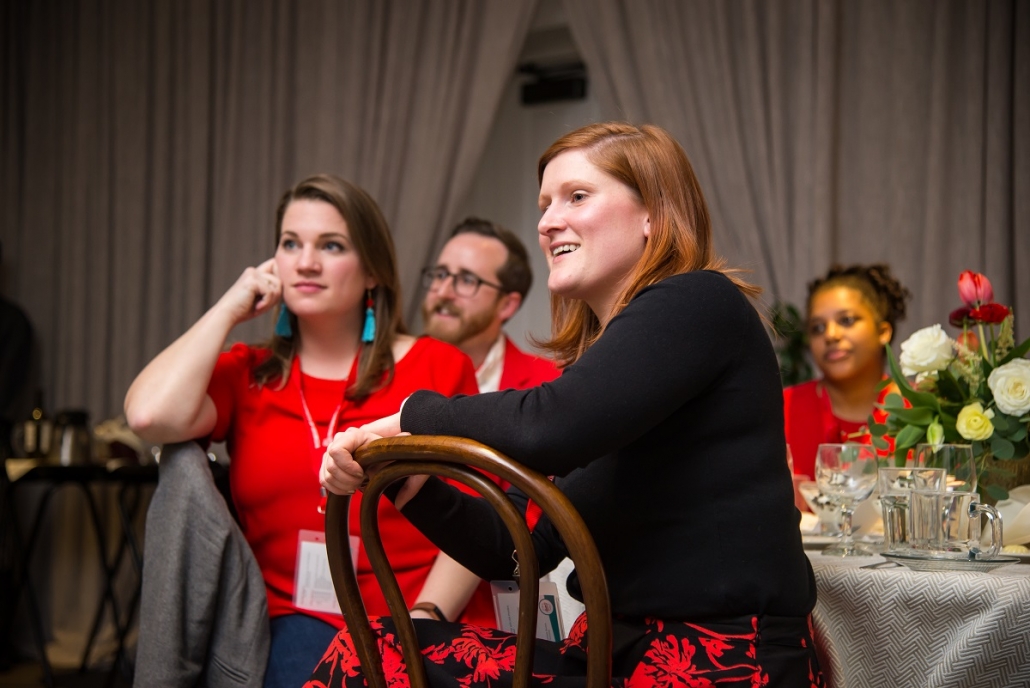 Then, we closed out the evening and headed home to get a good night's rest before class the next morning …… PSYCH.
What's a trip back to Athens without seeing a little music in the best college music town in America?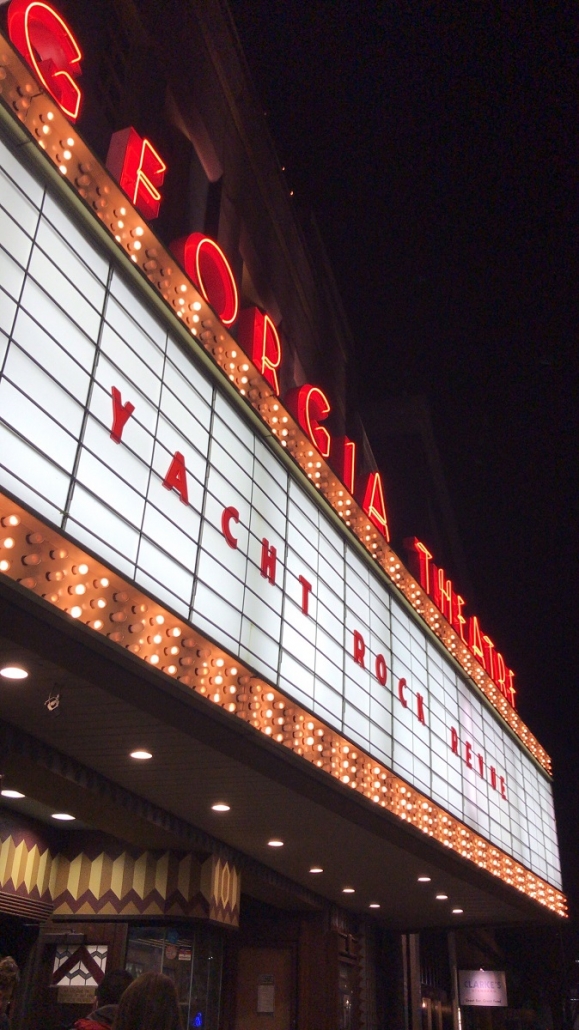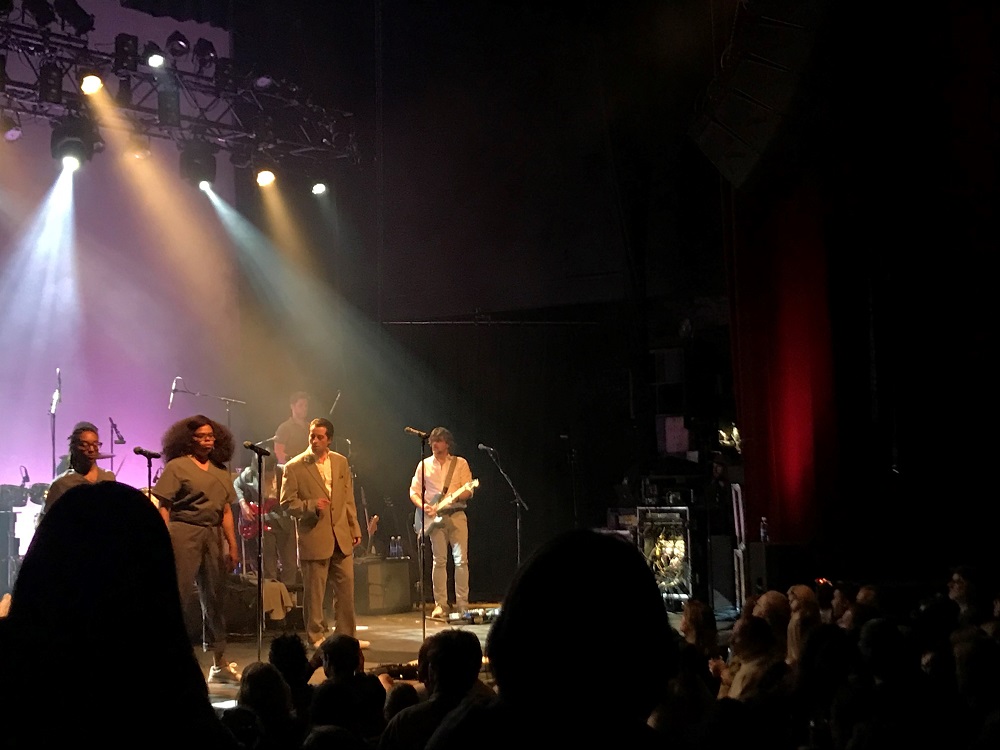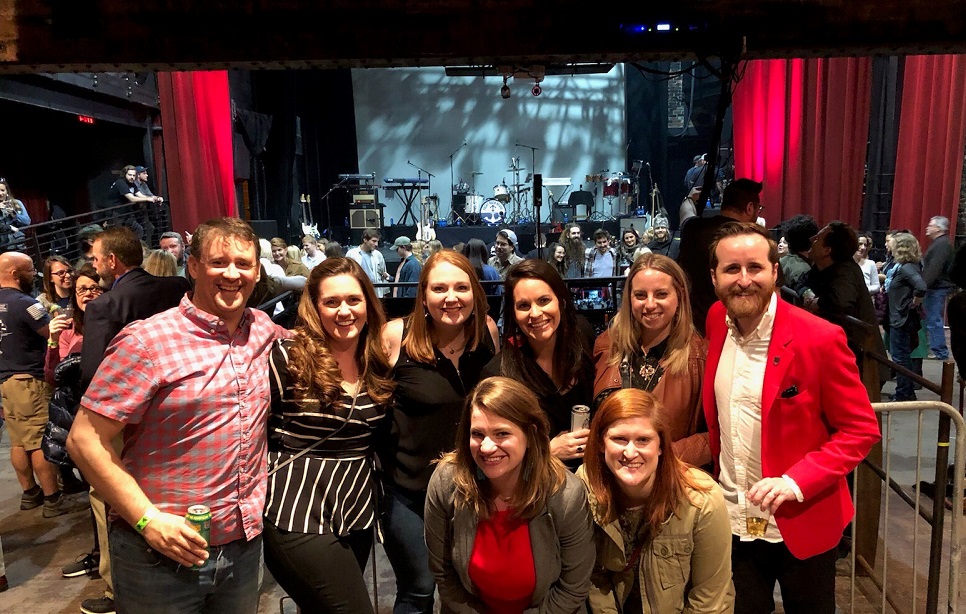 FRIDAY
On Friday, we greeted the day at Bolton Dining Commons. This isn't the Bolton of yesteryear; this is a new space that is straight out of a Harry Potter movie. Seriously:
And yes, students can have Super G waffles at the 24-hour breakfast station. #jealousy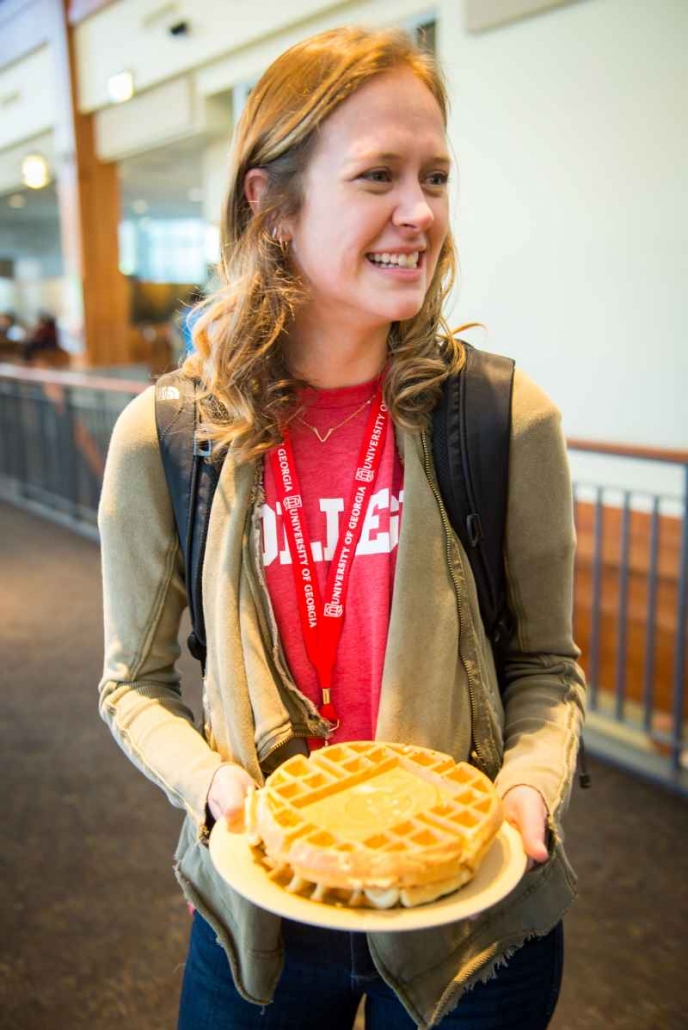 Lots of attendees met their Alumni Weekend "classmates" during these meals. Just imagine the memories they are exchanging from their time on campus: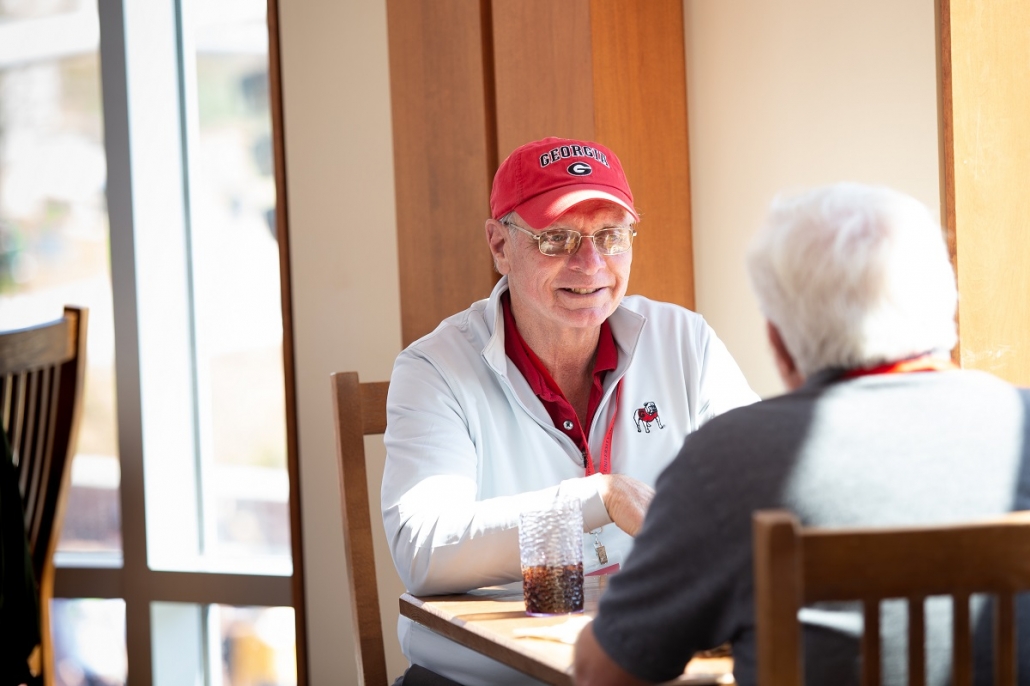 Then it was off to first period – we served up classes taught by three incredible faculty members.
Gary T. Green, assistant dean of academic affairs and professor in the Warnell School of Forestry and Natural Resources, who taught "Challenges Facing Resource Management: Implications from a Changing Society."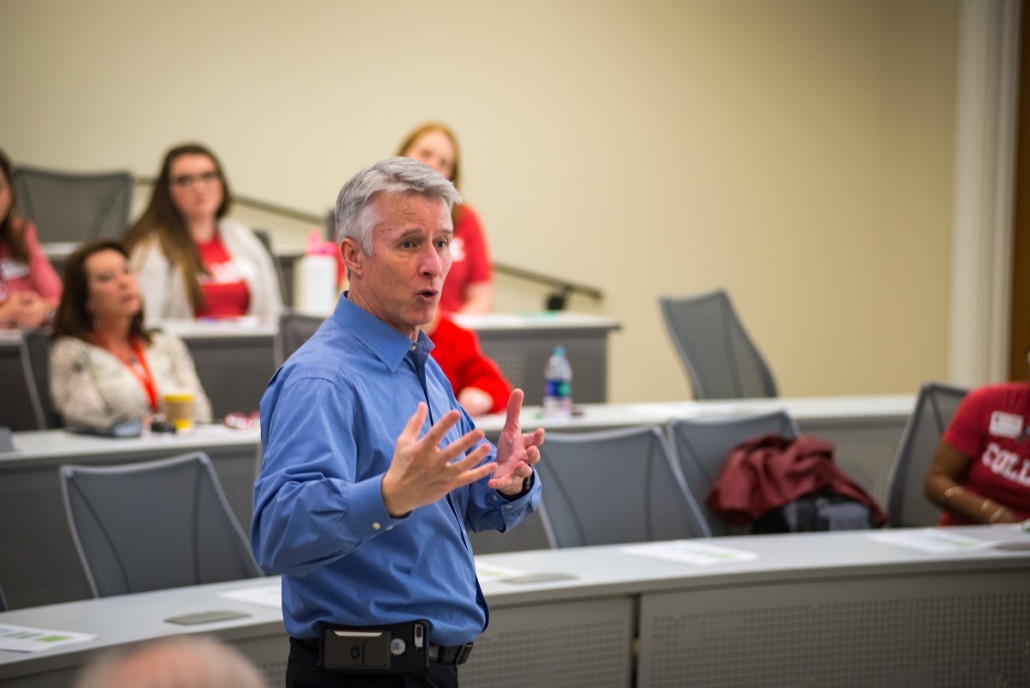 Maria Navarro, professor in the College of Agricultural and Environmental Sciences, who taught "Hunger Who? An Introduction to Global Food Insecurity."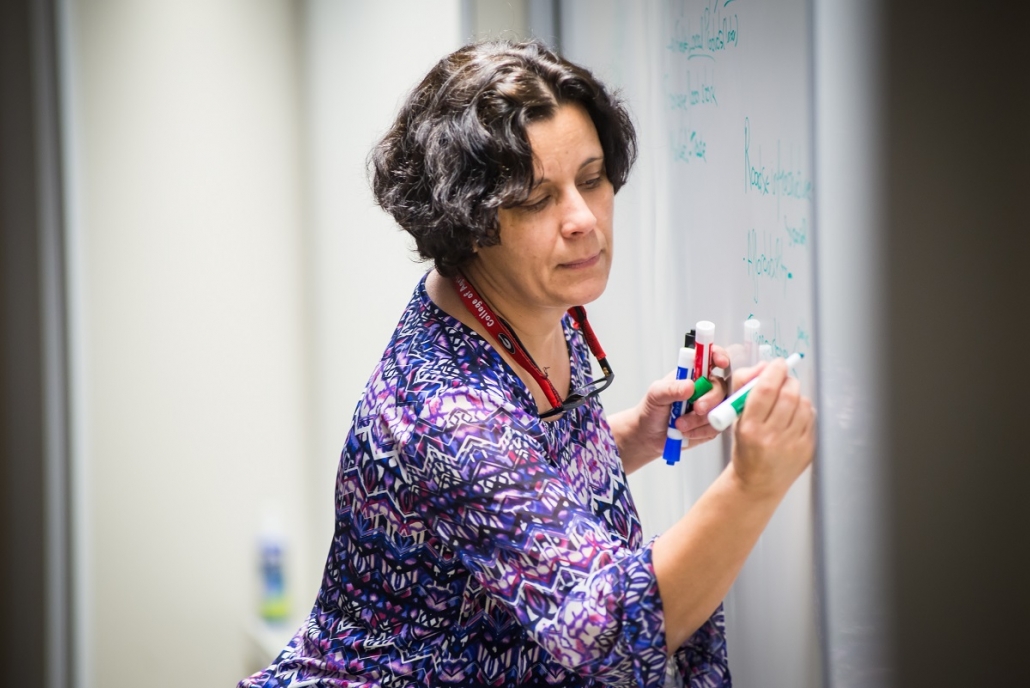 Jenna R. Jambeck, associate professor in the College of Engineering, who taught "Marine Debris from Land to Sea."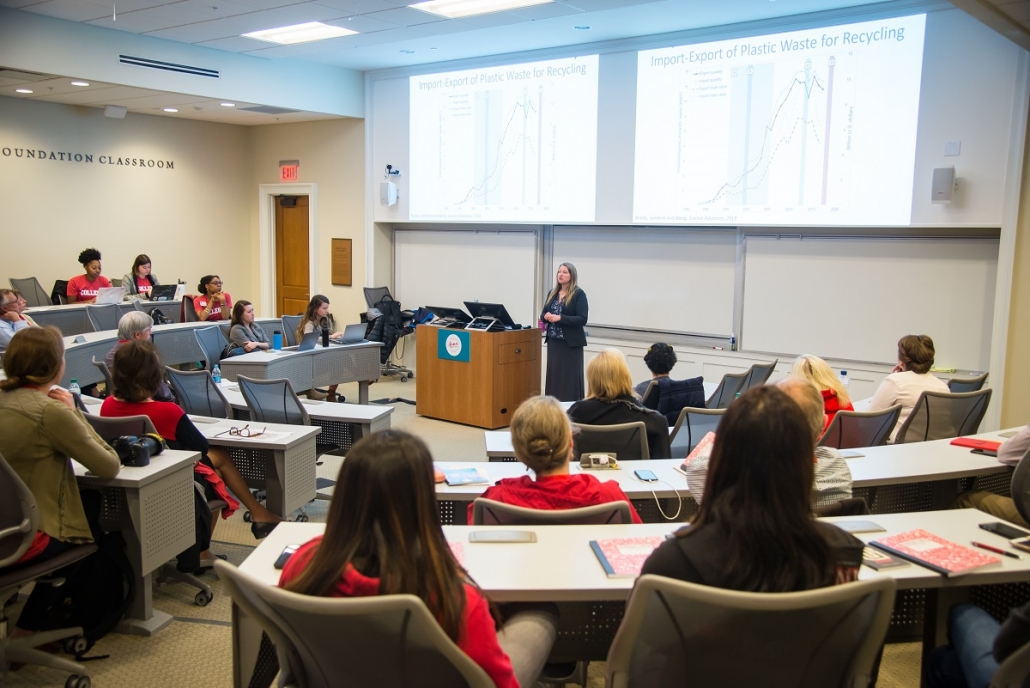 During second period, classes included: "Fairy Tales: An Examination of Hidden and Gendered Messages" by Juanita Johnson-Bailey, director of the Institute for Women's Studies.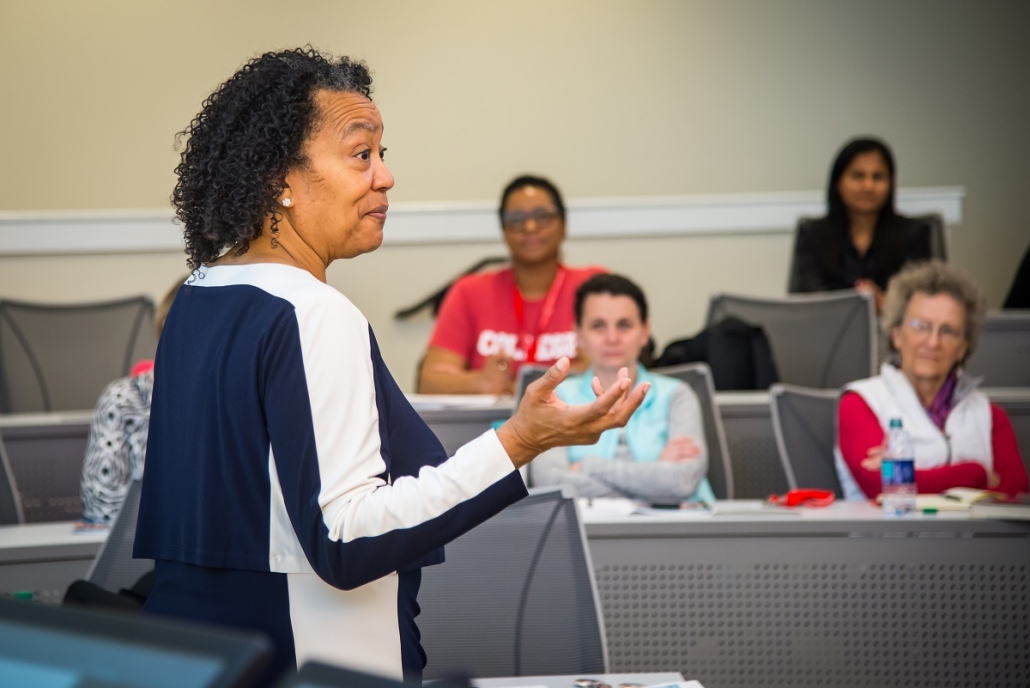 "Bombs, Bugs, Drugs and Thugs: The United States in a Hostile World" by Loch K. Johnson, Regents Professor of Public and International Affairs.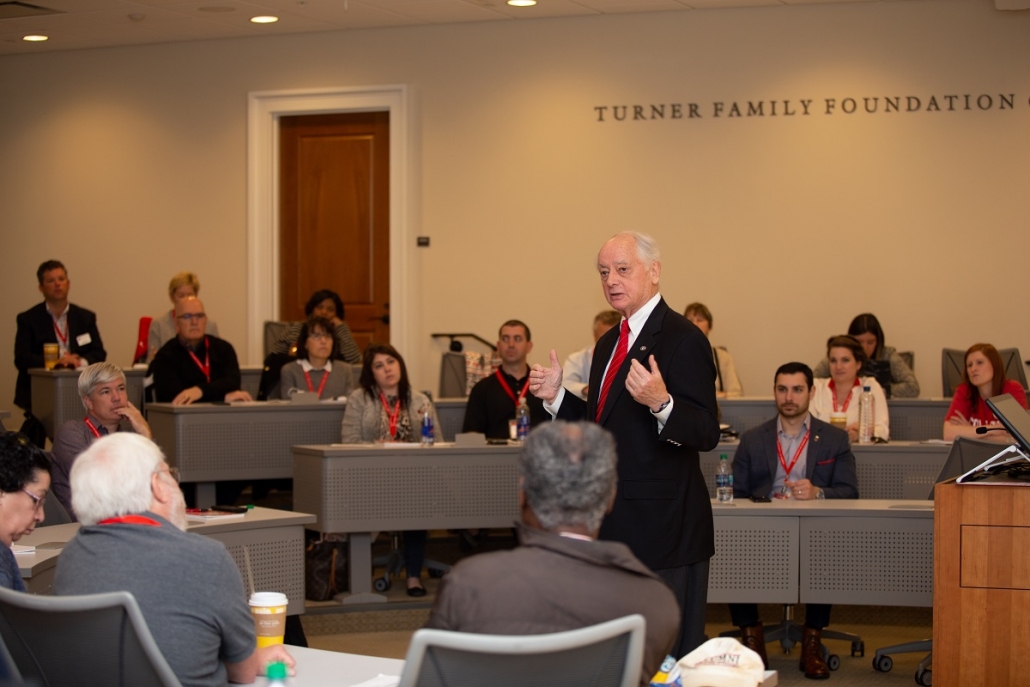 … and an encore of "Challenges Facing Resources Management – Implications for a Changing Society" by Gary Green.
With all that learning, it was time for another meal break at Bolton: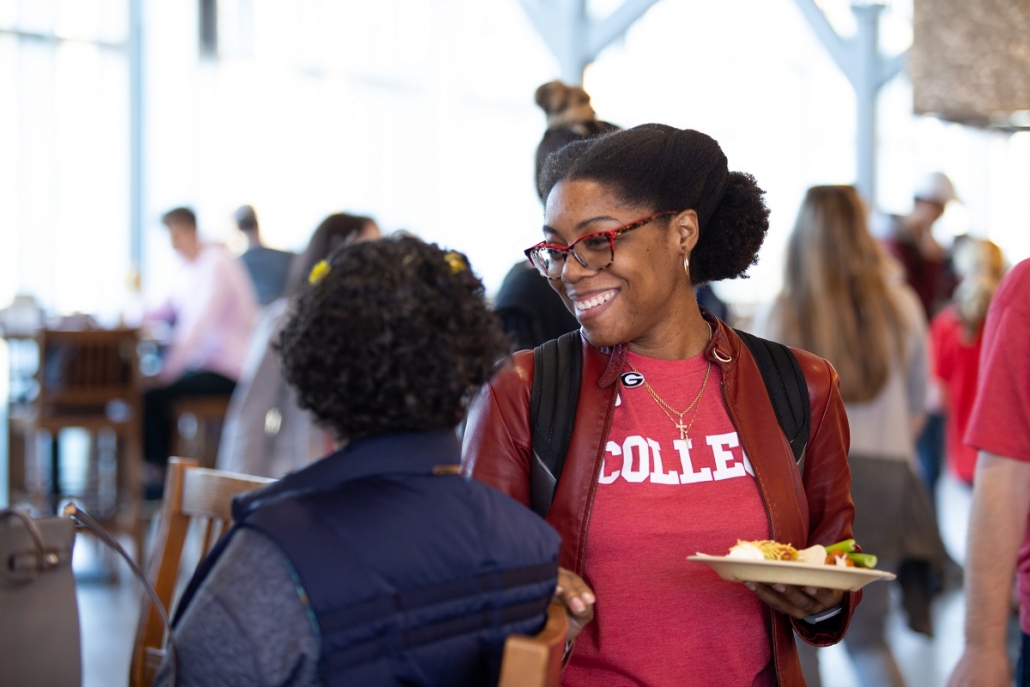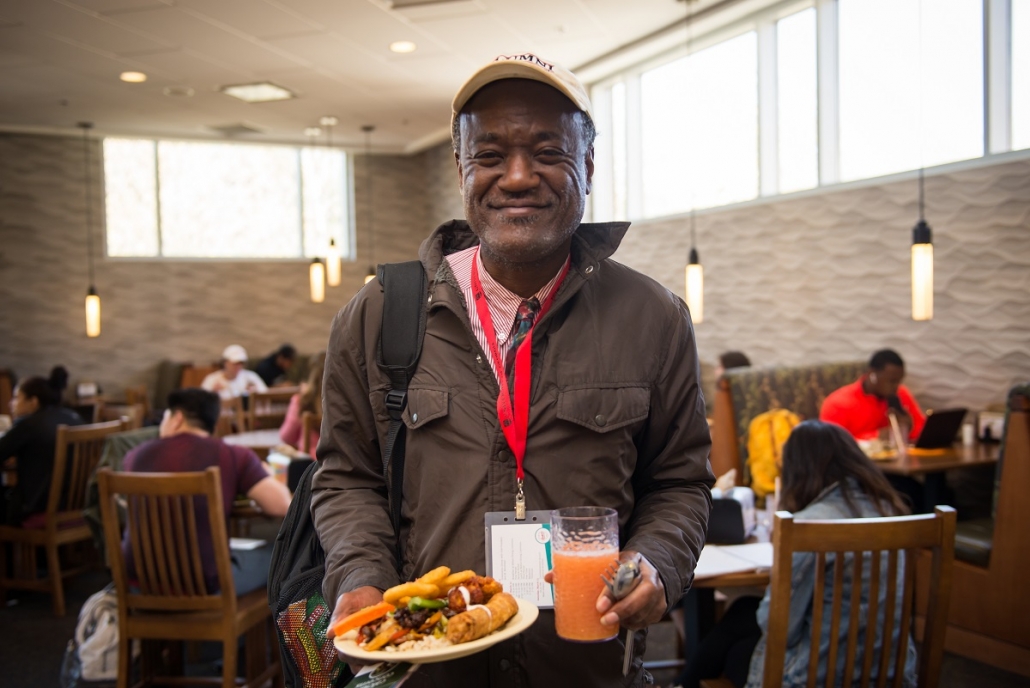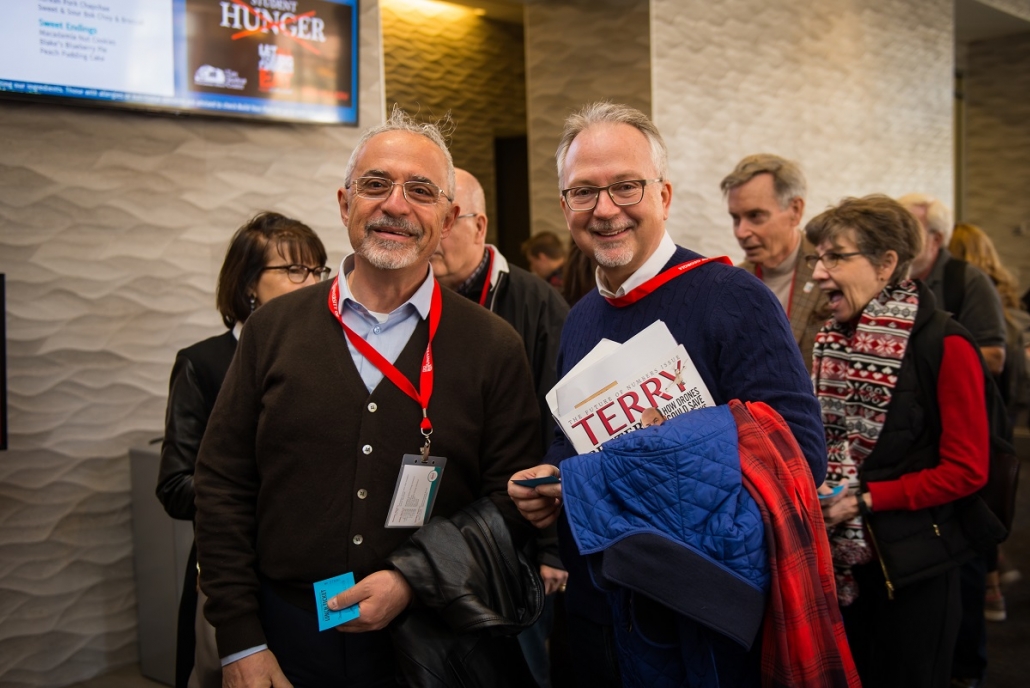 And then one more class period for the day that featured:
"From Babe Ruth to LeBron James: How Changes in Media Shape Perspectives on Sports Heroes" by Vicki Michaelis, the John Huland Carmical Chair in Sports Journalism & Society
"What About Small Town? Solving Rural Housing Problems When Everyone is Thinking About Cities" with Kim Skobba, the director of UGA's Housing and Demographics Research Center.
and an encore of Maria Navarro's "Hunger Who? An Introduction into Global Food Insecurity."
Then, just like any Friday for a student – classes ended and we left the Miller Learning Center to begin our weekend. After a little free time, we reconvened at Wall & Broad in downtown Athens. This event space is run by UGA alumni and the food is catered by LRG Provisions, the sister restaurant of Last Resort Grill, another mainstay on the Athens food scene. It was a beautiful space: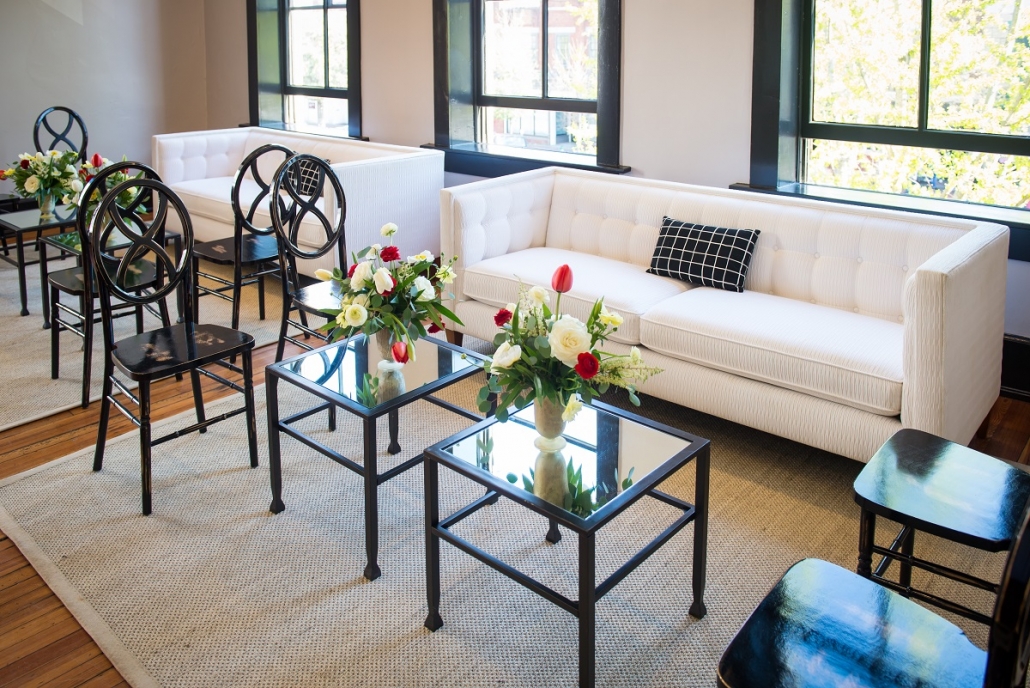 And the mixing and mingling was in full swing: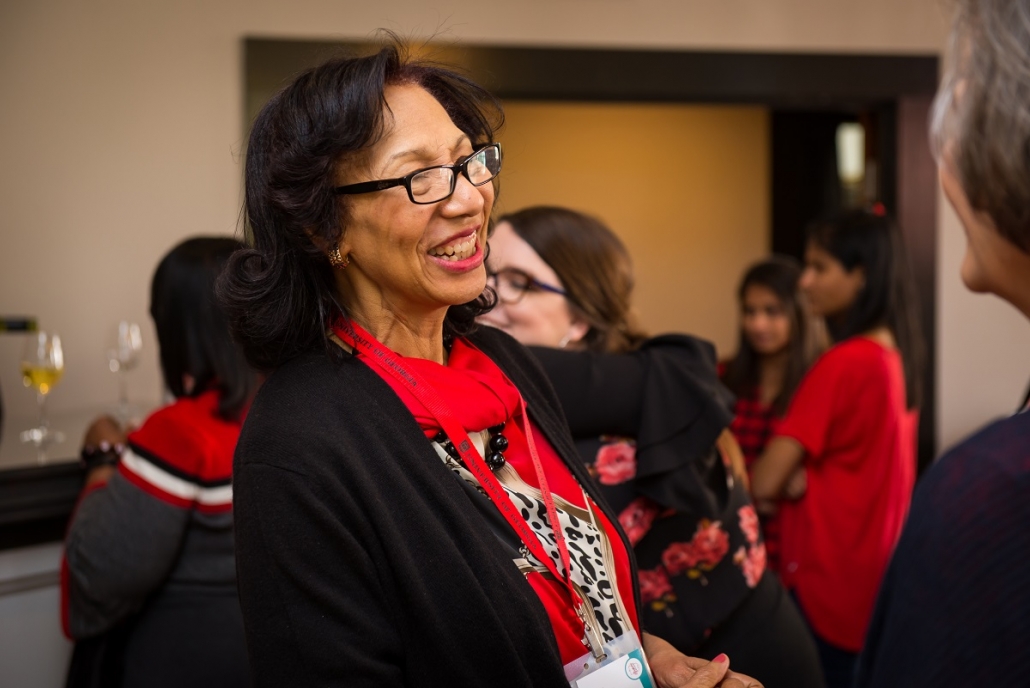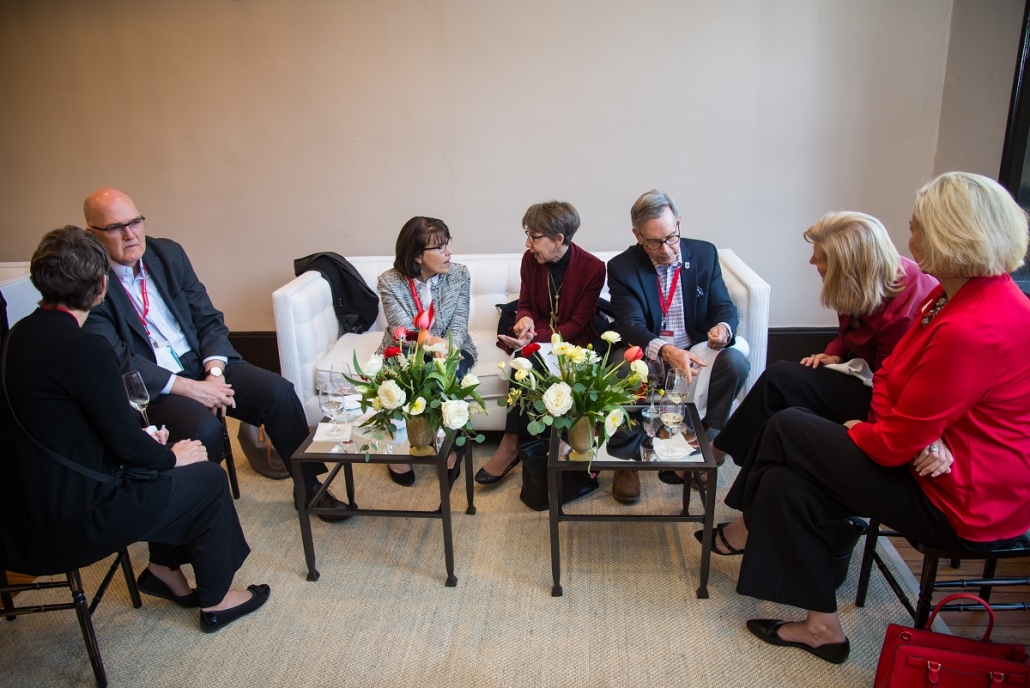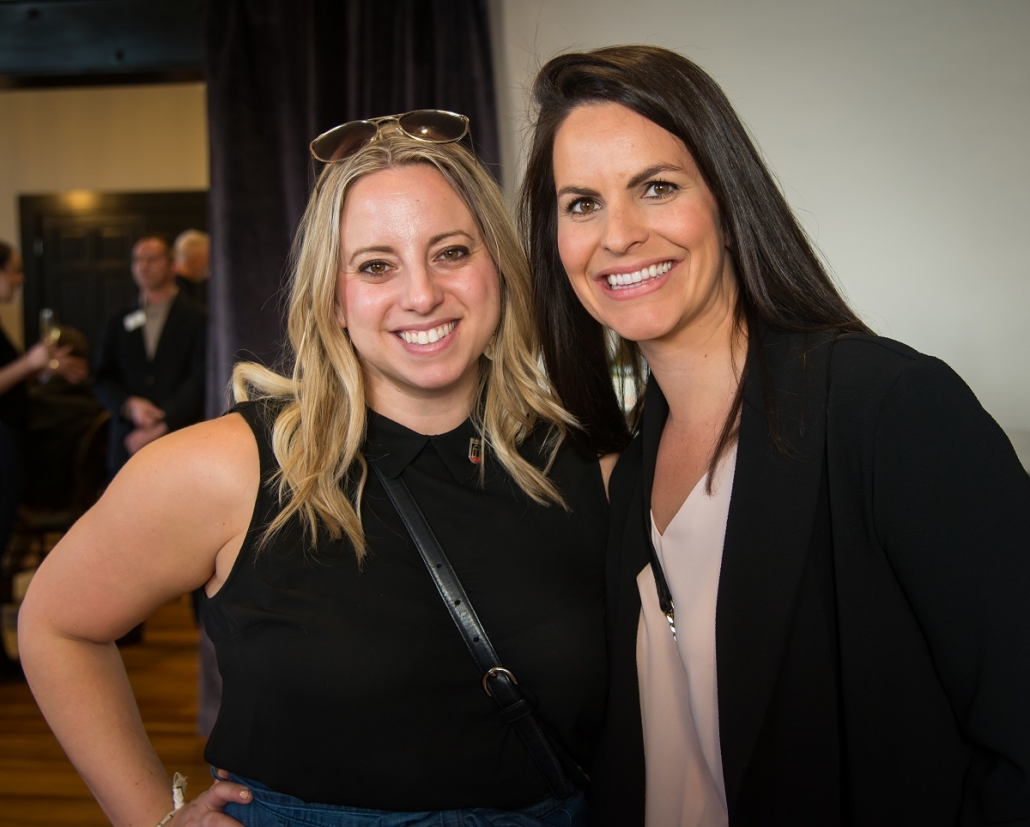 Look – even Professor Skobba joined in the fun!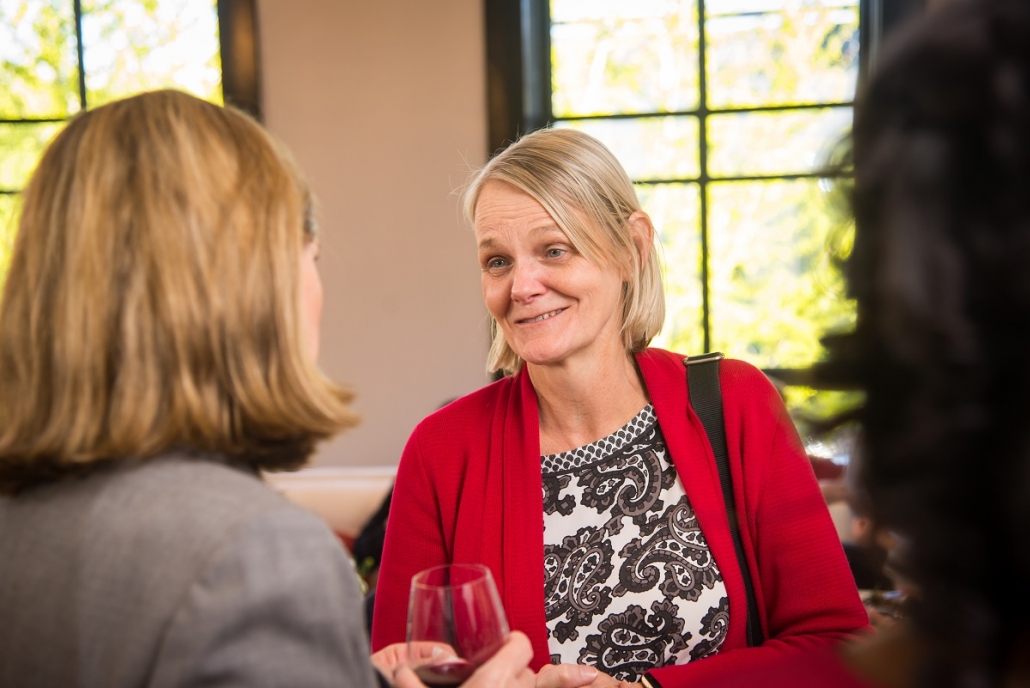 At 6:30, the reception concluded and folks headed to the Classic Center just a few blocks away for the TEDxUGA, a celebration of "ideas worth spreading." This event is spearheaded by UGA's New Media Institute and features student, alumni and faculty speakers. Interested in who was in the lineup this year – check it out.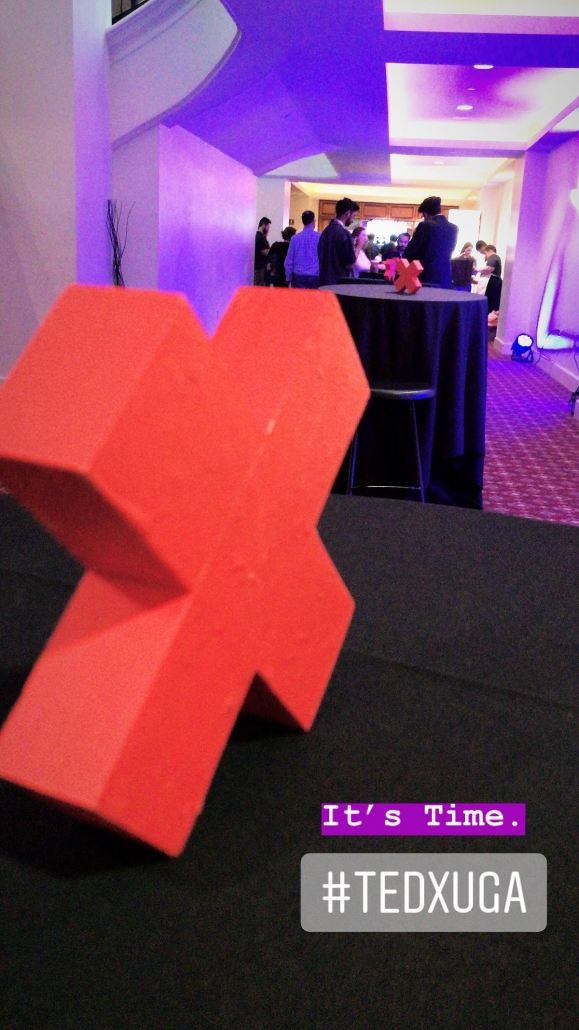 I was inspired by all of the speakers, but particularly enjoyed hearing from Ansley Booker (MS '13), the interim director for Mercer University's Educational Opportunity Center (and a member of the UGA Alumni Association's Black Alumni Leadership Council). Her TED Talk made me want to go out and recruit every young girl in America to enter a STEM field.
Malcolm Mitchell (AB '15), is a former UGA football standout who went on to be a Super Bowl Champion as a wide receiver for the New England Patriots. He also is the author of a children's book, The Magician's Hat, and is passionate about youth literacy. His TED Talk emphasized the power of overcoming obstacles and while he announced his official retirement from professional football during his talk, he cited that he's ready for what's next.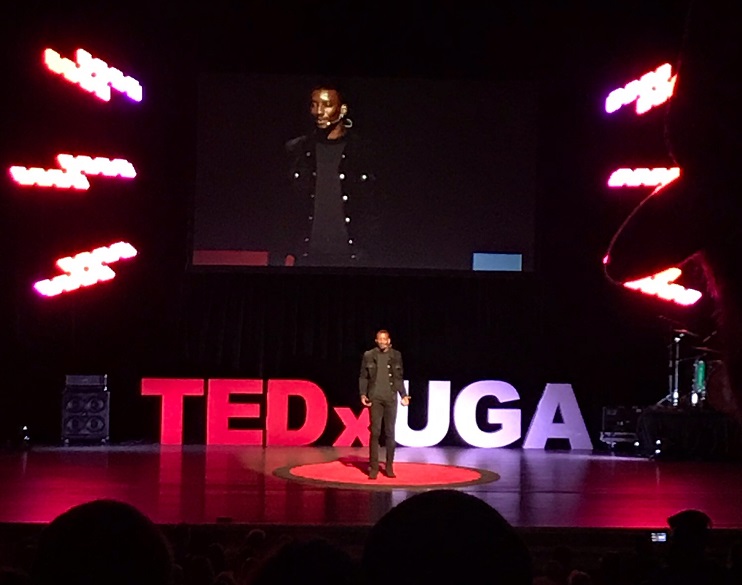 And I also was inspired by A.C. Williams, a third-year student studying management information systems and international business. As an experienced event director in the Esports world, he opened my eyes to the community that is thriving around gaming.
And after a long day of class and TEDxUGA inspiration, Alumni Weekend participants headed back to their hotels and homes for the night.
SATURDAY
On Saturday, we enjoyed a brunch in the Sanford Stadium SkyClub. The weather was beautiful and everyone was in high spirits!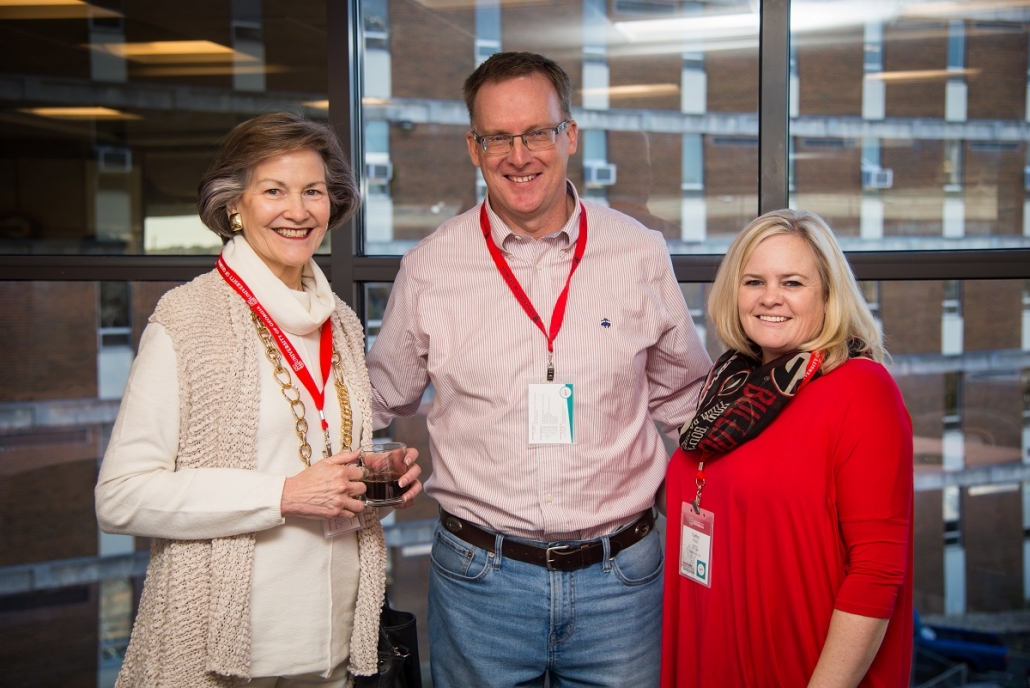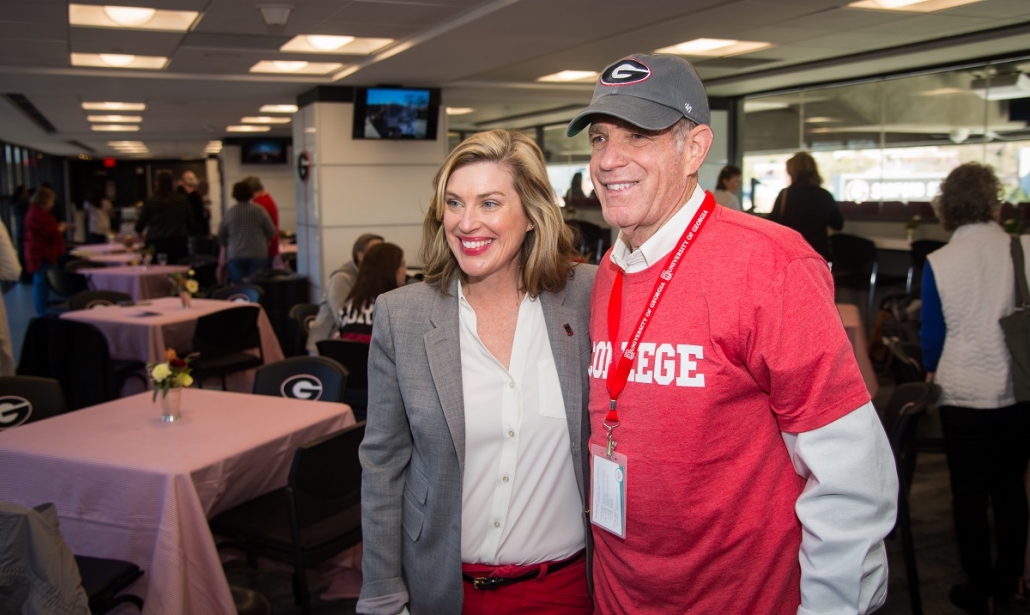 Look! Even Professor Navarro joined us: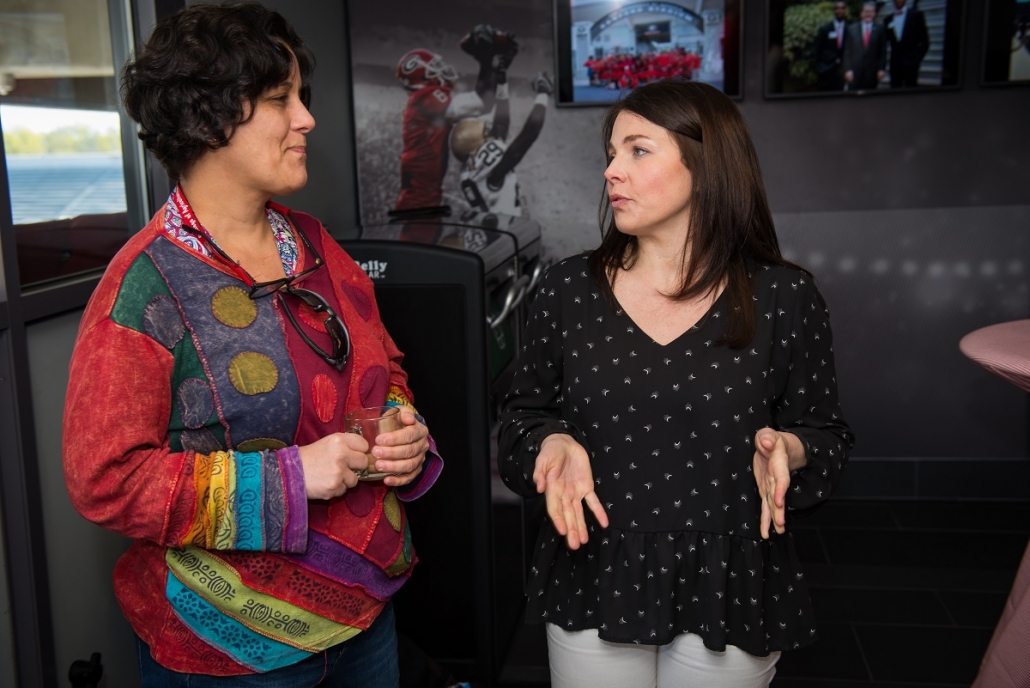 Student Alumni Council President Nash Davis '19 welcomed attendees to the "Commencement Brunch" and everyone laughed when he officially conferred their Alumni Weekend degrees on them.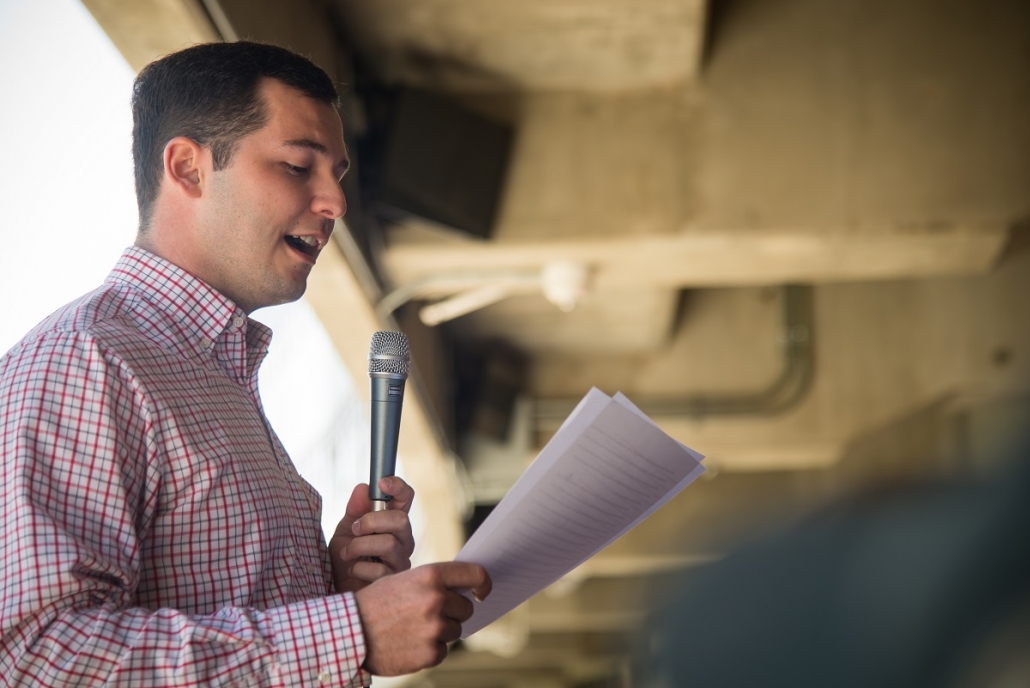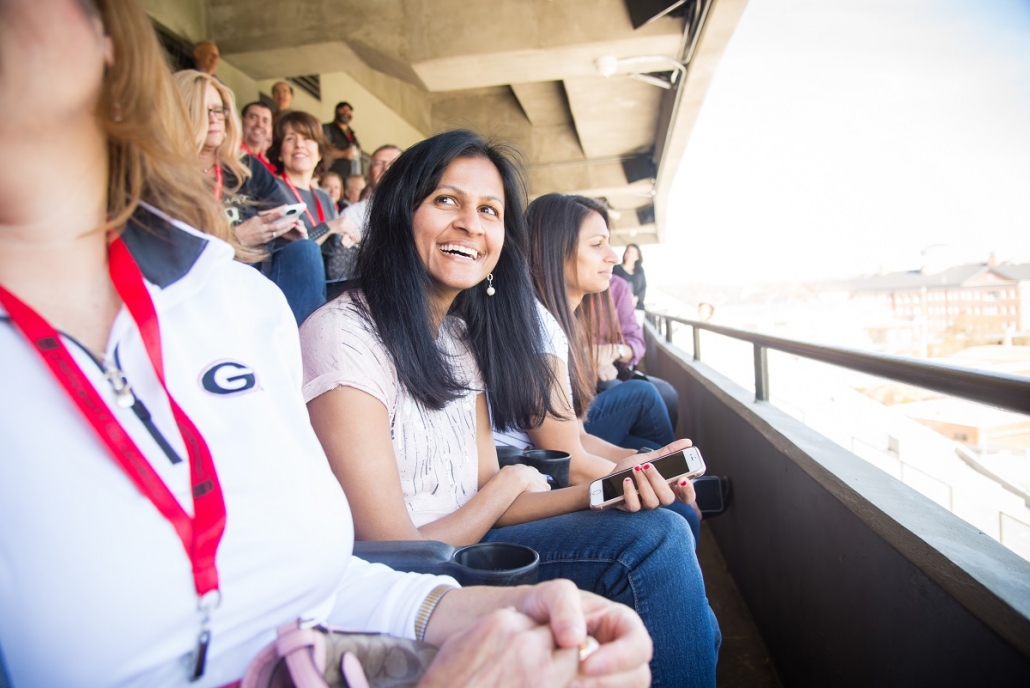 Then it was off to grab some grub and take pictures in the photo booth: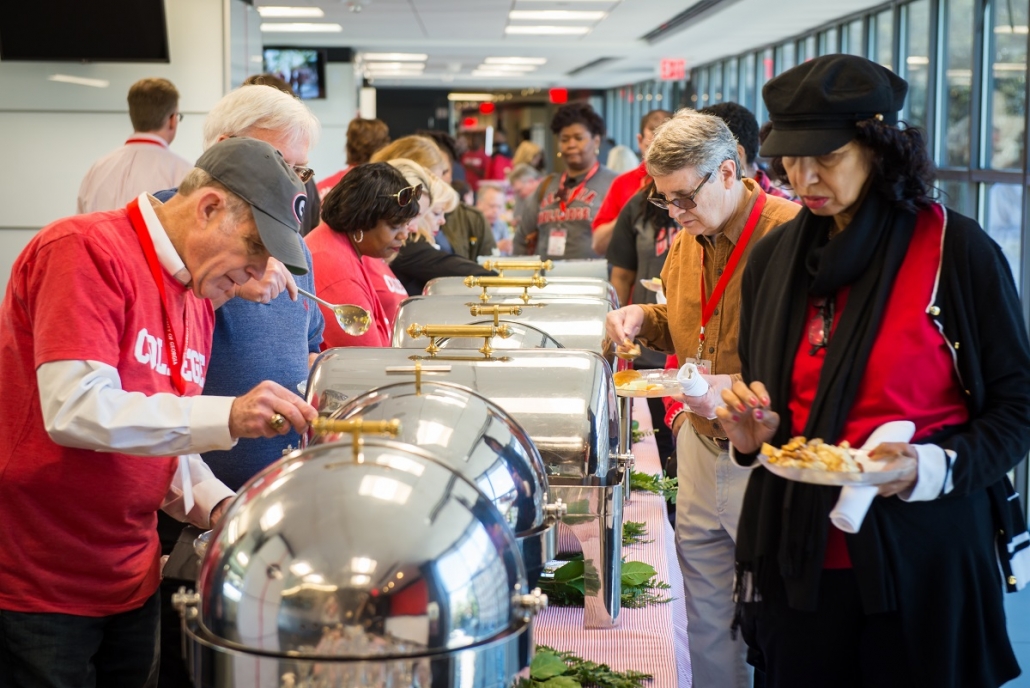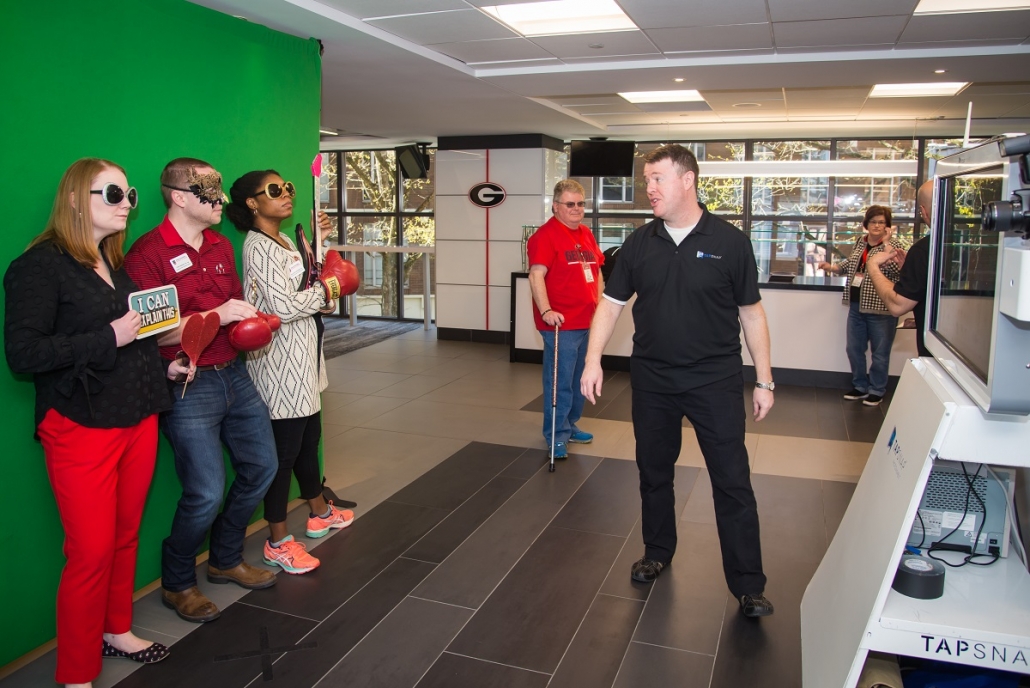 A special guest even joined us for this special occasion: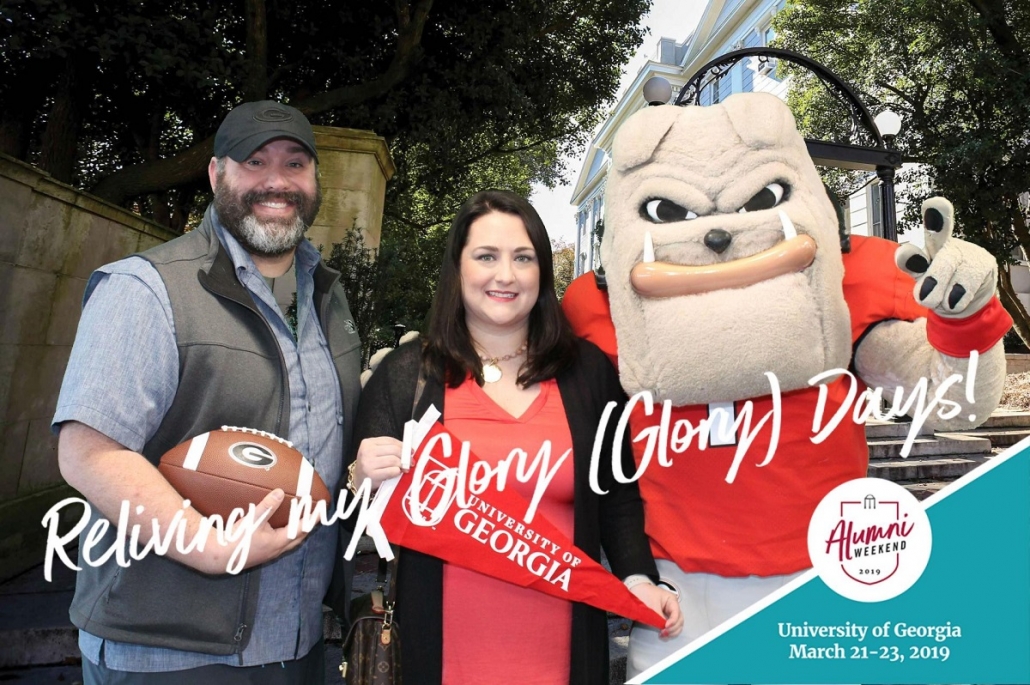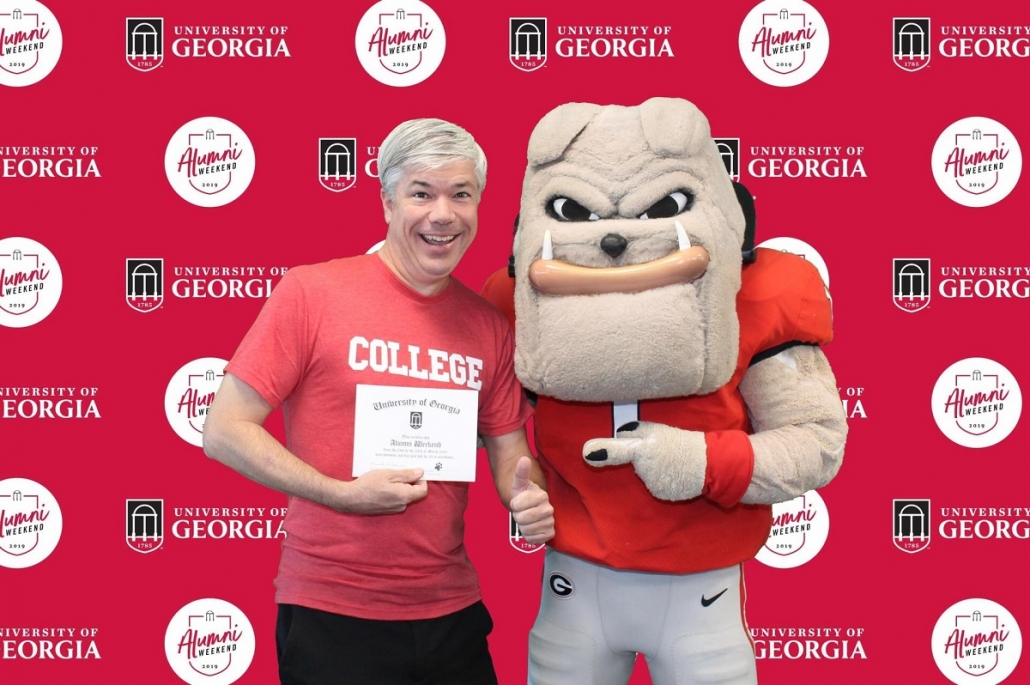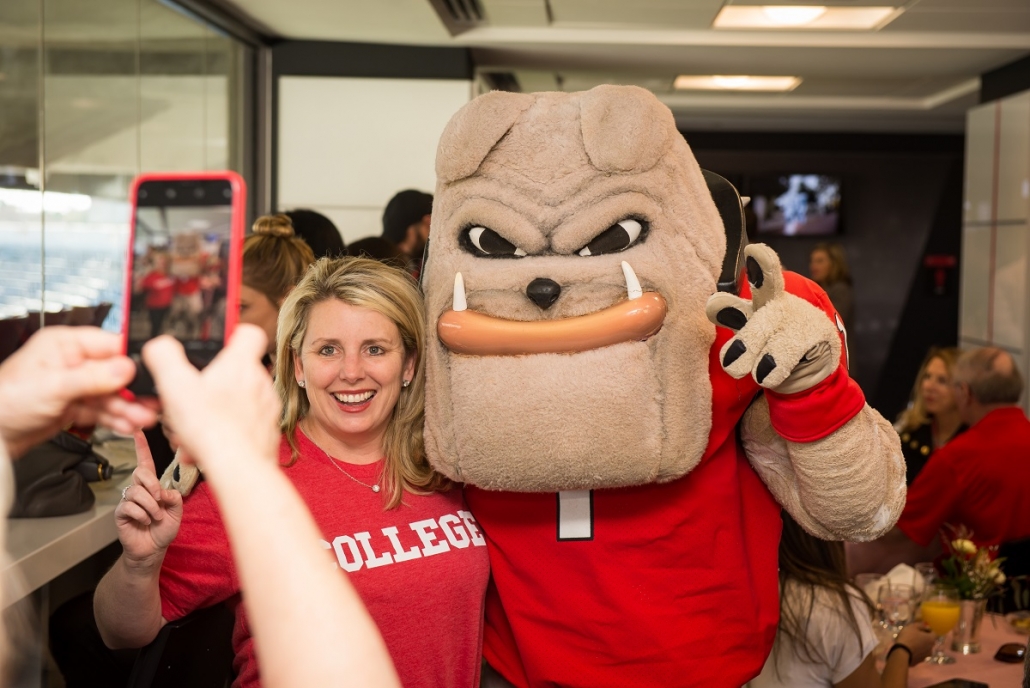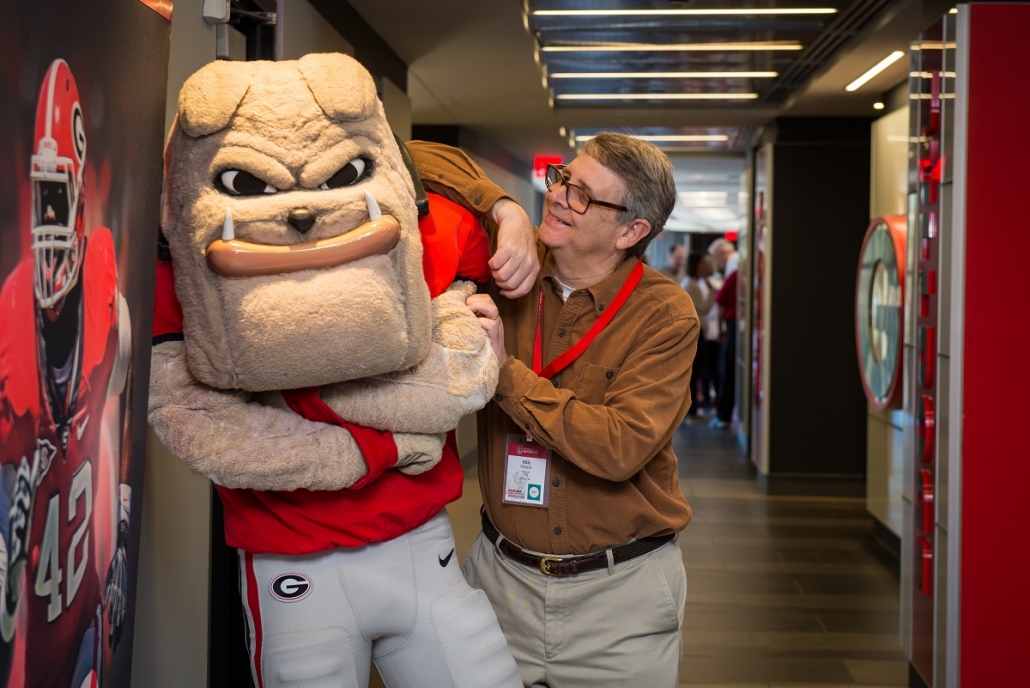 And then Meredith Gurley Johnson (BSFCS '00, MED '16), executive director of the UGA Alumni Association, closed out the brunch with a few remarks and a toast to a great weekend: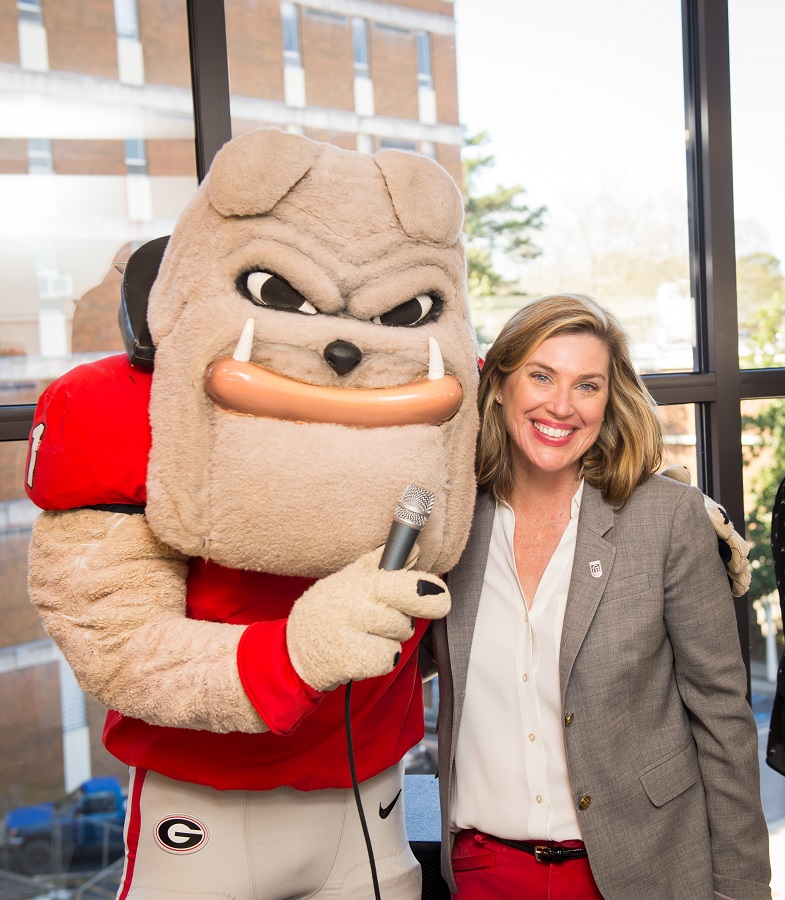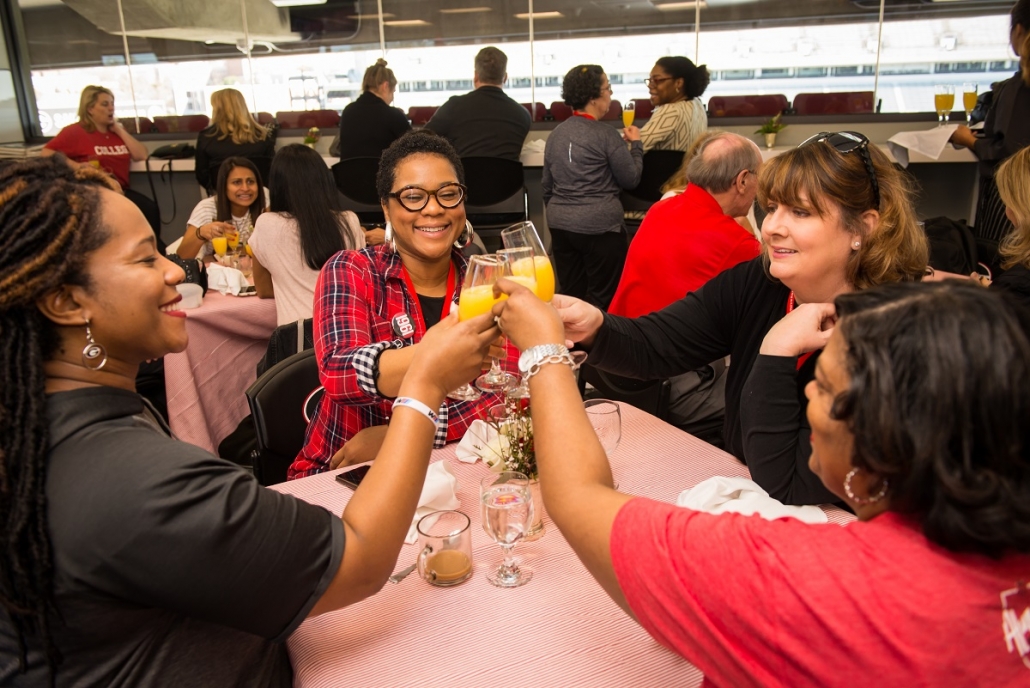 While this was technically the "end" of Alumni Weekend, we lined up a few optional activities that everyone could attend on their own. Those events included a UGA baseball game vs. LSU, a "One Man Star Wars Trilogy" performance, an exhibit at the UGA Special Collections Libraries, and a private tour of the Georgia Museum of Art with GMOA Director Bill Eiland.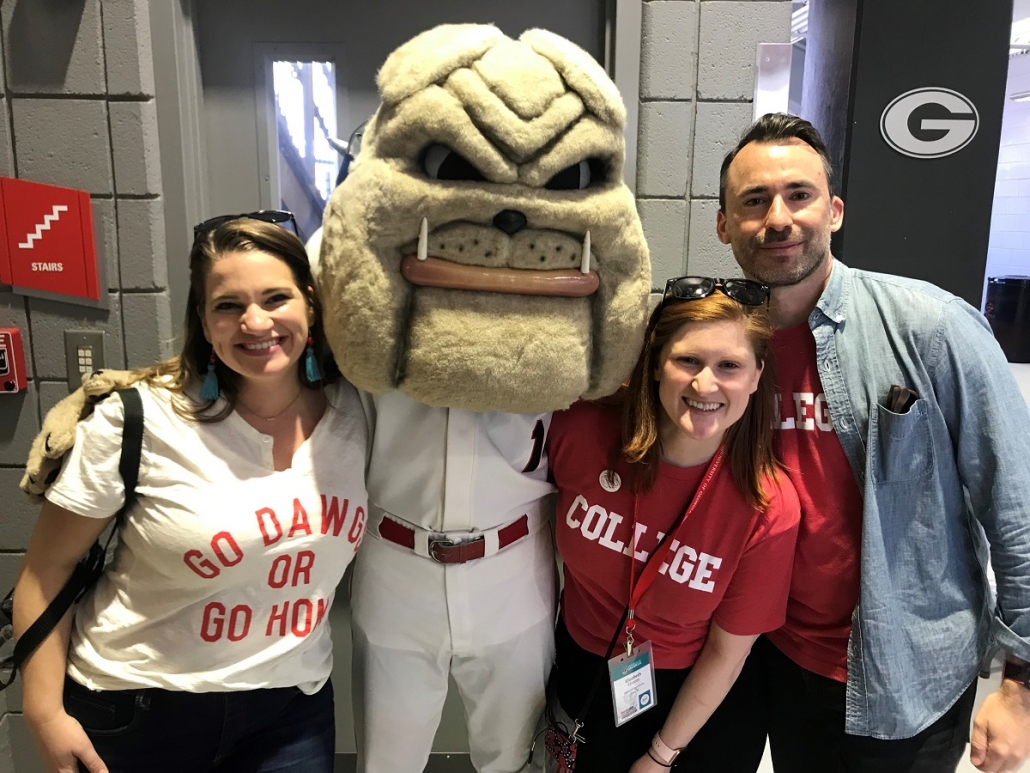 Some attendees participated in a tour of the newly renovated West End Zone of Sanford Stadium led by Colby DeCesare, a graduate assistant with the UGA Athletic Association: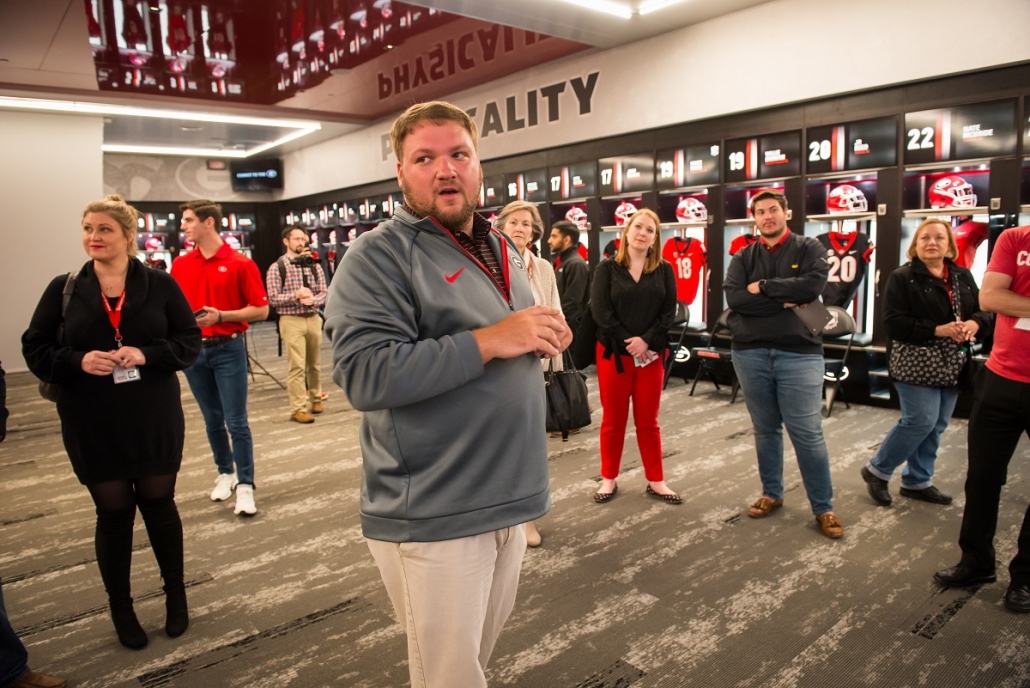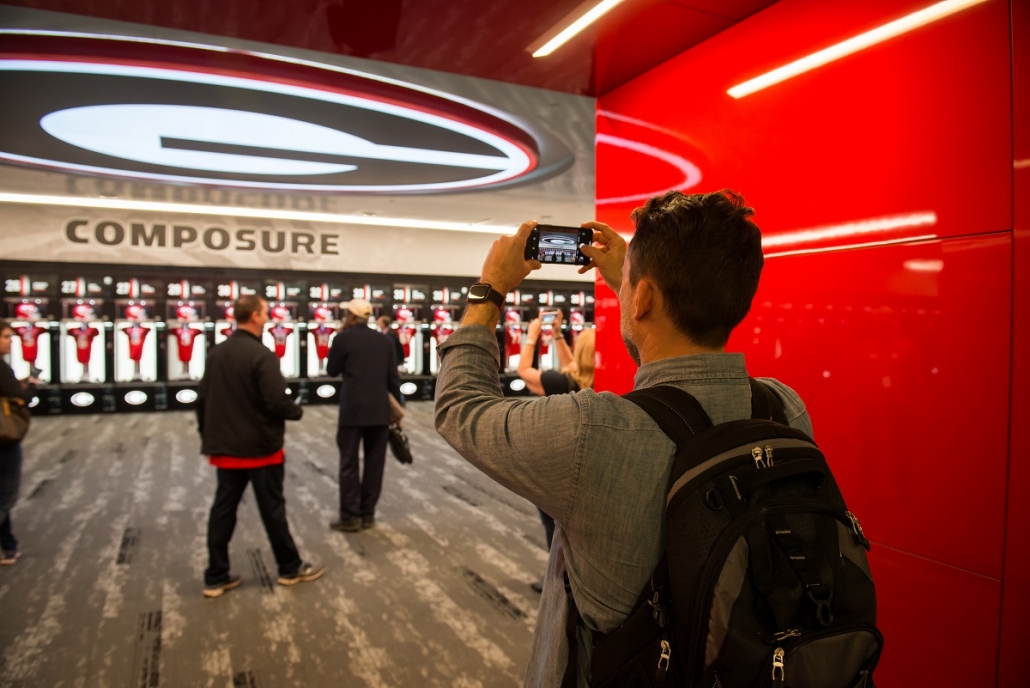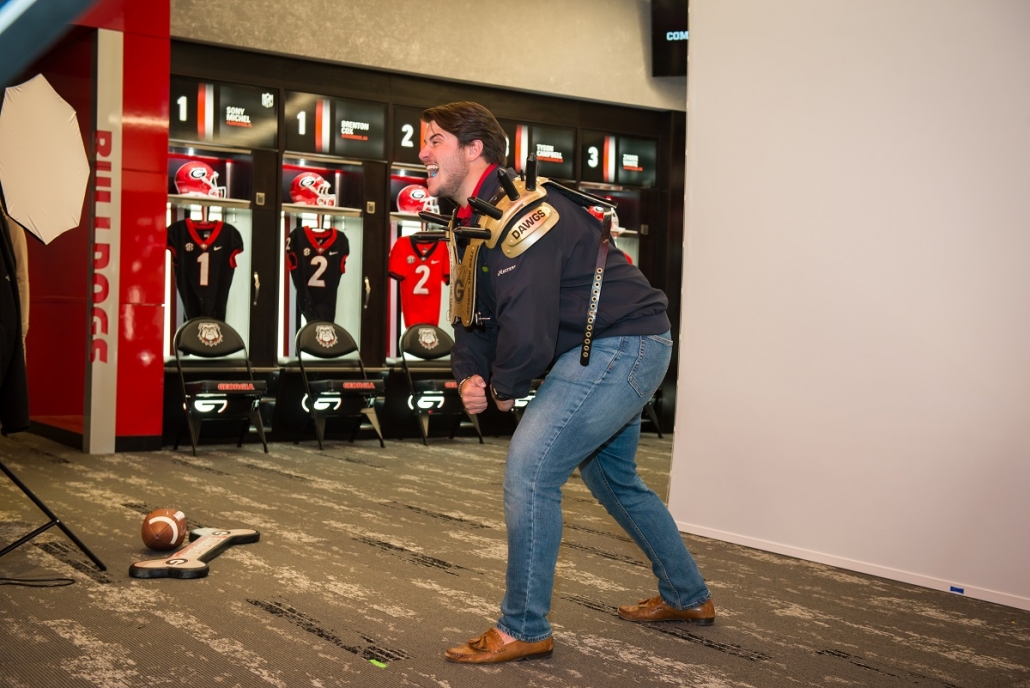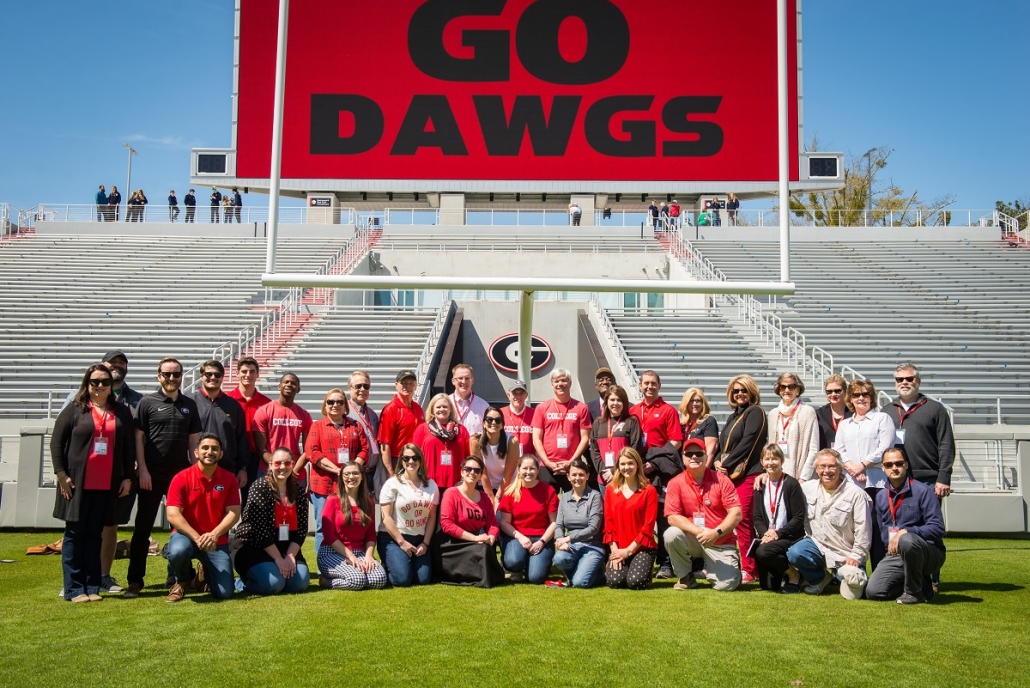 IN SUMMARY
It was truly a great weekend that made me proud of my alma mater and reminded me why I love this place so much.
My key takeaways include:
Our president LOVES this place – he attended school here, has been on the faculty since 1986, is passionate about changing lives through education, and is dreaming big about the impact UGA can have on the state and beyond.
I miss the dining halls – adult life has its pros, but cooking all your own meals is not one of them.
Our faculty are ROCKSTARS – why did I not go to every single office hour that was offered by my professors? They are inspiring, committed and are changing the world!
Nothing beats a Saturday between the hedges – whether it's during football season or during a special event like Alumni Weekend, there's just a good feeling emanating from that field.
OUR ALUMNI ARE THE BEST IN THE WORLD – I enjoyed meeting new alumni throughout the weekend (and reconnecting with old friends, too). We're so diverse, passionate and very much in love with this school. It makes me proud to call myself a Georgia Bulldog.
As we learned in college, every good "report" closes with a summary statement. I'd have to say that my summary is simple: The 2019 Alumni Weekend was one of the best alumni events I have been able to help plan and I can't wait for our alumni to see what we have in store for March 26-28, 2020. See you then! GO DAWGS.
https://alumni.uga.edu/wp-content/uploads/AW-HeaderPic-modified.jpg
542
1000
Elizabeth Elmore
https://alumni.uga.edu/wp-content/uploads/uga-alumni-nba-1.png
Elizabeth Elmore
2019-04-28 14:22:03
2019-07-02 12:09:38
2019 Alumni Weekend earned an A+