Where commitment meets community: Jack Hartpence (AB '15) pairs passion with community empowerment
On August 23, 2017, University of Georgia alumnus and 40 Under 40 honoree Jack Hartpence (AB '15) was driving from Jackson, Wyoming, to Aspen, Colorado, on a business trip. As he attempted a U-turn in the large van he rented for the trip – the only vehicle the rental company had available – he was T-boned by a tractor-trailer.
"As I saw the truck coming and realized I was going to die, the only thing that came to my mind was one question: What have I done positively for the world and other people?" Hartpence said.
Walking away from the accident unscathed, Hartpence felt that he had been given a second chance to answer that question.
After graduating from UGA with a bachelor's degree in English in 2015, Hartpence worked in politics, with think tanks and for campaigns. He used his previous experience with research and data to determine where the world struggled most.
"Water is the world's most pressing problem," Hartpence said. "Sustainable access to safe drinking water is the foundation for quality of life on earth today. With access to safe drinking communities can move to address secondary and tertiary quality of life indicators such as gender equality, economic opportunity, education, and health."
In 2018, he co-founded Powwater, public benefit corporation that builds transparent technology and makes impact investments to improve access to clean water in East Africa and South Asia and empower the communities which they serve.
"A marathon, not a sprint"
As Hartpence explored how to address access to clean water, he noticed that many wells drilled by Western organizations provided only temporary solutions across Africa, Asia, and South America. With an average shelf life of only 18 months, donated wells weren't a sustainable solution, the key problem being that they weren't engaging the communities they affected.
Hartpence contacted Nobel laureate and professor Muhammed Yunus, the founder of microfinance. Through the mentorship of Yunus, Powwater established itself as a social business. Funding is reinvested into communities that lack access to clean water, allowing those communities to establish their own water systems that enhance their economy.
With this model, Powwater doesn't have to rely on donations or outside funding. Instead, Powwater can "make money to do good for the world," Hartpence said. By doing so, Powwater has brought sustainable drinking water to over 80,000 people in Kenya, Ethiopia and Bangladesh.
Fueled by passion
Hartpence's experience at UGA showed him the importance of doing what you love. He wasn't fulfilled by what he was learning as an economics major, so he became an English major during his sophomore year. That program gave him a sense of purpose and creativity. .
"There were students who were far better writers than me, but I was passionate. I loved it," Hartpence said about a senior class project that was recognized at graduation as the English department's best work in digital humanities. "That lesson has played through my life. Passion is everything."
After his accident in 2017, Hartpence found a renewed passion for life and improving the world. That commitment fuels Hartpence and his team as they consider the future of clean water across the globe.
The future of clean water
As Powwater looks to the future, the company is using technology to create transparency around water, and better serve communities around the world with safe drinking water.
This spring, Powwater will launch the Powwater app, a mobile marketplace for water. The app will provide transparency around the quality of water, cost and timing of delivery from the thousands of private water suppliers that exist across the globe today. By creating transparency and empowering consumers, Hartpence believes Powwater can lead the way for higher quality and more affordable water globally.
With this app, Hartpence aims to optimize the private water market for the 2 billion people in the world relying on it today.
"We want to be a company that shares ideas and works with partners to get the job done," Hartpence said. "I'm committed to empowering communities around the world with sustainable access to safe drinking water. I'm committed to doing everything I can do to be better tomorrow than I was today."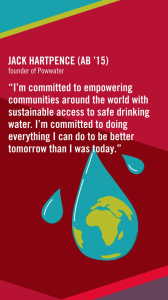 A day in the life
In September 2020, we invited Jack to host an Instagram story takeover as a member of the 40 Under 40 Class of 2020. Watch the video below to check out a day in the life of operating Powwater:
---
WHERE COMMITMENT MEETS COMMUNITY
Whether life takes them to new cities or to the neighborhoods where they grew up, Georgia Bulldogs do more than get jobs – they elevate their communities. Bulldogs lead nonprofits, effect change and create opportunities for others. Wherever people are suffering, wherever communities are looking for effective leaders and whenever the world cries out for better solutions, Bulldogs are there to answer the call to service. It's more than our passion. It's our commitment.
Caroline Odom, an intern with UGA's Division of Development and Alumni Relations, brings you a spring blog series that celebrates Bulldogs who embrace that commitment to helping others in their communities thrive.
Want to read about other Bulldogs impacting their communities?
https://alumni.uga.edu/wp-content/uploads/hartpenceBlog.jpg
362
1030
Caroline Odom
https://alumni.uga.edu/wp-content/uploads/uga-alumni-nba-1.png
Caroline Odom
2021-04-14 14:00:35
2021-05-03 13:21:47
Where commitment meets community: Jack Hartpence (AB '15) pairs passion with community empowerment