Where commitment meets community: Erica Parks (MPH '11) advocates for veterans
Erica Parks (MPH '11) refers to herself as a "vetpreneur." The UGA alumna leverages her experiences with the armed forces, public health and entrepreneurship to advocate for veterans through Camouflage Me Not.
The seed of advocacy was planted in Parks as a young girl, but her experiences in the United States Army Reserve and as a veteran helped the seed grow. When Parks deployed to Bagram, Afghanistan, in 2003, her leadership roles and a near-death experience taught her the importance of speaking up for herself and others.
"That time in Afghanistan means so much to me," Parks said. "The unity I have with my comrades is unmatched."
When she returned from deployment, Parks earned an undergraduate degree from Kennesaw State University and then applied to UGA's Master of Public Health program. The program exposed her to health policy and the idea of working with veterans.
Parks founded Camouflage Me Not in 2018 to increase social awareness around veterans' transition to civilian life. Through the advocacy nonprofit, she shares a specific message on behalf of veterans: "Don't hide me."
The need for support
After earning her master's degree, Parks experienced 38 months of chronic unemployment. She felt that as a woman of color and a veteran, that she was overlooked and undervalued.
"The song says, 'And the Army goes rolling along,'" Parks said. "And it does."
The armed forces offer housing, training, and employment services to members. When veterans transition to civilian life, many of those services are no longer available, Parks said. Women and minorities may feel the challenges of the transition into veteran status even more deeply—as Parks knows from her own experience.
"There is so much training to prepare a soldier, but not the same training when they leave," Parks said. "Transition programs need a serious overhaul."
Starting conversations
Through advocacy, research, and collaboration, Camouflage Me Not ignites conversation around veterans' transition and uses public health initiatives and current issues to start a conversation around veteran transition. Since founding the organization, Parks has brought veterans non-veterans to the table while partnering with communities and local governments. But Parks isn't stopping there.
Her next goal is to attain 501(c)(4) status, which transform Camouflage Me Not into a social welfare organization. With this status, Camouflage Me Not can extend the conversation about veteran transition to legislative assemblies through lobbying.
"Camouflage Me Not means don't hide me and don't throw me away," Parks said. "I'm committed to people who deserve support but might not know what they need."
Advocating for the next generation
After UGA prepared Parks to launch her nonprofit, Parks dedicates time to UGA's next generation of change-makers. She helped establish the UGA Black Alumni Leadership Council and was named a Class of 2016 40 Under 40 honoree. She is also a member of the College of Public Health Alumni Working Group dedicated to connecting and uniting alumni of the College of Public Health.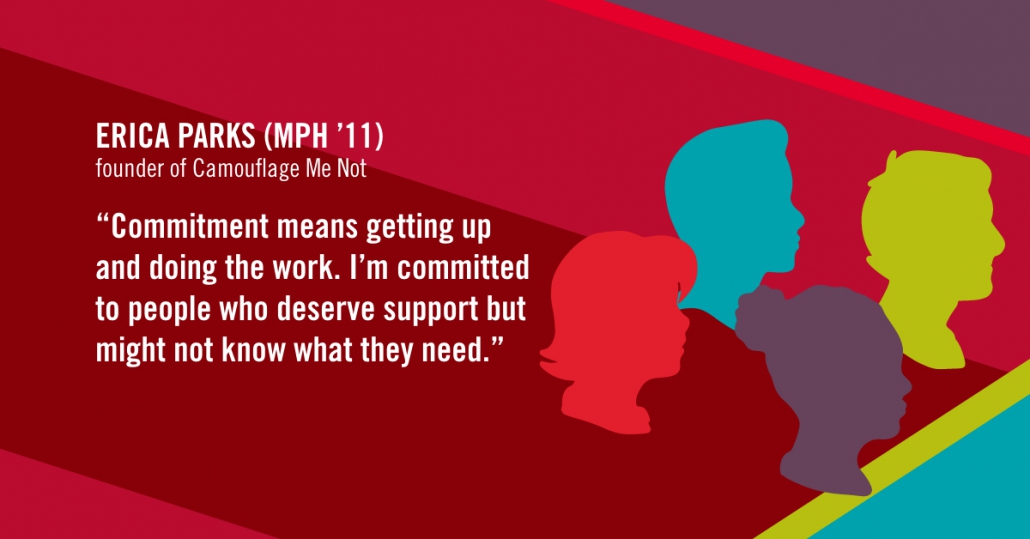 ---
WHERE COMMITMENT MEETS COMMUNITY
Whether life takes them to new cities or to the neighborhoods where they grew up, Georgia Bulldogs do more than get jobs – they elevate their communities. Bulldogs lead nonprofits, effect change and create opportunities for others. Wherever people are suffering, wherever communities are looking for effective leaders and whenever the world cries out for better solutions, Bulldogs are there to answer the call to service. It's more than our passion. It's our commitment.
Caroline Odom, an intern with UGA's Division of Development and Alumni Relations, brings you a spring blog series that celebrates Bulldogs who embrace that commitment to helping others in their communities thrive.
Want to read about other Bulldogs impacting their communities?
https://alumni.uga.edu/wp-content/uploads/erikaParks.jpg
357
1030
Caroline Odom
https://alumni.uga.edu/wp-content/uploads/uga-alumni-nba-1.png
Caroline Odom
2021-04-26 15:59:51
2021-05-03 13:21:55
Where commitment meets community: Erica Parks (MPH '11) advocates for veterans