From locker room to board room: UGA helped Chuck Kinnebrew learn to get around any block  
Written by: Charles McNair
Most Bulldog fans need no introduction to Georgia trailblazer, Chuck Kinnebrew (BSED '75).  
They already know that, in 1971, he lined up with Larry West, Clarence Pope, Horace King and Richard Appleby to play football between the hedges of Sanford Stadium – one of UGA's first five Black college football players. 
Fifty years later, Chuck's office in Smyrna, Georgia, has a wall of fame – a floor-to-ceiling display of UGA memorabilia. His Bulldog letter jacket hangs there. So do post–graduate achievements, awards and photos. He's proud of his diploma. 
"I received a degree in education," he says. "I didn't want to be the kind of former athlete that ends up with nothing to hang his hat on. I wanted to leave the university with something tangible, something to use. I wanted to be an alum." 
He played nose guard, though small even for that football era (6-foot-1, 260 pounds). What he lacked in size, he made up in strength, toughness and quickness. And, like every Black Bulldog on that first integrated team, he held himself to impeccable standards of performance, behavior and discipline. He and his Black teammates felt they had something to prove. 
"If one of us started slipping up, the other four would get on him and make sure he got headed in the right direction again," Chuck explained to UGASports writer Patrick Garbin in a February 2021 interview. "We had a tight bond and nothing was off-limits, be it football, academics, dating. We knew how important it was that we succeed. We weren't going to let one another down."  
Because they successfully blazed the trail, others would succeed. The Bulldog Nation would come to marvel at hundreds of Black football players in years to come, including legends named Herschel Walker and Champ Bailey and Hines Ward. 
Those football heroes followed Chuck as he buckled his chinstrap and trotted onto the field.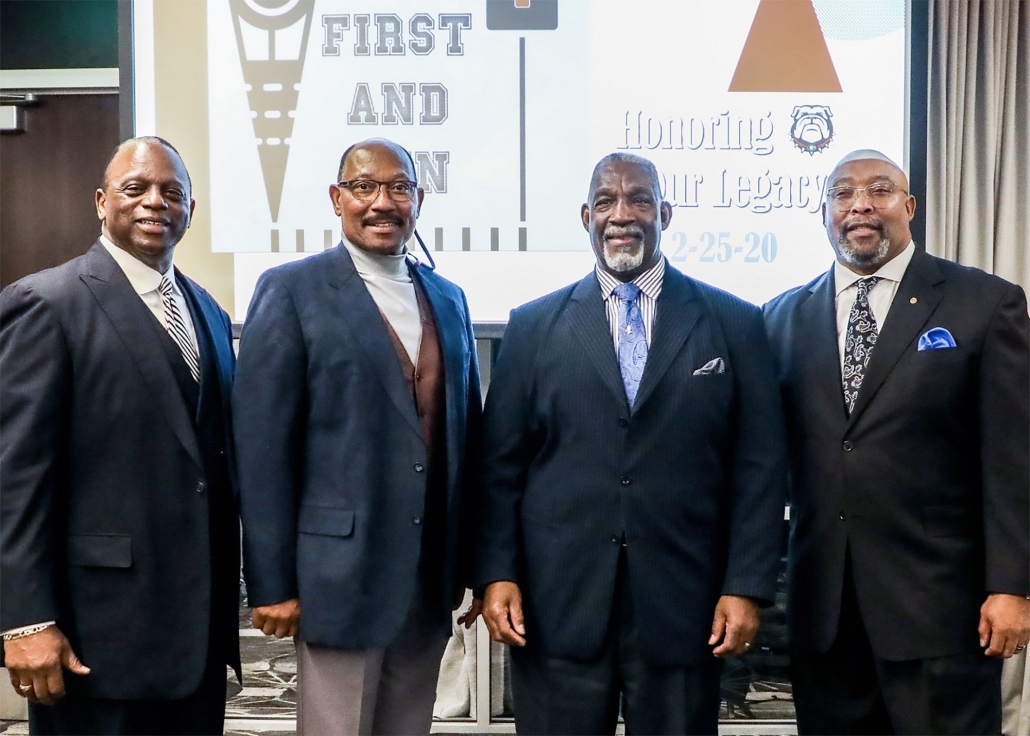 Servant leadership
Yes, most Bulldog fans know about Chuck's football career. But they don't know the rest of his success story. Chuck has never stopped blazing trails. 
He first wanted to be a coach. He had it worked out with legendary Bulldog head coach Vince Dooley that he'd get his degree, then stick around to become a graduate assistant and maybe climb the coaching ranks.   
And he did become a coach – of teams in the corporate world.  
While waiting for his UGA whistle, he half-heartedly accepted an interview for a suit-and-tie job. To his surprise, he got an offer. 
"That job paid twice the salary of a graduate assistant," Chuck says. "I talked it over with my dad. He said, "That sounds like pretty good money, son. I think I'd look pretty hard at that offer." 
Suddenly, the kid from Rome, GA, found himself managing a team of 30 in a DuPont textile plant in Athens, Ga. 
Now Chuck did start climbing the corporate ranks. He brought along UGA lessons from classes and coaches. 
"My style of leadership is coaching," he says. "I see myself as an inclusive servant leader. Ever since I was exposed to that concept, it's made sense to me."   
The biggest challenge
Chuck gained expertise at DuPont in manufacturing operations, planning, marketing, and supply chain. His achievements there took him to The Home Depot where, in time, he led a department with a $7 billion budget overseeing the supply company's indirect sourcing purchasing team, part of the supply chain operation.  
Often, he found himself among the first, and only, Black faces in meeting rooms.  
"It was actually no big deal," Chuck says. "All my life, I'd been in predominantly white environments, from junior high school through UGA and now in the business world. I'd grown accustomed to it. When you've been the first one here, the first one there, you get used to it." 
The biggest challenge?  
"Honestly, it was getting white people accustomed to me. I was familiar with being who I was, comfortable in my skin. I learned to be approachable, to help people see Chuck Kinnebrew the person instead of Chuck Kinnebrew, the Black guy." 
He's still a trailblazer – in his latest role, Chuck serves as the first DE&I (diversity, equity, and inclusion) officer at Floor & Decor, based in Atlanta. He and his team have a responsibility to develop and execute best-in-class strategies to help the growing company become an industry leader in hard–surface flooring and something else hard: diversity, equity, and inclusion. 
He looks back in gratitude at the UGA experience. 
"Georgia and my fraternity, Kappa Alpha Psi, helped prepare me for life," he says. "They set me up to succeed." 
Editor's Note:
Our Georgia trailblazer series profiles UGA Black alumni who took the first brave steps to create the diverse and inclusive university we are today. Want to know more about other pioneers?   
Charlayne Hunter (ABJ '63) and Hamilton Holmes (BS '63) were the first Black students to enroll at UGA. Read their accomplishments here: desegregation.uga.edu  
Mary Frances Early (MMED '62, EDS '67) was the first Black student to graduate from UGA. The College of Education is named for her.
https://alumni.uga.edu/wp-content/uploads/trailblazersBlog.jpg
357
1030
Laura Nwogu
https://alumni.uga.edu/wp-content/uploads/uga-alumni-nba-1.png
Laura Nwogu
2021-04-14 15:39:55
2021-04-20 16:08:25
From locker room to board room: UGA helped Chuck Kinnebrew learn to get around any block