Where commitment meets community: Toyin Adon-Abel (ABJ '05) brings equity to art
On the outside of Krog Street Market in Atlanta, a mural titled "History of Good Trouble" depicts the life of former U.S. representative and Civil Rights activist John Lewis. The mural is part of The Civic Walls Project, an initiative founded by University of Georgia alumnus Toyin Adon-Abel (ABJ '05).
The Civic Walls Project combines Atlanta's outdoor art scene and storytelling to advocate for racial justice and civic engagement in Atlanta. The project completed its first mural last summer and has since created nearly 10 murals throughout south Atlanta.
"We're here to support Black and minority artists to paint pieces that focus on social justice," Adon-Abel said. "We're painting these murals to get people out to vote and to be engaged in civics."
Civic Walls is in partnership with Adon-Abel's marketing agency and brand initiative, MeddlingMinds. Adon-Abel founded MeddlingMinds after he became disillusioned with experiences in corporate marketing. Through MeddlingMinds, Adon-Abel wants to encourage conscious capitalism that empowers communities.
"I believe that marketers are best positioned from a skill set to actually cause social change," Adon-Abel said. "We know how to communicate with people. We understand storytelling."
The UGA grad hopes to prove that a brand can prioritize community service while attracting an audience and growing sustainably.
The Civic Walls Project isn't limited to Atlanta. Since the project's inception, Civic Walls has gained attention from Miami and Boston. Adon-Abel has been asked to take the project to Nigeria, where he is from. He hopes to expand Civic Walls to the United Kingdom, where his family lives.
Neither is the project limited to walls. Civic Walls has renovated and redesigned two basketball courts in Atlanta, and is exploring augmented reality and digital crypto art.
For Adon-Abel, the message of the John Lewis mural encompasses the mission of The Civic Walls Project: for people to get into "good trouble" using their expertise to promote justice for all and improve lives.
Adon-Abel credits Eric Johnson (ABJ '86), director of the UGA Visitors Center, with making the biggest impact on his time at UGA. Adon-Abel worked with Johnson as both a Visitors Center tour guide and an Orientation leader.
"The biggest thing that I learned from EJ [Eric Johnson] is authenticity," Adon-Abel said. "It ties into what my business model is."
For Adon-Abel, an authentic commitment to community means a commitment to equity and a constant pursuit of innovative solutions.
"Part of the tagline for my business is 'creativity conscious,'" Adon-Abel said. "My commitment is finding creative solutions to community problems."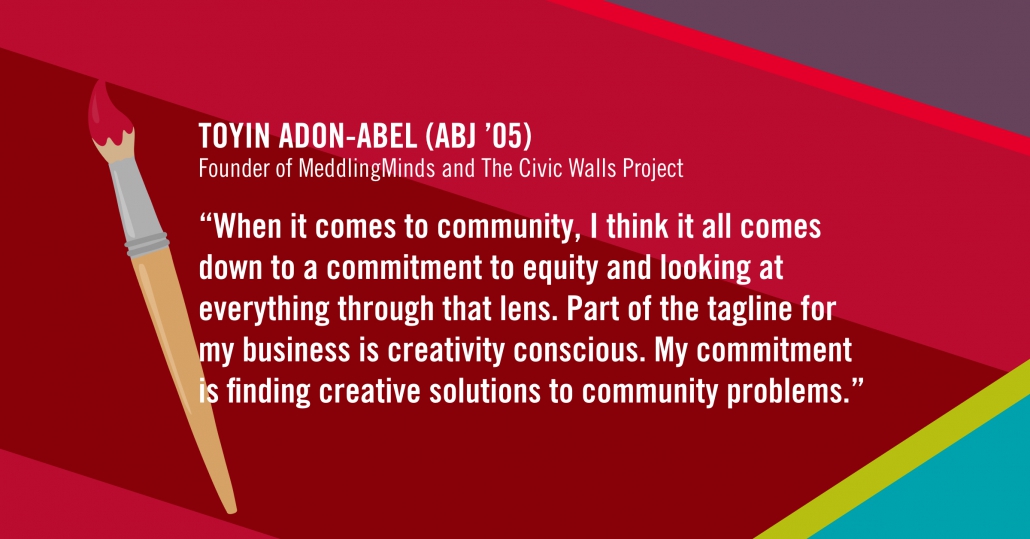 ---
WHERE COMMITMENT MEETS COMMUNITY
Whether life takes them to new cities or to the neighborhoods where they grew up, Georgia Bulldogs do more than get jobs – they elevate their communities. Bulldogs lead nonprofits, effect change and create opportunities for others. Wherever people are suffering, wherever communities are looking for effective leaders and whenever the world cries out for better solutions, Bulldogs are there to answer the call to service. It's more than our passion. It's our commitment.
Caroline Odom, an intern with UGA's Division of Development and Alumni Relations, brings you a spring blog series that
Want to read about other Bulldogs impacting their communities?
https://alumni.uga.edu/wp-content/uploads/Good-Trouble-feature.jpg
479
1220
Caroline Odom
https://alumni.uga.edu/wp-content/uploads/uga-alumni-nba-1.png
Caroline Odom
2021-03-23 08:57:41
2021-05-03 13:21:28
Where commitment meets community: Toyin Adon-Abel (ABJ '05) brings equity to art