40 Under 40 reflections: Amelia Dortch
The 40 Under 40 program began in 2011, and celebrates the personal, professional and philanthropic achievements of young UGA graduates. To continue our 40 Under 40 coverage, we caught up with three agriculture professionals–Amelia Dortch, Travis Moore and Sam Watson–from the 2017 honorees to learn about their career journeys and the wisdom they've gained along the way.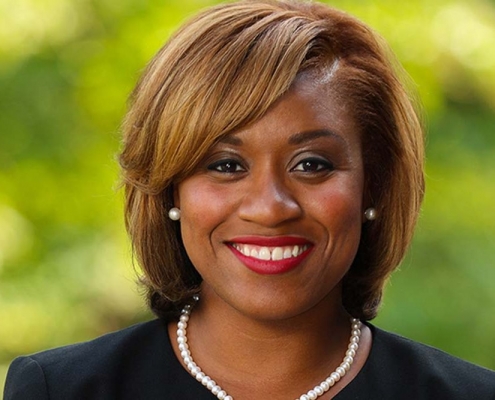 Meet Amelia Dortch
40 Under 40 Class of 2017
ABJ '06, MPA '12
Alabama State Public Affairs Specialist for the United States Department of Agriculture
Professional journey
Amelia Dortch oversees the marketing and communication efforts for Alabama's farmers and land owners. Her priority is to help people help the land. Dortch supports farmers and landowners in conserving natural resources–the very thing they rely on the most.
She graduated from UGA with a bachelor's degree in broadcasting in 2006. Right out of school, she worked as a news and weather anchor for WNEG News Daybreak, a daily newscast.  In 2009, Dortch returned to UGA to pursue her graduate's degree in public affairs. While in grad school, she scored an internship with the United States Department of Agriculture and has worked for the USDA ever since.
Being named 40 Under 40
"I was amazed and honored. You see alumni who are doctors and saving lives or doing great research – yes I work in agriculture, but I guess everyone can make an impact in a small way."
Greatest risk–an even better reward
"I got laid off when I was working in television. The biggest risk I took was going back to school while working full-time. Grad school was a stable environment, but yet a tough choice. Thank God I made that choice – it gave me a plan B. Now, I get to craft a different kind of story from behind the scenes. My journalism background helps me think outside the box. Human interest helps me connect with my customers."
Lessons from UGA
"The best thing I did at UGA was getting involved. Volunteering for the community helps you. Doing things for free is the best way to learn. It doesn't cost anything other than time and energy."
Words of wisdom
"Sometimes, circumstances force you to rearrange things. I was forced to rethink the typical career process. It was a learning experience. But it's about figuring it out and making it work. You can always change your path! It's okay. Go discover a new passion. It just means you're a person that's ever evolving. But always remember, people are the root of it all."
Career destination
"I'd like to continue growing in public affairs. I want to stay within corporate, nonprofit or government work. The sky is the limit."
https://alumni.uga.edu/wp-content/uploads/amelia-1-e1531235001711.jpg
754
1446
Asia Casey
https://alumni.uga.edu/wp-content/uploads/uga-alumni-nba-1.png
Asia Casey
2018-07-30 08:30:28
2018-08-07 11:30:19
40 Under 40 reflections: Amelia Dortch