40 Under 40 reflections: Travis Moore
The 40 Under 40 program began in 2011, and celebrates the personal, professional and philanthropic achievements of young UGA graduates. To continue our 40 Under 40 coverage, we caught up with three agriculture professionals–Travis Moore, Amelia Dortch and Sam Watson–from the 2017 honorees to learn about their career journeys and the wisdom they've gained along the way. 
Meet Travis Moore
40 Under 40 Class of 2017
BSA '03
Senior Brewmaster at Anheuser-Busch InBev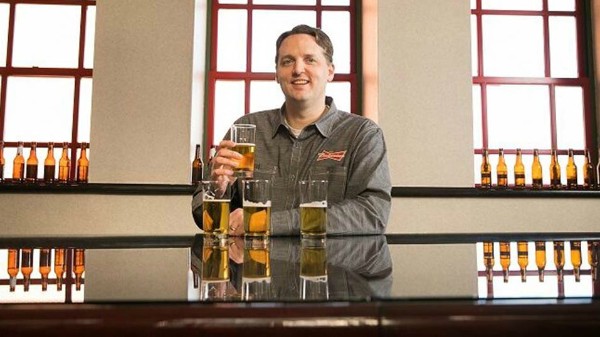 Professional Journey
Travis Moore is the head brewmaster at the St. Louis Anheuser-Busch InBev site, the largest and oldest brewery. Moore oversees the brewing process, which includes making sure that each product meets the correct quality standard. He manages 100 brewers.
After Moore graduated with a bachelor's degree in food science and technology, he worked for Bravo Foods & Bakery, a production facility in northeast Georgia. There, he learned the basics of manufacturing. In 2008, Moore started an entry level job at the Cartersville Anheuser-Busch InBev site. Eight years later, he managed to work his way up to the senior manager before moving to the St. Louis site in 2016.
Being named 40 Under 40
"It's pretty amazing to me because, the University of Georgia has so many great students come through. It's a huge organization to be singled out of – 40 seems like a lot, but when you think about the thousands and thousands who to come through there, it's a small percent. And to me, that's an honor. I learned so much when I was at the university that I was able to excel in my career, and this is a way to be rewarded for that."
Nailing his dream job
"People are always going to have to eat or consume something in our culture, and I wanted to be a part of that. Some industries may come and go, but this is very stable…I always had a love for brewing. When you think about beer, most people probably don't think about it being a product of agriculture, but it is certainly. Anheuser-Busch is one of the largest purchasers of rice in the United States. There's an art behind the brewing process, and that's what's fun to me."
Lessons from UGA
"I only applied to one college and Georgia was the only school I ever wanted to go to. I was in the food science program and the different labs and projects forced me into the understanding of what it's like in the real world. I got the feeling that UGA was preparing me for something different, something better."
Words of wisdom
"Study something that you're going to enjoy. If you don't think you're gonna like it, then you're wasting your time. Pick something and stick with it and see through it. Understand what you're going to get out of your degree."
Career destination
"My goal is to always question the way things are, and try to move up to become a future senior leader of the largest brewing company in the world. The culture at Anheuser-Busch is to not be complacent. I'm always setting higher goals."
https://alumni.uga.edu/wp-content/uploads/travis-e1531233936871.jpg
680
1600
Asia Casey
https://alumni.uga.edu/wp-content/uploads/uga-alumni-nba-1.png
Asia Casey
2018-07-24 09:30:02
2018-08-07 11:31:02
40 Under 40 reflections: Travis Moore