40 Under 40 profile: Brooke Beach (ABJ '11)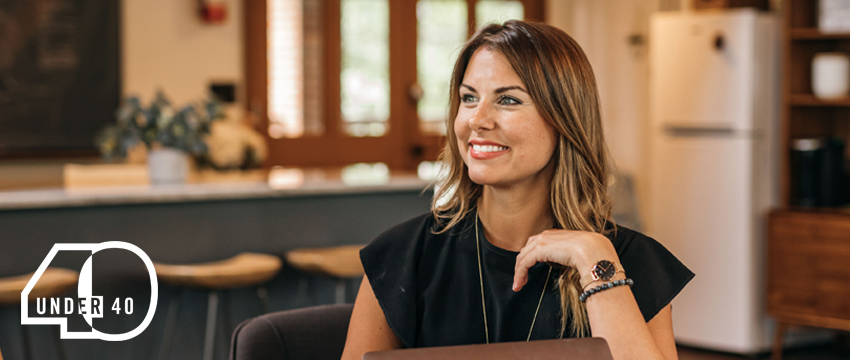 This article was originally posted on Grady's site on August 27, 2019.
Grady College is proud to have four alumni recognized as 2019 40 under 40 honorees, presented by the University of Georgia Alumni Association. The 40 under 40 celebration, recognizing the personal, professional and philanthropic achievements of UGA graduates under the age of 40, takes place Sept. 13. This interview with Brooke Beach, the CEO and founder of Marketwake, is the first in a series of conversations with Grady's honorees this year.
Grady College: What experience during your time at Grady College had the biggest influence on where you are today?
Brooke Beach: It was becoming a Grady Ambassador. It helped me expand my horizons on what life could be like after college. It's no surprise that college students can get tunnel vision. Everything is about your classes, your friends, and your free time. It can be overwhelming to have a concept of what life will be like after graduation, but being a Grady Ambassador helped me place goals around who I wanted to be. I had the opportunity to meet and learn from incredible leaders, innovators, investors, and entrepreneurs — and I was inspired to be like them. It made me think far bigger than I had before and gave me goals to strive for.
GC: What skills and/or values and/or circumstances do you attribute to your success?
BB: Persistence and perspective. I'm sure it is exhausting for the people around me, but I do not give up — I don't even know what that means!
But perspective is equally important; it gives you the ability to see both sides and make a decision on the best path forward for the greatest amount of people. The world is hard, and we cannot keep going if we don't acknowledge it for what it is. But the next step is more important: to decide if we will do something great in spite of the difficulties. Each of us needs to be self-aware enough to know when to learn from mistakes and change, and when to move forward. I love this quote by Teddy Roosevelt, and I feel it captures this sentiment far more eloquently than I:
"It is not the critic who counts; not the man who points out how the strong man stumbles, or where the doer of deeds could have done them better. The credit belongs to the man who is actually in the arena, whose face is marred by dust and sweat and blood; who strives valiantly; who errs, who comes short again and again, because there is no effort without error and shortcoming; but who does actually strive to do the deeds; who knows great enthusiasms, the great devotions; who spends himself in a worthy cause; who at the best knows in the end the triumph of high achievement, and who at the worst, if he fails, at least fails while daring greatly, so that his place shall never be with those cold and timid souls who neither know victory nor defeat."
GC: What motivates you?
BB: I have one shot in this world — one chance to make something of the blessings I've been given. David Rae said that CEOs are less afraid of dying than they are of not contributing to the world, and that describes me perfectly. I am compelled to build, create, grow, and serve, and I know that I have the opportunity to work hard to fulfill it. I've experienced great loss, deaths, injuries, surgeries, medical conditions, and pain beyond belief. I've learned that I need to acknowledge these storms, feel the loss, and then keep going. Every single one of us has a story — it's what makes us who we are — and I want to use my experience to help others tell their truths.
GC: What advice do you have for today's Grady College students?
BB: You are responsible for what you become. One of my favorite books is "How to Win Friends and Influence People," by Dale Carnegie. All people should read this at least three times in their life!
In the book, Carnegie says: "It isn't what you have or who you are or where you are or what you are doing that makes you happy or unhappy. It is what you think about it."  This could not be more true. The second you start to focus on all the reasons you "can't," or shift blame on others, you fail. If you want to grow, your focus should be on what you want to accomplish, why you can achieve it, and how you'll get there.  Don't be your biggest bully. As Norman Vincent Peale said, "Change the way you think and you can change your future."
Brooke Beach (ABJ '11) is a member of the UGA 40 Under 40 Class of 2019. She graduated from Grady College of Journalism and Mass Communication in 2011 with a degree in public relations. She is the founder and CEO of Marketwake, a digital marketing agency based in Atlanta.
On Thursday, September 7, Brooke took over the UGA Alumni Association Instagram Story to show us a day in the life of Brooke Beach! You can watch that takeover here. 
https://alumni.uga.edu/wp-content/uploads/BrookeBeachNewsslider-1.jpg
359
444
Caitlyn Richtman
https://alumni.uga.edu/wp-content/uploads/uga-alumni-nba-1.png
Caitlyn Richtman
2019-09-12 06:15:18
2019-09-11 14:22:54
40 Under 40 profile: Brooke Beach (ABJ '11)