Georgia's "Green Girl" is making recycling more accessible
"Hey, Alexa … can I recycle this?"
Thanks to Katherine Shayne (BSENVE '16, MS '18) and her all-female research team at the University of Georgia, recycling really is as easy as asking your Amazon Alexa.
One of the youngest honorees named to the UGA Alumni Association's 2019 40 Under 40, Katherine is the co-founder of Can I Recycle This, an organization working to clean up recycling by providing localized answers to specific recycling questions.
Katherine's list of accomplishments doesn't stop there. Just this month, the alumna spoke at the United Nations and led a team of UGA student researchers to the Dominican Republic to study marine debris. She's also analyzed over one million pieces of marine debris collected through the Marine Debris Tracker, worked with Australia's national science agency (CSIRO) and is a proud College of Engineering Double Dawg—all at the age of 26. 
Solving Wicked Problems
Katherine concentrated her undergraduate research and her graduate thesis on the end of life for materials, particularly ocean-bound plastics, working and learning under the expertise of Jenna Jambeck, an associate professor in UGA's College of Engineering. Jenna is internationally recognized for her research on plastic waste in the ocean and is the other co-founder of CIRT.
"[I chose to study at UGA because] the University of Georgia is one of the top—if not the top—research institution working on this global problem from a waste management perspective," Katherine said. "We have some of the best researchers here working on this grand challenge of waste management."
"I've had a lot of opportunities here and every single one of them has been an outpouring of support … I think that that's what is extremely unique to me about the University of Georgia."
Early Beginnings at UGA
The idea for Can I Recycle This (CIRT) was conceived in 2017 and quickly became a pilot project headquartered in the Driftmier Engineering Building among UGA students.
In May 2018, CIRT went through UGA's National Science Foundation I-Corps Program, a public-private partnership that aids collegiate innovators and includes an intensive, six-week Accelerator and up to six months of business and product mentoring.
"The program helped us narrow down what our business model was going to be, our customer focus and then how we were going to transition into scaling our model."
Now, the all-female research team is working to develop this technology into a self-contained app that can answer every day recycling questions without the use of social media.
So, How Does CIRT Work?
It's simple. First, add @CanIRecycleThis on Snapchat, Facebook or Twitter. Next, send a photo directly to CIRT and voila—you will instantly receive an answer based on your location. Or, simply ask your Amazon Alexa.
"You shouldn't have to memorize recyclables on a day-to-day basis. We wanted to make it easy and accessible for consumers to utilize," Katherine says. "Consumers interact with AI where they can ask and get a real-time response."
When making use of CIRT, you'll interact with "GG." The significance of "GG" is two-fold: it's Katherine's sister's nickname and also short for "Green Girl."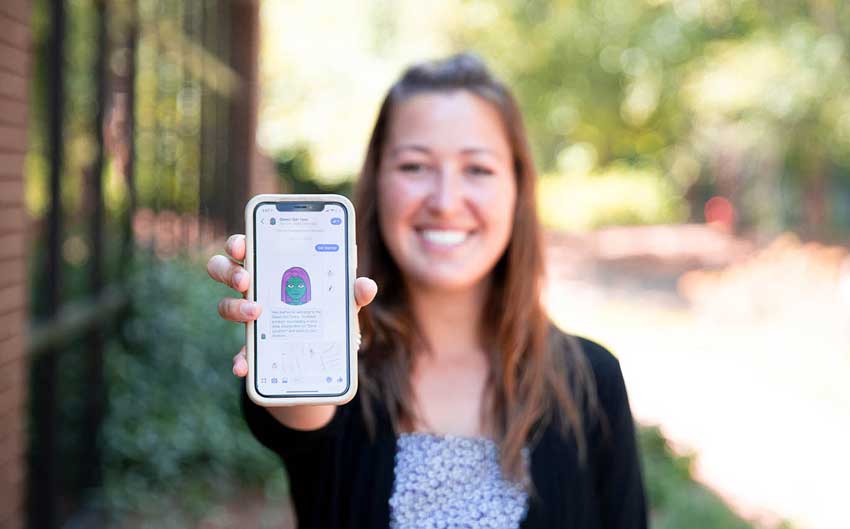 On the Horizon
So, what's next for CIRT? The team is developing a partnership with an e-commerce giant in order to integrate CIRT into packaging systems.
"Say you get a package from a big e-commerce giant and in that box or shipping confirmation email, it tells you everything in the packaging that's recyclable and also everything that's not. That information's based on location because it's where it was shipped. So, it just accesses our database and provides consumers with answers."
As for Katherine, she's continuing her research on plastic pollution as a researcher at the University of Georgia and is involved with a youth leadership group through the Sustainable Ocean Alliance. The group is drafting a white paper on the dangers of plastic pollution that will be presented to 20 governments around the world.
"Even though we might only make up 25% of the population, we're definitely 100% of what's going to be the future," Katherine notes about the role youth can play in solving the grand challenges of our time.
Katherine will be honored during UGA's 40 Under 40 Awards Luncheon in Athens this month. Meet her fellow 2019 40 Under 40 honorees.
https://alumni.uga.edu/wp-content/uploads/shayne01.jpg
523
1000
Ally Hellenga
https://alumni.uga.edu/wp-content/uploads/uga-alumni-nba-1.png
Ally Hellenga
2019-09-06 11:41:42
2021-02-15 14:17:36
Georgia's "Green Girl" is making recycling more accessible