Posts
https://alumni.uga.edu/wp-content/uploads/Redcoat-feature.jpg
423
1220
Caroline Odom
https://alumni.uga.edu/wp-content/uploads/uga-alumni-nba-1.png
Caroline Odom
2021-11-04 08:11:39
2021-11-04 08:11:39
Through the Ages with "The Heart of the Bulldog Spirit"
In 2019, the annual Savannah Music Festival (SMF) in Savannah, Georgia, hosted 107 musical performances across 17 days. The performances were hosted in 15 different performance venues, required 35 piano moves and combined the efforts of 625 artists and personnel from 25 countries.
The conquering of such a logistical feat requires passion and commitment. It's a task for which Erin Tatum (BBA '08, AB '08, MPA '14), University of Georgia alumna and managing director of the festival, is well-suited.
As managing director, Tatum schedules performances and works with artists to find accommodations, arrange travel and execute contracts. This role merges the alumna's background in management and music, both of which she studied at UGA.
SMF connects artists with audiences. Throughout the year, it hosts educational programs for local schoolchildren and young musicians. Then, SMF culminates in an internationally-acclaimed cross-genre music festival that is also the state of Georgia's largest musical arts event.
"Seeing the music performances is the reward at the end of the rainbow," Tatum said. "Our artistic director does the programming, but I'm working with him closely to ensure that the logistics and details are right by the time we get the performers on a stage in front of an audience."
Seeing the impact
While at UGA, Tatum knew she wanted to work in the nonprofit performing arts space.
"To me, it was about the community impact," Tatum said. "I wanted to actually be in a community and see the impact that an organization can have."
A connection made at UGA introduced her to a job with the Oconee Performing Arts Society in Greene County, but a fondness for Athens led her back to the Classic City in 2009 to work for UGA's Performing Arts Center. The mission-based, education-focused atmosphere gave her a taste of the community impact she was seeking.
"The work that I did there really attracted me to the Savannah Music Festival," Tatum said.
When Tatum joined the Savannah Music Festival in 2014, it was preparing to launch its Musical Explorers program. Through Musical Explorers, SMF brings music education into local elementary school classrooms. Through a partnership with Carnegie Hall's Weill Music Institute, students learn about three diverse music genres each semester and attend an end-of-semester performance featuring the artists they've studied.
"These kids experience a concert – some of them for the first time. They know all the words, even words that are not in English," Tatum said. "The entire curriculum is based on this multicultural experience, so they're not just learning about the music. They're making social studies, reading and writing connections."
In 2019, SMF's educational programs like Musical Explorers reached 10,658 participants. When the program pivoted to a virtual format in response to the COVID-19 pandemic, SMF expanded its reach. The 2020-2021 program includes participants in 31 states and 15 countries.
SMF also stimulates the greater-Savannah economy. In 2019, nearly 40% of the festival's 29,065 participants traveled from more than 100 miles away. When they aren't attending performances orchestrated by Tatum, these visitors support the city's restaurant and tourism industries.
Returning to the stage
After a year of silent concert halls and empty stages, this year's festival will bring music back to Savannah's stages. Instead of the typical 17-day format, the 2021 festival will take place from May 23 to May 30 at two indoor venues with limited capacity crowds and social distancing. Even with the changes, Tatum looks forward to bringing live music to the stage again.
"It is sad that we haven't seen live music for a year, but we've also been able to make some really cool adjustments," Tatum said. "We've gotten through it. We're resilient and we did it thanks to the support of our community and donors. Those things make me hopeful we can move forward."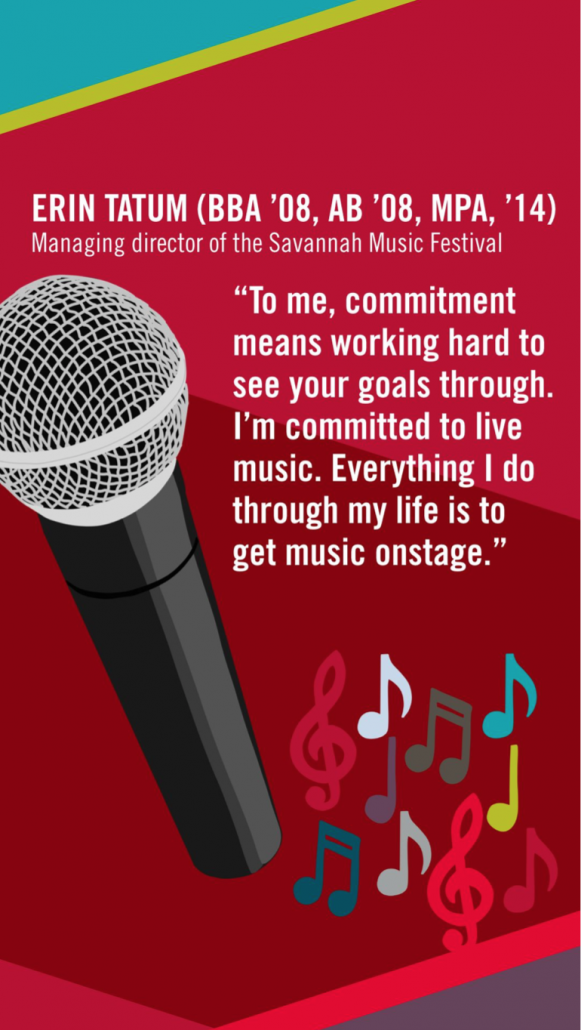 ---
WHERE COMMITMENT MEETS COMMUNITY
Whether life takes them to new cities or to the neighborhoods where they grew up, Georgia Bulldogs do more than get jobs – they elevate their communities. Bulldogs lead nonprofits, effect change and create opportunities for others. Wherever people are suffering, wherever communities are looking for effective leaders and whenever the world cries out for better solutions, Bulldogs are there to answer the call to service. It's more than our passion. It's our commitment.
Caroline Odom, an intern with UGA's Division of Development and Alumni Relations, brings you a spring blog series that celebrates Bulldogs who embrace that commitment to helping others in their communities thrive.
Want to read about other Bulldogs impacting their communities?
https://alumni.uga.edu/wp-content/uploads/musicFest.jpg
364
1030
Caroline Odom
https://alumni.uga.edu/wp-content/uploads/uga-alumni-nba-1.png
Caroline Odom
2021-04-01 13:14:09
2021-05-03 13:21:39
Where commitment meets community: Erin Tatum (BBA '08, AB '08, MPA '14) intersects music, culture and education
Original article posted on Oct. 11, 2018 by Heather Skyler on UGA Today.
The University of Georgia celebrated the life and achievements of Mary Frances Early the first African American to earn a degree from the University of Georgia, by unveiling her portrait in the Administration Building at a ceremony on Oct. 10.
The portrait, by artist Richard Wilson, was installed in The Gordon Jones Gallery of the Administration Building to honor Early, who went on to become the director of music for Atlanta Public Schools and the first African American president of the Georgia Music Educators Association in 1981.
"Ms. Early is a distinguished educator, and it is clear that she has made a profound impact on the lives of countless individuals," President Jere W. Morehead said at the ceremony. "Her portrait will serve as a lasting tribute to her dignified courage and her commitment to educational excellence."
Ms. Early saw the finished portrait for the first time at the ceremony, and she was obviously pleased. "It's very beautifully done as you can see, because it looks better than me," she said, drawing appreciative laughter from the audience. "It always means so much to have the support of so many.
The installation of Early's portrait is part of a series of accolades celebrating her life and career. In January 2018, Early received one of UGA's highest honors, the President's Medal. On Sept. 11, the documentary "Mary Frances Early: The Quiet Trailblazer"premiered in Atlanta.
A native of Atlanta, Early came to UGA in the summer of 1961. Earlier that year, Charlayne Hunter-Gault and Hamilton Holmes became the first African American students to enroll at UGA. Early had started postgraduate work at the University of Michigan when she transferred to UGA to complete her studies. She became the first African American to earn a degree from the University of Georgia when she graduated on Aug. 16, 1962, with a master's degree in music education. She returned in 1964 to continue her education, earning a Specialist in Education degree in 1967.
Early, who was class valedictorian at Henry McNeal Turner High School and earned a bachelor's degree in music education from Clark Atlanta University in 1957, became a music teacher in the Atlanta Public Schools and was eventually promoted to music director of the entire school system. Early worked with teachers in the system's 100-plus schools, and was in charge of the music curriculum, budget, textbooks and more.
Early retired in 1994 after working for 37 years in public schools. She has since taught at Morehouse College, Spelman College and Clark Atlanta University as head of the music department.
https://alumni.uga.edu/wp-content/uploads/MaryFrancesEarly.jpg
580
720
Laura Bayne
https://alumni.uga.edu/wp-content/uploads/uga-alumni-nba-1.png
Laura Bayne
2018-10-26 10:49:42
2019-08-02 09:18:13
Mary Frances Early honored with official UGA portrait