Honor your alma mater with a UGA Ring
As the spring semester comes to an end, many seniors are preparing to graduate and begin a new phase of life. As students transition to alumni, seniors can take part in a time-honored tradition: the UGA Ring.
UGA Rings serve as a reminder of one's achievements and memories from their time at the university. They represent the bond between students and their alma mater, allowing them to bring a piece of UGA with them wherever they may go.
While being worn as a student, the Arch on the ring should face toward the wearer. Once a student graduates, the ring should be turned around so the Arch faces away. As students make that turn, it signifies they are graduates of the University of Georgia.
Nash Davis (BBA '19), a Terry College of Business alumnus and former Student Alumni Council president, bought a ring during his junior year in 2018. Nash wanted to have a UGA Ring to wear to the various events held by the Alumni Association during his final year at UGA. Even after graduating, Nash wears his ring often, showing it off when he returns to Athens or attends university events. He recommends that everyone consider purchasing a UGA Ring.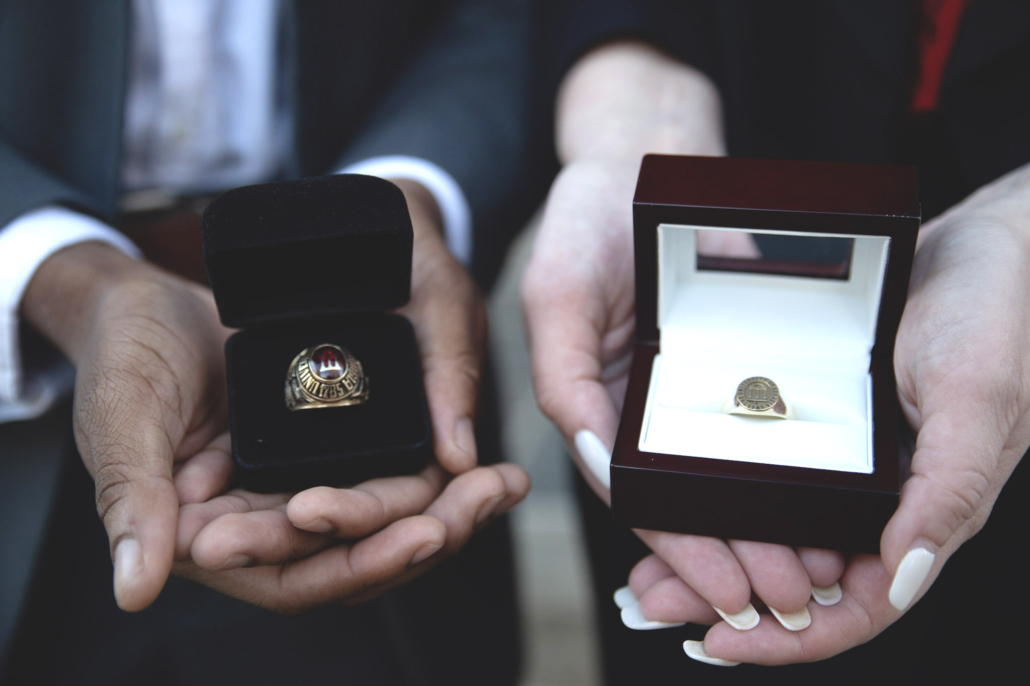 "It is an investment for sure, but it is something that you will always be glad you have and are able to wear," Nash said.
Just by seeing his ring, Nash remembers the hard work he put into his college career and feels a sense of pride. His ring also serves as a great conversation starter with fellow alumni as well as friends within his professional career.
"The first time that an alum recognized my signet ring, it paid for itself. The ability to build those relationships and relate to all sorts of people over a symbol like this is awesome."
Though Nash bought his UGA Ring as an undergraduate, it's never too late to get one. Purchasing a ring is open to juniors and seniors with 60+ credit hours as well as alumni. Juniors and seniors who purchase a ring before the end of Ring Week each February can expect to receive their rings in April prior to Commencement. All other orders are filled after Commencement.
There is a wealth of options to customize your UGA Ring. You can choose the metal, engrave a message on the inside of the band, and select the side design to display your degree.
However you choose to customize your UGA Ring, this tradition is more than an accessory. The ring and the Arch are reminders that tradition never graduates.
https://alumni.uga.edu/wp-content/uploads/BlogHeader-1220x423px-2022-UGAring.jpg
423
1220
Alyssa Craig
https://alumni.uga.edu/wp-content/uploads/uga-alumni-nba-1.png
Alyssa Craig
2022-05-04 08:05:45
2022-05-04 09:01:45
Honor your alma mater with a UGA Ring