Meet Black Alumni Council President Dr. Ericka Davis (AB '93)
Dr. Ericka Davis (AB '93) became the UGA Black Alumni Leadership Council president on July 1. We invited her to share a few words with you, our alumni family, as she enters this role: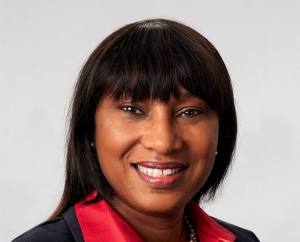 When I first stepped onto UGA's campus in the spring of 1988, I never imagined that the experience would be so life changing. When my parents drove off, and I walked through the doors of Brumby Hall to explore my new home, one student, Cameo "Cami" Garrett (AB '92), approached me and asked if I was new to UGA and did I know anyone. I said yes that I was new, and no that I didn't know anyone. She immediately said that I could come with her and that was the beginning of my meeting many other students who became more than just classmates but family both during my time at UGA and through the years since graduation.
It didn't take long for me to realize that I was joining more than an institution of higher learning, but a family and a nation at the same time. The Black Alumni UGA family and Bulldog Nation has served as a great source of love, support, development and encouragement to me since that day in 1988. The people I've met, the experiences I've had and the memories that were made are priceless to me.
That's also why I wanted my daughter, Jessica Davis '20, to attend UGA and after completing her first year, she's just as passionate about "Her UGA" as I am about mine. I'm even more proud of being a part of the rich legacy of courage and determination that belongs to all African American alumni. That legacy began on January 9, 1961, with our founders, Charlayne Hunter-Gault (ABJ '63), Hamilton Holmes (BS '63), and Mary Frances Early (MMED '62, EDS '71). The doors they opened for us is a debt that I feel I could never repay and am morally obligated to do my part to pay it forward. That's how the 1961 Club began. It's a tribute to the sacrifice those three made and a reminder that the sacrifice, nor the purpose behind it, should be forgotten or taken lightly. We have one unifying goal: to keep the Arch open to all.
As the incoming president of the Black Alumni Leadership Council (BALC), I am committed to that goal and to being an advocate for UGA. I have been honored to work with the "Originals," the pioneering members of the BALC during the last 3 years. The strides we made have been phenomenal, but there is still work to be done. This council is committed and passionate. Within their first week of service, they took immediate action to fund an additional student scholarship, bringing our total to nine students receiving scholarship funding for four years while attending UGA.
Please know that we can't do this great work alone. Your help is critical to continuing the legacy. We need your gifts, your time, and your talent. We look forward to having you join us in our goal to keep the Arch open. Charlayne, Hamilton, and Mary would expect no less of us.
Go Dawgs,
Ericka
https://alumni.uga.edu/wp-content/uploads/ErickaDavisFeature.jpg
580
720
Laura Bayne
https://alumni.uga.edu/wp-content/uploads/uga-alumni-nba-1.png
Laura Bayne
2019-07-17 14:55:09
2019-08-01 14:44:46
Meet Black Alumni Council President Dr. Ericka Davis (AB '93)