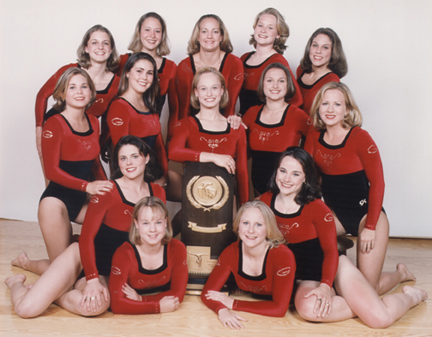 Karin Lichey Usry (BSED '00) is a former GymDog who currently works at the Division of Development & Alumni Relations at the University of Georgia. In her days as a collegiate gymnast, Usry was a four-year letter winner, won five All-America honors, won the 1998 national title on floor and earned 11 All-America citations. In addition to this, she won the 1999 Honda Award as the nation's top gymnast. Did we mention that Usry was also part of the undefeated and national champion 1998 and 1999 GymDogs teams? There's no wonder she was inducted into the UGA Circle of Honor for athletic greatness!
The current GymDog team has gone 10-4 this season, and after placing 2nd in the final of NCAA regionals will compete in the NCAA national championship this weekend. We asked Usry for her thoughts on her time as a GymDog, as well as the current GymDog team.
What is your role for the UGA Alumni Association? 
I am the Secretary to the Board of Trustees at the University of Georgia Foundation. I also manage the Emeriti Trustees and the Board of Visitors.
What does it feel like to see the GymDogs competing for a championship when you've been in their place?
It's exciting, very exciting! We've had some ups and downs over the last couple years, so it's really exciting, fun and rewarding to see this team – and last year's team – have so much success and really kind of rise to the occasion. It's good to see that … I guess, UGA gymnastics has always been the pinnacle of college gymnastics, and we had a little bit of a dip there for a couple of years, and so it's good to see those traditions and that legacy continue.
Do you go to most of the meets?
I do, I'm still pretty involved. This year, because my kids are getting a little older, it's been a little more difficult. But in the past, I've always been very involved.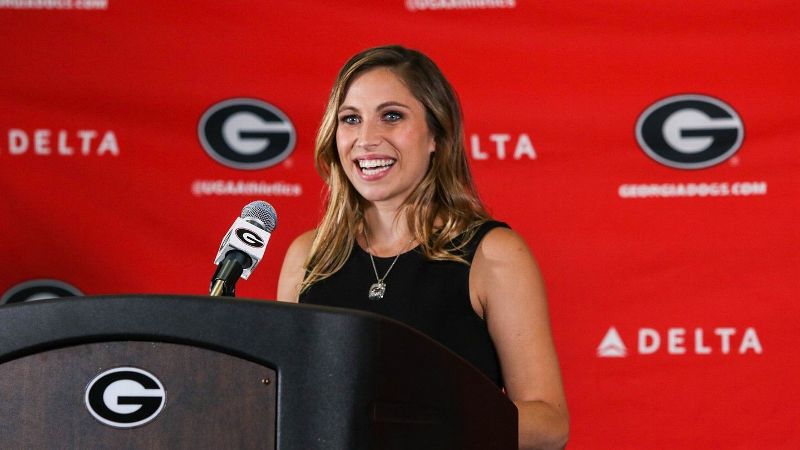 What's it like to see a former GymDog, Courtney Kupets, coach the team?
It's very exciting because she knows the legacy and the history and the expectations of the program. I think that's what was missing the last couple years, is that we have such a tight bond of former gymnasts. All of our GymDog alumni are like sisters because we've been through the same experiences, even though it was at different times throughout the history of the Georgia gymnastics program. It's exciting to see someone who went through that, be able to bring that back and instill some of those traditions and some of those expectations into the current team.
What's your proudest achievement athletically and since you left gymnastics?
So, athletically it was definitely being part of the '98 and '99 national championship teams, being part of a team that went undefeated both years, and then won the national titles. I think that was pretty amazing. Each year, '98 and '99, the teams were very different. So it was neat to see how we adjusted to be able to win national titles. Since graduating, I would say my marriage and my two kids are my biggest accomplishments.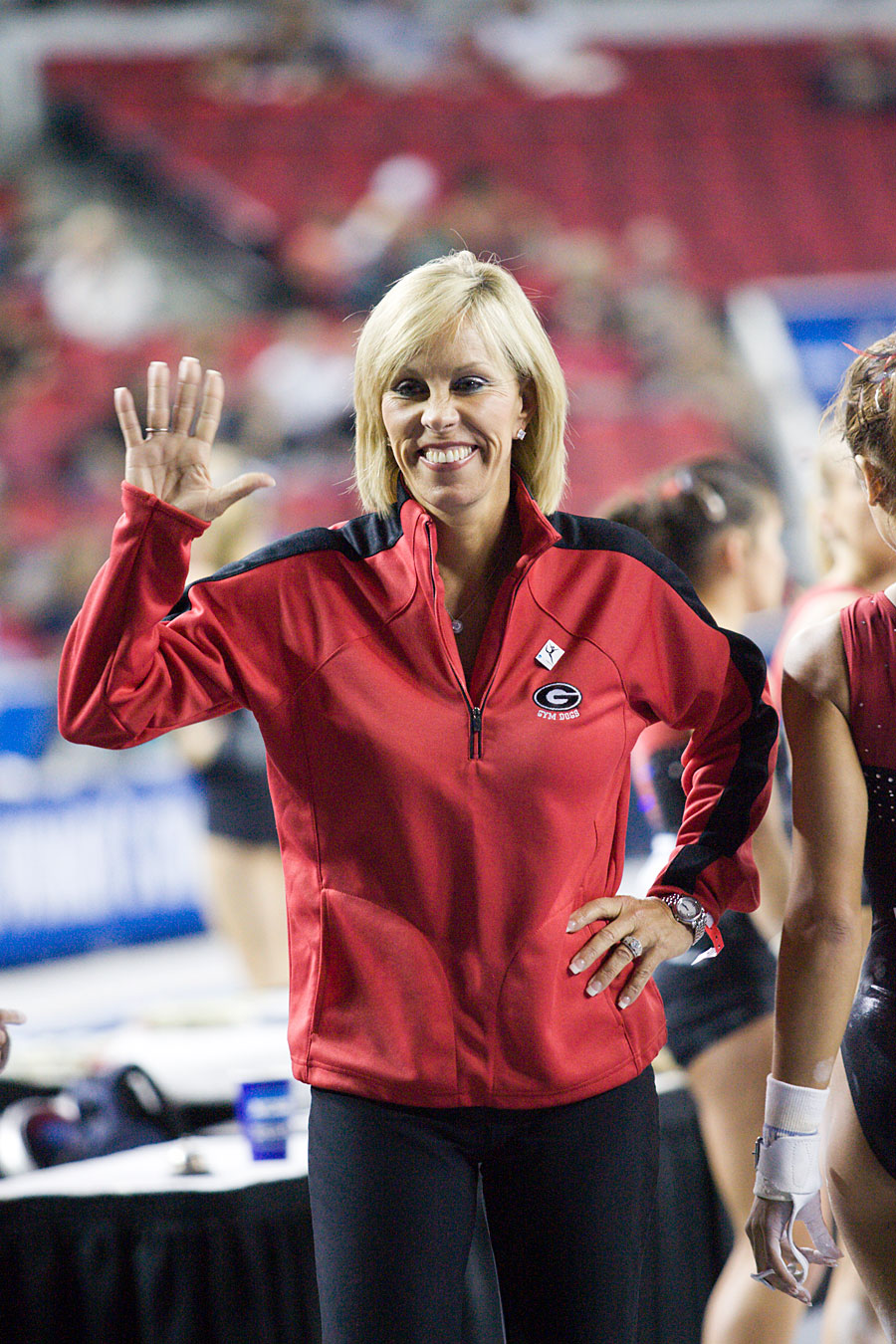 What was it like to be coached by Suzanne Yoculan? What lessons did she teach you?
Suzanne was amazing, she is very loyal to her athletes. She loved us like daughters, but she taught us how to be adults. When you come into college, especially college gymnastics, you've been such an individual your whole life …We didn't have team camps as much as they do now. When I came onto campus, it was a whole new world, I was teammates with 15 other girls, all at different levels in our life. She very much respected us as individuals but also gelled us together as a team. She taught us many other things like responsibility and how to speak in front of a crowd, and she would always encourage us and push us. She was just a great mentor, even to this day, she's still a great person to reach out to and ask for advice. She was a great person to lead you when you're in that period of life where you're going through so much, like trying to figure out who you are as a person, and so to be a student-athlete it is even another level of trying to figure out who you are, how you want to accomplish things, and what you want to do with your life. It was great to have someone like Suzanne push us, because she did push us, and was also our biggest cheerleader.
"I think just having the pride of being a University of Georgia athlete, especially a gymnast, because it nationally was recognized as one of the top programs. I think just having that pride of wearing red and black and competing."
-Karin Usry
What was it like to be a student-athlete in the '90s at UGA?
Gosh, I have to think about that, that was a long time ago. I was an elite gymnast, so I trained 35-40 hours, and then I'd go to school on top of that. When I came to college, we were only allowed to train 20 hours. For me, it was a really easy adjustment going from high school to college, because I felt like I had more time, which was crazy. I went from training 40 hours a week, going to school full time, trying to be a high school student, to coming to college and only having to train 20 hours. While that was an adjustment in itself to cut back, it was a good adjustment. Suzanne fought for us on a lot of different levels. For example, she took the resources at the university, even though they weren't provided to all the athletes like they are now, and offered them to us if we wanted them.
What's your favorite memory from your time at UGA?
I think just having the pride of being a University of Georgia athlete, especially a gymnast, because it nationally was recognized as one of the top programs. I think just having that pride of wearing red and black and competing. I think that's probably the best memory.
Finish this statement, I am most proud to be a Bulldog when _____.
I am most proud to be a Bulldog any time I see the super G, I know we're supposed to say The Arch, but the super G is so well-known, and that was such a big part of my career. I'm proud because I know what the G stands for, and I know that it stands for both academics and athletic success and excellence.
https://alumni.uga.edu/wp-content/uploads/98-gym-champs-hdr.jpg
337
432
Caitlyn Richtman
https://alumni.uga.edu/wp-content/uploads/uga-alumni-nba-1.png
Caitlyn Richtman
2019-04-16 15:30:31
2019-07-02 12:11:14
Karin Lichey Usry reflects on her time as a GymDog