UGA Mentor Program by the numbers
If you're considering participating in the UGA Mentor Program as a mentor or a mentee, here are some numbers you may find interesting: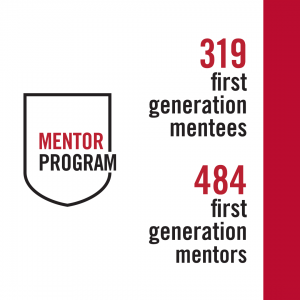 The program currently has 1,669 mentees, 1,956 mentors and has fostered 989 mentoring relationships*. This is definitely a case of "The more, the merrier," so come join the fun. A rewarding relationship awaits!
Think you won't find someone who shares your background or interest? Fear not. The program gathers a wide variety of information on both potential mentors and mentees. For instance, say you are a first generation Bulldog–few in your family can relate or offer advice. The Mentor Program has 319 first generation mentees and 484 first generation mentors right now. You are bound to find a connection that can relate to your situation and offer support and guidance.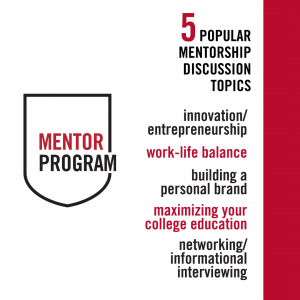 Unsure of what you can offer a mentee? Wonder what you would discuss with a mentor? The five most popular discussion mentoring topics are:
1. innovation/entrepreneurship
2. work-life balance
3. building your personal brand
4. maximizing your college education
5. networking/informational interviewing
There's no doubt you will find things to talk about together!
The one thing missing from the UGA Mentor Program? It's you!
*Stats are as of January 18, 2020. The program continues to grow.
https://alumni.uga.edu/wp-content/uploads/MentorByTheNumbers-2020MentorBytheNumbers-Mentees-FeatureImage.png
423
1220
Jeremy Daniel
https://alumni.uga.edu/wp-content/uploads/uga-alumni-nba-1.png
Jeremy Daniel
2020-01-27 08:33:48
2020-01-27 08:33:48
UGA Mentor Program by the numbers