Write a letter to an incoming student in your old residence hall
Some of the fondest memories for UGA alumni come from living in the residence halls, and in just a few short months, the Class of 2024 will begin its journey on campus.
What if you could write a letter to the incoming residents of your old residence hall? What advice or memories would you share with them? University Housing is collecting and distributing letters written by students and alumni to deliver to residents' mailboxes for them to open when they arrive in August. You can even see a letter counter for each dorm!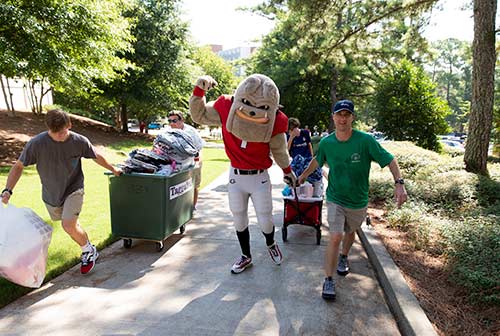 "The Class of 2024 will arrive on campus with many doubts about what the year will look like," said Meredith Gurley Johnson (BSFCS '00, MED '16), executive director of alumni relations. "These letters show incoming students all they have to look forward to, and that there's a Bulldog network around the world to support them. My first-year roommate and I are best friends to this day because of the bond we formed in Brumby Hall. We can't wait to write letters to new students."
To write a letter, use the online form and share a short message–250 words–with an incoming resident. University Housing will print, package and deliver it for you. Here's an example letter:
Dear resident,
Welcome to your new home! My name is Taylor and I graduated from UGA in 2007 with a bachelor's degree in economics. During my first year at UGA, I lived in Mary Lyndon and had the best time. Some of my favorite memories included staying up late with friends to watch American Idol in the basement and Snellebrating after finishing a really difficult exam. I hope that this year brings you lots of fun memories in Mary Lyndon, it is such a special place to live. My one piece of advice for you is to not underestimate the amount of time it takes to walk to the bus stop – I spent many a morning sprinting to make it to the stop in front of Soule Hall. Also, don't worry if it takes you a while to find your 'people;' I found mine later than expected, but I wouldn't have it any other way. Wishing you the absolute best year at UGA!
Go Dawgs! Taylor, Class of 2007
Long after they are sent, letters are read, appreciated and kept by recipients. These letters will leave a lasting memory for incoming students that shows that Bulldogs Never Bark Alone — especially during uncertain times.
"The residence halls have always been and will continue to be a place where memories are made, friendships are built, and communities are formed," said Jessica Keever (BS '18), University Housing public relations specialist. "By submitting a letter, past residents provide a physical reminder of how strong the Bulldog community is both inside and outside the halls. We're excited to facilitate this initiative and hope all past residents will submit a letter to welcome the next generation of Bulldogs."
Please submit letters via the Key Notes Submission Form until Wednesday, July 15. Visit University Housing for more information and contact housing@uga.edu with any questions.
https://alumni.uga.edu/wp-content/uploads/keynotes.jpg
720
1280
Erin Geoghan
https://alumni.uga.edu/wp-content/uploads/uga-alumni-nba-1.png
Erin Geoghan
2020-06-02 18:32:55
2020-06-29 23:38:17
Write a letter to an incoming student in your old residence hall