Three members of the Women of UGA Leadership Council saw a need in their communities or workplaces during the current COVID-19 pandemic and chose to respond in big ways. We hope their stories inspire others to seek the opportunities to offer encouragement and assistance in their own communities and circles of influence. Find out more about Women of UGA.
The Power of a Picture: Caitlin Murphy Zygmont (ABJ '02) and Devon Moore Targer (BBA '96)
A small gesture can make a great impact. Realizing the power of a simple smile, two University of Georgia alumnae set out to boost morale in their neighborhood and making a difference in their community.
When Caitlin Murphy Zygmont (ABJ '02) and Devon Moore Tarter (BBA '96) became next-door neighbors, they became friends too. Both began to search for a way to help when the pandemic arose, while keeping themselves and their children safe. Caitlin reach out to Devon when she came across The Front Steps Project, in which photographer travel to people's homes to photography them on their front steps, from a distance, to raise money for charity. They raised more than $9,000 for The Giving Kitchen and Table & Aid. To date, the pair has safely photographed and edited more than 170 family portraits!
Caring for the Caregivers: Laura Jalbert (BSW '99, MSW '00)
While many support efforts are focused on the front-line workers in hospitals, we know that caregivers and family members within Assisted or Independent Living communities around Metro Atlanta also find themselves on the front lines. Laura Jalbert (BSW '99, MSW '00) saw a need in those groups, so she and her staff at Mindful Transitions designed and volunteer in support groups to aid the unique needs of caregivers affected by separation from loved ones due to social distancing measures. Participants for the groups include resident caregivers (often spouses) living within the community as well as loved ones who live outside of the community. The groups are being conducted online via Google Meet and are each limited to ten participants.
In the Caregiver Support Group, Mindful Transitions staff facilitates supportive discussion of the unique challenges of being a caregiver right now. The group allows the participants to meet with other community members who are also seeking support and growth as they navigate this new frontier. This group is designed to support caregivers who are providing care both in their homes and those who, because of social distancing, currently provide care from afar. The group focuses on supporting the experience of members, helping them understand they are not alone, and providing tools for healthy coping.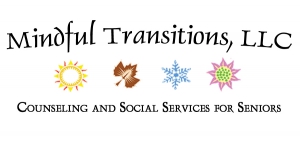 The team at Mindful Transitions is also offering volunteer support group services to staff and professional caregivers in congregate living environments like Assisted Living, Independent Living, and Skilled Nursing. These Professional Caregiver Support Groups are for professional staff who care for older adults as an effort to help them cope with the extreme stress levels and grief associated with caring for the daily needs of older adults, while they manage taking care of themselves and their own families. The group focuses on supporting the experience of members, helping them understand that they are not alone, and providing tools for healthy coping.
If you know someone who is interested in joining these confidential groups, please contact Janie at jmardis@mindfultransitions.com or (802) 777-8232. These services are provided at no charge.
Mindful Transition Volunteer Project Team
Janie Mardis, LCSW-Coordinating the Volunteer Project
Maria Walker, LCSW-Volunteer (UGA-BSW '91)
Denise Greenberger, LCSW-Volunteer (UGA-BSW '83, MSW '85)
Irit Lantzman, LCSW-Volunteer (UGA-MSW '08)
Amy McWilliams, LCSW-Volunteer (UGA-MSW '04)
Being a Guide During Uncertain Times: Quanza Griffin (ABJ '01)
The Centers for Disease Control and Prevention (CDC) currently has 4,367 staff members dedicating time to prevent and control the spread of the COVID-19 virus. Many of them stepped up to work nonstop on these goals, including Quanza Griffin (ABJ '01), a member of the 2018 UGA 40 Under 40 class.
Quanza is a public health advisor with 20 years of public health experience at the federal and state level, and put that to use when she answered the call and to deploy to the CDC Emergency Operations Center as the lead operations coordinator for the Community Intervention Task Force (CITF). The CITF creates guidance documents to help public and private sectors ensure they are able to operate and adapt during the pandemic. Quanza put in long hours during this time, working more than 16 hours a day for seven days a week to ensure the task force had the necessary staff, budget, systems, and policies in place to meet key deadlines.
"As the lead operations coordinator, my goal was to provide excellent customer service to the hundreds of staff on the task force. Many of our scientists worked on developing guidance documents that sometimes required a very short turn-around to be shared with CDC and other federal leaders," said Quanza. "My goal was to make their jobs less stressful by focusing on other important functions needed to keep the team operating."
Quanza managed a team of 10 people with a variety of roles. Daily activities included leadership decisions related to function and operations of the task force, development of policies and spend plans, forecasting, and last, but probably most important, keeping office space exciting with snacks and fun.
"There would be times we would be in deep conversations and hear a random, silly noise coming from someone's computer as they played with noise makers. As anyone could imagine, there were some tense days and nights, but we found ways to keep the atmosphere light and fun. Before my deployment ended, many of the team sent great pictures of their fur babies and children. Keeping a nice ambiance amongst our task force helped us get the work done."
Quanza says the most challenging part of being deployed was the time away from her kids, Kylah (age 6) and Christopher (age 4). "I had to sacrifice a lot of quality time with them to focus on the response. I am thankful for supportive family who stepped up and helped out during this time," she said.
During Public Service Recognition Week (May 3-9), Quanza was nominated by fellow public health professional for outstanding contributions to public service and the mission of the Department of Health and Human Services (HHS). She received an HHS virtual Star Card Award.
Quanza is not alone in her dedication to the health and safety of the American public, as there are thousands of CDC staff working nonstop in response to this pandemic. The Bulldog community is thankful to everyone who is helping to make our world healthier and safer. Learn more about staying safe and healthy on the CDC's coronavirus website. Follow the CDC on social media Instagram, Facebook, and Twitter. Keep up-to-date with UGA Alumni and ways you can help during this time on our COVID-19 news and resources page.
https://alumni.uga.edu/wp-content/uploads/WOUblogpost-Header-2.jpg
423
1220
Zach Armstrong
https://alumni.uga.edu/wp-content/uploads/uga-alumni-nba-1.png
Zach Armstrong
2020-06-24 12:45:03
2020-06-30 16:20:36
Women of UGA Leadership Council members rise to the occasion