UGA grad in NYC saves the (birth)day for young bulldog in ATL
Frances (BS '06) and Thomas (AB '08) Beusse met Jacob Moats (AB '01) at the NYC Dawgs' Auburn game-watching party at American Whiskey last November. When former UGA Alumni Association board member Barbara Woods (BFA '81) introduced the trio, they quickly bonded over their mutual love of Georgia football. At the end of the game (which UGA won 21-14), they went their separate ways; the Beusses back to Georgia and Jacob to his home just across the East River in Queens.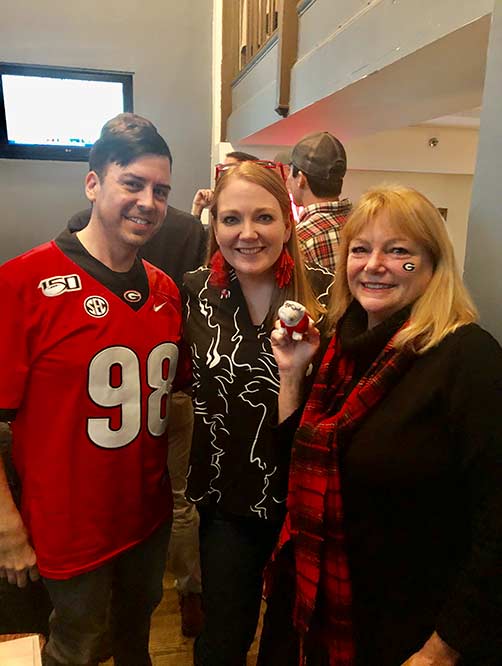 Jacob Moats (left) and Frances Beusse (center) were introduced during a game-watching party in NYC by Barbara Woods (right).
A few months later, the COVID-19 outbreak brought a whiplash of change to everyone's lives–especially for those living in the Big Apple, a hot spot during the pandemic. In Atlanta, it was also carrying a great toll. Amid the upheaval, it was a particularly disappointing situation for the Beusses' son, Quinton, who found himself sheltering at home and facing the prospect of a fifth birthday without a key ingredient: friends and grandparents.
But like many other kids his age, Quinton loves superheroes and, of course, the Georgia Bulldogs. That got Frances and Thomas thinking about creative ways to make sure the day was still special for Quinton.
Frances saw on Instagram that Jacob and a few friends did superhero cosplay for conventions and photo shoots, so she messaged him to ask if she could hire him to record a superhero video for Quinton's birthday.
Jacob was happy to help a fellow Bulldog and didn't shy away from a chance to get into character. He not only refused to accept payment for his participation, he even enlisted his friends to help.
"It was just something small that we could do to help out," Jacob says. "With all that's going on right now, we need to help each other, especially if it's something easy to do."
Jacob and his friends donned their superhero gear and recorded several videos from their homes. When compiled together, the videos of Batman, Robin, The Flash, Batgirl, Wonder Woman and Spiderman assigned Quinton 'missions' to complete in his backyard. Those missions ranged from "leaping buildings" (ie: a cardboard Gotham City created by Frances), to battling villains by shooting at their photos with silly string—the Beusses' fence taking the bulk of the pain. Quinton executed each activity decked out in his own Batman costume—complete with padded muscles and a cape—and enjoyed every minute of his mission to save Gotham from the likes of Joker, Catwoman and Two-Face.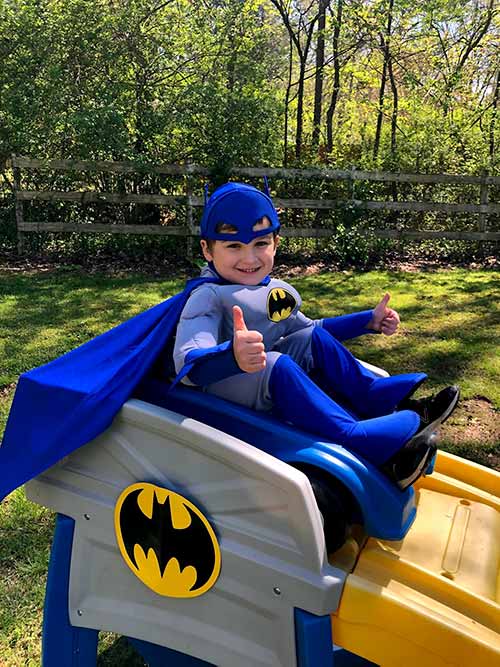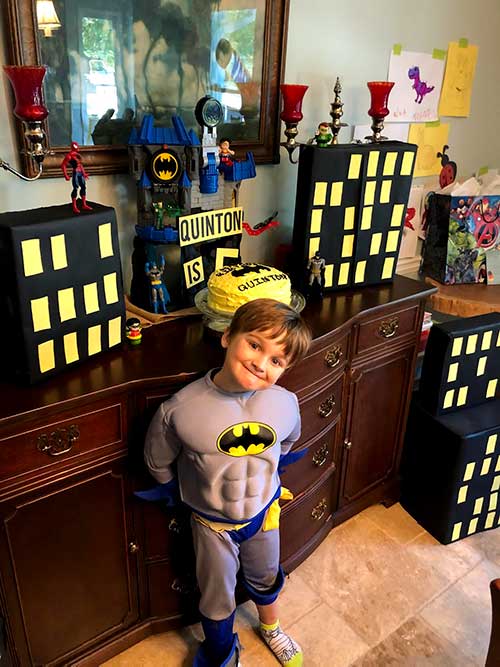 "Jacob was beyond generous to help me when, in all honesty, the only thing he knew about me was that I was a Bulldog," Frances says. "I was so thankful that he gave his time and energy to lift my son's spirits. It just shows what the Bulldog community does for one another."
Despite facing limits on social gatherings to halt the spread of COVID-19, Bulldogs around the world are, like Jacob and the Beusses, finding inventive ways to connect and care for one another. In our book, that's a one-two punch … KA-POW!
Do you know a Georgia Bulldog helping others during the COVID-19 outbreak? We'd love to hear their story!
https://alumni.uga.edu/wp-content/uploads/Feature-Image.jpg
416
1199
Erin Geoghan
https://alumni.uga.edu/wp-content/uploads/uga-alumni-nba-1.png
Erin Geoghan
2020-06-08 10:49:26
2020-06-29 23:40:34
UGA grad in NYC saves the (birth)day for young bulldog in ATL