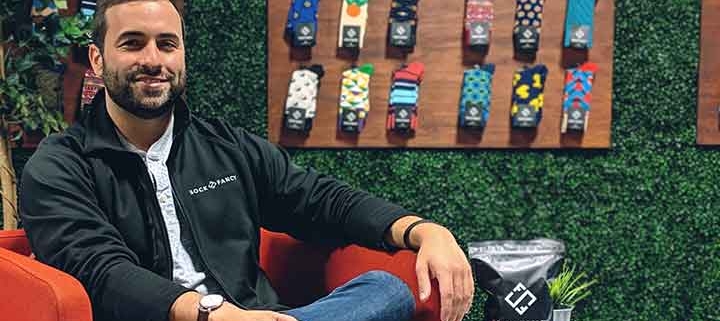 Sock Fancy: The Most Subscribable Bulldog 100 Company
The UGA Alumni Association interviewed Stefan Lewinger (AB '11), CEO of Sock Fancy, the "Most Subscribable Bulldog 100 Company." The Bulldog 100 celebrates Dawgs on top by recognizing the 100 fastest-growing businesses owned or operated by UGA alumni each year.
Tell our readers a little bit about your story. How did you end up starting Sock Fancy?
Our story starts almost six years ago, 2013, in a house that my co-founder and I shared. We were each other's springboards for ideas, and we were just a few years out of Georgia. We were navigating a challenging job market at the time, and we found it annoying that we couldn't find durable and good-looking socks. Everything could be delivered to your door, but we were still traveling to department stores and waiting in lines to buy socks. We wanted to change the way people talked about socks. I built our first version of the website, and I cobbled a site together. We wanted to get to market as fast as possible and we knew it would take a while to develop our own line. We started as a curation service and that allowed us some time to learn what customers liked or didn't like about different styles, etc. We did seven different factories and 20 fabrics before we found what worked. Everyday crew socks that didn't have the compromises found in the market at the time. We knew we needed to have a really great product.
We know you offer an innovative monthly subscription service; can you elaborate about what other services you provide?
Subscription is our main focus – we wanted to change people's minds about socks. We get that there are people that won't subscribe but want to buy in packs or customizable. We do also offer custom corporate boxes – we have created some for companies like Chick-fil-A and Coca-Cola. We really like dealing with different companies, their stories, and why they might be interested in this product to show off their brand. They can show off their personality which is really important to brands right now. We had people who were subscribers and asked if we could make a custom version for them. You could say we kind of got pushed into this world and started our own program.
What has been the most surprising part of running your own company?
I think the most surprising part has been the fulfillment or satisfaction from employing really good people. For the first 2-3 years it was just me and my partner. We were nervous to start bringing on employees but it has been nothing but the greatest experience to be able to provide salaries, a great work place, and fun for others. We have seven full-time employees and eight part-time employees – helping them pay for their house and car is one of my proudest achievements.
What's the number one thing you learned at UGA that has prepared you for what you are doing now?
I really learned the idea of sharpening my networking skills; a lot of it has to do with my experience at Georgia and that it is such a large community. Georgia was a microcosm of the entrepreneurial world where people are all looking for their place and role in the world – it's allowed me to connect and build community with other entrepreneurs.
What's your favorite pair of socks right now?
My favorite pair is planetariums; it has a bunch of stars and planets on it – so I am nerd at heart.
What do you enjoy about being an entrepreneur?
I love being able to employ hard-working and talented people, and I love the idea of being able to create something that people love, use, and enjoy. That you can really shape your own future and brighten other peoples' lives along the way is humbling and exciting.
What do you think are some of the values that have made you successful or what do you value as a company?
Our motto and our words to live by are "elevate the everyday, every month." We want both our members and our employees to have a great experience – we strive to make the everyday extraordinary. We aren't saving the world, but we are making really great socks. And if we can make everything a little bit better, that's our goal. We really strive to make the mundane a little more magical.
Do you have any advice for future Bulldog entrepreneurs? 
Luckily, you have a leg up if you are going to the University of Georgia. I want to borrow from Nike and say "Just Do It." There are risks and you're going to have convince yourself, but you just have to start. Starting is the hardest part. Odds are you will fail, but you can't let it stop your dreams. Focus on the bigger pictures and get going – if you're smart and a savvy, hungry person, you will make it work.
https://alumni.uga.edu/wp-content/uploads/FeatureSockFancy.jpg
580
720
Laura Bayne
https://alumni.uga.edu/wp-content/uploads/uga-alumni-nba-1.png
Laura Bayne
2019-01-02 15:28:16
2019-07-02 13:09:46
Sock Fancy: The Most Subscribable Bulldog 100 Company