Catching up with Oxford scholar Mitra Kumareswaran
UGA student Mitra Kumareswaran spent her junior year at Oxford University in England taking scenic bike routes between classes, enjoying the views of the parks and studying everything from genetics to Shakespeare at the university's historic libraries. The biology and English double major is passionate about both science and the humanities, and hopes to combine them some day in order to better the lives of children with autism. As a recipient of the Alumni Association's Oxford scholarship, by the time Mitra returned to UGA she had walked the same halls as Oscar Wilde and saw the blackboard that once displayed Einstein's equations.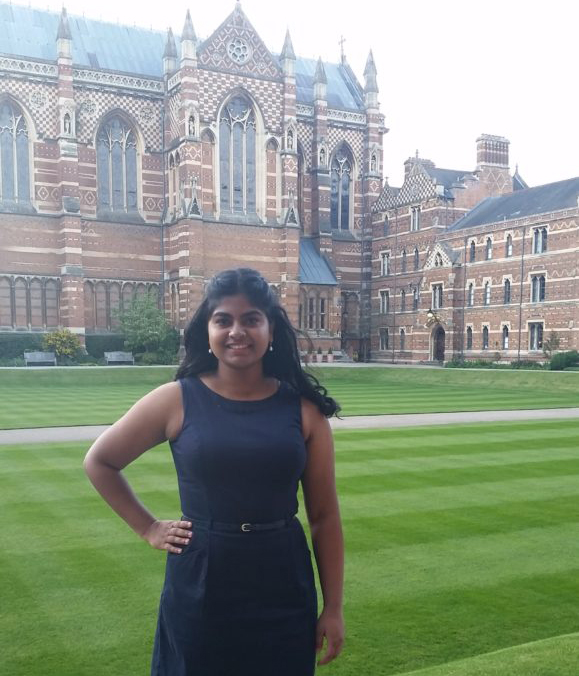 "I majored in biology and English because I'm interested in neuroscience and learning development," Kumareswaran said. "Since I am also passionate about arts, the idea of taking only science classes just wasn't enough. I hope to use my knowledge in these different areas of study to open a school that works with autistic kids' language development, regardless of their socioeconomic status."
Kumareswaran knew early on that she wanted to study in Oxford, and the UGA at Oxford program immediately captured her attention during her college search. As an Oxford Scholar, she experienced an intimate classroom setting in courses with no more than three other students. The organizations she joined there let her brush shoulders with renowned scholars and hear researchers from around the world talk about new developments such as sheep cloning and DNA manipulation.
In addition to the classroom experience, Kumareswaran says that studying at Oxford helped her to step outside her comfort zone and become a more analytical thinker.
"Through my experiences at UGA and Oxford, I understand the world much more than I ever thought I would," she said. "I learned the importance of being passionate and going forward when something is scary because the worst someone can tell you is no."
She thanks the Alumni Association scholarship she received for making her dreams of studying at Oxford a reality. She says that the scholarship made it possible for her to have the financial ability to study for two semesters at Oxford University, experience the centuries-old traditions there and make life-long friendships overseas.
"It feels great to know that donors and alumni at UGA support my education, not only in Athens, but also abroad," Kumareswaran said.
This blog was written by Nellie Pavluscenco '18, intern for DAR Communications. 
https://alumni.uga.edu/wp-content/uploads/oxfordstudents25004-008.jpg
500
1500
Kelundra Smith
https://alumni.uga.edu/wp-content/uploads/uga-alumni-nba-1.png
Kelundra Smith
2016-12-08 11:41:57
2017-06-02 13:07:02
Catching up with Oxford scholar Mitra Kumareswaran