Meet alumna Shannon Hanby (BS '10, MPH '12)
As a young alumna new to Texas, Shannon Hanby connected with the local Austin alumni chapter and was pleased to find a little bit of Athens in Austin. Today, Shannon is president of the Austin Chapter.
When did you graduate from UGA and what are you up to now?
I graduated from undergrad in 2010 and grad school in 2012. I now work at the University of Texas at Austin in University Health Services as a health promotion coordinator. It seems I refuse to ever leave college!
How did you become involved in your local chapter?
I became involved the day after I moved to Austin! I moved from a small village in central New York, and I terribly missed having UGA friends. The day after I arrived in Austin, the chapter was meeting for brunch, and I showed up! I went to every game viewing party (except one when I was out of town), and loved every second. I became friends with the president at the time, Katie Postich (BSED '10, BBA '10), and when she moved back to Georgia, I volunteered to take over for her.
What chapter event are you most proud of?
This is a hard one! I'm most proud of any event that encourages people who are new to Austin to attend. Each event and viewing party that we have had includes people who have just moved to Austin. It provides a little community and a taste of home as people are getting settled in Austin.
How has being part of your local chapter benefited you?
I have made some of my closest friends from being involved in the chapter. I never knew any of the people in college, and yet, we share so much history and love for the university! It also helps me to not feel so homesick. There is nothing better than sharing a Georgia win with your friends, and it makes the losses a little easier.
What is the most important lesson you learned during your time at UGA?
I learned to not give up on myself. I had no idea what I wanted to be when I "grew up", so I went through many phases while I was in school (including a very short, very difficult biology major phase… yikes!). I had a really great and inspiring academic advisor in Dr. Katie Darby Hein, and she encouraged me to continue in the field of public health. If it wasn't for her, I would have never known about public health or what I could do in the field.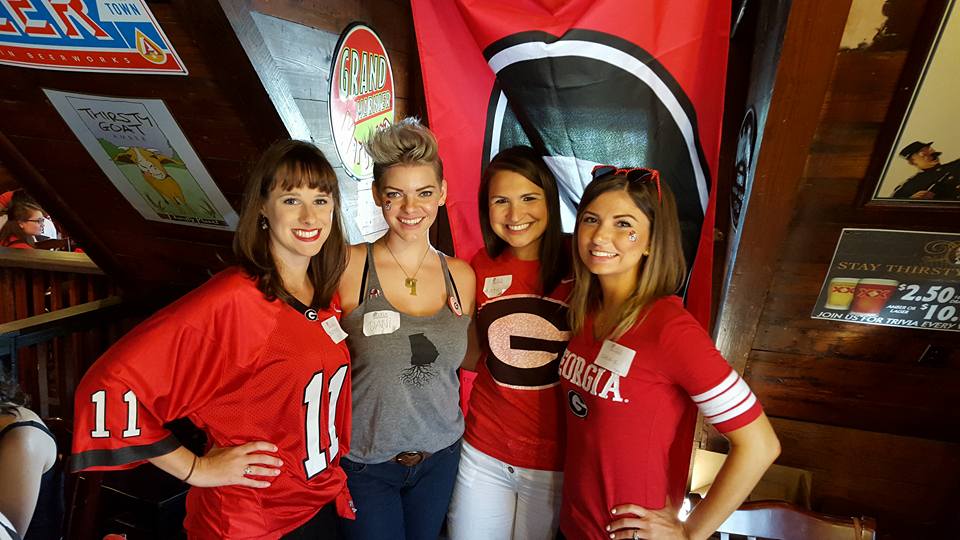 If there is any advice you could give to a current student, what would it be?
Take advantage of every opportunity you are given in college. From joining lots of organizations to studying abroad to internships and volunteering… do it. The people you will meet will be friends and mentors for forever. (The higher education/public health side of me also encourages taking care of yourself! Get sleep! Don't forget to eat!)
The University of Georgia is committed to inspiring future leaders and solving the world's grand challenges. What is YOUR commitment?
My commitment is to continue trying to solve public health problems. I promise to continue to look at the world and try to find ways to make people healthier and happier.
Want to connect with your local chapter? Check out the complete list now at alumni.uga.edu/chapters!
https://alumni.uga.edu/wp-content/uploads/austin-chapter.png
682
2048
Jamie Lewis
https://alumni.uga.edu/wp-content/uploads/uga-alumni-nba-1.png
Jamie Lewis
2016-12-14 12:23:27
2017-06-02 12:54:02
Meet alumna Shannon Hanby (BS '10, MPH '12)