Andrew (BS '97) and Ashley Aiken (BS '97) are an impressive pair. Andrew is one of Atlanta's top oral surgeons, with a private practice regularly named among the city's best. Ashley is a nationally recognized educator and researcher in neuroradiology. But this power couple can trace their origin to an ecology course and calculus tutoring at UGA.
Ashley was always a very motivated student and knew early on that she wanted to go to medical school, so she pursued a biology degree at UGA while in the Honors Program.
Andrew's undergraduate course was set after conversations with an advisor. He didn't have Ashley's singular purpose, but he did know that he liked sciences and the outdoors, so he became an ecology major.
Ashley and Andrew met each other through mutual friends early on in their time at UGA. They hit it off, but it wasn't until their third year that someone made a move.
"I signed up for an ecology class he was in, which was… let's say it wouldn't have been a class I'd normally look into," said Ashley.
It wasn't long before Andrew reciprocated: "I asked her to tutor me in calculus, which, if I'm honest, was really more about spending time with her than the calculus."
After some nudging from their friends, the pair finally started dating. They both graduated in 1997, and while Ashley was ready to head to medical school, Andrew took some time to figure out his next steps. A clear path forward wasn't coming to him, but a need for new veneers on three teeth that were broken a decade earlier playing tennis led Andrew to a life-changing visit with his dentist.
"I started talking with my dentist about what I wanted to do, and he started telling me about dentistry," said Andrew. "I had been going to him for about 20 years, so we knew each other pretty well, so based on that and everything we talked about during these visits, he said he thought I'd be a good fit for it."
So, Ashley enrolled at the Medical College of Georgia in 1997, and Andrew followed suit two years later to attend dental school.
After two years in Augusta, Andrew and Ashley married, in 2001. The newlyweds faced a difficult decision soon after. Ashley finished her internship in 2002 and was ready to begin her residency, but Andrew was still in the process of completing his dental degree.
They both wanted to attend The University of California, San Francisco (UCSF), which had highly ranked programs in both of their areas. But to stay on track, Ashley would have to go a year ahead of Andrew. Seeing this as a chance they had to take, the Aikens decided to spend a year apart after having been married for just one year.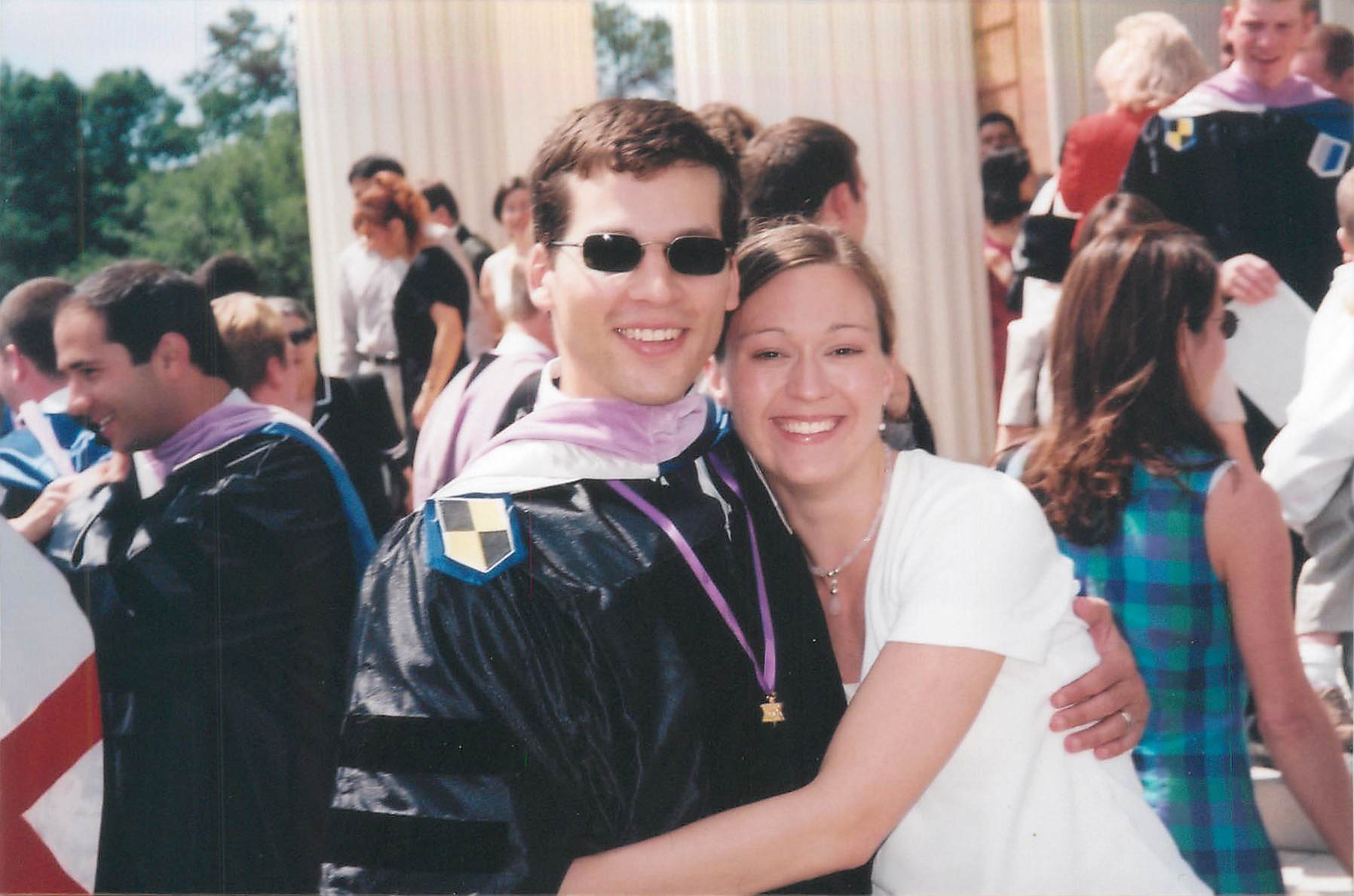 Andrew and Ashley at Andrew's dental school graduation in 2003
This sacrifice would prove worthwhile. At UCSF, Ashley found her calling and was able to work with mentors who helped her set the course of her career while she completed a residency and fellowship. Once Andrew joined her, he earned his medical degree and completed an oral & maxillofacial surgery residency program at UCSF.
The Aikens also welcomed twin daughters, Frances and Olivia, while in California. And even though they were on the other end of the country, on fall Saturdays, they would gather with other Bulldogs at a bar called The Bus Stop to cheer on the Dawgs.
As Ashley was finishing up her fellowship in 2007, she knew she wanted to stay in academia, and thanks to several UCSF connections, she was able to find an opportunity at Emory University. Over the next two years, Andrew finished his residency while Ashley worked as junior faculty at UCSF and kept her Emory connections open.
In 2009, the family of four moved back to Georgia. Since then, Ashley has become director of Head and Neck Imaging at Emory and program director for the Neuroradiology Fellowship in the Department of Radiology and Imaging Sciences. Andrew is in private practice at Oral Surgery Specialists of Atlanta. The Aikens also added a son, Walker, shortly after moving back to Georgia.
With their return to Georgia, the Aikens were also able to return to the friendships they made while at UGA, and they found those connections were just as strong as they had left them.
"We still have so many close friends from UGA," said Ashley. "Some that are in Albany, some in Athens, some in Texas, a lot that are in Atlanta, and those connections are some of the biggest reasons that I'm so thankful we made the choice to attend the University of Georgia."
Their renewed connection to UGA includes the school itself, by way of a shadowing program Andrew participates in. UGA students interested in dentistry and oral surgery go to his office and follow him throughout the day to explore the work of an oral surgeon.
"I'm happy to give back and let people come back and see if they like oral surgery because it's a really wonderful profession," said Andrew.
The Aikens' story begins at UGA. And though they have achieved so much beyond Athens and staked an impressive claim out in the world, it's clear that the Classic City never left their hearts.
"My time at Georgia was the best four and a half years of my life," said Andrew. "I met my wife, I met good friends, and I created shared experiences with people that I'm still in touch with 20 years later."
https://alumni.uga.edu/wp-content/uploads/aikens.jpg
357
1030
Clarke Schwabe
https://alumni.uga.edu/wp-content/uploads/uga-alumni-nba-1.png
Clarke Schwabe
2020-11-17 08:00:17
2020-11-20 09:29:12
Calculus tutoring, broken teeth and California: the Aikens have a one-of-a-kind UGA story