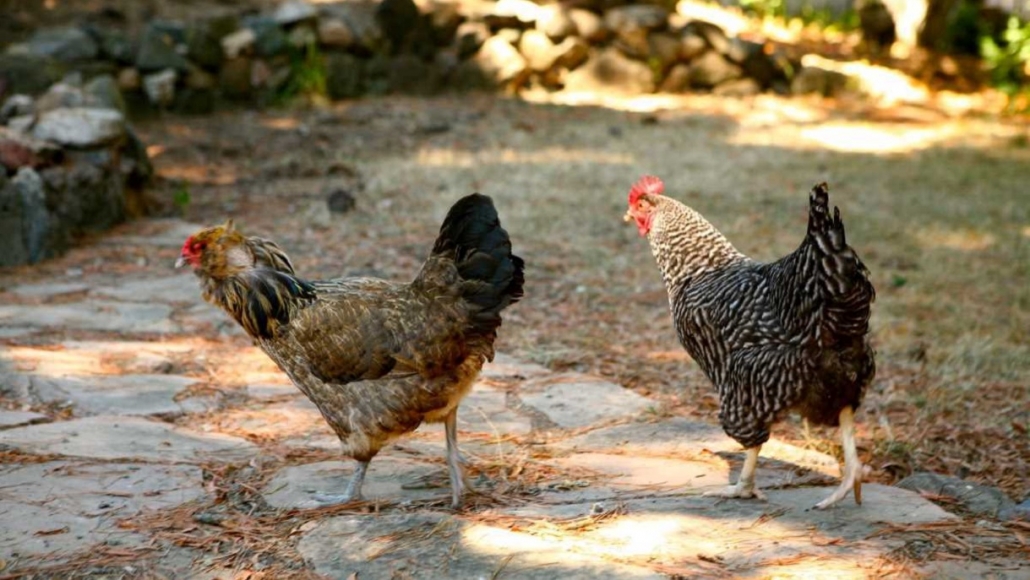 June 3 is National Egg Day according to an ever-growing list of "holiday websites" on the internet. Whether or not it's officially backed by organizations like the U.S. Poultry & Egg Association or the American Egg Board, we're going to take it as an opportunity to share a few "backyard flock tips" from the UGA Cooperative Extension. These tips are A+ for anyone interested in raising backyard chickens or seeking to increase the egg production of their current flock.
Background
Many people keep poultry for egg production. Interest in homegrown products has made locally produced eggs more popular and consumers are more quality conscious than ever before. Escalating costs for poultry feed, though, can increase the costs of egg production for both small and large producers. Therefore, it's important that the quality of "homegrown" eggs is maintained and egg spoilage is minimized.
Sanitation is an important factor in maintaining egg quality. The exterior of the egg shell is usually clean and sterile when the egg is first laid. From the time the egg is laid, however, it is exposed to microorganisms, which can penetrate the shell and contaminate the egg. This can lower egg quality or even loss of the egg as an edible product.
Thank you to Anne Anglin, an Agriculture and Natural Resources Educator with UGA Extension in Carroll County, for sharing a few things to consider for those of you who are raising poultry for egg production.
6 Considerations to Maintain Egg Quality
Keep nests clean.
Maintaining clean nesting material will reduce microbial exposure when the egg is first laid. Replace nesting material as needed. Clean material will also encourage the hen to use the nest rather than laying the egg on dirt or in weeds.
Collect eggs frequently.
Eggs should be collected at least daily and preferably twice a day to prevent breakage and possible contamination from fecal material and dirt. The longer the eggs are left in the hen house or pen, the more likely they are to be broken and exposed to bacteria.
Wash eggs.
Washing the eggs after collection can also improve egg quality if done properly. Water temperature for washing is very important. Eggs should be washed in water that is warmer than the eggs. Warm eggs washed in cool water will contract and draw bacteria into the egg. Temperatures ranging from 100 to 120 degrees F. are recommended. Wash water can become contaminated if used too long, therefore, the wash water should be changed as dirt and fecal material build up in the solution.
Dry eggs.
Once the eggs are washed, they should be dried as soon as possible. Moisture fosters bacterial growth and a method of microbial entrance through the egg shell. A clean dry cloth or air drying can be used as methods of drying eggs.
Use clean packaging materials.
If egg flats or cartons are used for storage, these materials should be clean and free of contaminated matter such as egg yolk and albumen (the egg white – yep, I had to Google that).
Store in appropriate conditions.
After washing and drying, eggs should be stored within appropriate temperature and humidity conditions. The appropriate temperature is 45-55 degrees F. and relative humidity between 60-80 %.
If you follow these principles for egg handling, you'll assuredly improve the quality of eggs that your backyard flock provides you. Interested in learning more? Check out UGA Extension's "Management Guide for Backyard Flock" or contact Claudia Dunkley, a public service associate located on UGA's Tifton campus who specializes in poultry science.
https://alumni.uga.edu/wp-content/uploads/backyard-chickens.jpg
687
1219
Elizabeth Elmore
https://alumni.uga.edu/wp-content/uploads/uga-alumni-nba-1.png
Elizabeth Elmore
2019-06-03 06:00:46
2019-07-02 12:00:57
Backyard Flock Tips on National Egg Day