When the Georgia Bulldogs secured their first national title in 41 years, the outpouring of emotion from University of Georgia alumni and fans was so intense, so widespread, it could've painted the sky red and black.
And in New York City, thanks to a UGA student's parent, it did.
Shortly after the 2022 CFP National Championship finished, the iconic Empire State Building traded its usual illumination for red and black hues, and the world took notice.
But it wasn't just the Empire State Building. The Helmsley Building at 230 Park Avenue also lit up the night red and black—not just on Monday night, but Sunday and Tuesday, too.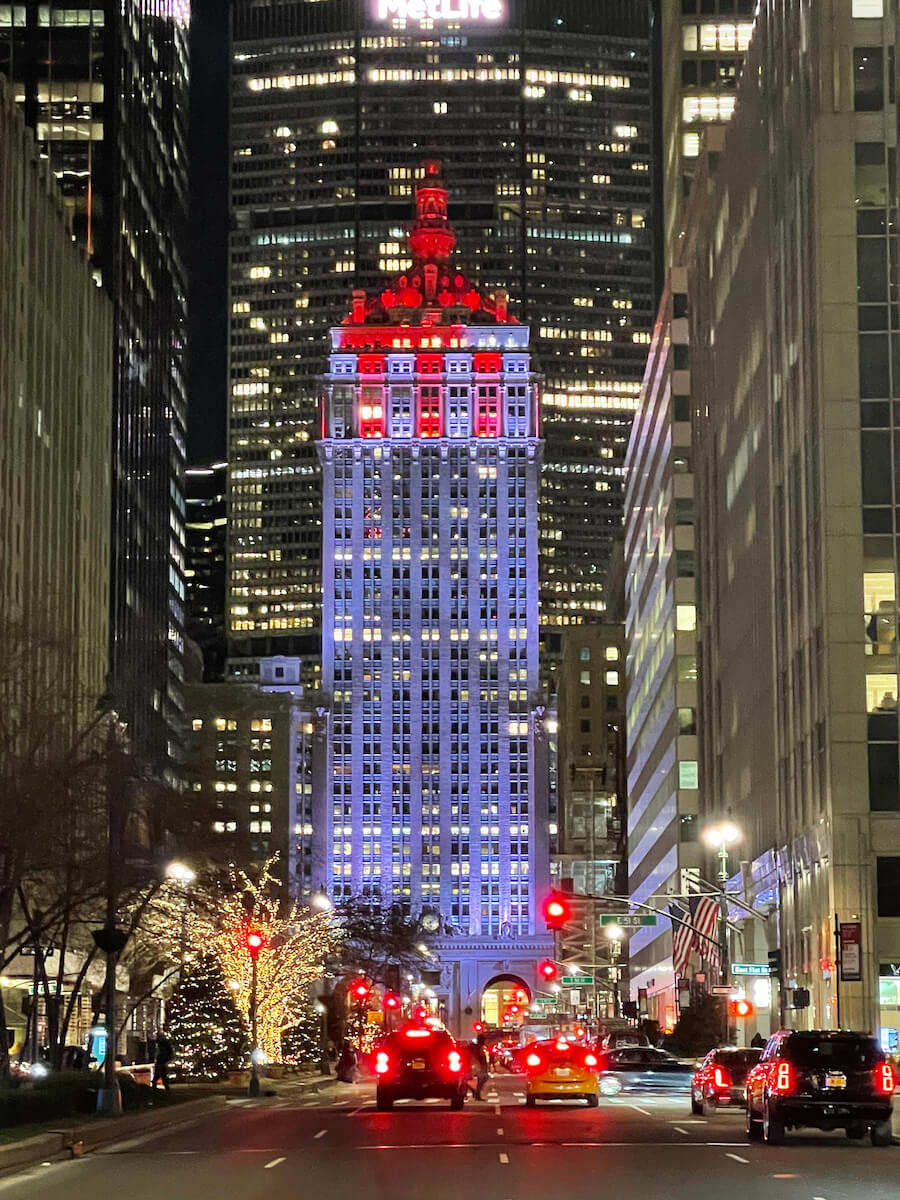 It all began with Bill Elder, managing director and executive vice president at RXR Realty. Elder, whose youngest daughter, Eliza, is a third-year studying real estate at UGA, had already started planning the lighting of 230 Park Avenue, a building in RXR's portfolio, when he realized he had an opportunity to go even bigger.
"I had a call scheduled with Tony Malkin [chairman, president and CEO of Empire State Realty Trust, Inc., which owns the Empire State Building], so I thought I'd see if he would do a favor for me," said Bill. "So, I reached out to him on the Saturday before the game, and I said, 'My daughter goes to Georgia, and we're lighting 230 in red and black in honor of the game—do you think you could light up the Empire State Building? And he said 'Absolutely, done.'"
The following Monday night, Bill was—like the rest of us—consumed by the drama of the national championship's final minutes and the elation of the celebration that followed, so he didn't know that Tony Malkin came through on his promise a little bit early: "The World's Most Famous Building" wore red and black from the moment the Dawgs claimed victory until 2 a.m. Tuesday.
Bill's role in amplifying the joy of Bulldog Nation is spectacular enough on its own, but it becomes even more so in light of the journey he and his wife Katie took to become UGA fans. Just a few short years ago, the Elders had just a passing familiarity with the university, but once their youngest daughter, Eliza, began to take an interest in attending, things started to change.
"I'll admit, my first reaction was 'not a great idea, too big, she'll get lost,' but then I went down there, took a tour, and within about 20 or 30 minutes of being on campus, I got immediately comfortable with the place and thought UGA was a great decision," said Bill.
Once Eliza became a student, Bill and Katie were approached by members of the Parents Leadership Council (PLC), a group of highly engaged parents who support student-focused organizations and efforts on campus.
"I didn't realize how much need there was among UGA students," said Bill. "So, when I heard about the outreach and the kind of need fulfillment that the PLC was doing for these great kids, I was in. How could you not want to help somebody who might be the first person in their whole family to go to college? How could you not want to give students a better chance?"
Bill and Katie have been members of the PLC ever since. Beginning this August, they will serve as chairs of the PLC's Grants Committee, which administers grants that provide funding to a variety of organizations across UGA's campus. Last year, the PLC Grants Program awarded 69 grants totaling over $625,000, and the program has awarded more than $3.8 million over its lifetime to groups like Designated Dawgs, the Outreach and Financial Assistance Fund at the UGA Speech and Hearing Clinic, the Student Government Association's Clothing Closet and the University Health Center's Counseling and Psychiatric Services Program.
So, when some of Manhattan's most iconic structures took on the colors of the national champion Georgia Bulldogs, it was an expression of the unbounded joy of alumni and fans who had waited nearly a half-century for a championship, but it was also a culmination of the Elders' journey.
They are not a family with generations of Bulldogs, they didn't grow up dreaming of Broad Street or Milledge Avenue, but they believe in the university and its mission just as strongly as a third-generation Dawg from Marietta.
"We went from knowing very little to humbly hoping that we can make a difference at the university," said Bill. "UGA has embraced us, and we embrace them. We're really happy to be a part of it, and we're really proud to be a part of it."
https://alumni.uga.edu/wp-content/uploads/FeatImg-2022-NYClights-v1.jpg
423
1220
Clarke Schwabe
https://alumni.uga.edu/wp-content/uploads/uga-alumni-nba-1.png
Clarke Schwabe
2022-01-19 11:02:16
2022-01-19 12:27:02
A UGA parent paints the town red (and black)