On April 15, the UGA community gathered together in the Tate Student Center to enjoy the 79th annual Alumni Awards Luncheon, and celebrate this year's group of honorees. Meet this year's accomplished honorees and learn more about their UGA experiences.
Young Alumni Award
Christie Haynes, a Double Dawg from the Class of 2010 is the president and CEO of the Dawson County Chamber of Commerce. Christie is a former president of the Student Alumni Council who re-launched the G Book, UGA's traditions handbook, with another SAC member when they were students. She is a former 40 Under 40 honoree and a past president of SPIA's Alumni Board.
Support Christie's passion and make a gift to the School of Public and International Affairs today.
Friend of UGA Award
The 2016 Friend of UGA Award was presented to Larry D. and Brenda A. Thompson. Larry is an emeritus trustee of the UGA Foundation and serves on the faculty of the UGA School of Law. Brenda is a current UGA Foundation trustee and chair-elect of the Georgia Museum of Art Board of Advisors.
Would you like to support the Georgia Museum of Art, too? Learn more now.
Alumni Merit Award
Henry D. "Greg" Gregory, Jr. (AB '06) is a UGA Foundation Trustee who has shown his commitment to the UGA History Department in a number of ways, including the establishment of the Amanda and Greg Gregory Chair in the Civil War Era and his providing financial support for Civil War research on campus.
Are you a Civil War buff? Consider supporting the Amanda and Greg Gregory Chair in the Civil War Era today.
Faculty Service Award
Karen A. Holbrook, former UGA Senior Vice President of Academic Affairs and Provost, also served as the first female president of The Ohio State University. Holbrook established a number of important initiatives while at UGA, including advocating for new programs in the biomedical and health sciences, which led to the creation of the College of Public Health.
Support the College of Public Health with a gift today.
Alumni Merit Award
The Honorable Saxby Chambliss (BBA '66) is a long-serving and well-respected politician who retired from public service in 2014 after serving four terms in the U.S. House of Representatives and two terms as a U.S. Senator. Recently, he established the Senator Chambliss Leadership Forum to increase students' exposure to domestic and international politics.
Support students participating in the Senator Chambliss Leadership Forum with a gift today.
Interested in learning more about the Alumni Awards and seeing past honorees? Click here.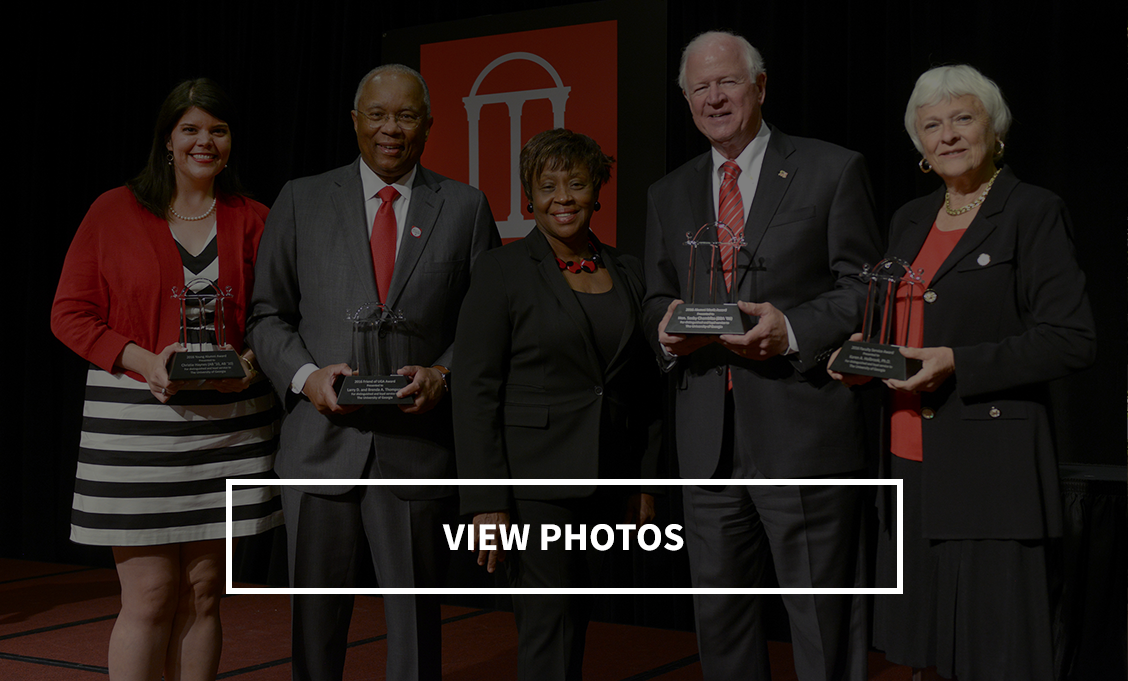 Are you a graduate of the University of Georgia? Please take a moment and update your information to stay up-to-date with all things UGA!
https://alumni.uga.edu/wp-content/uploads/DSC_0268-2.jpg
844
2250
Jamie Lewis
https://alumni.uga.edu/wp-content/uploads/uga-alumni-nba-1.png
Jamie Lewis
2016-04-26 16:32:39
2018-06-14 10:32:34
2016 Alumni Awards Celebration