History of the Rivalry: Georgia Tech
"The Red River Showdown," "The Game," "The Iron Bowl:" these are the kind of titles given to historic college football rivalries. They embody the region the teams share, the historically high stakes of the match, or a unique characteristic of the rivalry.
If the UGA-Georgia Tech rivalry fits into any of those categories, it might be the last one. Because the "Clean Old-Fashioned Hate" these two teams and their fanbases have for one another, stretching back even before they played one game of football, is unique indeed.
Throwing rocks and stealing girlfriends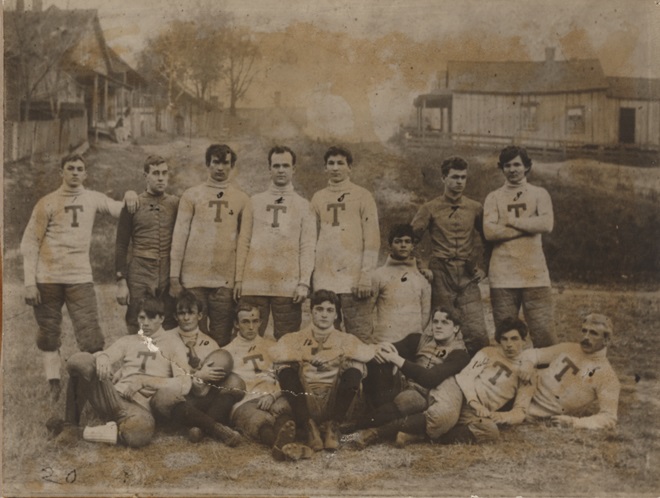 Before Georgia Tech even had a football team, they hated Georgia. The two schools had met several times on the baseball diamond and established their rivalry prior to 1891, but tensions began to escalate that year. Students from Auburn and UGA were set to play a game of football in Athens, and some Auburn students invited Georgia Tech students to come root for Auburn. Tech students happily accepted, devised some Tech-specific cheers on the way to the game, and dotted the stands with old gold and white, cheering not necessarily for an Auburn win but certainly for a Georgia loss.
Two years later, Tech had their football team, then known as the Blacksmiths, and they had a game set up with the Bulldogs. Among the Tech team's preparations were coaxing, cajoling or otherwise swaying a number of students from a nearby all-girls school to wear old gold and white to the Georgia game at Herty Field. When these women, some of whom were current or former romantic interests of UGA football players, showed up to the game in Tech colors, the stage was set for a dramatic contest.
When all was said and done, Tech won 28-6 and Georgia fans showed their dissatisfaction by chasing the Tech team back to the train station with rocks, knives, whatever they could get their hands on. The next day, an Athens journalist accused Georgia Tech in the Atlanta Journal of liberally mixing in professionals with their students on the team.
It's a romantic origin for this rivalry, but it's hard to know how much of it is actually true. Sources differ on essentially every point of the preceding stories. But whether or not the Tech team sweet-talked the students at Lucy Cobb and whether or not Tech students went to a Georgia game just to boo the Dawgs, the powerful distaste underneath these stories is undeniably true and deep-rooted. There's a reason not one but two cherished Tech fight songs include lines like "to hell with Georgia" and "drop the battle-axe on Georgia's head."
It runs deep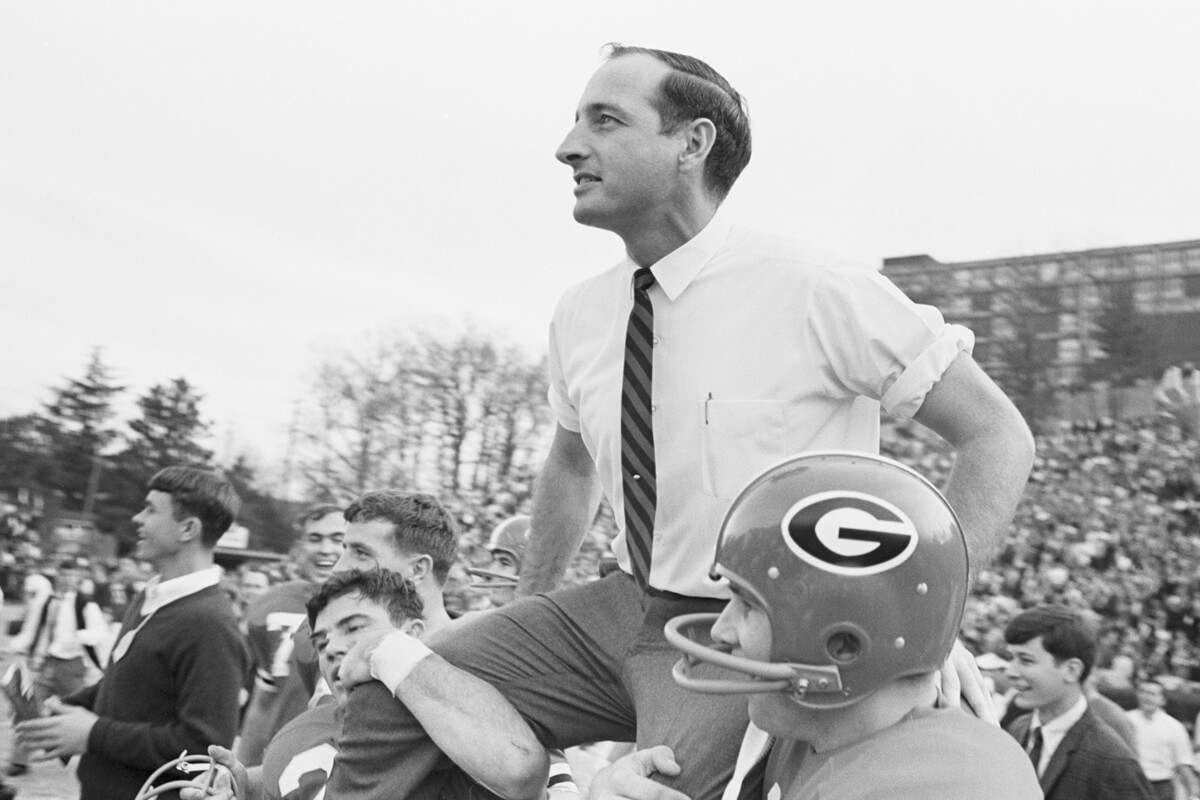 The depth of the enmity between Georgia and Georgia Tech can often be found in the unique ways the teams and their fanbases antagonize one another. Here are a just a few of the ways this disdain has been expressed.
During World War I, UGA, like many schools, lost a majority of their able-bodied male students to military service, forcing them to suspend their football program. Georgia Tech, however, was a military training ground, so, with no lack of athletes, they carried on playing football during the war. When Georgia revived football in 1919, the students held a parade to celebrate, and a pair of floats created a scandal: one was shaped like a tank, with a banner that read, "UGA in Argonne;" the other was a donkey dressed in yellow with a banner that read, "Tech in Atlanta." Georgia Tech was furious and severed athletic ties with UGA, resulting in, among other things, no regular season play between the teams until 1925.
Georgia and Georgia Tech were among the 13 charter members of the Southeastern Conference at its creation in 1932, but in 1964, Tech exited the conference following a feud between GT coach Bobby Dodd and Alabama coach Bear Bryant over scholarships and student-athlete treatment. Eleven years later, Tech mounted a campaign to return to the SEC. This required a vote by conference members, and that vote failed. Legend has it that one school in particular marshaled the "no" votes that blocked Tech's re-entry. You get one guess as to who that was.
Legends of thievery abound on both sides of the rivalry. Tech fans claim that Dawg people are responsible for two incidents where their Ramblin' Wreck was stolen. Georgia fans say that Yellow Jackets have stolen the Chapel Bell before. And there's strong evidence to suspect that Georgia Tech students were behind the theft—and subsequent scavenger hunt to recover—the bulldog statue in front of Memorial Hall.
What Dooley started, Richt perfected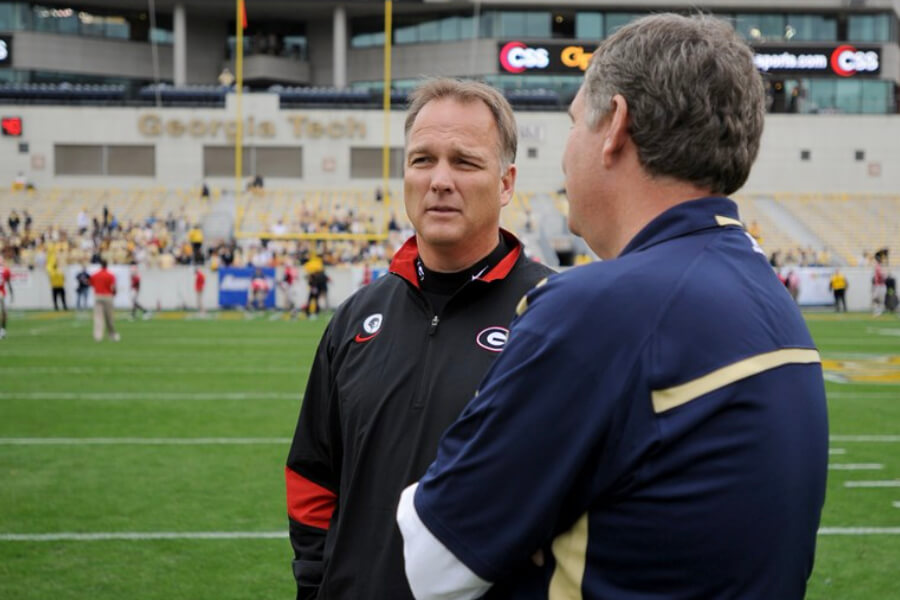 From 1893 to 1963, the series was fairly level: 27 Tech wins, 26 Georgia wins and five ties. However, the Yellow Jackets owned the mid-century era thanks in part to their hall-of-fame head coach Bobby Dodd. From '43 to '63, Tech had 14 wins to Georgia's seven, which included an eight-game winning streak for GT that still stands as the longest win streak in the series.
But following the 1963 season, which saw the Bulldogs go 4-5-1 with losses to Alabama, Florida, Auburn and Georgia Tech, UGA made a change at head coach, releasing Johnny Griffith and hiring Auburn assistant coach Vince Dooley. The turnaround was nearly instantaneous. After losing three in a row, the Bulldogs rattled off five consecutive wins over the Yellow Jackets. And Dooley's dominance wouldn't fade: he would build a 19-6 record against Tech over the course of his legendary career.
Even in the Ray Goff and Jim Donnan eras, Georgia held an advantage in the rivalry, winning seven of the 12 games played. Still, Tech won a national championship in 1990—Goff's second year—and Tech won three consecutive games in Donnan's final years, perhaps leading some Yellow Jackets fans to think they had turned a corner.
Then Mark Richt came to Athens in 2001 and spent 15 years owning this rivalry in a way few coaches have ever owned a Division I football rivalry.
Richt's 86.67% winning percentage in the series (13-2) became not just the best among Georgia coaches, but the best of any coach who coached five or more UGA-GT games. In fact, if you look at the record of every coach who spent five or more years involved with the historic rivalries mentioned at the beginning of this article—Oklahoma-Texas, Michigan-Ohio State, and Alabama-Auburn—Richt's win percentage against Georgia Tech is eclipsed by only Ohio State's Jim Tressel, who went 9-1 against Michigan.
What had been a one-game lead for Tech in this series when Vince Dooley set up shop in Athens became a 25-game lead for the Dawgs by the time Mark Richt departed.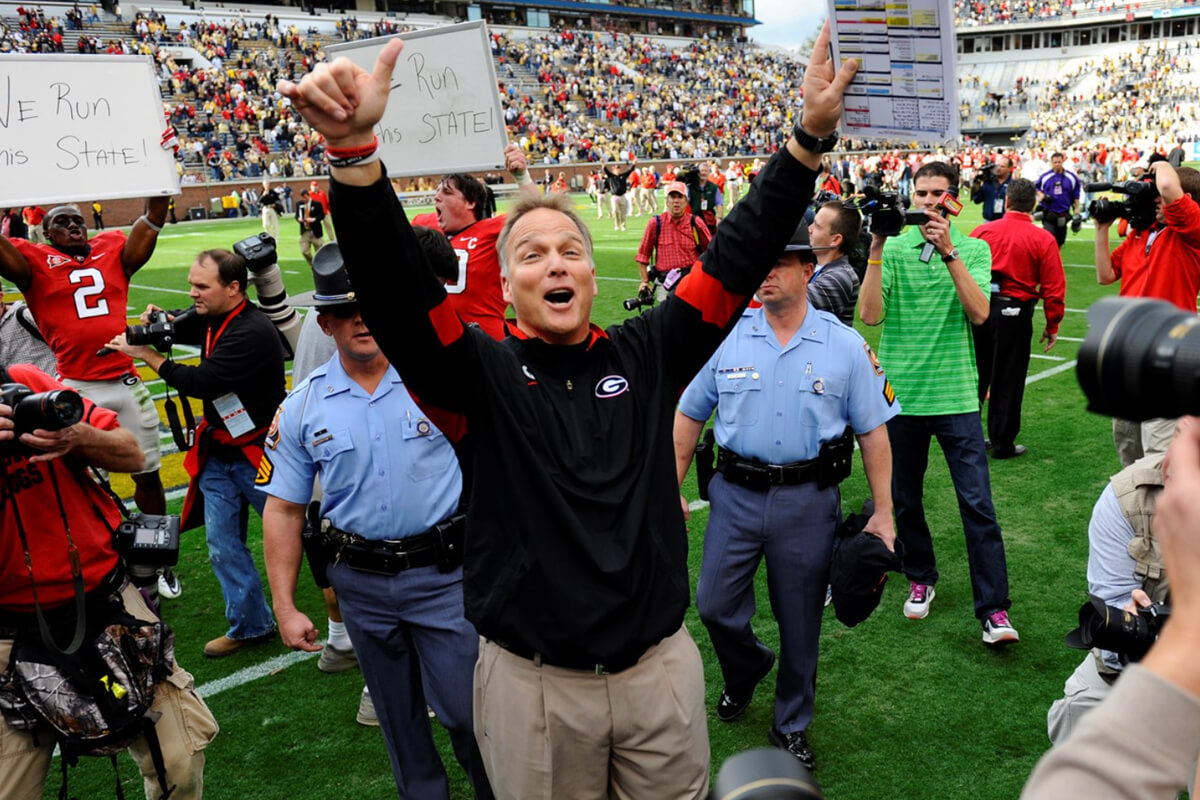 Kirby Smart has only strengthened UGA's stranglehold on this series by going 5-1 since his arrival, including five consecutive, dominant victories. And while Tech's fortunes haven't improved in the past few years and Georgia appears poised to grow their series lead for years to come, it remains vital that the Dawgs not take the Yellow Jackets likely. 
Why? Ask any Bulldog who was around in the '50s or who lived through Tech's national championship or who was in the stands for GT's 2008 win. Georgia Tech fans would love nothing more than to go 1-11 if that one win meant they could spend 365 days lording it over the Dawgs. 
Your one-stop shop for UGA football fandom is alumni.uga.edu/football! Check in every week for new football blogs and videos, information on UGA Alumni events, and more.
https://alumni.uga.edu/wp-content/uploads/FeatImg-2021-HotRGT-V1.jpg
423
1220
Clarke Schwabe
https://alumni.uga.edu/wp-content/uploads/uga-alumni-nba-1.png
Clarke Schwabe
2023-08-21 11:10:23
2023-09-06 12:48:53
History of the Rivalry: Georgia Tech