History of the Rivalry: Florida
The University of Georgia Bulldogs once kicked off from their own 8-yard line. This wasn't at a time when the rules of football were dramatically different, nor was it the result of player error. The Dawgs kicked off in the shadow of their own goal posts by choice.
It was so important that they thumb their nose at their opponent and break the rules of the game that they said, "Fine. Put the ball wherever."
What drives a team to this point? Winning at this level of college football requires scratching out every last tiny advantage, but UGA was willing to give up nearly 30 yards of field position in the first quarter of a game against a hated rival.
Why? It's a long answer, over a century old, but it's the reason the Georgia-Florida rivalry is one of the best in sports. And while there are dozens of moments one could point to, we'll isolate three pivotal snapshots in the series.
Our villain's origin story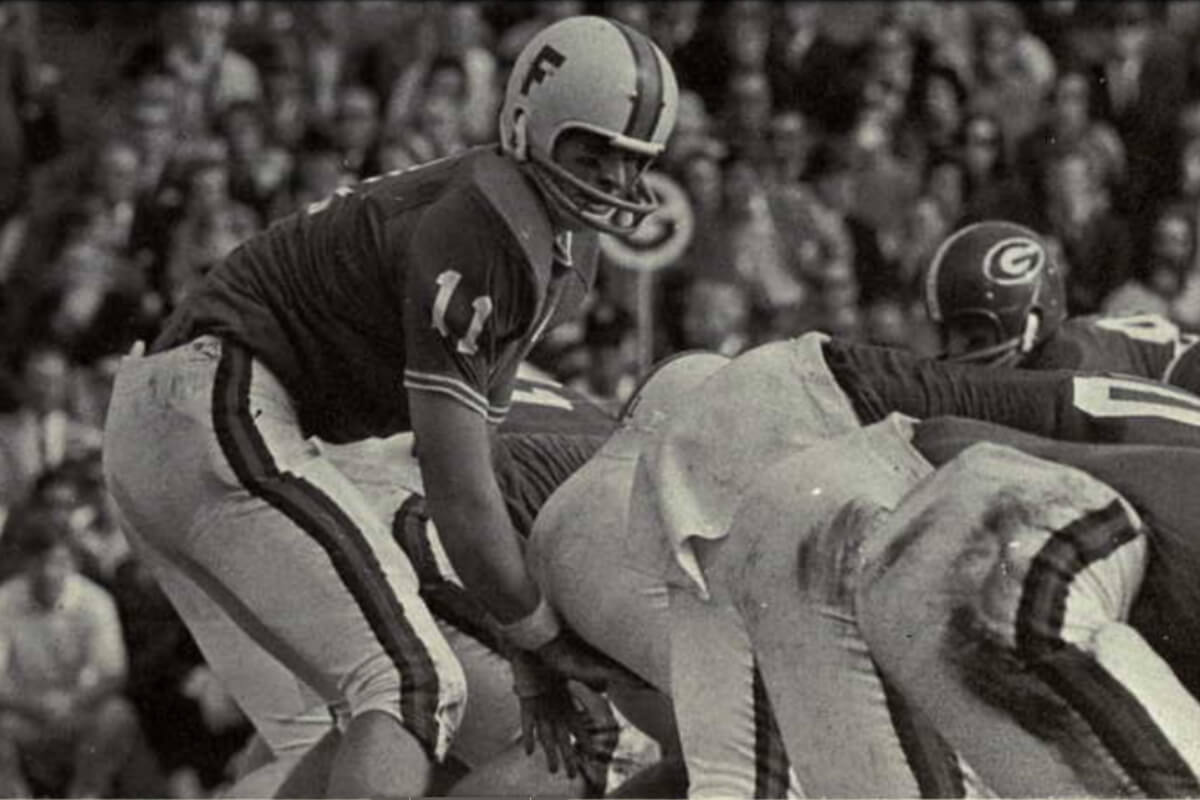 It's 4th and 8 for the Gators. Down 20-10 against the Bulldogs, they're on their own 25 with time running out. Stephen Spurrier is under center, the senior quarterback responsible for so many great Gator moments. Just last week, he had mounted a heroic, fourth-quarter drive against Auburn and kicked the game-winning field goal himself, practically cementing his place as the 1966 Heisman frontrunner.
The seventh-ranked Gators needed some of those heroics now, but Spurrier was having a bad day—multiple sacks and three interceptions—and he had always struggled in Jacksonville, having gone 1-1 against the Bulldogs, who were on the rise under third-year coach Vince Dooley.
Florida's first undefeated season, a shot at their first SEC Championship, and the pride of having conquered the hated Bulldogs all hung in the balance for Spurrier on this fourth down.
The ball is snapped, and almost immediately Georgia's pass rush is in his face. But Spurrier spots a receiver dashing for the first down marker. He finds his man two yards from a new set of downs and a sliver of hope. In an instant, three red shirts appear and topple Florida's hopes.
Just like that, it was over: no undefeated season, likely no SEC title, and a losing record for Spurrier in his playing career against the Bulldogs.
In a post-game interview, Spurrier said, "I've never had a good day in the Gator Bowl and I guess I never will. It's a jinx place for me."
The Bulldogs couldn't know it then, but embarrassing the hyper-competitive Spurrier here planted a seed. What grew out of it, nearly a quarter century later, would give the Gators everything they ever wanted and give the Bulldogs an archnemesis for the ages.
Reasons to destroy some property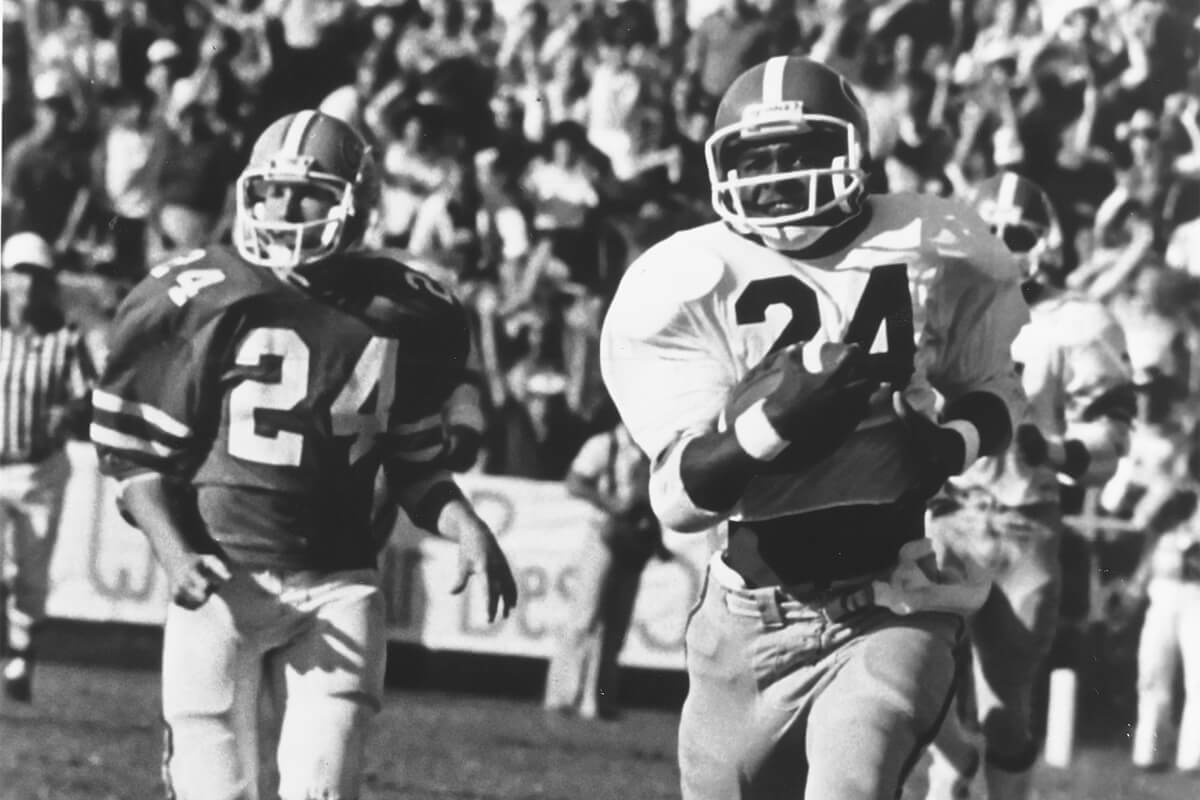 After Spurrier left Gainesville, the Dawgs took control of the series, going 16-6-1 from 1967 – 1989. The Gators were no pushovers during this stretch: Ten times in those 23 games, the Gators came to Jacksonville ranked, and only once did they walk away with a victory. This run included perhaps the most well-known moment of the Georgia-Florida series.
But in 1990, Florida called their Heisman winner home, and the impact was immediate: The Gators went from 7-5 in 1989 to 9-2 in 1990. Meanwhile, Georgia was in its second year under Ray Goff, who had been named head coach after Vince Dooley retired in 1988. In '89, Goff's Dawgs could only reach 6-6, but they did get a win over Florida.
That was Goff's last victory over the Gators. Spurrier and his Florida teams began their ascent, and Georgia—despite going 9-3 in '91 and 10-2 in '92—got swallowed in the Gators' wake. And in 1995, it all came to a head.
In the mid-90s, Jacksonville's stadium was being rebuilt to prepare for the Jacksonville Jaguars, so the Georgia-Florida game moved to each team's home stadium for the '94 and '95 seasons. The 1994 game was played in Gainesville, where the Gators romped, winning 52-14. In 1995, things didn't look much better. The Gators, back-to-back SEC champs, came to Athens with two wins over top-10 teams, while Georgia had not beaten a ranked team since January 1993.
So, on October 28, 1995, the Gators walked into Sanford Stadium for the first time in 63 years, and things played out exactly as you'd expect. Future Heisman-winner Danny Wuerffel threw 5 touchdowns before leaving the game in the third quarter. His backup would throw two more and bring the final score to 52-17.
It remains the record for points allowed by the Bulldogs at home. Legend has it that Spurrier stated after the game that he had wanted to "hang half a hundred" on Georgia because "we heard no one had ever done that before."
This account is disputed by Spurrier, but whether it's true or not, he exacted humiliating revenge on the Bulldogs that night, a highlight for his Florida coaching career, which ended in 2001 with 6 SEC titles, a national championship and an 11-1 record against Georgia.
"And here comes the entire team!"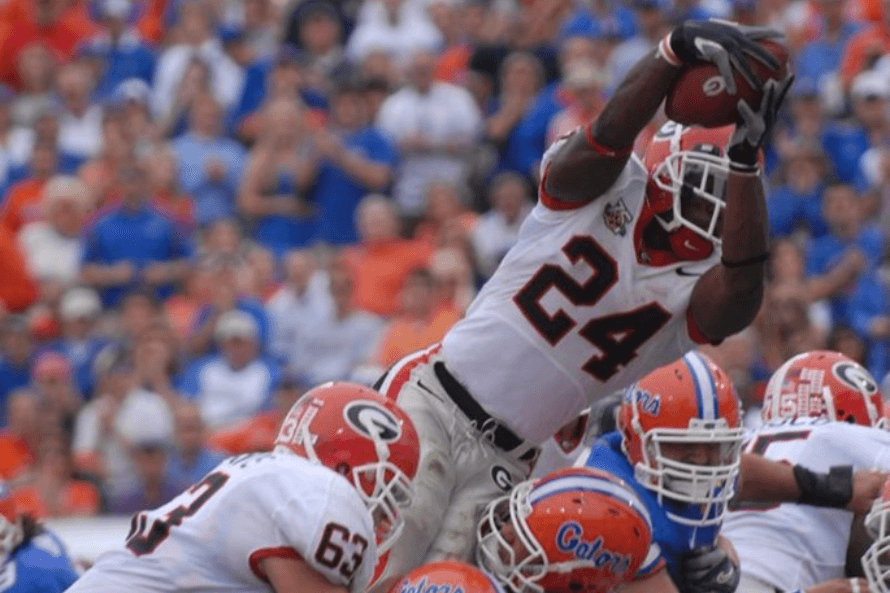 The 2001 season began with a new head coach for UGA, Mark Richt—formerly the offensive coordinator for some of Bobby Bowden's best Florida State teams—and it ended with Steve Spurrier's departure from Florida.
Richt would quickly re-establish UGA as a contender, winning the SEC in 2002 and 2005, but he could not find consistent success against the Gators. This was especially frustrating for Georgia fans who watched Ron Zook, Spurrier's successor, win no more than 8 games every year.
Things became even more frustrating when, after Richt's first win against Florida in 2004, the Gators fired Zook and hired Urban Meyer, who immediately returned UF to their Bulldog-beating ways and won a national title in year two.
This brings us back to the start of our story. By 2007, Richt had more SEC titles (2) than he had wins against Florida (1). And with a trip to Jacksonville to play the defending national champions looming, Richt and every other Bulldog on Earth was well aware that the Dawgs were 2-15 against Florida since 1990.
Richt knew the Dawgs needed something, anything, to shake off this bad juju and inject some swagger into their game if they hoped to compete with the Gator Goliath. In the week leading up to the game, he told his team: after our first touchdown, celebrate so much that you get a penalty.
So, when Knowshon Moreno leapt over a pile of bodies to score the first touchdown of the game midway through the first quarter, the entire offense celebrated in the end zone. Eleven Bulldogs quickly turned into 53 as the Georgia sideline migrated as one into the endzone.
Nearly every referee on the field hurled a yellow flag into the air as Georgia players jumped, screamed, danced, posed, chest-thumped and fist-pumped in the end zone.
It felt like a dam breaking. Decades of nerves, doom-saying and head-shaking all shaken off with one exuberant moment. The Gators answered back with a touchdown almost immediately, but it didn't matter: the "Gator Stomp" was such an unexpected, audacious and spirited action that the Gators flinched, and Georgia knew that was all they needed.
UGA won, 42-30, and the brazen celebration launched them to finish the season as the no. 3 team in the nation. Even when Florida won the next three matches, often by a great margin, the Gators knew Georgia could no longer be counted on to dutifully suffer through their Jacksonville trip on the way to a 9-3 record and a good-not-great bowl game.
Florida knew now that if you weren't careful, the Bulldogs would stomp you.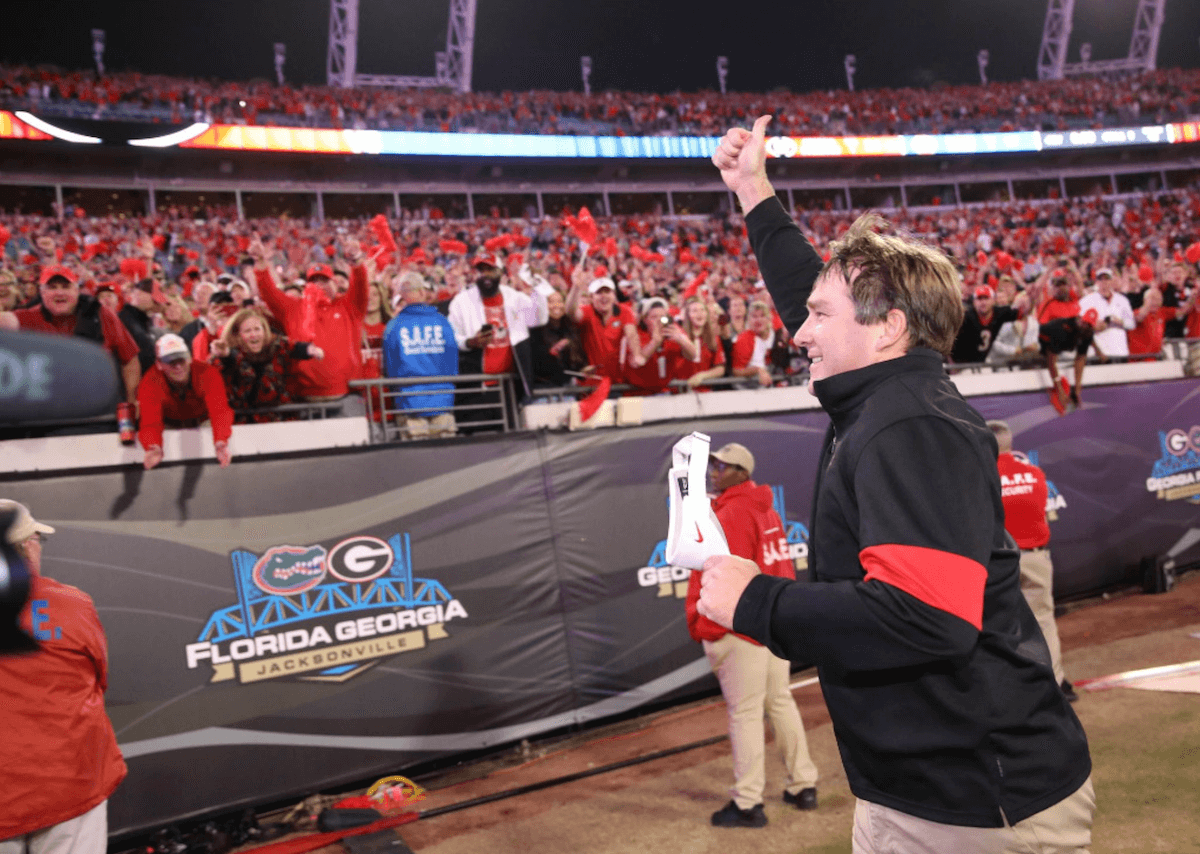 Since the Gator Stomp, the Georgia-Florida series has been close to even, with Georgia taking nine games to Florida's seven. However, since Kirby Smart's return to Athens in 2016, the Dawgs have taken seven games to the Gators' two. Georgia is at the height of its powers after back-to-back national championship titles, and Napier is working to rekindle hope in the hearts of Florida fans, so expect a classic Georgia-Florida contest: a charged battle between two well-acquainted foes with championship aspirations. 
One of whom wears jean shorts.
Your one-stop shop for UGA football fandom is alumni.uga.edu/football! Check in every week for new football blogs and videos, information on UGA Alumni events, and more.
https://alumni.uga.edu/wp-content/uploads/FeatImg-2021-HotRFlorida-V2.jpeg
423
1220
Clarke Schwabe
https://alumni.uga.edu/wp-content/uploads/uga-alumni-nba-1.png
Clarke Schwabe
2023-08-21 08:55:29
2023-09-06 12:49:08
History of the Rivalry: Florida