History of the Rivalry: Auburn
The history of the Deep South's Oldest Rivalry is brimming with incredible moments, stunning victories, and crushing losses, and this week you can make the difference against the Tigers. Join the Beat Week challenge at AUvUGA.com, and help the Dawgs win twice this weekend!
It's 1889 in Baltimore. Two Johns Hopkins University graduate students—one studying history, the other chemistry—go from class to class. The difference in their fields of study makes it unlikely that they will cross paths, which is ironic given that they are from neighboring states in the deep south. In all likelihood, they are unaware of one another, and they certainly don't know that in three years, they will launch a rivalry that will stretch across three centuries and regularly involve two of the best college football squads in the nation.
In 1889 Baltimore, history student George Petrie of Mongtomery, Alabama, and chemistry student Charles Herty of Milledgeville, Georgia, had no idea they would soon create the Deep South's Oldest Rivalry.
The birth of the rivalry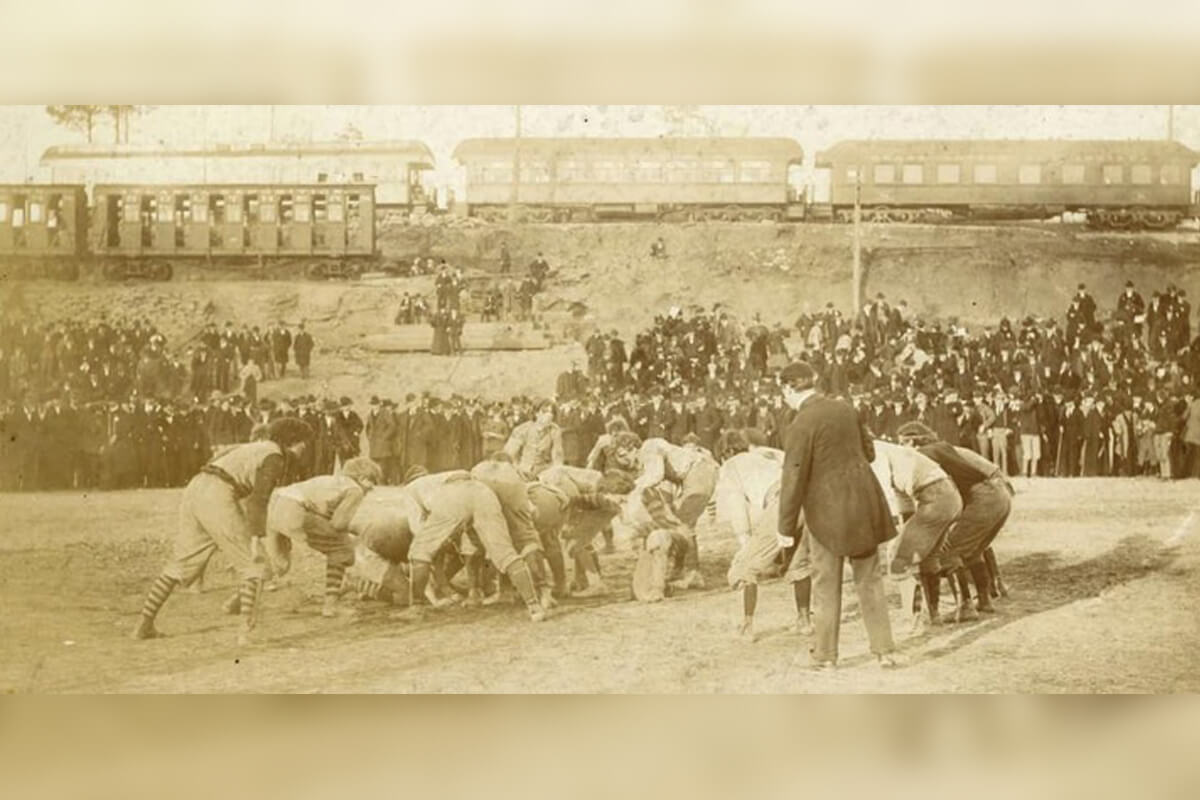 After graduating from Johns Hopkins, both Herty and Petrie returned to their home states in 1891 as university faculty and started building collegiate football squads—Petrie at Auburn, Herty at UGA. In 1892, both Georgia and Auburn fielded their first football teams. Georgia was the first to play a game, thrashing Mercer University's team 50-0.
At that time, it was difficult to find people in the South who knew the rules of this largely Northern game well enough to officiate it. John Kimball, an Auburn graduate in Athens who followed the fledgling UGA team, asked Petrie, the Auburn coach, to come "umpire" the UGA-Mercer game (Petrie would send one of his players to officiate the game) and Petrie asked Kimball to extend an offer to Herty: to have Georgia and Auburn play in Piedmont Park in Atlanta as part of a three-day weekend celebrating George Washington's birthday.
Herty accepted, and on Feb. 20, 1892, in front of a crowd of several thousand—each having paid 50 cents a ticket—Auburn played its first-ever football game, Georgia played its second, Auburn won 10-0, and the Deep South's Oldest Rivalry was born.
"It's like playing against your brother"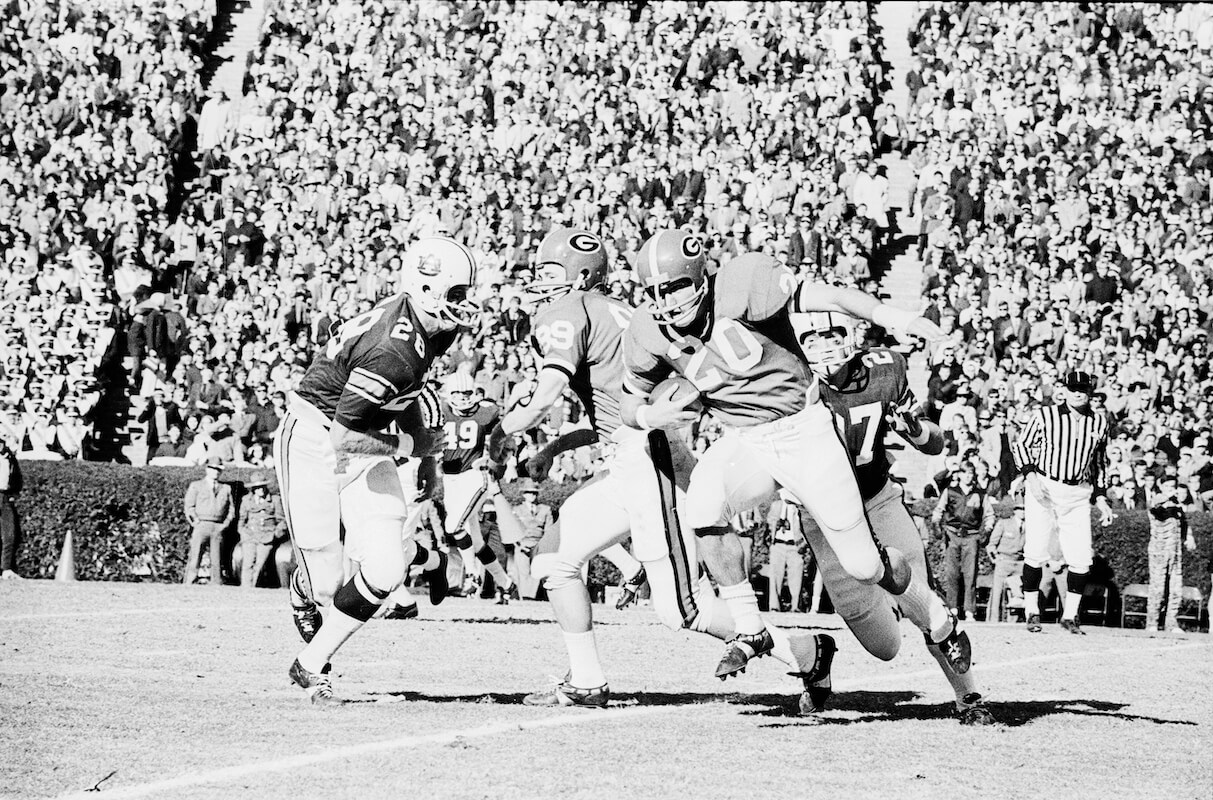 Time was running out for the Bulldogs. Down 13-7 against eighth-ranked Auburn, Wally Butts' 1959 Bulldogs team could see their last hopes of an SEC championship fading as Auburn drove to run out the clock. But when Auburn QB Bryant Harvard put the ball on the ground, it found its way into the hands of UGA lineman Pat Dye. A few plays later, as time expired, the Bulldogs jumped ahead 14-13. A few games later, Georgia claimed the '59 SEC Championship and won the Orange Bowl against Missouri. A few decades later, Dye became Auburn's head coach.
As if that weren't enough, Shug Jordan, the Auburn coach in the 1959 game—who would go on to become the Jordan in Auburn's Jordan-Hare Stadium—had previously been an assistant football coach and head basketball coach at UGA.
Oh, and one of Jordan's graduate assistants on the sidelines for that 1959 game? Vince Dooley.
A hallmark of this rivalry is the interconnection of the schools. Even beyond Dooley, Dye and Jordan, a great many players and coaches on one side started or ended up on the other side.
Hugh Nall – played at Georgia 1976-1980, coached at Auburn 1999-2008
Neil Callaway – coached at Auburn 1981-1992, coached at UGA 2001-2006
Stacy Searels – played at Auburn 1984-1987, coached at UGA 2007-2010 and 2022
Rodney Garner – played at Auburn 1985-1988, coached at UGA 1998-2012, coached at Auburn 2013-2020
Will Muschamp – played at UGA 1991-1994, coached at Auburn 2006-2007, 2015, coached at UGA 2021-2022
Mike Bobo – played at UGA 1993-1997, coached at UGA 2001-2014, coached at Auburn 2021
Tracy Rocker – played at Auburn 1986-1989, coached at Auburn 2009-2010, coached at UGA 2014-2016
Firehoses, blackouts and revenge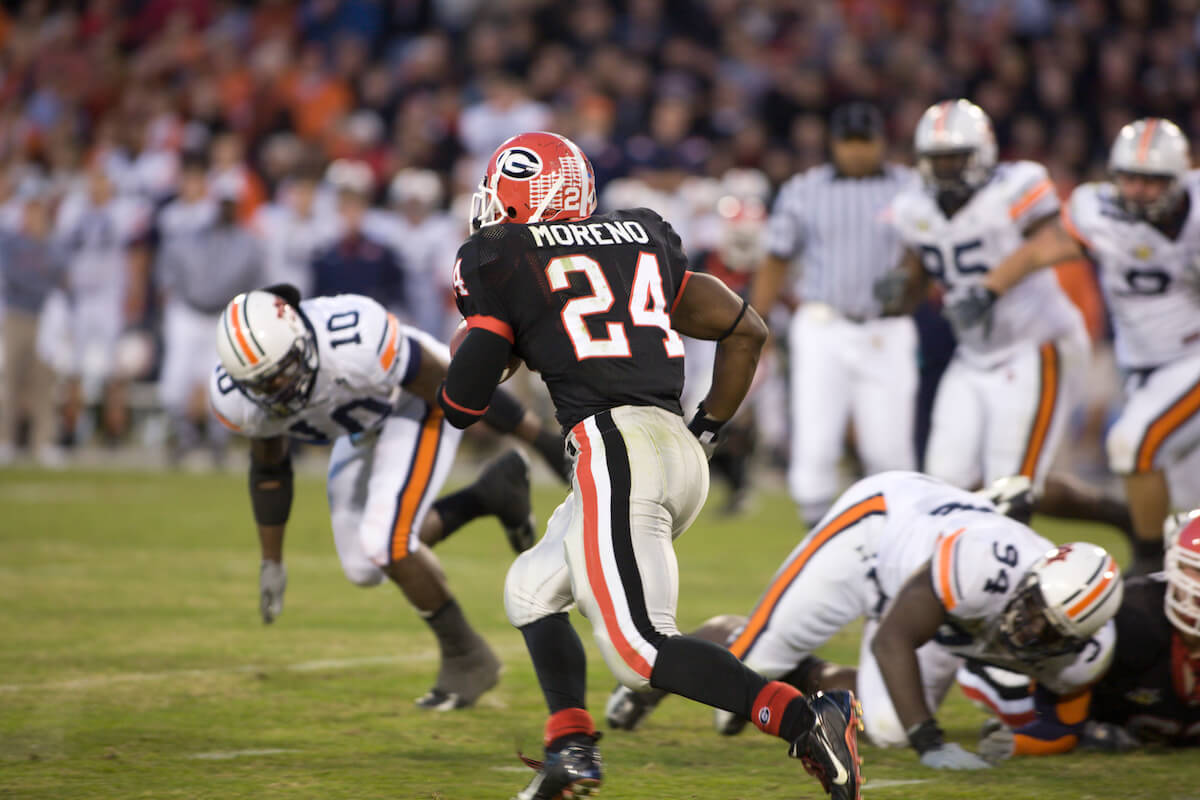 The familiarity and ferocity of these two teams would be enough to create a litany of unforgettable contests, but add to that each school's football pedigree and their fanbases' demand for a high caliber football program, and you get unforgettable moments with championship consequences.
It would be nearly impossible to sum up all the memorable moments from the Deep South's Oldest Rivalry in the space of this blog. If you have some time, it's worth it to scan the Wikipedia entry for the rivalry, just to see all the incredible moments that define Georgia-Auburn. Here are a few of our favorites.
The 1986 Bulldogs walked into Jordan-Hare Stadium as three-touchdown underdogs, coming off a 31-19 loss to the Gators the week before. They were without their starting QB, who was a late scratch due to a death in his family. Despite all this, Georgia fought their way to a 20-16 win over the no. 8 Tigers, and in the post-game hysteria, UGA fans stormed the field. The stadium's sprinkler system and fire hoses were turned on these fans, but amid the chaos, the hoses were turned on fans (and the Redcoats) celebrating in the stands. Auburn issued an official apology for the response afterwards.
Following losses to South Carolina and Tennessee, the 2007 Georgia squad nearly tumbled out of the top-25. A close win over Vanderbilt, a raucous upset of Florida and a surprising shootout victory over Troy gave the Bulldogs a swagger they had lacked earlier in the year, which they would carry into the Auburn game. Rumors began to swirl the week of the game that UGA might wear black jerseys, something they had not done since the '40s. The team wore their standard home reds for warm-ups, but when the team returned to the field for the game, they burst through the Super G banner clad in black. The stadium erupted, and the game was decided at that point: Georgia dominated from the opening whistle, winning 45-20 on their way to an overpowering performance against Hawaii in the Sugar Bowl and a no. 3 finish in the polls.
Much like Richt's second year, Kirby's second year was a charmed run. The Bulldogs were 9-0 headed into the Auburn game and ranked no. 1 in the College Football Playoff Poll. The offense was potent and the defense was stifling, but 10th ranked Auburn had an answer for both: The Tigers crushed the Dawgs 40-17 at Jordan-Hare. However, both Georgia and Auburn would finish conference play at the top of their respective divisions, meaning the SEC Championship would be a rematch—one that would be an almost complete inverse of the previous game. Auburn scored first, but they would not score again. UGA scored 28 unanswered points and left Atlanta with the Dawgs' first SEC title in 12 years, a ticket to their first Rose Bowl in 75 years and, eventually, a spot in the national title game.
There's a certain level of chaos one can always expect in any Auburn game, doubly so in a Georgia-Auburn game. Yes, Georgia won a second consecutive national championship last year, and yes, Auburn's still adjusting to new head coach Hugh Freeze. But it's the Deep South's Oldest Rivalry, so as usual, it's anybody's game. 
Your one-stop shop for UGA football fandom is alumni.uga.edu/football! Check in every week for new football blogs and videos, information on UGA Alumni events, and more.
https://alumni.uga.edu/wp-content/uploads/FeatImg-2021-HotRAuburn-V2.jpeg
423
1220
Clarke Schwabe
https://alumni.uga.edu/wp-content/uploads/uga-alumni-nba-1.png
Clarke Schwabe
2023-08-21 08:46:23
2023-09-26 12:54:20
History of the Rivalry: Auburn