Congratulations, 2019 40 Under 40!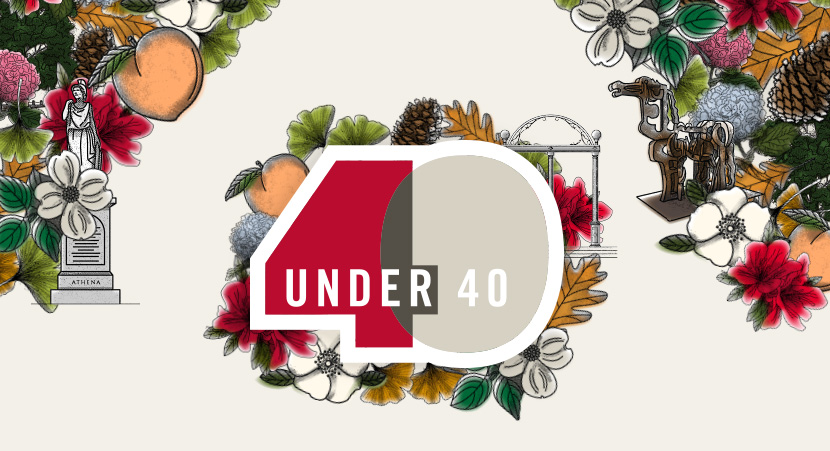 We're proud to announce the 40 Under 40 Class of 2019 today! This program, in its ninth year, celebrates the achievements of successful UGA graduates under the age of 40–a set of alumni who are leading the pack in their industries and communities. These young leaders will be recognized during the ninth annual 40 Under 40 Awards Luncheon Sept. 13 in the Tate Student Center on campus. If you're interested, please join us for this special event.
Each Honoree Stands Out
The 2019 class includes a few names you might recognize:
Allison R. Schmitt, a gold medal-winning Olympic swimmer
Malcolm Mitchell, Super Bowl champion and children's author
Will Carr, a correspondent for ABC News on a national level
But even if you don't know the names of everyone on the list, you'll still be impressed at the caliber of these graduates working in everything from law and politics, to health care, nonprofit and food and beverage. For example, Tim Fleming is Georgia Gov. Brian Kemp's chief of staff and Catherine Marti is a cardiologist at Piedmont Heart Institute focused on heart failure and transplant cardiology.
"We are excited to unveil this year's class of 40 Under 40 and welcome them back home to Athens for the awards luncheon in September," said Meredith Gurley Johnson, executive director of alumni relations. "I am always amazed by the excellence of our young alumni. These outstanding individuals exemplify leadership in their industries and communities."
The Competition
Talk about a competitive selection process: nominations for 40 Under 40 were open from February to April, and more than 400 alumni were nominated for this year's class. Honorees, of course, must have attended UGA and they have to uphold the Pillars of the Arch: wisdom, justice and moderation. Additional criteria are available on the 40 Under 40 webpage.
"The achievements of our nominated alumni each year make it hard to narrow down the list to just 40 honorees, and this year was no exception," said Johnson. "We are proud of all of these outstanding young graduates. Their drive and focus inspires the UGA community."
Ok, Ok, Show Me the List!
This year's 40 Under 40 honorees, including their city, title and employer, are listed below in alphabetical order:
The Event
As we said earlier, if you're interested in attending the 2019 40 Under 40 Awards Luncheon in Athens on Friday, September 13, please register today! *If you're an honoree, please use the registration link provided to you by the Alumni Relations team.
https://alumni.uga.edu/wp-content/uploads/40under40-2019-blogfeatureimg.jpg
400
495
Danielle Bezila
https://alumni.uga.edu/wp-content/uploads/uga-alumni-nba-1.png
Danielle Bezila
2019-06-27 12:09:36
2019-06-27 12:09:36
Congratulations, 2019 40 Under 40!