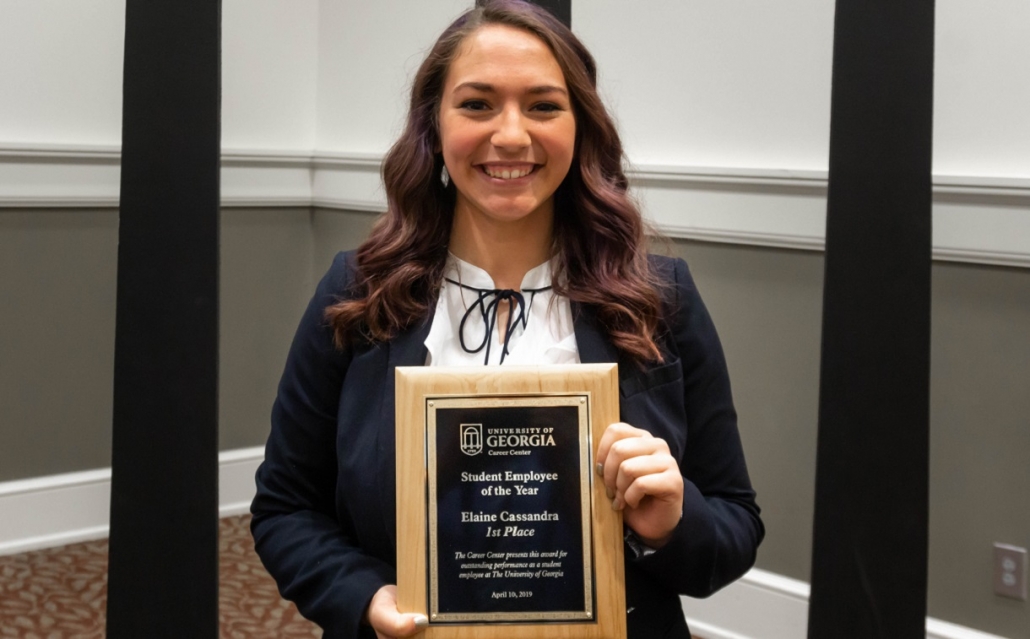 Since Elaine Cassandra (BSA '19) was in middle school, she knew she wanted to be a veterinarian, but her love for animals started long before that.
This past year, Cassandra was a senior studying animal health and working at the University of Georgia's Small Animal Rehabilitation Service as a student worker. On April 10, she was thrilled to learn that she had been named the 2019 Student Employee of the Year during a luncheon hosted by the UGA Career Center. Her supervisor, Jodi Seidel, was pleased to nominate Cassandra for this honor.
Seidel, the Small Animal Rehabilitation supervisor, said Cassandra was "confident and proved early on that she was a fast learner. Being able to trust in Elaine's abilities has taken some stress off my day-to-day routine and allowed us to treat even more patients."
Cassandra has helped increase the number of patients seen to 12 in one day. Her most notable work, though, has been the transformational physical therapy that allows animals to reclaim their strength, agility and improve their overall quality of life.
Faculty and clients also shared stories in Seidel's nomination letter, noting Cassandra's ability to demonstrate compassion and patience even with the highest-needs patients (like a vizsla named Gunner who suffered from osteoarthritis in multiple joints and a neuropathy). Gunner's owner, Cheryl, shared an example of Cassandra's patience.
"On her first night of dog sitting, I came home to find Elaine on the kitchen floor next to Gunner's dog bed (studying for a class, no less!)," she said. "That's what it took to keep him calm and settled, and she didn't think twice about having to do such."
Cassandra said she was just doing what came naturally to her at work. She said working with the animals is the best feeling in the world.
Cassandra will continue to pursue a career caring for animals when she enrolls as a graduate student in UGA's College of Veterinary Medicine this fall.
The University of Georgia employs more than 5,000 student employees. Each spring, the UGA Career Center celebrates those students' contributions to labs, offices and programs across campus.
The Student Employee of the Year Awards Luncheon, co-sponsored by the Division of Student Affairs, brought together 100 of the top student employees, based on nominations by their supervisors.
https://alumni.uga.edu/wp-content/uploads/Elaine-Cassandra.jpg
757
1220
Laura Bayne
https://alumni.uga.edu/wp-content/uploads/uga-alumni-nba-1.png
Laura Bayne
2019-05-31 10:59:14
2019-07-02 12:01:05
Career Center honors 2019 Student Employee of Year