An Interview with 'Most Engaged' Kim Metcalf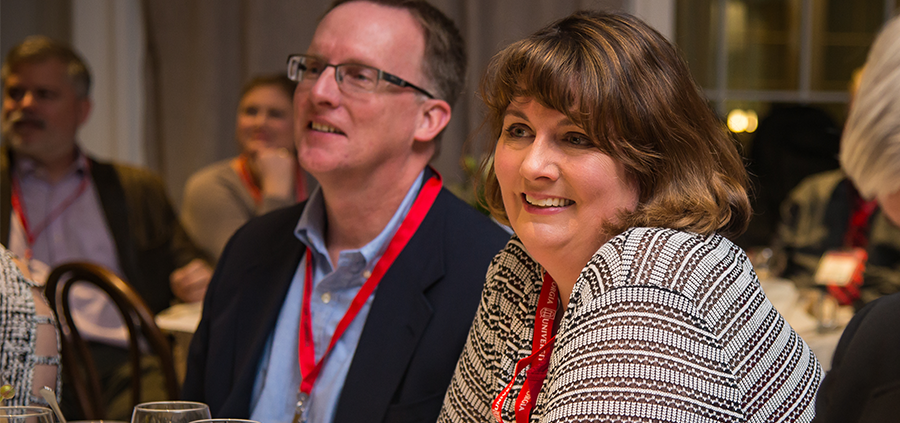 Kim Metcalf's (BSEH '93, MS '96) reputation preceded her. I'd recently witnessed her receive the title of Most Engaged, an award created just for her, during an Alumni Association Board of Directors meeting. UGA Development and Alumni Relations staff members had described her as outstanding, awesome, incredible and every other raving adjective. Well … she exceeded every accolade.
Beginning her UGA involvement
Kim joined the environmental health science club during her second year of college, then represented the College of Agricultural and Environmental Sciences on the University Council. Kim helped found Epsilon Nu Eta, the Environmental Health Science Honor Society. Her favorite extracurricular activity, though, was Arch Society, a student organization that serves as official hosts and goodwill ambassadors on behalf of the university. As a charter member, she still feels immense loyalty and connection to UGA because of it.
Mentee to mentor
Kim graduated with a Bachelor of Science in environmental health in 1993. "I always stayed in touch with my professors," Kim mentioned. In fact, she had the opportunity to earn her master's degree because of Phillip Williams, her professor and mentor who later became the founding dean of the UGA College of Public Health. He asked her to be the "guinea pig" for a new academic program. In 1996, UGA awarded her its first ever Master of Science in environmental health. Williams also opened doors to help launch her career. In describing their friendship, Kim said, "He came to my wedding. He's always been a constant in my life."
Since graduation, Kim has found herself on the other side of many mentorships with UGA students. "Sometimes kids just need someone to be there," she said, "It's not always about career paths and internships. Sometimes they just got dumped and need a new perspective! I love being a port in the storm for kids."
One of her mentees is now considered a "bonus brother" to her four children. They met during an alumni luncheon and she discovered his family had recently moved away. "I gave him my card and told him to call me for a home-cooked meal. Now he's like my fifth child."
I'd guess most of Kim's mentees feel like part of her family.
"Me" time
Kim runs her own environmental consulting business, Riverbend Environmental, a four-time Bulldog 100 honoree. It's safe to say she doesn't have a ton of free time and yet she spends it volunteering; she considers it her "me" time. She speaks to UGA classes regularly and she has served as vice president for the Athens Alumni Chapter for several years. At the time I spoke with her, Kim was planning an Arch Society reunion, too.
Perhaps one of Kim's greatest volunteer roles at UGA has been with the UGA Alumni Association Board of Directors. She was a member in the early 2000s for four years, and then came back to serve again in 2015. When we met, she had just finished her second two-year term. Being on the alumni board is prestigious and time-consuming – serving twice speaks volumes about Kim's commitment to her alma mater.
Predictably, Kim has said the most rewarding experience during those terms has been working with the other board members. "They are all selected for a particular reason and they all bring unique leadership perspectives. It's given me the opportunity to form foundations of friendship that will last forever," she said.
When asked to describe the work they're doing, Kim said, "We are a working board that is actually making a difference. We are 'friend-raising', guiding decisions, bringing people in, reengaging them and networking." UGA will only continue to improve with exceptional board members who are dedicated and excited–people like Kim.
A love for people
Kim's passion for UGA cannot be overstated. Her fourth child was baptized at the Chapel on campus. While planning an Athens visit from Atlanta when her first child was just a few months old, the hotel asked if her reservation was for a prospective student. She answered without hesitation, "Absolutely!" But Kim's consistent involvement is cultivated by a deeper love for connecting with others.
"People always say everyone has a talent," she told me. "I just love people. I love helping people."
Meeting Kim was delightful. She lived up to her reputation of being truly outstanding, awesome, incredible and more. Her commitment to the University of Georgia is impressive and I'm sure anyone she's met would agree!
One might say she's a #DGD.
https://alumni.uga.edu/wp-content/uploads/Kim-Metcalf-featured-blog-image.png
423
900
Katy Clements
https://alumni.uga.edu/wp-content/uploads/uga-alumni-nba-1.png
Katy Clements
2019-05-24 15:26:13
2019-07-02 12:02:18
An Interview with 'Most Engaged' Kim Metcalf