Condor Chocolates: Local Bulldog 100 Company
Condor Chocolates' reputation is growing every day with every shipment. The company is the brainchild of Peter Dale (ABJ '99) and Nicholas Dale (BSA '04). Walking into its 1,100-square-foot storefront location in Five Points, you can smell the quality of the chocolate before even trying it. The first bean-to-bar chocolate producer based in Athens, the establishment is truly a labor of love.
"The story began on a bus in Ecuador. Our dad was backpacking and met our Mom, a local. Sparks flew. On their honeymoon, the newlyweds packed up a green VW bus and moved to Athens, Georgia."
The quote leads Condor Chocolates' story page and goes onto explain that through returning to Ecuador to visit family during their childhood summers the brothers were exposed to delicious food and, most importantly, to chocolate. Peter says his first memory of chocolate was actually that of La Universal, an Ecuadorian brand of chocolate he used to enjoy as a child. He likens the taste to Condor Chocolates' bars now.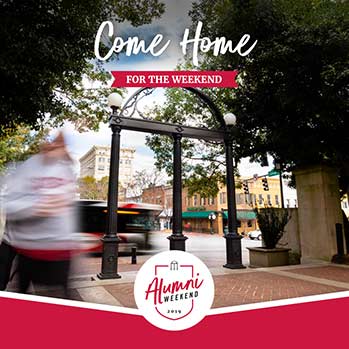 Condor Chocolates' process of producing bean-to-bar chocolate is extremely labor intensive since the cacao beans are sun-dried in Ecuador and then shipped to Athens to be transformed into chocolate bars, truffles, and sipping chocolate. The Dales have capitalized on access to college students and have hired several who come to their factory, a location they expanded to due to demand, at various times to sort the cacao and prepare the beans for roasting.
Labor doesn't stop with hand-sorting. It is followed by roasting, grinding and tempering – you can read about the whole process and look at illustrations. But what's not pictured are the artistic touches on their truffles, which are known for their beauty as much as their amazing flavors. The designs have been created by several of Condor Chocolates' employees who started hand-painting each truffle.
Starting food ventures is not new to Peter who has started several others– including the award-winning restaurant The National with chef Hugh Acheson. The most difficult part of the chocolate business? Selling the products wholesale. In Athens, Peter is known for his restaurant work, but wholesale brings him into contact "with clients or potential clients who may not know anything about us," he says. The most rewarding part of wholesale is that "it is an Athens experience that can go elsewhere. People know Athens, which gives us a leg up."
The question on everyone's mind is: what is the current favorite truffle flavor for Peter and Nick?
Peter: Caramel truffle, which has a liquid caramel center. I also love the passion fruit, which is a seasonal flavor and strong flavor. It has a jam center that is an actual layer of jam.
Nicholas: My favorite is the smoked sea salt chocolate- we use a sea salt from Charleston called Bulls Bay.
Want to order your own taste of Athens and Condor Chocolates? Shop their online store or stop by their café if you're in town for Alumni Weekend. Check out the other alumni-owned or operated businesses who are leading the way on the 2019 Bulldog 100 list.
https://alumni.uga.edu/wp-content/uploads/Dales-feature.jpg
580
720
Laura Bayne
https://alumni.uga.edu/wp-content/uploads/uga-alumni-nba-1.png
Laura Bayne
2019-01-15 09:06:05
2019-07-02 13:06:52
Condor Chocolates: Local Bulldog 100 Company