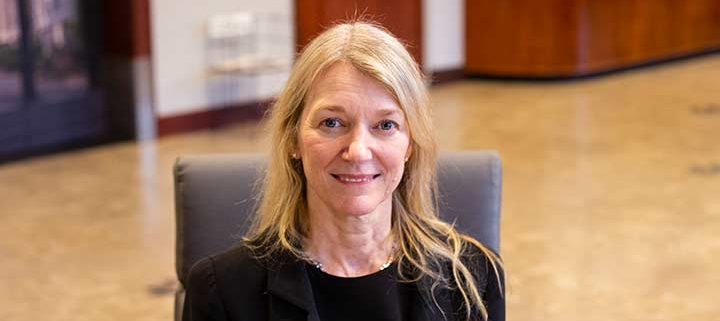 Science for the benefit of humanity: Dr. Cori Bargmann
When Dr. Cori Bargmann (BS '81) graduated from the University of Georgia in 1981 with a degree in biochemistry, she had no idea she would one day lead a $3 billion initiative dedicated to eradicating disease by 2100. Dr. Bargmann explained she was a typical freshman in Mell Hall who lived off Ritz Crackers and Oreos, but she began to get hands-on lab experience thanks to her favorite professor, Dr. Sidney Kushner. A genetics professor, Kushner was also Bargmann's undergraduate advisor, who "paid me to work in the lab even though I mostly broke things."
Bargmann is currently the Torsten N. Wiesel Professor at The Rockefeller University in genetics and neurosciences. She studies animal neurology, specifically that of round worms, as it relates to genetics and environment. In 2016 she became the Head of Science for the Chan Zuckerberg Initiative (CZI), an initiative co-founded by Facebook founder Mark Zuckerberg and his wife Priscilla Chan, a pediatrician and teacher. The mission of the initiative is to build a better future for everyone, which in Bargmann's words, means to "find new ways to leverage technology, community-drive(n) solutions, and collaboration to accelerate progress in Science, Education, and within our Justice & Opportunity work."
Bargmann's favorite UGA memory is gathering with her friends every Saturday night at IHop on Baxter Street to rehash the week. Her friends and she followed that ritual regardless of other social plans. Ultimately, her college friends became like family. She says the No. 1 thing she learned from UGA was how many different subjects people are passionate about and how they all bring different backgrounds and experiences to the table.
Bargmann doesn't claim to be an early riser or a night owl, rather responding with "what is this thing called sleep?" Which makes sense with the list of problems facing her. She says this generation has a lot of challenges, from solving disease to making education more accessible to removing barrier to success, and she agrees with Zuckerberg that these goals need to be ambitious. The Chan Zuckerberg Initiative was started in 2015, and Bargmann is excited because it is "starting something brand new" where they are "solving today's challenges today."
The UGA grad's proudest achievement isn't a research discovery or one of the awards she has received. She is most proud of her graduate students who have gone on to do great things. She says "they were great to start with, but I didn't stand in their way." Seeing them succeed gives her work meaning.
Her work will gain even more meaning as she continues to pursue solutions to some of society's great challenges through the CZI. But, of course, we all want to know: what was it like meeting Priscilla Chan and Mark Zuckerberg? She was impressed by how young they were–just like her graduate students–and how committed they are to giving back. Bargmann says that like Chan and Zuckerberg, she wants to give back, and her hope is that her research is more than scientific discovery, she wants it to be "science for the benefit of humanity."
https://alumni.uga.edu/wp-content/uploads/BargmannFeature.jpg
580
720
Laura Bayne
https://alumni.uga.edu/wp-content/uploads/uga-alumni-nba-1.png
Laura Bayne
2018-12-20 09:58:45
2019-07-02 13:10:10
Science for the benefit of humanity: Dr. Cori Bargmann