Interview with Morgan Lee (ABJ '01), Chapter President of Hall County Chapter
Ever wonder who helps organize alumni events in your town? That's one of the many jobs a chapter president juggles. Emily Middleton '18, digital communications intern, recently interviewed Morgan Lee, a 2001 Grady College of Journalism and Mass Communication graduate and president of the Hall County Chapter.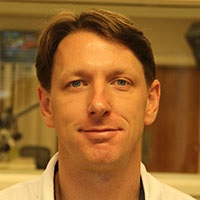 What did you study at UGA and what do you do now?
I studied journalism and graduated from Grady in 2011. I am currently the sports editor for Jacobs Media's web publication, AccessWDUN.com
What made you want to become a chapter leader?
I am a second generation University of Georgia graduate and while I only lived in Athens for a relatively short period, I feel like the town and the university have always been a crucial piece of my life. I wanted to do what I could to help promote and bring a positive light to the university here in my hometown in the hopes that maybe I could bring a little bit of what Georgia has brought to me to the Hall County area.
Why do you feel like it is important to stay connected to your alma mater after graduation?
For so many people, the time spent at a university or college is pivotal — not only because of the ideas and new experiences to which they may be exposed but because of the age in which it happens. And I believe that by staying connected to your alma mater it will help remind you of that learning experience and keep you open-minded about future learning experiences. Plus, I feel that it is important to give back, if at all possible, to the people and places that have helped mold you as a person.
How do you create a sense of unity inside your chapter with other UGA alumni in your city?
We are constantly working on improving that very thing and have begun to work on increasing our chapter gatherings and awareness within the community. Our chapter was re-invigorated fairly recently by our most recent president, Ron Fritchley (MED '72), and we are starting to fully establish ourselves as a presence in Hall County. The main reason we have been able to do so is via increased communication and maintaining a modicum of informality. Certainly there are times to be officious, but the best way to keep people engaged is by keeping it fun.
What is your favorite event your chapter has planned?
How could it not be the Bulldog Caravan stop that we hosted in 2014? President Jere Morehead (JD '80), former football coach Mark Richt and a number of others were both impressed and, I believe, a little surprised by the impressive turnout of area Bulldog fans and alumni, who crowded in to the Gainesville Civic Center to listen to their discussions. I actually covered the event for work and was able to take it all in from an overview perspective — which, while not as fun as being there as a fan/booster, was in fact more eye-opening.
What is your favorite UGA memory as a student?
There are so many it's hard to pick — My proudest moment, without a doubt, is surviving former Grady professor/legend Conrad Fink. He could cut to the quick, but if you could handle it, it was beyond educational. As far as fun, it would be hard to beat finally defeating Florida in football in 1997 — and watching Steve Spurrier suffer through it.
If there is one piece of advice you could give to a current student, what would it be?
Get involved now. Don't think that life is something that happens once you graduate. Your time at the university — and certainly after graduation — will be so much more enhanced by doing new things and meeting new people. Whether it's an intramural team, club, Greek life, student judiciary, working for the Red and Black or just talking to the folks next to you in class… Athens offers so much to do, and while it's great to find your niche, challenge yourself and occasionally get outside of your comfort zone — as long as you can balance it all with your studies.
https://alumni.uga.edu/wp-content/uploads/uga-alumni-nba-1.png
0
0
Emily Middleton
https://alumni.uga.edu/wp-content/uploads/uga-alumni-nba-1.png
Emily Middleton
2016-09-14 09:00:55
2017-06-16 15:56:08
Interview with Morgan Lee (ABJ '01), Chapter President of Hall County Chapter