To get you ready for the Attack The Day 5K, we reached out to a few of our food-industry alumni and collected an assortment of tasty recipes that will keep you fueled up for June 20!
Peter Dale
ABJ '99
Company: The National, Seabear Oyster Bar, Condor Chocolates, Maepole
I am a born and raised Athenian, and got into the food business because I love to eat and can't sit still at a desk. Each business is a collaboration between myself and friends or family and addresses something we felt was missing in the Athens dining scene.
The newest restaurant is Maepole which offers fresh and healthy food in a fast and convenient format. Maepole is a response to needing a nutritious meal when I'm having a busy day and can't cook for myself.
Grilled Summer Squash Salad
Serves 4
While I really love zucchini bread and squash casserole, this salad is a great way to enjoy your summer garden's bounty without the guilt. The goat cheese is optional, and can be replaced with Greek yogurt or feta. For extra nutritional punch, add fresh spinach leaves along with the herbs.
1/2 cup pecan halves
6-8 small squash (about 2 lbs, yellow squash, zucchini or assorted heirloom varieties)
4 tbsp extra virgin olive oil
salt and ground black pepper to taste
1/2 tbsp balsamic vinegar
1 cup basil leaves
1/2 cup mint leaves
1 small sweet onion, sliced thin
1/2 cup fresh goat cheese
Preheat oven to 350°. Scatter the pecans on a baking sheet and roast for 5 minutes or until nicely browned and toasted. Let them cool before chopping or crushing lightly with the side of a large knife.
Place a ridged grill pan on high heat and leave it there until it is almost red hot–at least 5 minutes. Alternatively, use an outdoor grill, pre-heat to medium-high.
Meanwhile, trim the ends off of squash and cut on an angle into about 3/8-inch-thick slices. Place squash slices in a bowl and toss with half the olive oil, salt and black pepper. Place the slices on the hot grill pan and cook about 2 minutes on each side, turning them over using tongs. You want to get distinct char marks without cooking the squash through. Transfer to a mixing bowl, drizzle balsamic vinegar over and toss to combine. Set aside to cool slightly.
Once squash has cooled down, add the remaining olive oil, basil, mint, onion and pecans. Mix lightly and taste for seasoning. Place salad on plates, top with a dollop of goat cheese.
Sweet Potato Salad
Serves 4 as a side dish
Sweet potatoes are a nutritional powerhouse but save the brown sugar and marshmallows for Thanksgiving. This salad is great made ahead of time. Keep it in the refrigerator and serve as a dinner side dish, or add chickpeas and arugula to make a meat-free lunch entrée.
2 large sweet potatoes, peeled and cut into ½-inch to 1-inch cubes
1/2 cup extra virgin olive oil
2 green onions, thinly sliced
1/2 cup pecan pieces, lightly toasted
1/2 cup dried cranberries
2 tbsp apple cider vinegar
1 tbsp dijon mustard
Salt and freshly ground black pepper
Preheat oven to 375°.
Lay the sweet potatoes out in a single layer on a roasting tray. Drizzle 1/4 cup of the olive oil over the sweet potatoes and toss well. Roast for 25 to 30 minutes in oven until tender. Cool completely and reserve.
Combine the remaining ingredients in a large bowl. Mix well and season to taste with salt and pepper.
Beet Hummus
We serve a lot of hummus at The National, and it's the perfect foil to warm flatbread and sliced vegetables. I think hummus can also serve as the base of an entrée. Hummus + grilled chicken + fresh tomato, cucumber, mint = a healthy and delicious summertime meal. This recipe makes a fantastic bright pink hummus that's nutrient rich and will turn beet haters into beet lovers.
1 1/2 cups roasted beets, chopped (5-6 small or 2-4 medium ones)*
2 medium garlic cloves, minced
1 can chickpeas (15.5 oz.), drained and rinsed
3 tbsp lemon juice
2 tbsp sesame tahini
1 tsp ground cumin
2 tbsp warm water
salt and pepper to taste
*To roast the beets, cut off the tops and scrub the roots under water, put them in a covered dish with about 1/4-inch of water in a 375°F oven, and cook until easily penetrated with a knife or fork. Alternatively, cover with water in a saucepan and simmer until tender, about 1/2 hour. Peel once cooled.
Place all the ingredients except water, salt and pepper, in a food processor. Puree until smooth. With the food processor running, slowly drizzle the warm water into the hummus. Season to taste with salt and pepper.
Drew French
BBA '05
Company: Your Pie
Your Pie Pizza was started in Athens, GA in 2008 to change the way people experience pizza. We specialize in Italian style brick oven pizza custom made to order and craft beer and wine. Our 75 locally owned locations span across 19 states with the goal to improve the communities we serve.
Peach Prosciutto Pizza
Stretch the Your Pie pizza dough to 10 inches.
Top with some extra virgin olive oil and spread a thin layer of Ricotta cheese on top.
Next, add the thin sliced Prosciutto and top with 3 ounces of high quality mozzarella cheese and a pinch of shredded parmesan.
Finally, add 10 slices of Fresh GA Peaches in a circle.
Bake in a brick oven at 600 degrees for 4 minutes. (if you don't have a brick oven, see you at Your Pie soon!).
After bake, top with fresh cut basil and a drizzle of honey balsamic reduction glaze.
Cut into 6 slices and enjoy!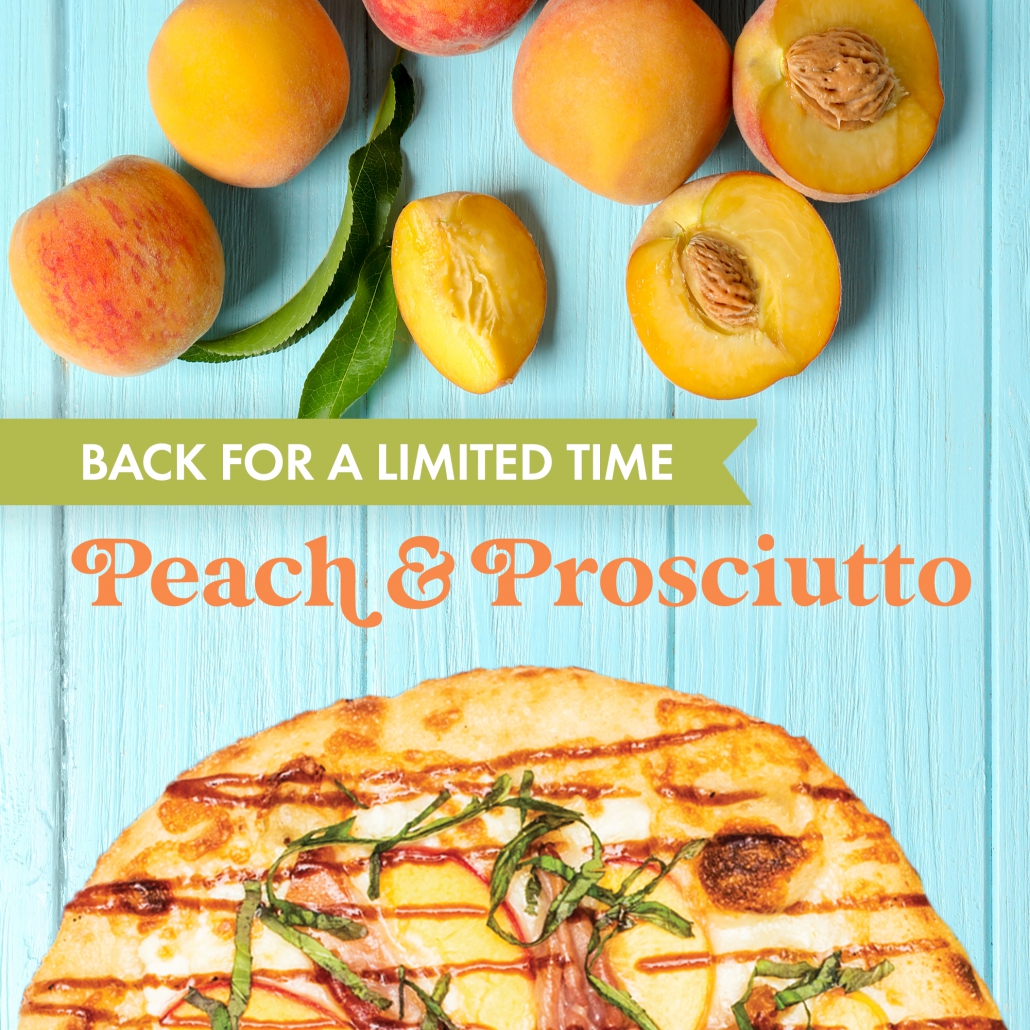 Caroline Ward
BBA '00, MPA '03
Company: TransFit
I started TransFit in 2010 as I felt called to help people transform their lives from the inside out.  
TransFit (short for Transformational Fitness) is a faith-based personal training studio for women in 5 Points!  Our staff of personal trainers & registered dietician will help you achieve your whole body health goals. We will inspire you to transform your body, mind and spirit through customized personal training, group strength and cardio sessions, yoga, and nutrition consulting . 
We deliver the results you want to see as we support and encourage you to achieve your personal goals!
Super Greens Salad
3 cups Baby Arugula
3 cups Baby Spinach
1/4 cup Dried Cranberries
1/2 cup Chopped Pecans
1/4 cup Parmesan Cheese
Pink Lady Apple (cored and sliced thin)
1/4 cup extra virgin olive oil
1 Lemon
2 TBSP White Balsamic
Tomatoes
Combine baby arugula and baby spinach in a large bowl. Add cranberries, pecans, parmesan cheese, and apple slices. Squeeze the lemon then add the white balsamic for the dressing. Toss salad so all leaves are evenly coated then add cracked pepper. Serve and Enjoy!
TransFit Quinoa Cakes
2 1/2 cups cooked quinoa
4 large eggs, beaten
2 gloves of garlic, finely chopped
1/4 tsp lemon pepper
2 tbsp chopped parsley
1/2 small onion, finely chopped
1 tbsp olive oil
1 /2 tsp salt
Combine the quinoa, eggs, salt, and lemon pepper in a large bowl. Stir in the parsley, onion, and garlic.
Form the mixture into 1o thick patties (use a 1/4 cup to form into patties.) You want the mixture to be moist, so the patties do not taste dry.
Heat the oil in a large skillet over medium-low heat, add 5 patties, cover, and cook for 7-10 minutes or unitl patties are deeply browned. Carefully flip the patties with a spatula and cook for 5 minutes, or until golden. Remove from skillet and cool on a large plate while you cook the remaining patties.
Chocolate Heaven Smoothie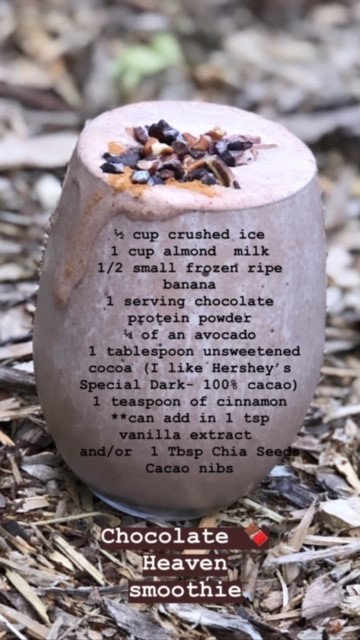 https://alumni.uga.edu/wp-content/uploads/FeatImg-2020-ATD5KRecipes-V1.png
423
1220
Clarke Schwabe
https://alumni.uga.edu/wp-content/uploads/uga-alumni-nba-1.png
Clarke Schwabe
2020-06-11 09:52:02
2020-06-26 15:57:57
Delicious, nutritious recipes to help you Attack The Day (5K)