UGA graduate Jordan Rowe (AB '19, AB '19) is working hard in Nashville to write and record country music that he hopes will make the Bulldog Nation proud. Since graduating from UGA with two degrees from the College of Agricultural and Environmental Sciences and a certificate in music business, Jordan has seen great success as he pursues a career as a singer-songwriter. Earlier this fall, he released his debut track "Good for Nothin." We caught up with Jordan to ask him a few questions and get to know him better.
Q&A with Jordan Rowe
What inspired you to study both agriculture and music business at UGA?
Being from South Georgia, I was familiar with agribusiness, and I knew I could find a job in that field if music didn't work out. However, music was where my heart was, so I wanted to make sure I knew as much about that business as I could before making the move to Nashville.
Are there any Nashville Bulldogs who have helped you along the way?
My current roommate and one of my best friends is Ray Fulcher (BSED '08, MED '10) (photo below, far left). He's penned four No. 1 hits for Luke Combs and is pursuing his own artistry. I met Ray at a Georgia Theatre show while I was in school, and we hit it off from the beginning. He let me come up and live with him for a summer before I graduated so that I could get ahead of the game and start writing and meeting people here a little early. We've been good friends ever since.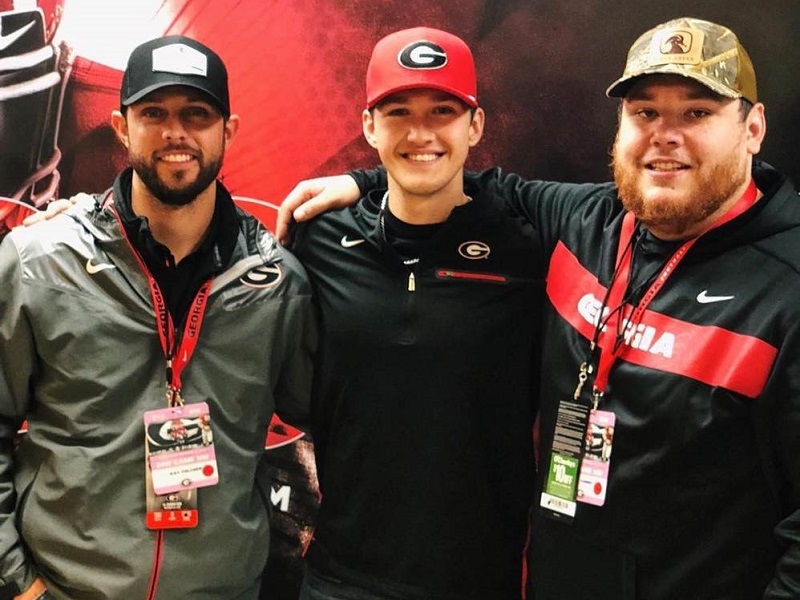 A few of Jordan's favorites:
Restaurant: Rachel's in Watkinsville
Professor: Ben Campbell
Class: Anything Ben Campbell teaches
Student Organization: UGA Bass Fishing Team
Sanford Stadium Moment: Watching one of my best friends, Jake Fromm, lead the Dawgs to a win over Notre Dame in 2019 (see photo below)
Football Rival You Love to Hate: Alabama
Best Concert Venue: Georgia Theatre
Best Concert: Opening for Riley Green at the Georgia Theatre
Song from College: The Battle Hymn trumpet solo during the pre-game ceremonies
Part of Campus: Ag Hill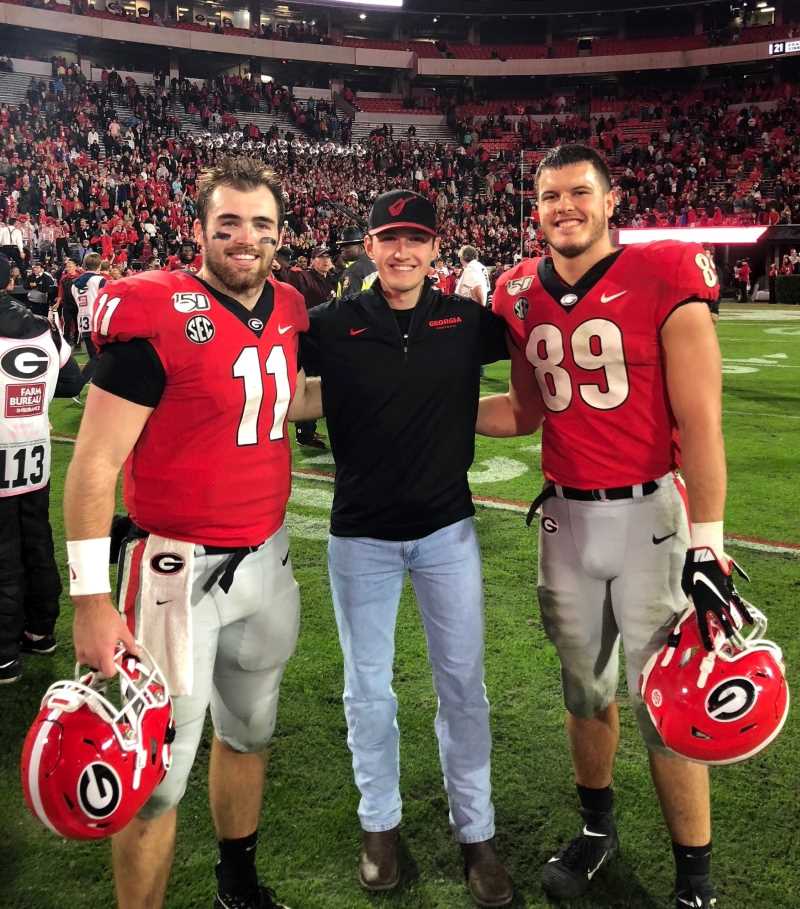 Interested in learning more about this young Bulldog making his way in Nashville? Follow Jordan on Instagram, Twitter, and Facebook.
https://alumni.uga.edu/wp-content/uploads/nashville.jpg
426
1219
Frances Beusse
https://alumni.uga.edu/wp-content/uploads/uga-alumni-nba-1.png
Frances Beusse
2020-12-18 15:57:01
2020-12-18 16:03:18
Jordan Rowe releases debut country music track, "Good for Nothin"