Tasty Tailgating: Southern Belle Farm's Strawberry Cake
Everybody knows that one of the most important parts of any successful tailgate is delicious food. To help you set up the football buffet of your dreams, we've partnered with UGA alumni experts to share some of their favorite game day recipes.  
First up is Easy Strawberry Cake from the Carter family inspired by the bakery at Southern Belle Farm. This sweet treat comes together using a surprising ingredient–boxed cake mix!  
Southern Belle Farm is in Henry County, Georgia, and has been run by the Carters for five generations. The owner, James Carter (BSA '69, MS '73) and his son, Jake Carter (BBA '03) are UGA alumni.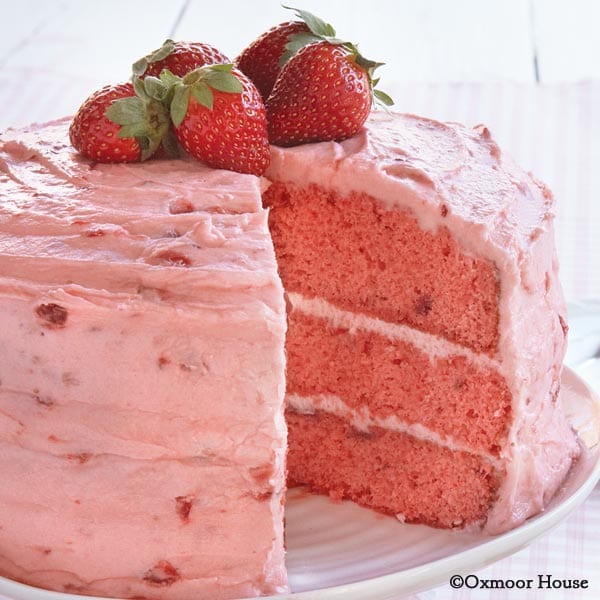 Easy Strawberry Cake
Makes 16 servings
Total time: 40 minutes
Ingredients:
Cake:
15.25 oz box white cake mix
3 oz box strawberry Jello
1 cup strawberries (fresh or frozen and mashed or finely chopped)
¾ cup vegetable oil
½ cup whole or 2% milk
4 large eggs at room temperature
Strawberry Cream Cheese Icing:
8 oz cream cheese at room temperature
½ cup butter at room temperature
5 to 6 cups sifted confectioners' sugar
2 tablespoons heavy whipping cream
¼ cup strawberries (fresh or frozen and mashed or finely chopped, drained)
Instructions:
For the cake:
Preheat oven to 350° F. Lightly spray pan(s) with nonstick spray or Wilton cake release.
Add cake mix, eggs, milk and vegetable oil to a mixing bowl. Use a hand mixer or stand mixer and mix well. Mix in the 1 cup of strawberries and the strawberry Jello powder.
Mix 3 minutes, stopping to scrape the sides of the bowl a couple of times.
Divide the batter evenly among two 9-inch rounds, three 8-inch rounds, or one 9 by 13-inch baking pan. Bake for 28-30 minutes or until a toothpick inserted into the center comes out clean. Cool for 10 minutes in the pan before transferring to a wire rack. Let cool completely before frosting.
For the icing:
Beat the cream cheese and butter together until smooth. Add the sugar one cup at a time to the mixture, then add heavy cream and strawberries and incorporate completely.
Remove the domed tops of the cake with a cake leveler or large serrated knife.
If making a layered cake, place one layer of cake on a serving plate and spread about 1 cup of frosting over the top in an even layer before topping with the other cake round. For a three-layered cake, add another cup of frosting and the final layer of cake.
Frost the outside of the cake using an offset spatula to get an even layer.
https://alumni.uga.edu/wp-content/uploads/Email-Header_1220x423px-2022-TastyTailgating-v7-1.png
1929
5083
Lindsay Tuck Morris
https://alumni.uga.edu/wp-content/uploads/uga-alumni-nba-1.png
Lindsay Tuck Morris
2023-09-06 09:51:26
2023-09-26 12:53:43
Tasty Tailgating: Southern Belle Farm's Strawberry Cake