History of the Uniform: Michigan and Georgia
Anyone inside Michigan Stadium on Oct. 2, 1965, was able to see two of college football's most iconic, classic uniforms together on the field for the first time ever—though they probably didn't know it at the time.
Michigan's winged helmet had already established itself as a symbol of college football, but in 1965, Georgia was only in its second year with an oval G on a red helmet. In the half-century since, both teams' uniforms have held close to the way they looked on that Saturday in Ann Arbor, and the success both programs have enjoyed over that span has cemented those uniforms in the minds of college football fans.
The winged helmet and the oval G would clash that day and then never again… until this New Year's Eve. As we head into this long-awaited rematch, let's look back at the people and decisions that defined the looks of the 1965 Bulldogs and Wolverines and how those looks have (and have not) changed since.
The Maize and Blue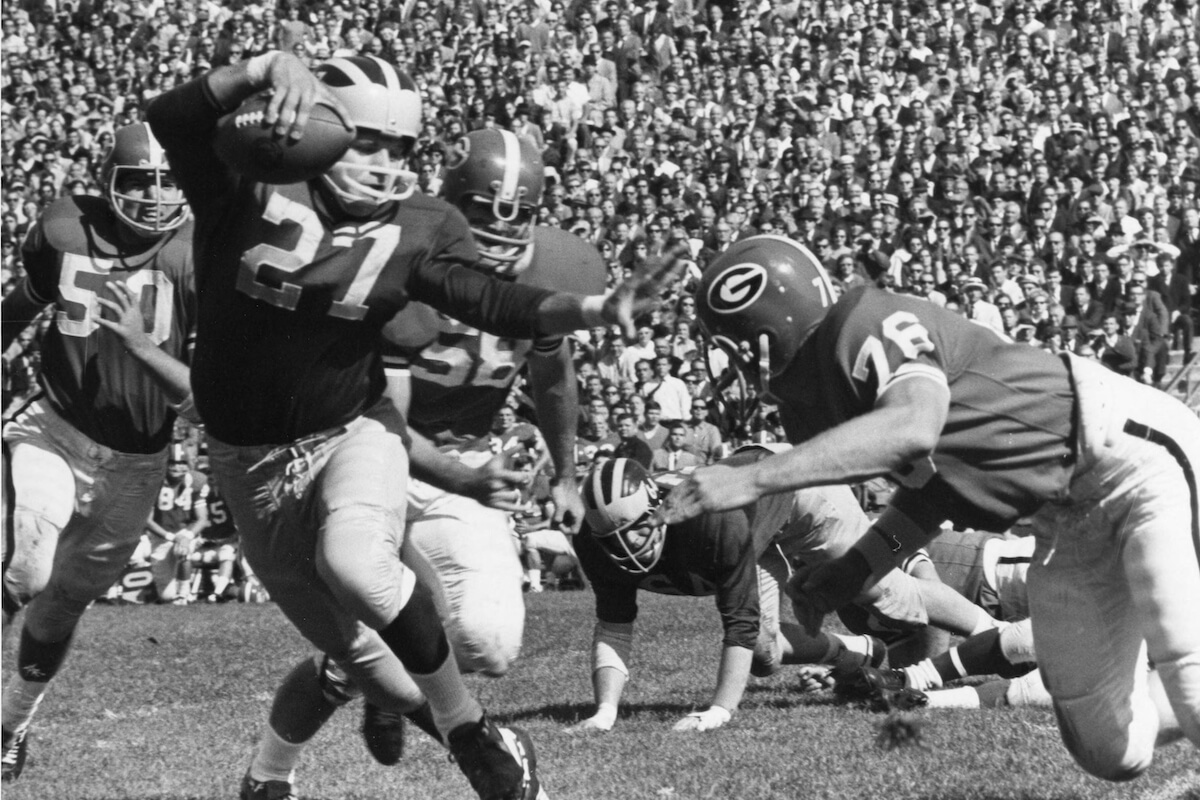 The Michigan Wolverines' colors of maize and blue date back to the late 1860s, when a committee of Michigan students chose "azure blue and maize" as the university's colors. This color combination may have appeared in some form or fashion on the Michigan football team's jerseys from the 1890s up through the early 20th century, but it wasn't until the team adopted their winged helmet in the 1930s that the two stood side-by-side in stark contrast and created a visual identity that would stand the test of time.
Fritz Crisler arrived in Ann Arbor in 1938 as Michigan's new head football coach. Before leading the Wolverines, he coached at Princeton, where, in 1935, he had ordered leather helmets with a "wing" panel across the top-front of the helmet. In an effort to help his quarterbacks find their receivers downfield, Crisler had the wing panel painted a different color from the rest of the helmet, creating a stark contrast easier to spot amid the chaos of a football game.
So, in 1938, Crisler brought his helmet innovation to Ann Arbor, and on October 1, 1938, the maize-and-blue winged helmet took the field for the first time against Michigan State.
Crisler's career as Michigan's head football coach would run nine years, accumulating a 116-32-9 record, two conference titles and a national championship, but his most lasting contribution to Michigan football (and the University of Michigan's identity, perhaps) lies in the wing design that has lasted 83 years and counting.
The Red and Black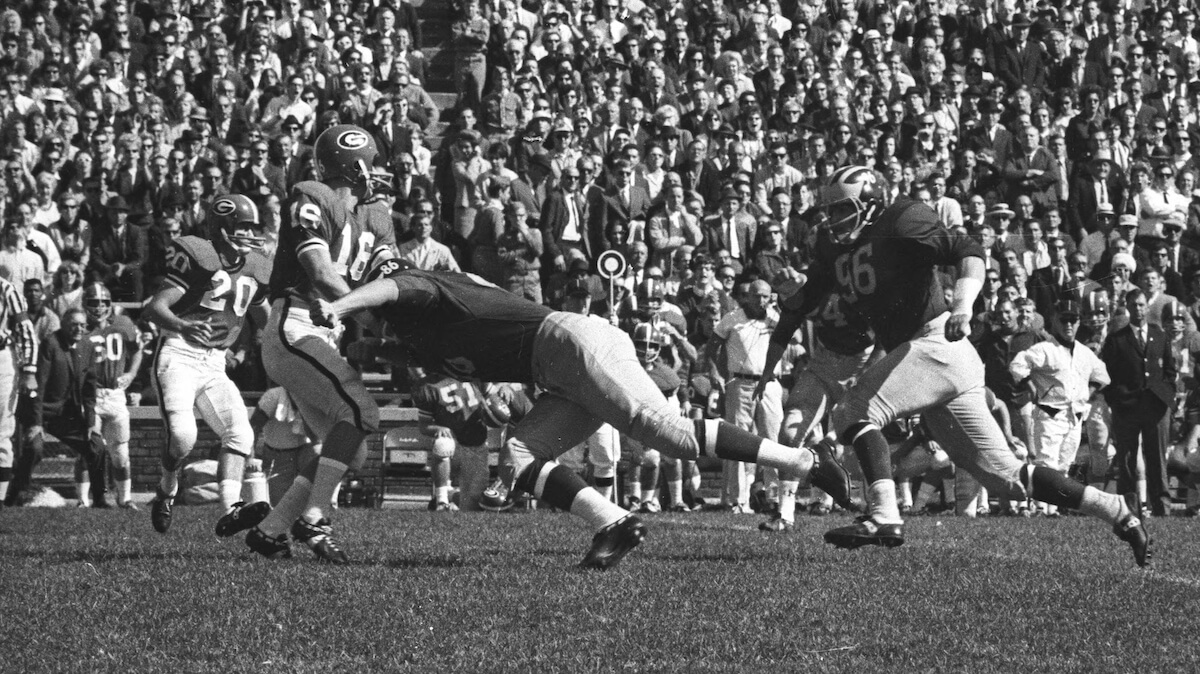 Vince Dooley might have gone to Auburn, but he knew what Georgia's colors were: red and black. So, when the young coach arrived in Athens in 1964, he was confused at the amount of silver the Dawgs wore on game day: They had red jerseys, but their helmets and pants were silver.
Dooley wanted to put his stamp on a program that had been through some tough years following the departure of long-time coach Wally Butts. With months to go before a single snap of football was played, Dooley decided to start by establishing a consistent visual identity.
First out were the silver britches in favor of red or white pants with a stripe down the outside of the leg—although the silver britches would return in 1980.  Next, it was time for a new helmet. Dooley knew he wanted red, and while UGA had begun sporting helmets with a square G in '62, the logo's use was sporadic, so Dooley figured it was time to lock in a new logo.
John Donaldson (BSED '52) was a coach on Dooley's first staff, and he volunteered his wife, Ann (BFA '55), who studied commercial art at Georgia, to create the new logo. What she developed was accepted immediately by Dooley, and it has come to be known as the "oval G," "Power G," or "Super G."
The logo has often been compared to the Green Bay Packers' signature mark—developed three years prior to Georgia's 'G'—and Dooley was aware of the similarity. He reached out to the Packers organization and cleared the use of the Bulldogs' new logo. Interestingly, as time has passed, the Packers have subtly adjusted their own logo to a form that more closely resembles UGA's oval G.
With his new helmets and new pants, Dooley had made his first mark (of many) on the program. The Dawgs went 7-3-1 in their first season wearing Dooley's duds, and they opened 1965 with two wins before heading up to Michigan.
Since the Bulldogs' 1965 victory over the Wolverines, both teams have indulged in the occasional wardrobe variation—like Michigan's 2017 all-Maize unis and Georgia's 2007 Blackout jerseys—but their standard outfits have remained largely consistent over the last 56 years.
The helmets might be fancier, the numbers might be sharper and the players might be a whole lot bigger, but the Dawgs and Wolverines of 2021 still look an awful lot like their 1965 counterparts.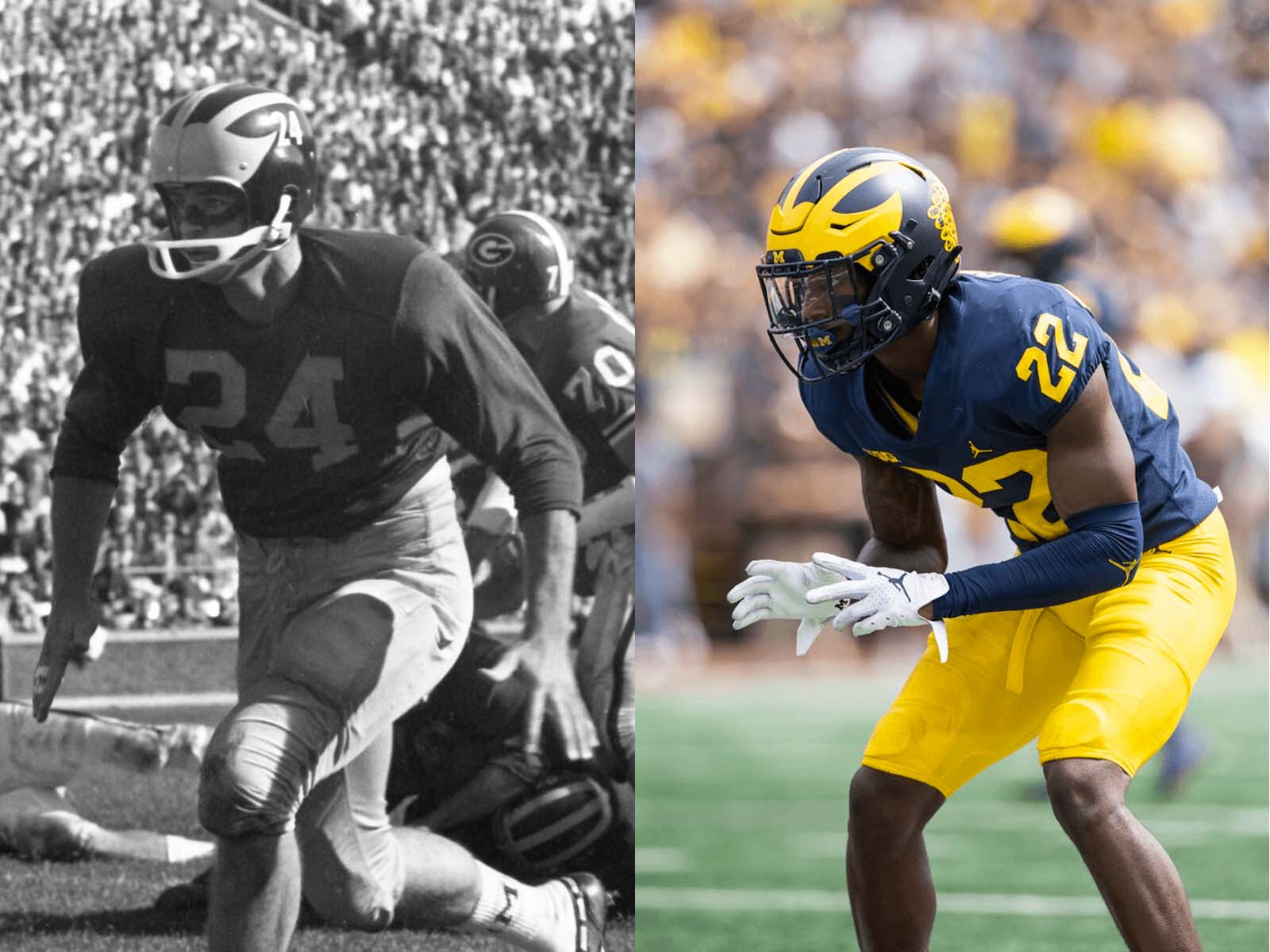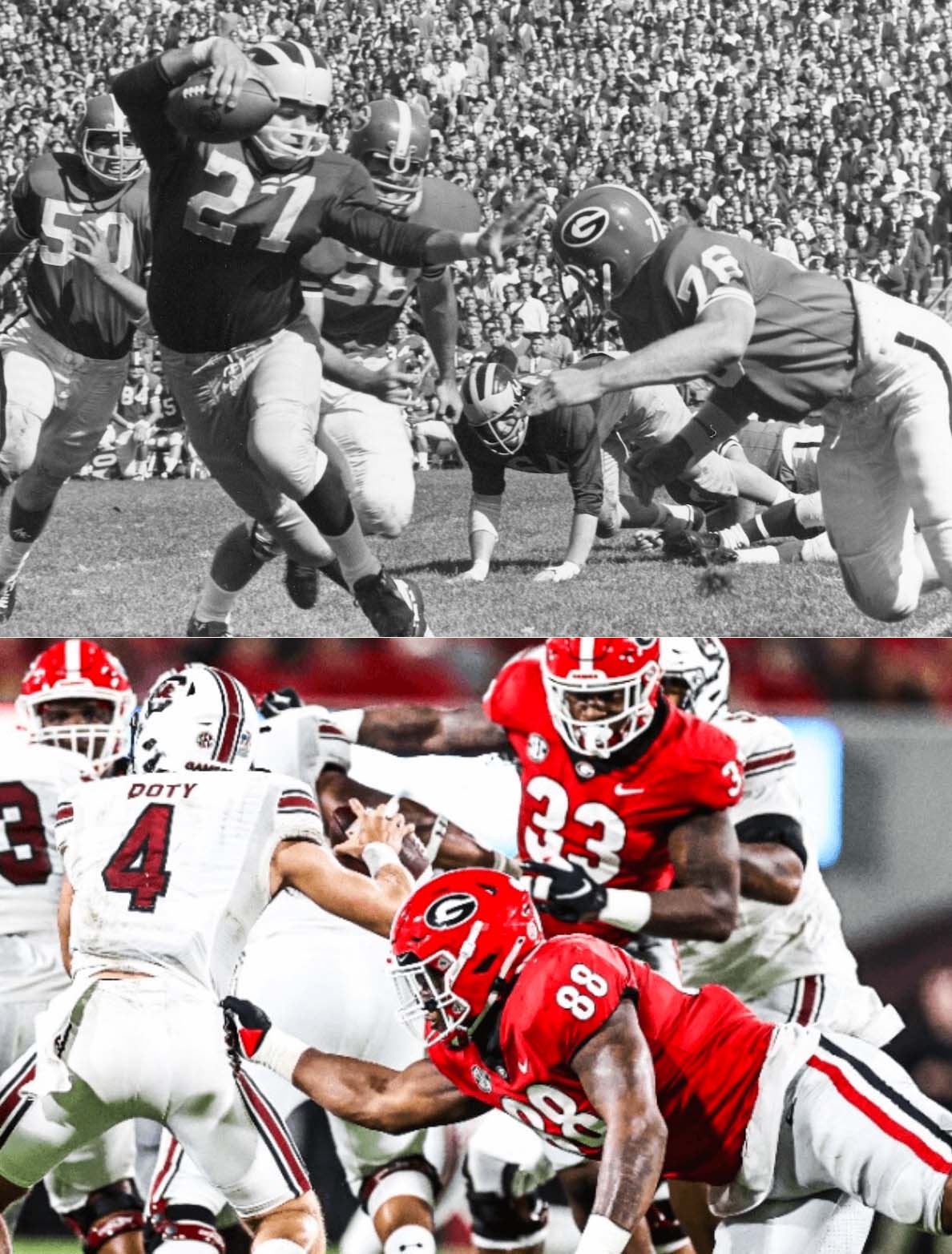 All black-and-white photos owned by Regents of the University of Michigan and licensed under CC BY 4.0
https://alumni.uga.edu/wp-content/uploads/FeatImg-2021-HotRUni-V2.jpg
423
1220
Clarke Schwabe
https://alumni.uga.edu/wp-content/uploads/uga-alumni-nba-1.png
Clarke Schwabe
2021-12-23 13:51:47
2021-12-23 13:51:47
History of the Uniform: Michigan and Georgia