History of the Rivalry: Tennessee
Larry Munson is one of the all-time greats in college football commentating, and his legendary career covering the Georgia Bulldogs—from 1966 to 2008—made him as central to UGA's football history as Vince Dooley. Munson's highlight reel spans decades and includes dozens of teams, but two of his most legendary calls signaled the start of new eras of Georgia football. And they came against the same opponent: Tennessee.
Munson's calls made those games legendary, but even without a freshman "running over people" or a "hobnail boot," games in the Georgia-Tennessee series were destined to have iconic moments. After all, we're talking about the second and third winningest football programs in SEC history.
A Coronation in Knoxville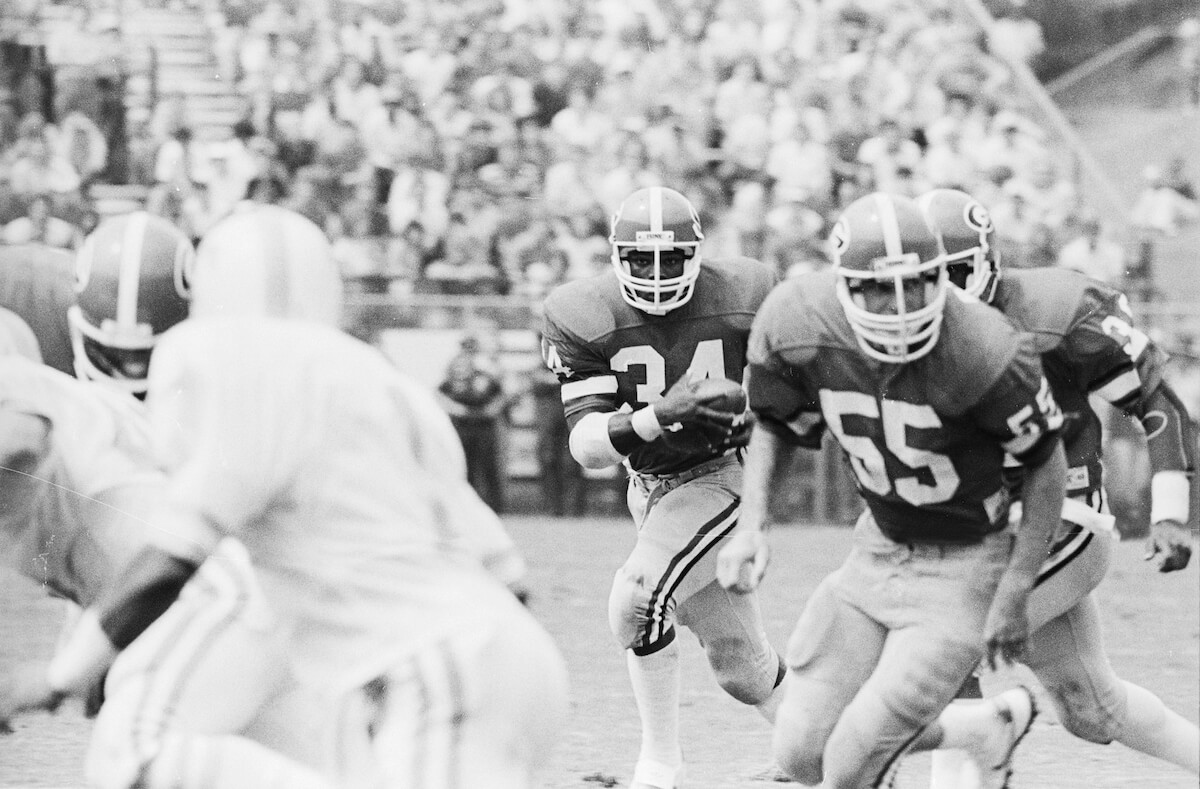 Perhaps the strangest thing about this rivalry is that, despite having played each other since 1899, despite being founding members of the Southeastern Conference and despite the schools' campuses being separated by less than 150 miles, the Dawgs and the Vols have only met 50 times. Compare that to Georgia and Auburn, who started playing each other in 1892, but have met 126 times.
By 1980, the Bulldogs and Volunteers had only met 17 times, with Tennessee holding a one-game lead in the rivalry: 8-7-2. Georgia went to Knoxville to open the 1980 season, and the hopes they had to tie the series faded quickly. The Dawgs found themselves down 9-0 quickly, and their offense couldn't sustain a drive. Vince Dooley knew his team of upperclassmen was strong at a number of positions, but tailback wasn't one of them, and the early results here had proven that. So, he made a change.
The impact of that decision wouldn't become clear until the second half, when Tennessee extended their lead to 15. No one knew it then, but that was the end of their scoring, and the beginning of Georgia's season. Freshman Herschel Walker, who had spent the second quarter feeling out the defense and getting up to game speed, broke out in the second half and announced himself to the world with the Bulldogs' first touchdown of 1980, immortalized by Larry Munson.
A safety and another Herschel touchdown later, UGA stunned the Knoxville crowd, pulled even in the series with the Vols and began their march to a national championship.
11 years, 11 points and a lot of praying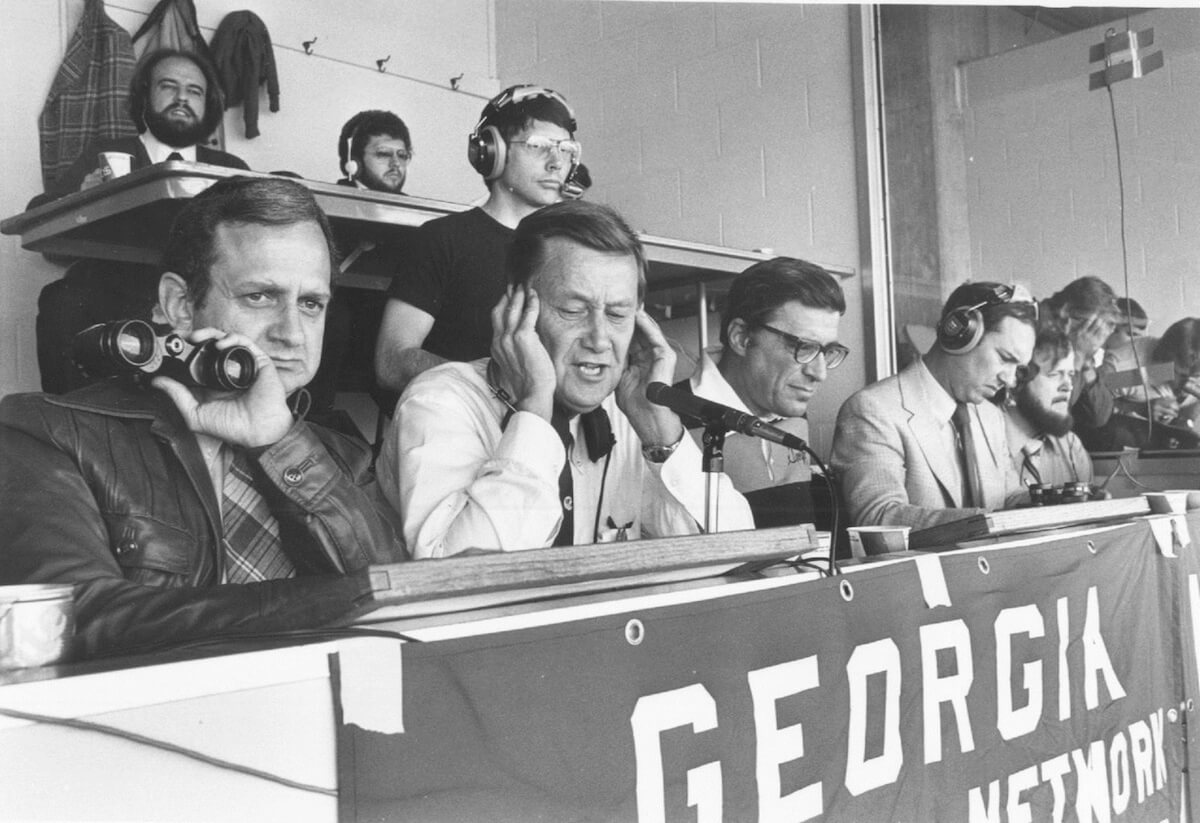 In 2000, Jim Donnan was in his fifth season as UGA head coach and in the proverbial hot seat. At most schools, a record of 32-15 doesn't put you in trouble. But at Georgia, when that 32-15 contains a 5-11 record against Florida, Tennessee, Auburn and Georgia Tech, your record against everybody else means a lot less. Nevertheless, UGA started the 2000 season with a 3-1 record heading into a home game against Tennessee, who owned a nine-game winning streak over the Dawgs.
Tennessee was 2-2, with losses to no. 6 Florida and an unranked LSU team. This was out of character for the Vols, who were just two years removed from a national championship, and their ranking tumbled to 21. Still, they had no fear of the no. 19 Bulldogs. After spending nearly every year of the 90s beating Georgia, why would they?
They found the why by halftime, when Georgia took a 7-3 lead into the locker room thanks to a stifling defense. After the half, Tennessee scored to take the lead, 10-7. But Georgia answered with a Jasper Sanks rushing TD, then ended the discussion in the fourth quarter with a Musa Smith touchdown and Tim Wansley's second interception of the day with less than two minutes remaining.
The feeling of impending victory over the Vols, foreign to Bulldog fans for over a decade, was too much for many in attendance. The raucous crowd began to spill onto the field after the game-sealing interception, and play had to be halted until the crowd could be removed.  Security kept the fans under control until the final whistle.
It was dramatic, it ended Tennessee's dominance over UGA and it marked the only time the goal posts were torn down in Sanford Stadium's history. But many may not remember this game, because by season's end, there was much more this game did NOT do than what it did do. It did not spark a magical season for the Dawgs. It did not save Jim Donnan's job. It did not herald the arrival of a new era.
Bulldog fans would have to wait a year for that.
"Another Hobnail Boot?"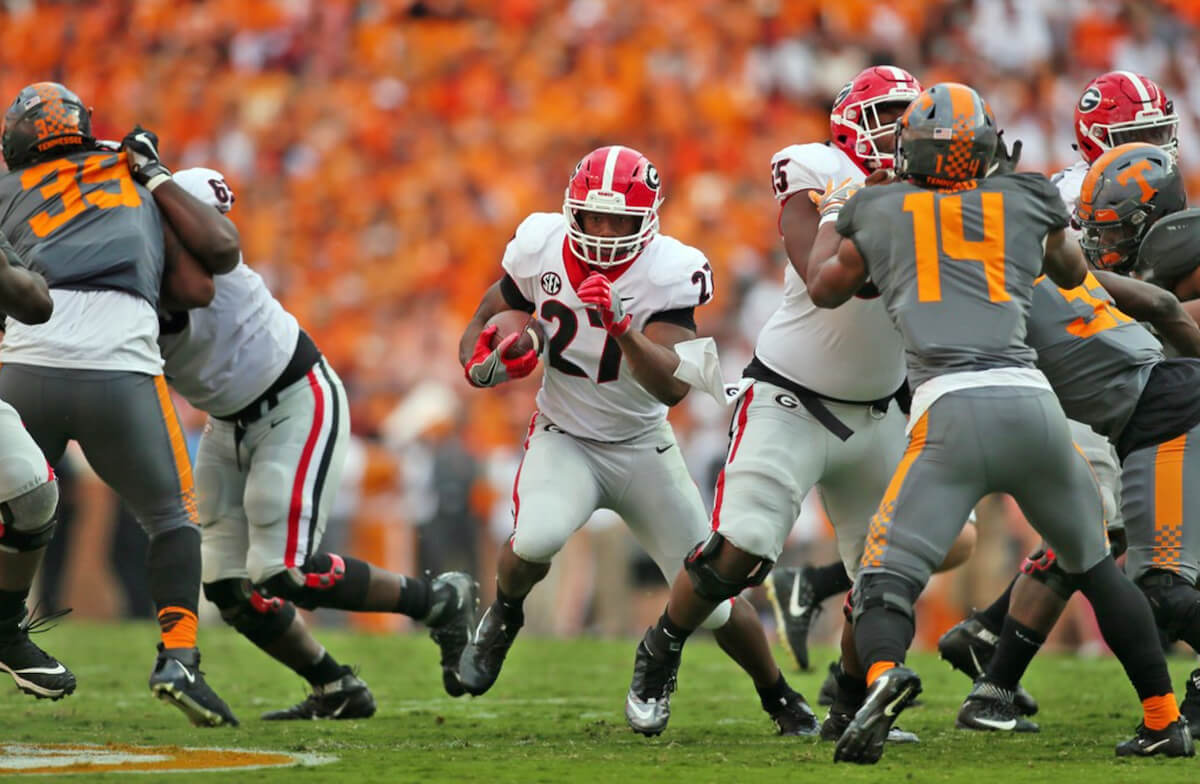 Richt's tenure at Georgia wouldn't be quite as dominant as the Tennessee streak that preceded him, but he certainly leveled out the rivalry before his 2015 departure: Richt went 10-5 against the Vols from 2001 – 2015, bringing the all-time series record to 21 Georgia wins, 22 Tennessee wins, and 2 ties.
When Kirby Smart arrived in Athens, Knoxville had been in disarray for some time. Lane Kiffin's ignominious midnight exit, Derek Dooley's poor results and Butch Jones' big game struggles all kept the Vols from coming close to their former glory. But in 2016, Tennessee was fresh off a bowl win over the no. 12 Northwestern Wildcats, they had brought in a top-20 recruiting class, and it looked as if they might finally be pulling things together.
They were 4-0 coming into a week 5 game in Athens, including a win over no. 19 Florida the week before. Georgia was 3-1 and had just been blown out by Ole Miss, a loss that nearly saw them fall from the top 25.
Smart had prepared his team well, taking a 17-7 lead into halftime. But in the second half, the Volunteers outscored the Dawgs 21-7. After multiple miscues, Georgia finally managed to string together a drive as the final minute wound down, and with 10 seconds left, down 28-24, Jacob Eason found Riley Ridley for a 47-yard touchdown pass that gave the Bulldogs the lead.
A short kickoff was returned by Tennessee to midfield, and with four seconds left, the Vols turned a heart-stopping Georgia win into a heartbreaking loss.
This one stung for Georgia fans, and it stung even more when Tennessee rattled off three consecutive losses after this: no. 8 Texas A&M, no. 1 Alabama, and unranked South Carolina, who Georgia would beat in week 6.
That sting lasted exactly one year. Because in 2017 and every year since, the Bulldogs have beaten the Volunteers by no fewer than 23 points. This is the most dominant stretch of games in the history of this rivalry, which now stands at 26-23-2 in the Bulldogs' favor.
So, if we understand a "Hobnail Boot" play to be one that signifies a dramatic, come-from-behind game-winner that ushers in a changing of the guard, then when Gary Danielson called Tennessee's 2016 Hail Mary "another Hobnail Boot," he did Mr. Munson a great, great disservice.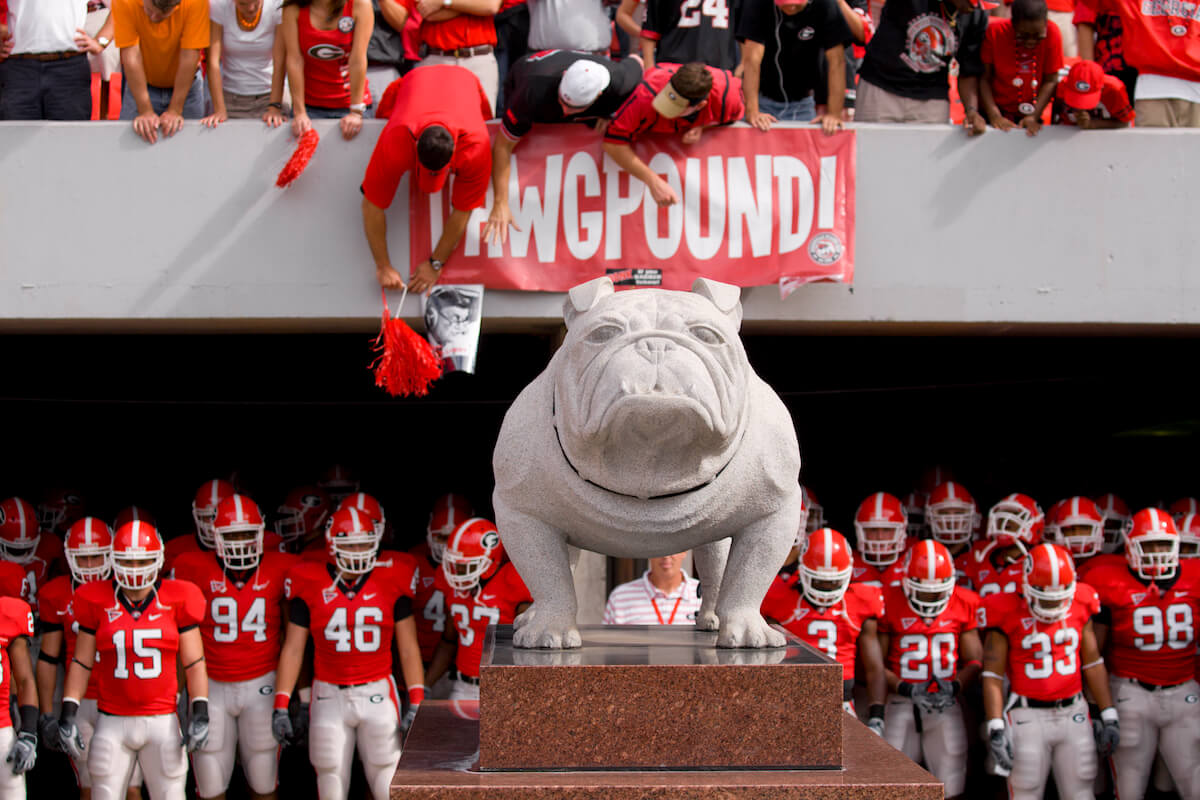 Today, Josh Heupel is the Volunteers' head coach, Tennessee's sixth in 15 years. Last year,  UT came into Athens with all the hype in the world, fueled by the potent offense of Hendon Hooker, Jalin Hyatt and Cedric Tillman. But from the first whistle, the Bulldogs figured out the dynamic offense that felled Alabama and earned lavish national praise and extended the Dawgs' win streak in the series to a record six—surpassing a win-streak record that had stood for just under a century. 
 Just a few short years ago, the UGA-UT rivalry was barely significant, but national spotlights are shining on these contests once again. For now, the Bulldogs maintain a firm grip on the series, but with a resurgent program igniting the long dormant Volunteer fan base, we're going to see the best shot Tennessee can muster when the Dawgs enter a raucous Neyland Stadium on Nov. 18. Hopefully, this trip goes as well as the one 21 years ago. 
Your one-stop shop for UGA football fandom is alumni.uga.edu/football! Check in every week for new football blogs and videos, information on UGA Alumni events, and more.
https://alumni.uga.edu/wp-content/uploads/FeatImg-2021-HotRTennessee-V1.jpg
423
1220
Clarke Schwabe
https://alumni.uga.edu/wp-content/uploads/uga-alumni-nba-1.png
Clarke Schwabe
2023-08-21 12:05:23
2023-09-06 12:48:42
History of the Rivalry: Tennessee