Alumni Podcast Spotlight: Waitin' Since Last Saturday
Born in Five Points in Athens, Waitin' Since Last Saturday is a podcast focused on UGA athletics helmed by two Dawgs—Scott Duvall (AB '00) and Tony Waller (BSA '90, JD '93)—and an Illinois grad who quickly developed his own Bulldog fandom, Will Leitch. We asked the three of them about how the podcast came to be, their personal UGA-fan "origin stories," favorite moments from the pod, and more.
How did you all meet?
Scott: Will and his wife moved to Athens and we hung out for a couple years. He got to experience his first-ever Georgia game-watching party with me and my friends in 2013. The Dawgs lost against Clemson, but he was sold on the fun and passion of being a Georgia fan.
I met Tony through Will. He introduced me to Tony at a Georgia basketball game and I remember asking Will, 'Hey, is he that famous Georgia blogger?' He was indeed that. The next couple of times I ran into him, it was like we had hung out for years.
What was your UGA experience like?
Scott: My UGA experience was fantastic. As far as football goes, there were many ups and downs and a lot of losses to Florida. But the years I spent as an undergrad in Athens caused me to fall in love with the city—and fall in love with my girlfriend, whom I married a year after graduation. I graduated with a BA in Speech Communication and have used those skills to help develop my talent as a filmmaker, photographer and podcaster.
Tony: It was an interesting time in the University's life. We were transitioning from the Davidson to the Knapp years, downtown was transitioning from mom-and-pop stores to more student focused businesses, parking was still out on the other side of the railroad tracks near the loop. I was fortunate to live in my fraternity house for three years after a year in Russell, so I was always close to campus—a great thing because I was very involved in campus activities.
Will: My wife is an alum, and we met in New York City in 2007. I knew she loved football—how could you go to UGA and not?—but I didn't quite realize how much until the 2012 SEC Championship Game. We were living on the 22nd floor of a high-rise apartment building in downtown Brooklyn, watching the game with our new infant sleeping in the next room. When Chris Conley came up just short at the goal line, I was legitimately afraid my wife was going to throw an office chair out the window and onto unsuspecting New Yorkers hundreds of feet below. I wanted to be a part of anything that would make someone so passionate. When we moved here in 2013, with our kids going to school just across the street from Butts-Mehre, it was impossible not to get sucked in.
When did you know you were a Bulldog?
Scott: I was playing in a high school baseball game my senior year, and my mom held up my acceptance letter to UGA while I was in the on deck circle. I have no idea what I did during my plate appearance that day, but I was as excited as I could be. A few months later, I moved into Creswell Hall.
Tony: In 1978, when I was listening to Munson call the Rex Robinson FG to win at Kentucky while riding back from a rec. sports playoff football game in Port Wentworth.
What was the inspiration behind Waitin' Since Last Saturday?
Scott: We were at Grindhouse Burgers on Lumpkin Street talking Georgia football, of course. I remember Will casually saying, "I'd do a podcast with you two." Tony and I looked at each other and basically in unison, said, "Oh, we're so doing this."
Tony and I thought it was cool to have Will as a co-host. He wasn't from here, didn't grow up a Georgia fan and didn't even attend Georgia. It would be a journey for him to learn in real time, during shows, the little nuances of why we do things a certain way in Athens.
Tony: I've had two different UGA Athletics-focused blogs over the years. I've always liked talking more than writing, so I've been doing podcasts in my head for years. Given the chance to work with a talented producer like Scott and a smart writer like Will just gave me an excuse to do so out loud.
How did you get started?
Scott: Our first show and the majority of our shows for the 2015 and 2016 seasons were recorded at my house in east Athens. Why my house? Well, I had one condenser microphone. I remember we had a hard time getting the sound just right. You could imagine three guys talking into one mic. But that's what we did for the first few episodes. Then Tony bought two more. We still use those same three mics today.

How has the podcast grown over the past 6 years?
Scott: We just hit over half a million downloads. But, in all honesty, we gauge our growth on interactions. When someone stops us at a football game, or at a restaurant and lets us know how much they enjoy the show, that means so much to me. I especially love it when it happens when my family is around— my kids usually just roll their eyes.
We have sponsors during the football season and that helps validate the hours we put into the show. Growth is good, but the three of us would probably still do it only if 50 people listened.
Was there a moment where you felt like the podcast really took off?
Tony: We had fortuitous timing, in that we started a podcast in August of Coach Richt's last season. Having a coaching transition and the excitement of Coach Smart's first season helped us grow, but 2017 really gave us legs.
Scott: Some of the best shows we did coincided with the Dawgs' 2017 season. It was the "revenge tour"—that's how we kept referring to it—and the response on social media and download numbers shot up dramatically as Georgia kept winning games.
How do you balance the podcast with other commitments? When do you find the time to record?
Scott: I'm always editing. It doesn't matter if it's a corporate video for the University of Georgia or a local non-profit, or if I'm going through a photoshoot for a client. I'm always editing, and I love it. Having said that, there are times where I have a huge deadline and Will and Tony are great to understand that I either can't join them or won't be able to edit the show.
Tony: We just have to be intentional about carving out time. My wife gets that talking with these two is my personal counseling time. The fact Scott hits record is just a bonus.
What has been your favorite moment in creating the podcast?
Scott: My favorite moment is anytime Tony goes off on one of his crazy stories about his trip to Columbia, South Carolina or smoking meats, or throwing shade at opposing fans and coaches. I'm convinced Tony could be a stand-up comic.
Which guests have stuck out to you?
Scott: Georgia beat writer Seth Emerson is always a good one because he has the pulse of the team and it's great to provide that kind of insight to our listeners.
Tony: The two Australians I spot interviewed in the stands during the break at the start of overtime at the Rose Bowl. These guys picked a heck of a game to get their first American college football game under their belts.
Any new, exciting content that listeners can anticipate this season?
Scott: Yep, I gazed into the future and Georgia's going to win the national championship this year.
This one's for Will. You're an alumnus of the University of Illinois, but having been in Athens this long and in this specific era, do you now consider yourself a bigger fan of UGA or Illinois?
Will: Fortunately, these teams have yet to play each other—other than in women's college basketball—since I moved here, so I don't have to face this often. But I grew up right next to Champaign and have orange and blue (the good orange and blue, not the Auburn orange and blue) in my blood. If Illinois ever plays at Stegeman, you'll see me in my season ticket seats wearing the Illini colors, I'm afraid. But I won't be a jerk about it.
The real question: Who would my CHILDREN cheer for? Let me know when you know the answer so I can update my will.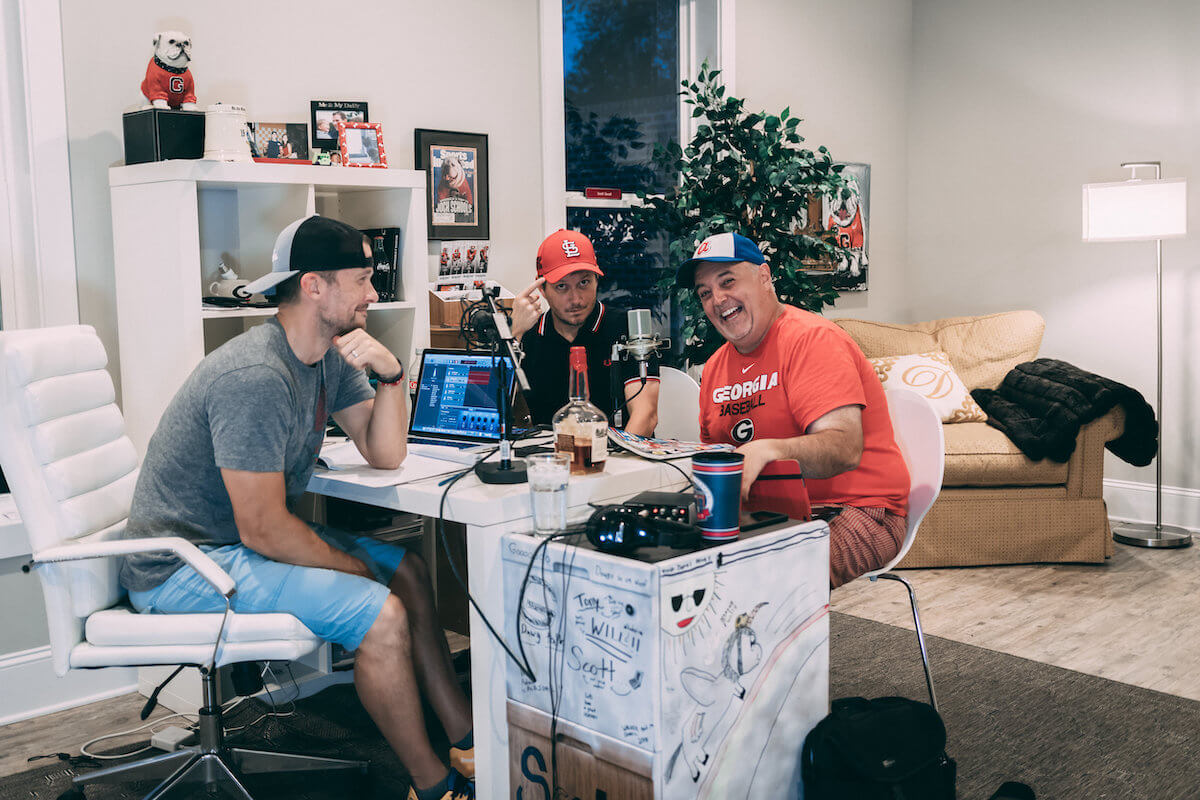 https://alumni.uga.edu/wp-content/uploads/FeatImg-2021-WSLSQA-V2.jpeg
423
1220
Shannon Moran
https://alumni.uga.edu/wp-content/uploads/uga-alumni-nba-1.png
Shannon Moran
2021-10-08 10:56:57
2021-10-08 10:57:45
Alumni Podcast Spotlight: Waitin' Since Last Saturday