Meet Daniella Singleton, UGA Young Alumni Leadership Council secretary
The University of Georgia's Young Alumni Leadership Council is made of graduates of the past two decades who connect alumni in their age demographic to UGA. Whether that means raising money for Campus Kitchen at UGA through a Cooking Class with Peter Dale (ABJ '99) or interviewing alums like comedian Mia Jackson (AB '00), they work to ensure that the 40,000 young alumni living in metro Atlanta are connected to their Bulldog family and that they Never Bark Alone.
We recently chatted with Daniella Singleton (BS '08, AB '08), secretary of the Young Alumni Leadership Council, to learn about her role as a project manager at Google and her experience at UGA.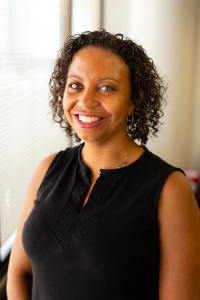 How did you become secretary for the Young Alumni Council?  
A good friend, Shayla Hill, was on the council when it first started. When she saw that they were taking applications for new members, she encouraged me to apply. I've enjoyed working with Luke Massee, Frances Beusse and Realenn Watters [from UGA's Office of Alumni Relations]. I liked being as involved, so B.C. — before Corona —  I signed up to be the secretary. I was especially excited to be part of the all-female executive team with Elizabeth Cox, the president, and Jasmin Severino Hernandez, the vice-president.
What do you enjoy most about being on the council?
I enjoy the interactions that we have. It was hard this past year with COVID-19 and trying to be safe and respect people's boundaries. Being on the Young Alumni Leadership Council is about engaging with other graduates, who I may or may not have known, and learning about their UGA experience and their passions.
What's the most important thing you learned at UGA?
One of the biggest takeaways has been that while I might not be from Athens, it will always be home — that includes my dearest friends who were involved in my life and my child's life. UGA is also where I learned how to communicate. It's where I had a full-time internship through the criminal justice program. I learned how to balance. I've learned so many things about myself that Athens will always be home. As soon as get off 316, I immediately feel like I'm home.
What advice would you give to a UGA student? 
Cherish it, make memories, and stay up late laughing with friends. Because 1) you won't get naps when you're an adult and 2) it's not as easy as an adult. Just continue to learn. Feed that hunger. Fuel that thirst of just wanting to know more. So say yes. Do it. Be more involved. Do what you can, meet who you can, and create memories that will last forever.
What's your favorite UGA memory? 
It's a tie. The first was serving on the committee for Dance Marathon (now UGA Miracle), and how emotional and amazing an experience it was. The second was the 2007 UGA vs. Auburn "blackout" game in 2007.   
https://alumni.uga.edu/wp-content/uploads/Featured-image.jpg
800
1200
Laura Nwogu
https://alumni.uga.edu/wp-content/uploads/uga-alumni-nba-1.png
Laura Nwogu
2021-05-07 09:16:55
2021-05-07 14:19:02
Meet Daniella Singleton, UGA Young Alumni Leadership Council secretary