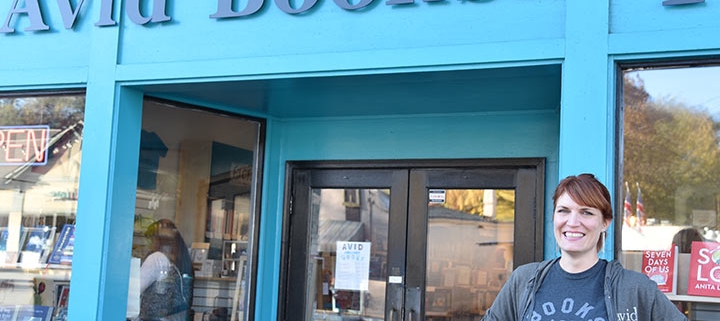 Avid Bookshop: Inspired by creativity & community
Janet Geddis (MED '06) grew up surrounded by and entertained by books.  She claims her love of books comes from "being a child of avid readers." She remembers that if she were bored, she was told to go outside, read or draw. She also remembers her parents reading to her every night. Janet founded Avid Bookshop on Prince Avenue in Athens seven years ago and two years ago opened a second location on Lumpkin Street in Five Points. Avid Bookshop was just named a Bulldog 100 company for the third time, which means it is one of the fastest-growing businesses owned or operated by UGA alumni.
Maybe surprisingly, Janet claims getting her Master of Education in Educational Psychology with a focus on Gifted and Creative Education helped her open Avid Bookshop. "In everything I do I think about my professors and classes," says Geddis. She says so much of the events and strategy revolves around her understanding of creativity and learning. Even if someone is not artistic, ultimately, creativity is stimulating. Avid Bookshop invests in the community through multiple events, including their Avid in Schools program, she says. The bookshop brings well-known or debut authors or illustrators to schools so students can meet working authors and illustrators. The community clearly loves Avid Bookshop back. Janet fondly recalls that one of her most influential professors, Dr. Bonnie Cramond, helped paint the Prince Avenue shop with other community volunteers before it opened. Visiting Athens? Check out Avid Bookshop's event page for more information about community events.
You can check out the 2019 Bulldog 100 businesses list on our website.
https://alumni.uga.edu/wp-content/uploads/Avid-Feature.jpg
580
720
Laura Bayne
https://alumni.uga.edu/wp-content/uploads/uga-alumni-nba-1.png
Laura Bayne
2018-11-24 07:00:02
2019-07-02 13:12:41
Avid Bookshop: Inspired by creativity & community