Meet Ericka Davis, Member of the Black Alumni Leadership Council
In October 2015, the UGA Alumni Association launched the UGA Black Alumni Affinity Group, which is led by the Black Alumni Leadership Council. The council seeks to connect with black alumni and students through shared experiences, and to continue building a welcoming and supporting campus community. Ericka Davis (AB '93) is a member of the Black Alumni Leadership Council, and we recently interviewed her to learn more about her UGA experience and what drives her to stay connected to the University of Georgia.
When did you graduate from UGA and what did you do after college?
I graduated in 1993 with an English degree and got my first real job working for the Georgia Department of Human Resource as a service coordinator. From there, I transferred to the Foster Care program and started graduate school at Southern Polytechnic State University (now Kennesaw State University). This led to my first job and leadership role in communications with the Georgia Department of Juvenile Justice (DJJ). After six years with DJJ, I became the Director of Communications for the Georgia Building Authority, State Properties Commission and Georgia State Financing and Investment Commission, simultaneously under the State Property Officer. From there I served as Division Director of Communications for the Georgia Department of Transportation, then on to serve as the Director of Communications for Fulton County for five years until I landed my current role as Communications and Media Relations Director for the Atlanta BeltLine, Inc.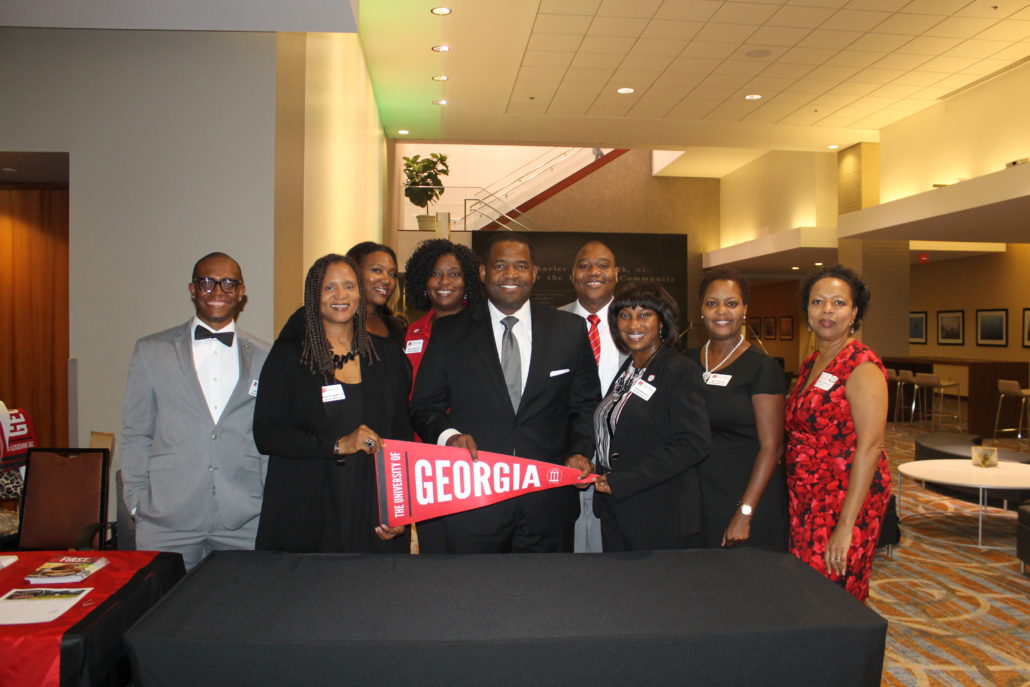 How did you get involved with the UGA Alumni Association?
I have been actively recruiting students to UGA with another alumnus, Randy Groomes (BBA '92, MBA '11), since graduation. I saw the opportunity to serve on the Black Alumni Leadership Council as a more formal way to continue to work with fellow graduates. I have also been a donor for some time.
Which Black Alumni Affinity Group event are you most proud of?
I'm always proud of the council's work to engage minority students, especially when we celebrate accepted students at the annual reception in Atlanta. I am also a huge fan of our Black Alumni Homecoming. The success has been amazing and it is a strong reminder of the close knit family we are.
How has serving on the black alumni leadership council benefited you?
It has allowed me the opportunity to meet alumni that I didn't know previously, and share our collective passion for the university, diversity and inclusion among the student body, faculty and staff. It's redefined for me just what it means to be a part of Bulldog Nation.
What is the most important thing you learned as a student?
Wow, that's tough because I learned so much. I would have to say that my experience as a summer orientation leader was the most important experience. That experience gave me confidence that I did not have before. You can't be shy or an introvert representing UGA, giving tours daily and speaking about UGA to parents and thousands of incoming freshmen. You have to know and love UGA to be successful. That was a huge confidence builder for a 20-year-old about to go out into the world.
What is one piece of advice you would give to UGA students?
Embrace every opportunity to both learn and lead at UGA, and get job experience while you are there. Many students are enjoying the college experience, but they aren't taking full advantage of it so that they can build a resume, body of work and talent while they are matriculating.
UGA is committed to its students and mission as a land and sea grant university. What is your commitment?
My commitment as an alumna and proud member of the Black Alumni Leadership Council is to recruit African American students, faculty and staff to the university, to retain and support students to completion of degree programs, to engage current students and alumni through mentoring and professional development, to donate and encourage other alumni to do so, and to serve as a UGA ambassador in the community. GO DAWGS!
https://alumni.uga.edu/wp-content/uploads/IMG_9545-1.jpg
500
1500
Josh Mixon
https://alumni.uga.edu/wp-content/uploads/uga-alumni-nba-1.png
Josh Mixon
2017-08-04 10:00:53
2017-08-07 12:37:32
Meet Ericka Davis, Member of the Black Alumni Leadership Council