Outgoing Board Members Offer Career Advice to Graduates
The UGA Alumni Association Board of Directors serves in an advisory capacity to promote, support and advance the programs and services provided by the UGA Alumni Association to the UGA Community. Each board member demonstrates a strong commitment to furthering the university's legacy.
We recently asked outgoing board members for their best career advice after graduating college. Here's what they had to say!

Ruth Bartlett (BBA '76)
"Best piece of career advice may have been to hold out, within a reasonable timeframe, for the job you think is best for you. Do not rush into the first offer you receive if it is not what you think you want to do. Once you do accept a position, work hard and stay at that job at least a couple of years so your resume does not look like you are job hopping."

Maureen Clayton (ABJ '80, MA '84)
"Be 10 minutes early. I wish someone had drilled this into my head when I was younger. You can always count on traffic to be heavy when you need to be at an important meeting, so start earlier than you need to. When you're late, it looks like you don't value others' time and they don't forget it. Don't be afraid to try something new. Even if it doesn't work out, you learn more from your failures than from your successes. The most interesting people constantly reinvent themselves."

Brian Fuller (BS '98)
"My career advice, especially early in your career, is choose a manager, not a title, role or organization. You want a manager that has a track record of, and desire to, mentor and grow his/her people and ensure they get every opportunity possible within the organization. My other advice would be to always raise your hand, regardless of if it's completely comfortable or not. Stretch yourself and build a personal brand within your organization of being the one who is always ready and willing to dive in and do what it takes to ensure success."

Tim Keadle (BBA '78)
"My advice … Never allow yourself to lose connection with the university; reconnecting is always a lot harder than maintaining a connection. Visit campus early and often, it soothes your very soul."

Trey Paris (BBA '84, MBA '85)
"It is an age old adage, but my best career advice: find a purposeful job you truly enjoy and are passionate about and you will never work another day in your life. As the late Katherine Graham, the influential and admired publisher of the Washington Post, once said, 'To love what you do and feel that it matters, what could possibly be more fun?' I would also recommend that you seek out a mentor, someone who can provide advice, insight, feedback and an honest assessment of your strengths and development needs as you pursue your career goals and objectives. I have been extremely fortunate to have had several mentors during my career, and it has made all the difference. And, pay it forward as you advance in your life's pursuits– become a mentor to those who follow you!"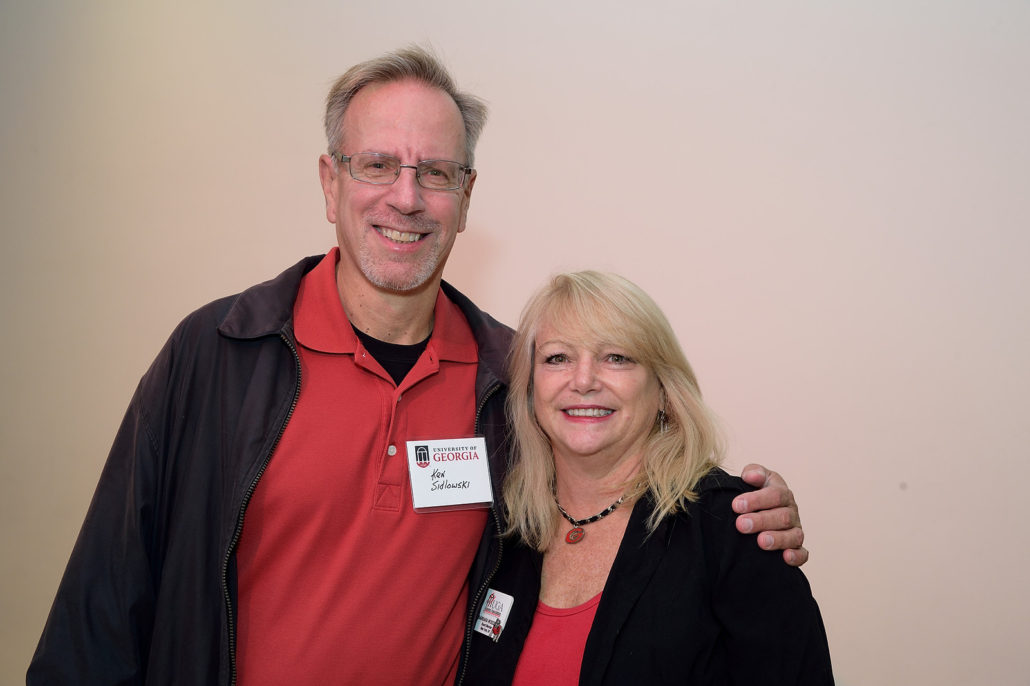 Barbara Woods (BFA '77)
"Flexibility and a 'make it happen' attitude have served me well in work environments. I've been in quite a few situations similar to 'The Devil Wears Prada' film or 'Survivor' TV show and somehow, usually by contacting every person I know, I've found what was needed for the event or for the person requesting what appears impossible. Finding a bagpipe player to open a ceremony over the Labor Day weekend is a request that many people I work with still remember."

Martha Zoller (ABJ '79) (on right)
"Finish your education and then go through the open doors. You might get an opportunity to do something you've never dreamed of. Also, once you accept a position, ask for help when you need it and get (and take) advice from more senior people in the office. Keep every contact, because you never know when you'll come across that person again. And finally, be pleasant and compassionate. You never know what people have gone through before they get to you. Work is about doing a good job but a career is about relationships."
https://alumni.uga.edu/wp-content/uploads/Admissions-Page-Photo-Small.jpg
628
1200
Spencer Eckart
https://alumni.uga.edu/wp-content/uploads/uga-alumni-nba-1.png
Spencer Eckart
2017-06-08 15:30:43
2017-07-18 14:27:34
Outgoing Board Members Offer Career Advice to Graduates