Honoring UGA's first African American four-year students
Last week, the highly anticipated film Hidden Figures starring Taraji Henson, Octavia Spencer and Janelle Monae was released in theaters nationwide. The film tells the story of African American women engineers and mathematicians who helped John Glenn to become the first American to orbit Earth.
For black alumni at UGA, we have some hidden figures in the form of the first three African American first year students to enroll at the University of Georgia and graduate four years later– Harold Alonza Black, Ph.D. (BBA '66), Mary B. Diallo, Ph.D. (AB '66, MA '73) and Kerry Rushin Miller (BS '66). UGA will officially recognize the 50th anniversary of their graduation at an event titled "Conversations with the Class of 1966: UGA's First Black Freshman Graduates" on Thursday, January 12 at 5 p.m. in the UGA Chapel.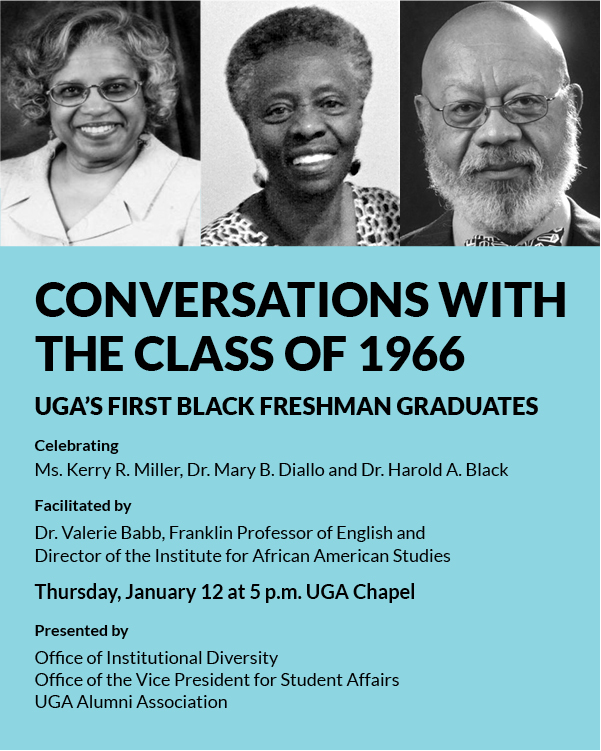 Black and Diallo recently spoke with the Black Alumni Leadership Council about their experiences breaking barriers.
Diallo is an Athens native who is currently an associate professor at Florida A&M University. The French major said her high school band teacher encouraged her and three other students to apply to UGA. When asked about the people who influenced her the most at Georgia, she said, "I don't want to name one person because many people made a significant impact on me—some professors, a few college friends, my family, people in my community, as well as people in other cities, states, and countries."
Black is an Atlanta native who originally planned on following his older brother to study at Purdue, but after UGA's desegregation he applied because the school offered more scholarship opportunities. The economics major said his most memorable college experience was befriending six fellow freshman at orientation. As the only black male student to live in a residence hall in 1962, he recalled his room windows broken into at night and the segregated bathroom he used was repeatedly vandalized.
"Given that I knew my great grandmother, who was a slave, I can marvel at the changes that have occurred in this country and especially in this part of the country," Black said. "I actually thoroughly enjoyed my UGA experience and would not change it for any other."
Now, as a retired finance professor emeritus at the University of Tennessee, he encourages students to "follow your dreams and never let mere mortals dissuade you from your goals."
In celebration of the desegregation of the university, UGA Black Alumni thank the first freshman graduates Harold Black (BBA '66), Mary Diallo (AB '66, MA '73) and Kerry Miller (BS '66), as well as the first black graduate Mary Frances Early (MMED, 62, EDS '71), and the first black undergraduates Charlayne Hunter-Gault (ABJ '63) and Hamilton E. Holmes (BS '63) for their courage. Thank you all for being our "hidden figures."
Written by Bridgette Burton (AB '11, ABJ '11)
https://alumni.uga.edu/wp-content/uploads/bg-home-core-duty.jpg
1067
1600
Kelundra Smith
https://alumni.uga.edu/wp-content/uploads/uga-alumni-nba-1.png
Kelundra Smith
2017-01-09 13:25:18
2017-05-31 15:57:40
Honoring UGA's first African American four-year students