Catching up with D.C. Dawgs president Maeve Szambelan (ABJ '11)
While Maeve Szambelan (Connolly) was studying telecommunications at UGA, the most valuable lesson she learned was not about writing scripts or editing videos– it was about success. The Sandy Springs native attended Marist High School, and came to UGA with dreams of becoming a broadcast news anchor. But, toward the end of college, she realized that the passion for service that she developed through involvement with her sorority was pulling her in a different direction. Instead of resisting, she followed that urge, and today she works in Washington D.C. helping higher education institutions secure federal funding for scholarships and other initiatives. The lesson she learned– "You're ultimately in charge of shaping your own future. Be proactive, be determined and get involved."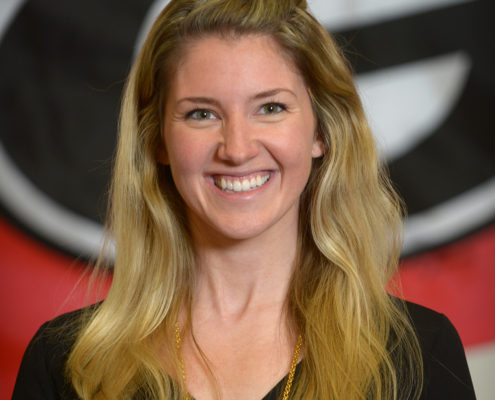 Describe UGA in three words. 
Community, football and excellence.
What was your most memorable college experience?
In general, it was the opportunity to be involved in leadership positions. I was president of Phi Mu and president of the Panhellenic Council. My UGA experience was the most memorable four years of my life. My husband also went to Georgia, and when I got married on July 30, we got married in Athens. We wanted to show our family and friends our favorite place.
What are you up to now?
I am the managing director at McAllister & Quinn, a government relations consulting firm in Washington D.C. that helps colleges and universities secure federal funding for a variety of scholarships, research projects and programming. I recently worked with a college to apply for, and secure, a $2 million grant through the Department of Education that will be used to implement a five-year plan to strengthen the institution, with a focus on improving retention of at-risk students.
What is your favorite thing to do in D.C.?
I feel like I should say something related to politics or history, but in my spare time I like to explore new restaurants. New neighborhoods are popping up all over D.C., and Bon Appetit named D.C. "Restaurant City of the Year." I also love walking past the White House on my way to work everyday, and exploring the city on foot.
How did you get involved with your local chapter? 
I started meeting up with other grads to watch football games and then I started asking how I could get involved. I started small with philanthropic events, and then eventually stepped into my current role as president. There are so many grads here that I didn't know when I went to Georgia.
What is your favorite event that you have done with the D.C. chapter?
That's a hard one. I would probably say an event that we did with the Terry grads called Bowling with Veterans. We did it at the Armed Forces Retirement Home. About 30 people came, and it was really fun. We got to spend time with older veterans. It was a great day, a lot of fun and a nice way to feel like we were making an impact.
What advice would you give to recent graduates?
Everything happens for a reason. Do your best. Show up and try hard. Have a strong work ethic and produce solid work product, and things will happen for you in your career. I didn't know that I would end up where I am– I showed up as an intern. The grunt work pays off in the end.
https://alumni.uga.edu/wp-content/uploads/uga-alumni-nba-1.png
0
0
Kelundra Smith
https://alumni.uga.edu/wp-content/uploads/uga-alumni-nba-1.png
Kelundra Smith
2016-09-09 10:00:13
2016-09-02 12:07:24
Catching up with D.C. Dawgs president Maeve Szambelan (ABJ '11)