Interview with Kramer Johnson (BBA '08), digital experience at Chick-fil-A
Have you used the new Chick-fil-A One app? If so, you're using something that was created by a team of Georgia Bulldogs. Jamie Lewis (AB '12, AB '12), digital specialist, recently interviewed Kramer Johnson, a 2008 Terry College of Business graduate and senior consultant for digital experience at Chick-fil-A in Atlanta.
Tell me about your time at UGA. 
I studied International Business, and I grew most during my time in the Institute for Leadership Advancement. My few classes and thirty classmates in ILA helped shape who I am today. Outside of the classroom, I loved enjoying Athens with people. There was always another place to visit – or another person to meet.
What was your path to working at Chick-fil-A? 
After starting my career in management consulting at EY, a friend from UGA recruited me to Chick-fil-A. I "learned this business" during three years of consulting Chick-fil-A operators on their local marketing plans. In 2013, UGA graduates David Salyers (BBA '81) and Michael Lage (BBA '05) shared a big vision for how we might reinvent the Chick-fil-A guest experience through mobile. I didn't know much about mobile technology, but I knew this was going to be something special. Thankfully, they invited me to bring my in-house experience to the project.
How did your time at UGA help prepare you for your current career?
My relationships at UGA taught me the things that can't be learned in a textbook. The community in Terry College and ILA helped me see how business can me be so much more than dollars and cents.
Tell me about the process of creating and launching the Chick-fil-A One app. What was your role in this project and how were other UGA graduates involved?
I lead Membership Engagement for the Chick-fil-A One App. I was lucky enough to design the "treats" element of our app. Giving free food to app users is our way of saying thanks. I'm thrilled to say that UGA grads brought Chick-fil-A One to life in all kinds of ways – Marketing, IT, Operations, Training, Accounting, and more. Bulldog fingerprints are all over it!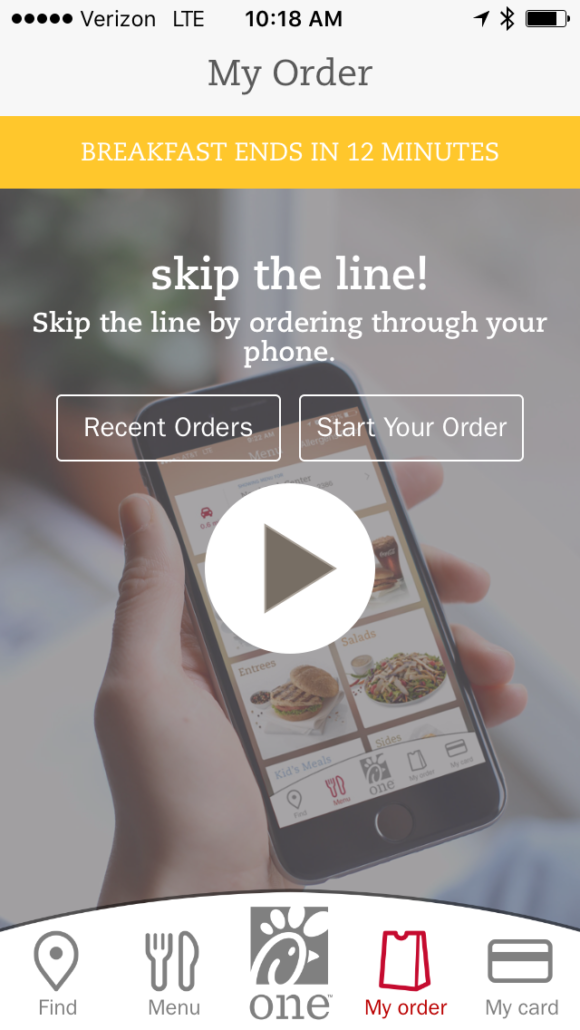 Chick-fil-A is one of several corporate alumni chapters. Why do you think it's important to stay involved with your alma mater? What is something you've enjoyed about participating with the CFA corporate chapter?
President Morehead inspired our chapter's motto: Connect, Give, Hire. I'm so grateful to UGA, and this is a small way to help the university thrive. The chapter helps us connect with UGA in deeper ways, give more and focus on hiring UGA grads – some of the best talent around.
What is one of your fondest UGA memories?
This one's easy. I met my beautiful wife, Hayley (BBA '08), at a table near the tray return at the original Bolton dining hall. We made her friend eat all of her Jell-O in one bite… and the rest is history. We live in Atlanta with our two wonderful daughters.
If you could give one piece of advice to a student entering their senior year this fall, what would it be?
Get up early. Later in life, I learned the magic of getting up early to accomplish the most important task of that day: maybe it was quiet time, exercise, or writing notes to loved ones. I wish someone had taught me this purpose-driven habit when I was at UGA.
https://alumni.uga.edu/wp-content/uploads/blog-cfa-kramer.jpg
539
1030
Jamie Lewis
https://alumni.uga.edu/wp-content/uploads/uga-alumni-nba-1.png
Jamie Lewis
2016-08-26 17:07:12
2016-08-30 10:27:20
Interview with Kramer Johnson (BBA '08), digital experience at Chick-fil-A